This guide will begin by telling you how often to water pothos, giving you the various watering methods (top, bottom, and self-watering) and factors that will affect how much water your pothos will need.
Next, we will look at underwatered pothos, signs to expect, and how to revive this plant if you underwatered it. Here will talk give you tricks and tips to prevent this issue from happening again.
That is not all. We will then talk about overwatering pothos, giving you why it often happens, signs you will see, and what to do to save your plant, including in case of root rot.
Lastly, what we will learn will apply to all pothos (Epipremnum aureum), including your marble, neon, or golden pothos. These plants have similar water needs. But don't include silver or satin pothos as they are common names for Scindapsus pictus.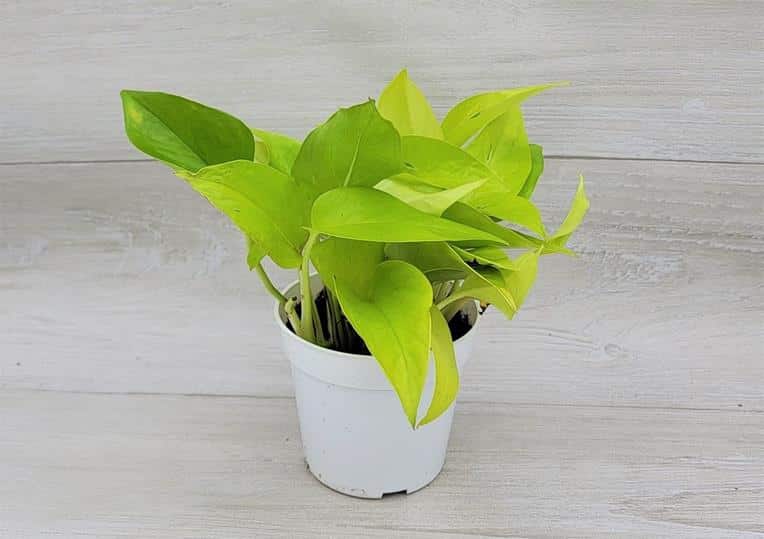 Pothos watering
Water is essential in maintaining cell turgor pressure, transporting nutrients, and constitutes much of the cell part. Also, most physiological functions like photosynthesis use water as a raw material or medium.
These critical roles make proper watering one of the most vital parts of pothos plant care. You don't want to go wrong here. Else, you will end up with overwatered or underwatered pothos.
Pothos plants have medium water need, and you should let the soil slightly dry in-between the watering session. They love moist soil, not soggy or too dry. How often, many factors will determine.
1. Factors that influence water needs
How often to water pothos depends on several factors. Here are the main ones and how they affect water needs.
Season: They need more water in summer or the growing season than winter or fall. Why? It is warmer (water loss is high), there is adequate light (plant will use more water for various processes). In the non-growing season, plants will be dormant, and it will be cold. Therefore, they need less water.
Light: When under bright light, they will need more water for photosynthesis and loss more through transpiration. Thus, they need more than in a poorly lit area.
Humidity: You will water pothos more in low humidity than high because of more water loss from the soil and plant leaves.
Temperature: High temperature promotes more evaporation and optimum growth, meaning these plants need more water than in colder areas.
Soil mix: How well your soil mix holds water affects how often you will water your pothos. The ratio of perlite, pumice, or bark chips to potting soil, coco coir, or sphagnum moss will affect how well the potting mix holds moisture. The higher the perlite or bark chips or pumice, the faster it will dry.
Plant size: A small plant and a large one will have different water requirements.
Pot size: Plants in a small pot will finish their water faster than a larger one. All other factors held constant.
Pot type: Since terracotta or concrete pots allow water to seep to the outer surface and evaporate, they will need more often watering than while glass, ceramic or plastic ones don't.
2. How often to water pothos
To our million-dollar question is, how often to water pothos? The answer is simple. Water pothos when the top a few inches, like 1-2 of the soil, feels dry. This may be once a week in summer or spring and after about 10-14 days in winter or non-growing seasons.
However, the exact duration will depend on your environmental conditions, plant size, and pot size or type seen above.
3. When to water pothos
To know when to water pothos, feel the soil with your finger. If the top few inches feel dry, water it. Otherwise, wait for a couple of days and test the potting mix again.
Other ways to tell these plants are thirsty include the following:
Use a soil meter and water when it is reading 3 or less or in the dry zone. We use XLUX Soil Moisture Meter. It is the best rated, accurate and responds fast.
Poke a stick into the potting mix. If it comes out dry and clean, your plant is thirsty but if it looks damp with some soil stuck on it, wait a little longer,
If you have a terracotta pot, touching it and looking at the color will help you know the water level. Where moist soil reaches will be wet and look darker in color.
Look at signs like your pothos leaves curling, drooping, wilting, and so on. We don't recommend this method.
Lift the pot to feel if its weight. If lighter than usual, you need to water the plant. Otherwise, wait. This isn't a very accurate method.
4. Ways to water pothos
Which is the best way to water pothos? It all depends on what you prefer. The top, bottom, or even self-watering pot options are ok. Let us look at each of these.
a. Top watering
Top watering is the most conventional and popular method. It involves slowly and evenly saturating the potting mix from the top until excess water flowers from drainage holes.
Let the water drain for about 15 minutes and pour any that collects in a cachepot or saucer. Some people put their plants in a shower to help clean the leaves too. It is ok. Just ensure the leaves dry afterward to avoid rot.
Pros: Easy and convenient and flushes minerals deposits from fertilizers and pests, their eggs or larvae. Also, it helps boost humidity, and it is less messy.
Cons: This method may encourage pests like grants, water may flow out without reaching all the roots, and it may wet or stain leaves if you use hard water. Also, it does contribute to soil impaction. i.e., the water moves the soil downwards.
b. Bottom watering
Severely underwatered pothos will benefit much from reverse or bottom watering. It will give these plants a great soaking.
It involves adding water into a basin or sink to about 3-4 inches deep and sitting your pot inside the basin for about 45 minutes. The potting mix will slowly wick water upward.
After 45 minutes, check if the top 2-3 inches are damp. If not, add more water from the top. Then, let it drain for 15 minutes and take your pothos back to their place.
Pros: It encourages deep root growth, doesn't wet or stain leaves, reduces pests like fungus gnats, and ensures more uniform or even soil wetting.
Cons: Tedious or cumbersome, messy, doesn't flush minerals, and takes a longer time.
c. Self-watering your pothos
It is possible to grow pothos in a self-watering pot. These pots have a growing bed where you put your potting mix, a wicking system that delivers water to the soil and roots, and a water reservoir.
The reservoir has an overflow to drain away excess water when filled up, preventing excess water from making the soil soggy.
As your marble, neon, or golden pothos absorbs water, the soil wicks more by capillary action. And the wicking system delivers water to the potting mix. Overwatering or root rot is not likely to happen.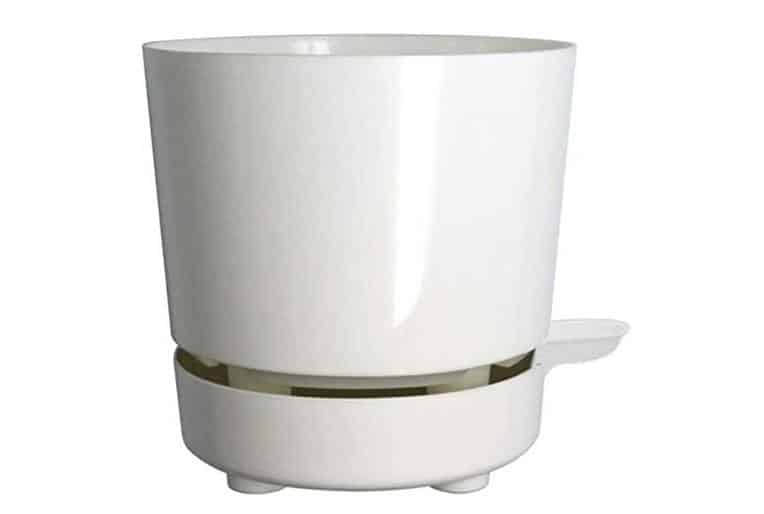 Pros and cons
Pros: Convenient, conserves water, keeps the soil moist throughout, promotes healthy growth of roots, and your soil will retain its nutrients.
Cons: It May encourage mineral buildup, offer a breeding ground for mosquitos, and you need to add fertilizer to the water.
4. Mistake to avoid
When watering your Epipremnum aureum, there are some common mistakes you must avoid.
Having a pothos watering schedule: A schedule may cause underwatering or overwatering. Why because how much water these vines will depend on factors have given you. Please don't pick a program from the internet and start following it.
Shallow, frequent watering: Besides the risk of overwatering your pothos, you may underwater them by seeing the surface wet, thinking the whole potting mix is also moist. Also, note that misting isn't watering.
Having blocked drainage holes: Your pot needs to have drainage holes, and they should remain open. Check regularly to see if they are draining.
Keeping water on pot saucer: Pour any water that collects on the cachepots or saucers. The soil will begin absorbing it again, making it soggy.
Bottom line 
Water pothos when the top 1 -2 inches of the soil dries. Always test the soil with water. How often it will depend on your environmental conditions, plant size, pot type, or size. Never follow a watering schedule or water before testing the soil

Underwatered pothos
If you neglect or don't give them enough water, your pothos may be thirsty. If it hasn't happened for long, worry not. Pothos can withstand some drought for some time and will not die fast. But if you do nothing, your plant will wither and die.
Besides neglect, other conditions like low humidity, a potting mix that dries fast, high temperature, small pots, windy areas, among other things, may contribute to the underwatering problem.
1. Signs
Dry soil pulled away from the sides of the pot, the leaves curling inward, and drooping or wilting are the first signs that your pothos is thirsty. Your plant will look limp, and the leaves will be less plump. But watering will resolve the issues.
More signs of an underwatered pothos include:
Leaves turning yellow
Dry feeling leaves with crispy brown margins and tips
Leaves drooping
Slow or stunted growth
Withering and death
Please note that some of these symptoms Thus, always feel the soil before assuming it is a watering issue.
2. How to revive your plant
Begin by feeling the soil with your finger. Why? To be sure, it is a watering issue because some of these signs may occur in low humidity, too much light or fertilizers, heat stress, being rootbound, and so on.
If the top 1-2 inches of the soil feels dry, you need to immediately give your plant a proper drink. If possible, go for the bottom watering method. But even the top will work just fine.
Afterward, cut any leaves that have turned yellow, brown, or dried up entirely. They may attract pests. Also, they don't contribute anything but may still depend on the plant. Don't forget to use a sterilized pruning scissor.
Last but not least, for brown tips and edges, trim them. You don't have to chop off the entire leaf. This will make your plant less unsightly.
3. How to avoid underwatering – tips
If the soil mix is or a small pot is an issue, amend this two. Go for a soil mix that holds moisture for a longer time. A good suggestion is:
Use two parts of peat moss, one part of perlite, and one part of bark chips. Perlite and bark chips will help improve drainage, while peat moss will make it hold moisture and maintain optimum, slightly acidic pH.
For the pot, ensure it is not too big or too small. It should accommodate the root ball and still have soil for root growth. And if the place is windy, take the plant to a less drafty area.
The other thing is ensuring ideal conditions, i.e., keep humidity at 50% or higher, and give them bright, indirect light.
Lastly, get an estimated number of days your plant takes to the next watering session if you forget watering. Then, set a reminder. However, when it comes to actual watering, feel the soil.
Overwatering pothos and root rot
Pothos are sensitive to overwatering than even underwatering. Thus, this is one area you don't want to go wrong. Or else root rot will set in and kill your plant.
When overwatered, the soil becomes soggy and chokes oxygen from the roots. But since they need oxygen to grow and work well, they will not absorb water or minerals well. Also, they will become weak.
That is not all. A soggy condition also favors opportunistic soil bacteria and fungi growth. Then they will attack the weakened roots causing root rot. This further complicates the issues as your plant will lose the ability to absorb water or nutrients as roots rot away.
Lastly, besides watering too often, overwatering may happen due to the following reasons:
Poorly drained soil, including compacted and heavy ones
An oversized pot
Low temperature and light
High humidity
Blocked or absence of drainage holes
1. Signs
A sure sign is a soggy or wet soil below an inch even if you haven't watered your plant for the past few days, followed by your pothos lower leaves turning yellow.
More signs are:
Leaves drooping or wilting but will not feel dry, and watering will not resolve it.
Leaf curling
Leaf discoloration includes turning brown or having brown or black splotches seen on even young leaves.
Bump or blisters which turn white, tan, or brown warty-like growths are caused by leaf edema, i.e., cells absorb too much water and start bursting.
Moldy potting mix
Mushy stem bases
Slow growth
The presence of moisture loving pests like soil gnats
Please some of these signs may result from root rot. Also, it is possible for leaf fungus to occur, making leaves have brown spots with a yellow halo.
2. How to save overwatered pothos
If there is no root rot, the first thing to do is hold the watering until the potting mix nearly dries. Also, don't fertilize your plant or squeeze soil to get rid of excess water. The latter will cause root damage.
Next, poke the soil which a pencil to help faster drying and allow air circulation. Also, lower humidity, provide bright indirect light, and ensure your plant has an optimum temperature. These factors will favor the speedier drying of the potting mix.
Last but not least, remove yellow or brown leaves with a sterilized pruning knife or scissors.
3. How to avoid overwatering – tips
Overwatering isn't necessarily because of having too often sessions. It may be due to other reasons, as seen above.
Here, you will need to amend the potting mix, as we have seen the cause of underwatered pothos. Next, provide optimum conditions, always ensure the pot's drainage holes are open and large enough. Also, avoid very high humidity.
Lastly, don't use oversized pots. And if possible, consider going for a terracotta pot.
4. What do in case of pothos root rot
Does your plant have brown or black roots? Then, it is a sign of root rot. Whether you can manage the issue depends on when you caught it. If caught early, you can fix it, but there is nothing you can do if late.
To fix the issue, you need to repot your pothos. You will need to change the pot or thoroughly disinfect it
Begin by sliding the plant out and tap to remove the potting mix as much as possible. Then, cut any brown or black leaves with a sterilized blade. Afterward, you can spray the roots with some fungicide or use a mix of one part of 3% hydrogen peroxide to two parts of water.
You can then get your new pot or disinfected one and repot using a fresh potting mix. Never use the old one.
More about pothos
Pothos (Epipremnum aureum) is undoubtedly a popular houseplant that is hard to kill even in low light, hence the names devil's vine or devil's ivy. Also, they have charming, thick, waxy, heart-shaped leaves that may be green or variegated.
These houseplants are native to Australia, China, New Guinea, Southeast Asia, the Indian subcontinent, and various surrounding islands.
Pothos are aroids, i.e., they belong to the arum a family Araceae. Their common names are devil's ivy, money plant, devil's vine, silver vine, Solomon Islands ivy, and marble queen. Others less popular ones are ivy arum, taro vine, Ceylon creeper money plant, hunter's robe, or house plant.
If interested, there are many breath-taking cultivars or varieties like golden, neon, marble queen, Manjula, Jessenia, Cebu blue, Trebi, N-Joy, Hawaiian pothos
Frequently asked questions (FAQs)
Can pothos grow in water?
Yes. Pothos can grow in water for years. All you need is water, liquid fertilizer, and a glass growing jar or container. If you want pothos to live underwater happily, don't forget to meet other growth needs like temperature and light. Also, change the water when it becomes cloudy and more when the level goes down, and make sure you don't submerge the leaves. They will rot.
Can I use tap water pothos?
Pothos are hardy plants, and they will thrive with tap water just fine. But if it is high in chlorine, let it stand in an open container overnight. This will help dissipate some of the chlorine.
Why is my pothos plant dripping water?
Pothos plant dripping water, especially at night or early morning, is a phenomenon known as guttation. Please don't confuse it with dew formation. It occurs when you overwater your plant, or the soil has a lot of water. Thus, the roots absorb water and create a force that pushes the water to leaves and out through hydathodes at leave edges.