Pothos leaves turning brown, including having brown spots, tips, and margin, maybe a sign of underwatering, overwatering, overfeeding, low humidity, too much light, extreme temperatures, pests, and diseases. Nonetheless, it may occur due to aging, transplant shock, or water quality.
It isn't difficult to determine why since browning occurs with other signs like leaves turning yellow, curling, wilting or dropping, dry soil, stunted growth, etc. Just look at other things your pothos or Epipremnum aureum is telling you.
We have all the causes, other telltale signs, and what to do. These are the same things that will cause brown leaves, stems, tips, or margins on your marble queen, neon, Jessenia, Manjula, or golden pothos.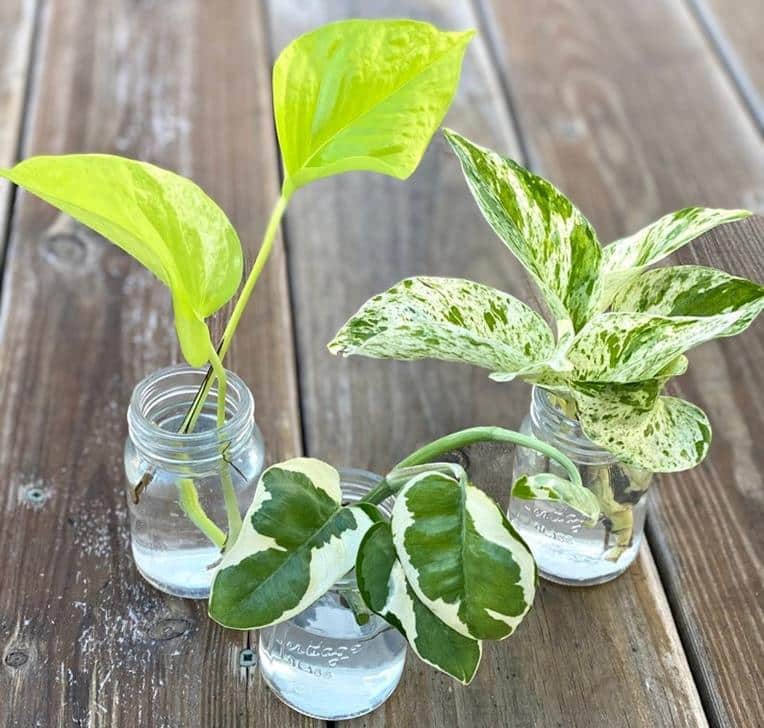 Reasons for pothos leaves turning brown or having brown spots
Leaves get their color from the various light-sensitive pigments they have, like chlorophyll (green pigment), xanthophyll, anthoxanthins, carotene, and anthocyanin. If these leaves cannot make enough of any of these pigments or its degraded, expect leaf color change.
Your pothos leaves turning brown or having brown spots means all other light-sensitive pigments are missing and what is remaining is tannins on the area affected. Tannins are not sensitive to light.
When you see the brown color or pots on pothos leaves, stems, tips, or margins, it means they are mostly dead. And, of course, they cannot revert to their original color.
Bottom line

Pothos leaves turn brown when environmental conditions like extreme temperature, too much light, and low humidity or care issues like overwatering, underwatering, or overfeeding degrade or affect plant pigments formation. But at times, it may be diseases, pests, or water quality.
1. Water and watering issues
Underwatering, overwatering, and water quality is common reasons for pothos leaves turning brown, including tips, margins, or patches or splotches. How?
a. Underwatering
When neglected or without water for a long time, pothos leaves will begin curling inward, droop or wilt, turn yellow or have dry, crispy brown tips and margins. The soil will be dry, and if it goes for long, your plant will grow slowly, drop leaves, wither and die.
What to do
Start by confirming if your Epipremnum aureum is thirsty. To do so, feel the potting mix with your finger. If it is dry up to the first knuckle of your finger, it is thirsty. 
We, however, use a soil moisture meter. XLUX is our favorite brand. It is accurate, responds fast and doesn't need batteries. A reading of three or less meaning your plant needs watering.  
Next, give your pothos a drink and be watering them when the top 1-2 inches of the soil feel dry, i.e., the soil should dry a bit in-between watering. This may be once a week in spring or summer and biweekly in the non-growing seasons.
How often to water pothos will depend on your environmental conditions (light, humidity, or temperature), soil mix, season, plant size, pot size, and type. Don't follow a watering schedule. Instead, test the potting mix.
If you often neglect your plant, get an approximate duration to the next watering. Then set a reminder. But when watering, ensure you feel the soil.
Last but not least, you can opt to grow your pothos in self-watering pots.
b. Overwatering
Overwatering and root rot are other reasons for brown leaves, including splotches and spots (in case of an infection). But a wet, constantly wet potting mix and the lower leaves of your pothos turning yellow, then brown are the typical signs to expect.
Your plant may curl, drop, wilt or droop leaves, but they won't feel dry, i.e., they will feel soft. Also, your potting mix may be moldy, stem base mushy, attract pests, etc.
Overwatering cuts oxygen from roots, yet they need to work well, including absorbing water and minerals. Thus, they will weaken. Also, moisture favors soilborne pathogens to grow, and soon they will attack the weakened roots causing root rot. We will talk more about root rot under disease.
What to do
We are assuming you don't have root rot yet. We will talk about it a little later in the post.
Hold the watering, check if drainage holes are open, give your plant bright, indirect light, optimum temperature, and improve air circulation.
Then, ensure you have the right pot size (oversized may cause the issue) and your potting mix drains well. Get or make an aroid mix. See Etsy.com.
Don't squeeze the soil to get rid of water. It will damage the root. Also, don't feed your plants. But you can poke holes on the potting mix to fasten drying using a pencil.
c. Water quality
Pothos are hardy plants that can tolerate tap water. But it shouldn't be very high in chlorine, salts, or fluoride. For instance, water with very high chlorine may cause an accumulation in the plant resulting in a scorched look – dead or brown tissue on margins, tips, and in between veins.
What to do
Use rainwater or filtered water. If your tap water isn't bad, let it stay in an open container overnight to dissipate chlorine.
2. Too much light
Too much light will scorch leaves, making them have yellow to brown tips, margins, and patches. Also, the leaves will look yellow or paler, i.e., washed out, bleached, or faded, and they may wilt or curl but won't drop quickly.
What to do
Remove your pothos from the direct sun or move them away from your grow lights. Outside, put them under a shade or greenhouse.
Inside the house, place them a distance from your window where the sun doesn't reach them or use blinds. It doesn't matter if you have east, west, or south-facing window. Make no sunlight touches your plant.
3. Extreme temperature
Paradoxically, both heat stress or chilly conditions, including cold drafts, may pothos leaves to turn brownish.
a. Heat stress
Heat stress will increase water loss from leaves, and extreme cases will damage plant tissues. Signs include leaves curling or cupping, wilting, yellowing, brown tips or edges, leaf drop, stunted growth, etc.
What to do
Move plants to a shaded or cooler area during hot summer days or heatwaves. Also, don't place plants next to heating system vents, fireplace, radiators, and so on.
b. Coldness and cold drafts
Chilly winters or cold drafts may damage plant cells if water crystalizes inside them. Your plant may droop and have yellow, black, brown, or whitish leaves or patches. Also, a whole leaf may turn brown overnight.
What to do
During cold winters, move your plants indoors. If any of your pothos is on a draft area (open window or doorway), move it to a warmer, less windy place.
Last but not least. Avoid exposing your plant to rapid temperature rise or fall. It will equally cause browning, yellowing, and other signs.
4. Low humidity and pothos leaves turning brown
Low humidity will take water from leaves resulting in signs similar to underwatered pothos like leaf curling, crispy, brown tips and edges, yellowing, etc.
What to do
Start by getting a hygrometer. Most brands round as thermometers and some brands allow monitoring via an app.
We use Govee Hygrometer Thermometer H5075 because it is accurate, stores data for two years gives graphs for 20 days and is affordable. Also, you will get Smart App Alerts when temperatures are too high or too low, i.e., beyond or below set points.   
If it is low, do the following:
Mist your pothos a few times a week
Buy a humidifier. It is the best way. LEVOIT Humidifiers Top Fill, 6 Liter, Cool Mist since it runs for up to 60 hours, covers a large area (505 ft sq) and has a Vesynch APP. So, you can connect it to thirty-party voice assistants, including Alexa. 
Use a pebble tray
Put your plants together – creates a microclimate
Move your plant to humid rooms like the bathroom or kitchen
5. Overfeeding
Excessive feeding will burn roots, alter soil pH, and accumulate salts in the soil. All these things will make your plant unable to absorb water or minerals. Excessive salts may draw water from roots or plants.
Signs to expect are lower leaves will turn yellow, brown tips and margins, wilting, slow growth, leaf drop, and crusts on soil mix.
What to do
Leach or flush the soil by pouring water at room temperature for about 30 minutes. Then you need to feed your pothos with a balanced fertilizer once in 4-6 weeks during growing seasons only. Alternatively, you can change the potting mix.
6. Rootbound
If you see roots growing from drainage holes, lower leaves yellowing or browning, including brown tips, it may be rootbound. Other signs are a leggy plant, leaves curling, wilting or drooping, falling, slow growth, and so on.
The roots have grown the pot, don't have a space to grow into, thus the spiraling. Also, they cannot get enough water or nutrients.
What to do
If it's during the growing season, repot your plant into a pot, 2-3 inches wider or what can accommodate the root ball and leave some space for growth. Otherwise, wait till late winter or early spring.
7. Pests and brown spots
Does your plant sap-sucking pests like aphids, mealybugs, thrips, scale insects, and spider mites? It may be the reason for the small brown spots on pothos leaves. But they can also be yellow, black or white.
These bugs suck plant juices, depriving them of nutrients and water. Also, some will inject toxins into plants. And may appear as small flying, stationary, or moving dots and bump, some with waxy bodies.
Besides the yellow or brown spots, some pests may distort, ruffle, mishappen leaves or make them curly. Other signs include stunted growth, leaves drooping, etc.
To know the bugs, here is what to consider:
Honeydew and sooty mold: aphids, mealybugs, scale insects, and whiteflies
Tiny moth-like, soft-bodied, winged bugs with a powdery covering: You have whiteflies.
Stationary, oval or dome-shaped, or flat fluffy bugs that don't move: Scale insects
Soft-bodied, pear-shaped green, black, red, brown, yellow or gray bugs, honeydew, and sooty mold: Aphids
Webbing: Spider mites
Silvery stippling or specks and elongated winged bugs: Thrips
What to do
Isolate new and infected plants. Then hose the plant to knock them off. If mealybugs, clean leaves with cotton balls dipped in rubbing alcohol.
For severe infestation, use neem oil, insecticidal soaps, and horticultural oils. Additionally, use dormant oil sprays for thrips and dish soap solution on aphids.
To manage pests, we use Bonide Ready to Use Neem Oil. It kills insect larvae, eggs and adults. Also, it is effective against spider mites and will prevent fungal disease.
8. Diseases
Diseases, especially root rot and leaf spot diseases, may cause brown to dark brown necrotic lesions, some having a yellow hallo on leaves on your pothos. Also, some will cause these brown spots on stems and petioles.
a. Root rot
Overwatering will favor root rot pathogens. Also, contaminated soil, water, plant material, placing your plants on the ground, and poor sanitation may spread these diseases.
Besides causing root rot, some may affect stems and leaves, causing black or dark brown spots or splotches.
| | |
| --- | --- |
| Disease | Signs |
| Phytophthora root rot | Several Phytophthora species will cause root rot and brown spots on leaves. Stems or leaf veins may retain their color, but stem necrosis is possible, causing black or tan spots. Other signs are wilting, leaves turning yellow, falling, and plant death. |
| Rhizoctonia root rot and aerial blight | Signs include brown, irregular spots on leaves and stems, sunken brownish cankers on soil-line, and root rot (brown and mushy roots). Your plant will wilt, have yellow leaves, grow slowly, and you may see aerial web blighting. |
| Pythium root rot | It causes stunted growth and stem rot at the soil line. Other signs are wilting yellow leaves and plant death. |
| Southern blight (Sclerotium rolfsii) | You will notice brown or back rot near the soil line that begins as water-soaked lesions, wilting, girdled stems, sudden collapse, and death. Also, there may be sclerotia and cottony fungal growth in affected areas. |
What to do
Avoid overwatering your pothos, improve air circulation, and don't wet leaves. Also, put your plants on raised benches (not on the ground), don't have plants over others, and practice proper sanitation.
Proper sanitation entails things such as disinfecting tools and pots. Also, you clean your hands before handling your plants.
In the case of pothos root rot, use hydrogen peroxide. Add a teaspoon of 3% hydrogen peroxide to a cup of water and pour it into the soil.
For severe cases, you need to repot your plant. When repotting, cut any brown, black, or mushy leaves with sterilized pruning shears. Also, dip the roots in a fungicide to prevent a recur.
b. Leaf spot diseases
Both fungal and bacterial leaf spot diseases may be reasons for pothos getting brown spots, i.e., these will cause black, dark brown spots on leaves and stems.
| | | |
| --- | --- | --- |
| Disease | Signs | What to do |
| Bacterial leaf spot | Appear as black, tan, or dark brown small spots that may have a yellow halo. Some may fall, leaving holes. Others combine to form larger splotches if in favorable conditions. | Avoid wetting leaves, isolate infected plants, and use fungicides with copper or streptomycin. Also, clean your hands and disinfect equipment before and after touching your pothos. |
| Fungal leaf spots | Mainly cause oval, round or oblong, black, dark brown spots or necrotic areas, some with a yellow halo. Spots may coalesce, forming patches and may cause premature leaf drop. | Avoid wetting leaves, improve air circulation, and use fungicides. Also, maintain proper hygiene, i.e., sterilize your pruning scissors or other equipment before use and clean your hands. |
Other reasons for pothos leaves turning brown
Besides the above, here, more causes may not occur quite often or those that are natural or expected.
1. Aging
As the lower leaves age, they will start turning yellow, then may have brown margins, tips, or patches and look curling before the whole leaf turns dark brown or blackish.
This discoloration is part of the normal aging process. Use a sterilized razor to cut leaves when they turn yellow.
2. Potting or transplant shock
Pothos leaves turning brown, including having brown tips and margins after repotting, transplanting, or relocating, is a sign of plant shock. It's still adjusting and may not function as usual.
When transplanting or repotting, minimize root damage. Also, ensure the soil remains moist till your plant recovers and maintains ideal conditions.
Last but least, you can trim brown areas or cut the whole leaf if affected. Don't forget to use sterilized scissors.
Should I cut brown pothos leaves?
It depends on the cause and extent of browning. If the whole leaf is brown, cut it off. But if it's only the tips or margin, trip the affected area. Cases caused by disease require you to affect leaves. Don't forget to use a sterilized pruning scissor as you remove or cut leaves.
Frequently asked questions (FAQs)
What causes brown tips on pothos
Brown tips or margin are often an indication of environmental stress or a care issue and occur in the case of leaf scorch. Things like underwatering, low humidity, heat stress, too much light, or cold drafts may cause brown tips or margins. Other causes are aging, transplant shock, or being rootbound
What causes pothos brown spots on leaves?
Brown spots on pothos leaves signify pests like spider mites, aphids, mealybugs, scale insects, etc., or diseases, especially leaf spot diseases and some root rot cases. Also, too much light, chlorine in water, or overfeeding may cause brown patches, especially in between veins.
Lastly, brown spots and splotches are a sign of overwatering. You may also notice a yellow halo on the spots.
What causes pothos brown stems or lines
Pothos brown stems are a sign of diseases, especially Phytophthora, Southern blight (Sclerotium rolfsii), and Rhizoctonia root rot and aerial blight.  Also, bacterial wilt disease may be a reason for veins and stems turning brown or black.
Similarly, brown lines on pothos stem may be a sign of diseases or damage. So far, so good. We haven't seen the issue, and it's not common.
Why are my pothos yellow leaves with brown spots
Yellow leaves with brown spots are a sign of disease, pests, or overwatering. Just look at the other signs present to help you pinpoint the exact cause.