Overwatering is one of the common reasons for pothos root rot. Signs or symptoms are wilting, leaves turning yellow, stunted growth, and black or brown mushy roots. Also, your potting mix may be moldy, stem base mushy and you may also notice brown lesions on stems and leaves.
We have more on causes, what it looks like or symptoms, and how to save your pothos or fix this problem. We will also talk about pothos in water root rot.
What we will look at applies to various Epipremnum pinnatum or pothos varieties, including Manjula, marble queen, neon, and golden pothos.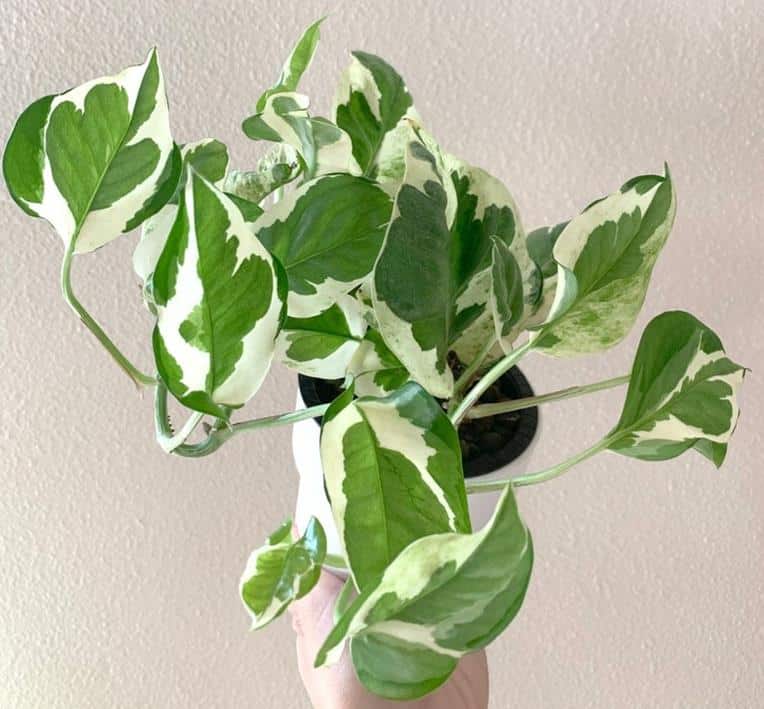 Overwatering effect
Overwatering may indeed make your plants end up with root rot. But you deserve to know that water isn't the cause, and you can grow pothos in water.
When you overwater pothos, or the potting mix has poor drainage, the soil will become soggy. However, other things like heavy soil that don't drain well, lack of drainage holes, oversized pots, poor air circulation, low light, or temperature may contribute.
Waterlogged soil will cut oxygen from roots, which they need for respiration (use food to make energy). So, pothos roots will not work well (absorb water and nutrients), accumulate toxins, and weaken. Also, they may start to die back.
Again, wet soil and moisture favor the growth of soilborne pathogens, which will then attack the already weakened roots causing decay.
Root rot will further limit roots' ability to perform their functions. If not checked, it will kill your plant.
What does root rot look like I pothos – signs and symptoms
You can quickly identify pothos root rot by looking at the various signs and symptoms of your plant. Common ones include the following:
Yellow leaves: Pothos leaves will turn yellow, starting with lower ones. This chlorosis happens because your plant is unable to absorb nutrients and water.
Wilting and drooping: Since they cannot get enough water to maintain cell turgor, your pothos will wilt and droop.
Brown spots and lesions: Some types, especially those caused by Phytophthora or Rhizoctonia root rot and aerial blight may affect leaves, causing brown spots on leaves and stems or lesions.
Leaf scorch: Leaves' edges and tips will turn brown and become crispy. Also, there may be dry patches in between veins.
Stunted growth: Your plant will grow slowly or not grow at all because it cannot get the nutrients and water it needs.
Leaves falling: They may start losing prematurely, especially after they turn yellow, wilt, or look burnt.
Molded smelly potting mix: The potting mix may become smelly and look moldy – cottony fungal growth and light brown sclerotia.
Mushy stem base: Your plant may have a mushy stem base or what is known as crown roots. It may appear dark or black and mushy.
Rotten roots – Instead of being white or tan with white tips, roots look black or brown and mushy.
These are some of the common signs. We will cover more as we look at the various pathogens responsible.
Root rot vs. healthy roots pothos
The surest way of confirming that your plant has root rots is keenly observing the roots.
| | | |
| --- | --- | --- |
| Feature | Healthy roots | Rotten |
| Appearance and color | Long, white, or tan and have white tips. | Black or brown with visible lesions and cankers |
| Feel | Firm, succulent and thick | Soft or mushy, crumbly, limp, and sloughs easily |
| Smell | If healthy, they should smell like your potting mix | Foul decay, sulfur, or rotting matter smell |
Causes
Root rot in pothos is due to mainly soilborne fungi. But it may result from bacteria too.
1. How the pathogens spread
Some of the pathogens occur naturally in the soil but may not affect your healthy plant. When weakened, they will attack it. Other ways these pathogens may spread to your pothos by the following means:
Contaminated potting mix, including one with sclerotia or spores (hardened and compact fungal mycelium)
Infected equipment, including pruning scissors, pots, etc., and poor sanitation – not washing hands before and touching your plants.
Contaminated water.
Since some pathogens occur naturally in soil, putting your pots in the ground may cause spread. This applies to placing your coco coir, peat moss, or bark on the ground.
Plant material
Hanging plants on top of others, i.e., the top, may contaminate the lower one
2. Pathogen and symptoms
Phytophthora sp., is the most common pathogen, followed by Rhizoctonia sp., and aerial blight. But there are also others. Let us look at each of them. They are all caused by fungi.
| | |
| --- | --- |
| Cause | Symptoms |
| Phytophthora root rot | It is caused by various Phytophthora sp., with Phytophthora nicotianae. But others like P. capsici and P. tropicalis may be a cause. Symptoms include wilting, leaves turning yellow, and black to brown spots on leaves. Others are dark brown lesions stems and mushy, dark brown to black roots that slough easily. |
| Rhizoctonia root rot and aerial blight | Infected plants will grow slowly, have yellow leaves, and wilt. Also, you will see sunken brown lesions or cankers on stems, especially on the soil line, and roots will appear brown, mushy, and crumbly. If it affects leaves, you may notice aerial web blighting if it affects leaves. |
| | |
| Southern blight | Sclerotium rolfsii causes southern blight. You may notice feathery white strands on your potting mix, sclerotia, brown or black lesions near the soil line, and girdled stems. Other symptoms are wilting, leaf discoloration, and sudden death or collapse. |
| Pythium root rot | Pythium species is the cause and signs include stunted growth, crown rot, wilting, and death. Also, roots will have water-soaked lesions and will slough easily, leaving a vascular cylinder behind. |
3. How to prevent or treat root rot causing pathogens
Treatment of these fungal diseases is by use of fungicide, and in some cases, you may need to repot your plant. But you need to pick a fungicide specific to the pathogen you are treating. For instance, Southern blight Rhizoctonia and southern blight need a fungicide with PCNB.
To prevent it, here is what you need to do:
Check for any signs on new plants and isolate affected ones.
Use raised benches to prevent water splashing
Don't hang plants over others
Maintain proper sanitation that includes washing your hands with a disinfectant and sterilizing your equipment.
Avoid wetting your leaves and improve air circulation
The University of California recommends adding well-composed pine bark to your potting (about 20%) as it may help deal with Pythium also Phytophthora sp., cases.
Avoid overfeeding
How to fix or save pothos from root rot
Once you positively confirm your plant has root rot, you need to examine the damage's extent. If all the roots are mushy, brown, or black, discard your pothos. You cannot save it.
However, if some still have white tips, you can save your plant. Here is how to fix root rot in pothos.
1. Repotting your pothos
We recommend getting a new pot. But you can still disinfect your current one using a 10% bleach solution. If you have a ceramic pot, this will take several hours. Afterward, rinse it in running water for plastic, and again if clay, soak it in clean water for hours again.
Remove your plant from the pot, tap it to get rid of excess soil, and put it under running water to remove any remaining dirt.
Use sterilized gardening scissors to cut mushy, black, or brown roots just above the point of the damage.
Sterilize your gardening scissor and remove 30 to 50% of the leaves. How much to remove depends on the size of roots you cut off. Why? They cannot support your plant as they are smaller.
Dip the roots in a fungicide and repot your plant into a new pot.
2. Treating pothos root rot with hydrogen peroxide
Minor cases may not need repotting. Instead, you can use hydrogen peroxide to treat root rot in your pothos. It will also help supply oxygen.
Mix 15ml or a tablespoon of 3% hydrogen peroxide to 240 ml or a cup of water and slowly pour the mixture to the roots. It will kill the pathogens responsible.
3. Fix overwatering issues
Overwatering is one of the primary triggers. So, you need to ensure you properly water your plants. Here are quick tips:
Allow soil to slightly dry in-between watering., i.e., water your pothos when the top 1-2 inches of the potting mix is dry. Also, test your soil before watering. Use your finger (it should be dry up to the first knuckle) or use a soil moisture meter like XLUX, the best rated at Amazon.com.
Select a well-draining soil. We either make an aroid mix, buy one from Etsy.com or buy Miracle-Gro Indoor Potting Mix. They are both fine.
Make sure your pot or planter has drainage holes and is the correct size. Too small will make your soil dry fast, while an oversized may cause overwatering.
Maintain optimum conditions, i.e., temperature, light, and humidity. But ensure there is proper air circulation.
Pothos in water root rot
It's not just pothos that is in soil that can end up with this disease or problem. But those in water can also have this problem, including cuttings. Pathogens responsible may reach your plant via contaminated water or poor sanitation.
If you don't regularly change your water, your plant may deplete oxygen. This will favor fungi that cause the rot as they love places with no or little oxygen. Also, without oxygen, roots will be weaker and not work well as already seen.
The fungi will multiply sporadically, causing rot. When this occurs, roots will turn brown or black, feel mushy, and the water will look cloudy.
Depending on the pathogen responsible, it may work itself along the stems and even affect leaves.
Other signs you may notice include wilting, yellowing of leaves, stunted growth, and leaves falling.
Remove your plant from water, sterilize your jar, and put fresh water to manage the issue. Next, dip the roots in a fungicide and return them to the growing container.