This Monstera deliciosa vs. borsigiana has insight into these two popular Monstera plants sold in the market, plus their differences. Not all vendors label them correctly. Some do it deliberately. You don't want to buy a borsigiana thinking it is deliciosa.
We will start with information on M. deliciosa and M. borsigiana. Later, as we dig deeper, you will get the differences between these two closely related plants. There will also be something small on their variegated forms, especially the Thai constellation and Monstera borsigiana albo variegata.
By the end of our discussion on Monstera borsigiana vs. deliciosa, you should quickly tell which one is which if you see the two plants side by side.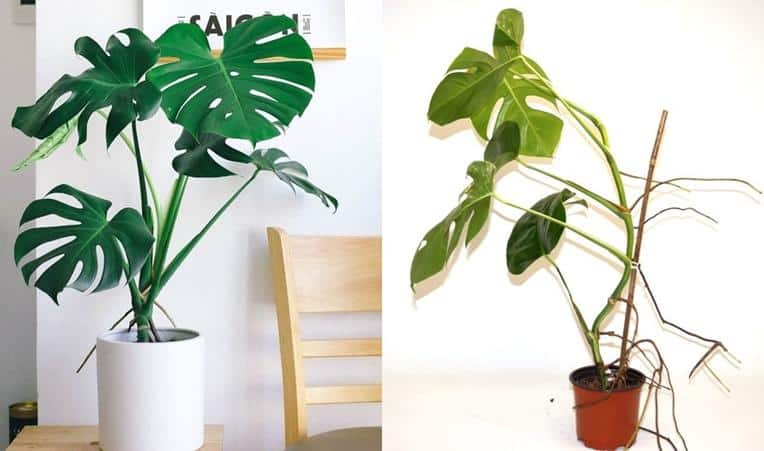 What is Monstera deliciosa
Monstera deliciosa is the most popular Monstera species valued for its lovely foliage, i.e., the large split and fenestrated leathery and glossy deep-green heart-shaped leaves. The juvenile leaves may not have fenestration. But most plants show splits when they have at least five leaves.
It is native to Southern Mexico to Panama, and it has an edible fruit whose taste reminiscence pineapple, banana, and mango. Deliciosa is Latin, meaning delicious, referring to the sweet edible fruit.
The edible fruit has given this Monstera common names like Mexican breadfruit, Penglai banana, monster fruit, delicious monster, fruit salad plant, or tree. Other common names are Windowleaf, Split-leaf philodendron, Swiss cheese plant or vine, and ceriman.
Locally, the Guatemalan call it harpón, and the Mexican call it piñanona. In French it is plante gruyère, Spanish costilla de Adán and costela-de-adão in portuguese.
That is not all. Swiss cheese plant refers to the fenestrated leaves. They resemble Swiss cheese. Also, the adorable Monstera obliqua and Monstera adansonii use the name swiss cheese plant.
Last but not least, don't be carried away by the name split-leaf philodendron. This plant isn't a philodendron, and the name refers to its juvenile split leaves resembling a philodendron.
Warning!
Only eat a well-ripened Monstera deliciosa fruit. Otherwise, it will cause severe oral irritation. Why? Because it has needle-like calcium oxalate crystals. All other parts of the plant are toxic, i.e., leaves, stems, and roots. And they are toxic not just to you but also to your dogs, cats, and other pets. 
What is Monstera borsigiana
Monstera borsigiana, officially Monstera deliciosa var. borsigiana is a variety of Monstera deliciosa. We know that most plant databases (1, 2, 3) this plant as a heterotopic synonym. And this is right because it is only a variation and not a separate species.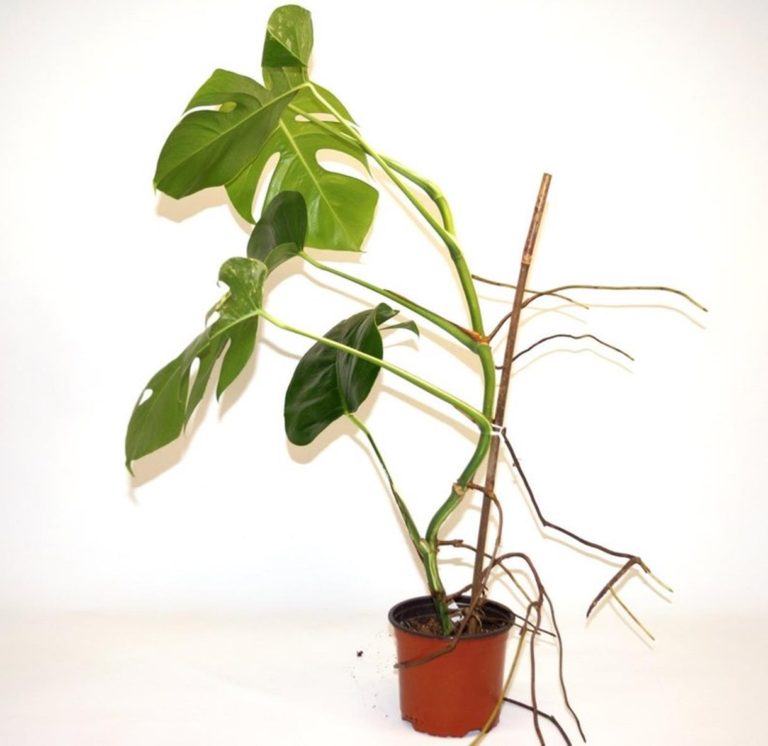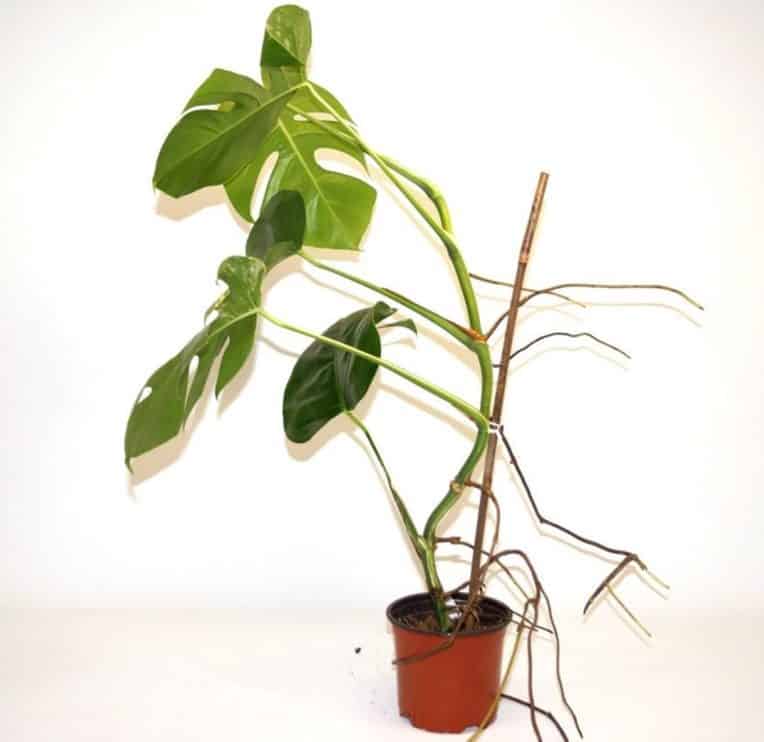 The other M. deliciosa variety is M. deliciosa var. sierrana. These two varieties occur in the same geographical regions, i.e., tropical Central America, from Panama to Southern Mexico.
last but not least, a borsigiana is also a Swiss cheese plant or a split-leaf philodendron. However, we haven't tried its fruits. But they are most likely edible too.
Monstera deliciosa vs. borsigiana
Yes, one is a variety of the other. But these two plants don't look the same. So how will differentiate a Monstera deliciosa from a borsigiana? This will be our main focus.
Let us start with a summary. Next, we will go to the details.
| | | |
| --- | --- | --- |
| Feature | Monstera deliciosa | Monstera borsigiana |
| Geniculum | It has wavy edges | It appears smooth |
| Growing habits | Sprawls or spreads more like a ground cover. | Vining plant that loves to climb. |
| Leaves size and appearance | Larger leaves with more splits and fenestrations (holes). Pinate will be thinner and not evenly separated. | Smaller (about half the size of deliciosa), less fenestrated leaves with thicker pinnate that are even separated. |
| Stems | Thicker stems with shorter internodes | Thinner stems with longer internodes |
| Growth rate | Grows slower | Grows faster |
| Prices | Costs more, $15 to $50 | Costs less, $10 to $25 |
1. look at the geniculum appearance
All monsteras have a geniculum, a knee-like bend that links the leaf blade to the petiole. But it only occurs in mature leaves, and it helps in plant movement or flexibility. So, these plants can move leaves towards light and remain flexible in windy conditions.
The geniculum is one unique feature that differentiates genus Monstera from philodendrons. So, it is incorrect to say that some Monstera doesn't have it.
If you keenly observe the geniculum, it has a wavy or wrinkled (crispate) margin or edge on a Monstera deliciosa and is smooth on Monstera borsigiana.
2. Consider growing habits
Both plants are hemiepiphyte, i.e., they grow as terrestrial creepers on one stage and the other as epiphytes. An epiphyte is a plant that grows on another non-parasitically.
What differentiates the two is that a Monstera deliciosa grows as a stout sprawling plant. It will spread over a large area untidily and grow more like a ground cover. Also, it can support itself without you staking it unless it grows too tall
On the other hand, Monstera borsigiana grows like a vine. It tends to climb or trail. So, you expect it to grow more like a pothos, and it will be happy if you give it a moss pole or somewhere to climb.
When buying them, if yours came with a stake – moss pole, bamboo stick, etc., it is most likely a borsigiana. Why? Because it grows as a vine and may not remain upright on its own. But this is not a sure way to differentiate it. Some vendors include the pole in both plants.
3. Consider leaf size, splits, fenestrations, and appearance
Look at the leaf size and appearance of these plants side by side. As the University of Hawaiʻi, College of Tropical Agriculture and Human Resources puts it, Monstera borsigiana has "smaller, glossy leaves with pinnate lobes widely and evenly separated."
The borsigiana leaves are half the size of deliciosa, i.e., about 1.6 feet (19.2 inches). Also, they have fewer fenestrations and splits. And the splits are far from each other and occur more uniformly.
On the other hand, Monstera deliciosa leaves are much larger, about 3 feet (36 inches) in size, and they have more fenestrations and pinnae. You will see more holes and splits (narrower pinnate) that appear uneven.
Please note that leaf size alone may not correctly separate these two. Why? Because the size depends on growing conditions, plant age, and other factors. Also, the juvenile plants will have fever splits.
Last but not least, both the plants have leathery, glossy heart-shaped leaves. Juvenile plants don't have fenestrations but will begin splitting a little early than other Monsteras then have holes.
4. Look at the thickness and internodes of the stem
Looking at the stem size and internodes, you can quickly tell if you have a Monstera deliciosa or borsigiana. Usually, M. deliciosa have thicker stems with shorter internodes, i.e., the leaves are much closer to each other.
On the other hand, a borsigiana will have longer internodes, meaning the leaves are also far apart from each other.
4. Growth rate
Another difference between Monstera deliciosa and borsigiana is the growth rate. Under ideal conditions, a borsigiana will grow faster than a deliciosa.
It is not easy to use this marker to tell the difference unless you start with plants the same size. Also, you need to provide them with optimum conditions. Fortunately, they are much or less the same.
5. How much do they cost?
Price is a variable that depends on your location, plant size, and many other factors. But if you consider the prices of these two, Monstera deliciosa is slightly expensive than borsigiana. We are not talking about the variegated ones.
For instance, at Etsy.com, its price averages from $15 to $50, with the bigger, more established plants going for a much higher price. But if you are buying a borsigiana, its price ranges from $10 to $25.
Bottom line
Monstera deliciosa var. borsigiana is more of a vining plant with thinner stems, longer internodes, and smaller leaves with larger, evenly separated pinnate lobes. It costs less and grows faster. On the other hand, Monstera deliciosa has larger leaves, shorter internodes, thicker stems, and sprawls or spreads over a larger area like a ground cover. You will pay more for this plant, and it grows slowly. 

Monstera albo borsigiana vs Thai constellation Monstera
You know everything about deliciosa and borsigiana. These two have variegated forms, which are rare and expensive. Again, besides variegations, the primary differences will come to play.
Here is a summary of the two.
| | | |
| --- | --- | --- |
| Detail | Monstera borsigiana albo variegata | Monstera deliciosa Thai Constellation |
| Appearance | It has green leaves with nearly white variegations with fewer speckles, streaks, and more sectors. Some may be half-moon or primarily white | Green leaves with many creamy to white scattered speckles or splashes resembling a constellation or galaxy. Also, it has few variegated sectors or blocks. |
| Origin | A natural gene mutation that affects chlorophyll formation | Made by tissue culture in Thailand |
| Stability | Unstable variegations. May revert to green or have completely white leaves | Very stable. They will consistently give variegated leaves. |
| Internodes | Longer | Shorter |
| Price | Slightly expansive | Slightly cheaper |
| Rarity | Rare as the variegation occurs naturally. | They are also rare, but not as the Monstera albo borsigiana |
Whereas the Thai constellation is stable, leaves' appearance will vary from one another in both these two plants.
Monstera deliciosa vs. borsigiana care
Since they are from the same species, you expect their care to be more or less the same. Perhaps one significant difference is that your M. borsigiana may require a pole. Why? As seen, it grows more like a vine.
On the other hand, your M. deliciosa can grow without a pole. However, if you want it to be large or it becomes tall, you will also need to support it.
Here is the care summary:
1. USDA hardiness zone
Their USDA hardiness zone 10b to 12. They don't tolerate freezing temperatures, and frost will kill them. Only people in these zones can grow them outdoor all year.
2. Temperature
The optimum temperature for Monstera deliciosa and borsigiana is 65 to 85 degrees Fahrenheit (18 -29°C. They stop growing when temperatures hit 50°F (10°C). Avoid cold drafts and sudden temperature fluctuations.
3. Humidity
As tropical rainforest plants, please give them a bit of humidity. 50% or more is ok but ideally, 60% or more. Mist them a few times a week, have a humidifier or pebble tray if your humidity is too low.
4. Light
They prefer bright, indirect light. But these plants don't mind medium to low light. Please don't put them under hot direct sun. Also, too little light may affect their growth.
5. Soil
Please give them a chunky, well-drained soil or potting mix high in organic matter. A peat-based potting mix with perlite, bark chips and worm castings will suffice.
6. Watering
Allow the soil to slightly dry in-between watering. Water when the top 2-3 inches of the soil feels dry. Depending on your conditions and plant size, it may be after a week in spring or summer and biweekly in winter.
Keep the soil moist, not soggy or completely dry. Thus, avoid overwatering as it will cause root rot in your monstera. Also, letting the soil dry will make leaves curling, have brown tips or edges, and make your plant grow slowly or kill it.
7. Fertilizer
These plants are medium feeders. We recommend feeding them once a month in spring or summer using a balanced houseplant fertilizer. Please don't feed them in winter or when they are not growing.
8. Pruning and grooming
Cut any dead, damaged, or diseased leaves with a sterilized gardening knife. In early spring, you can cut some stems to control size and growth. Also, wipe the leaves when they are dusty or shower them.
9. Potting and repotting
As slow growers, repot them after 2-3 years or if you see roots growing from drainage holes. It means they are rootbound.
Propagation
The best way to propagate monstera deliciosa and borsigiana are by stem cutting in water or soil (potting mix). It would be best if you did it in early spring. However, you can also opt for air layering or seeds.