Many vendors often mislabel Monstera dilacerata as Monstera Burle Marx Flame, yet these two plants are different. Did you know that Monstera dilacerata is a synonym of Epipremnum pinnatum and the plant isn't even a Monstera?
We will look at M. dilacerata and M. Burle Marx Flame, telling you the difference and a lot more.
About Monstera dilacerata
Scientific name: Epipremnum pinnatum
Synonyms: Monstera dilacerata, Rhaphidophora pinnata, Scindapsus pinnatus, Pothos aurea, E. m elegans, R. laciniata, etc.
Common names: Centipede tongavine, dragon-tail plant, Pothos Ivy, Tibatib
Genus: Epipremnum
Family: Araceae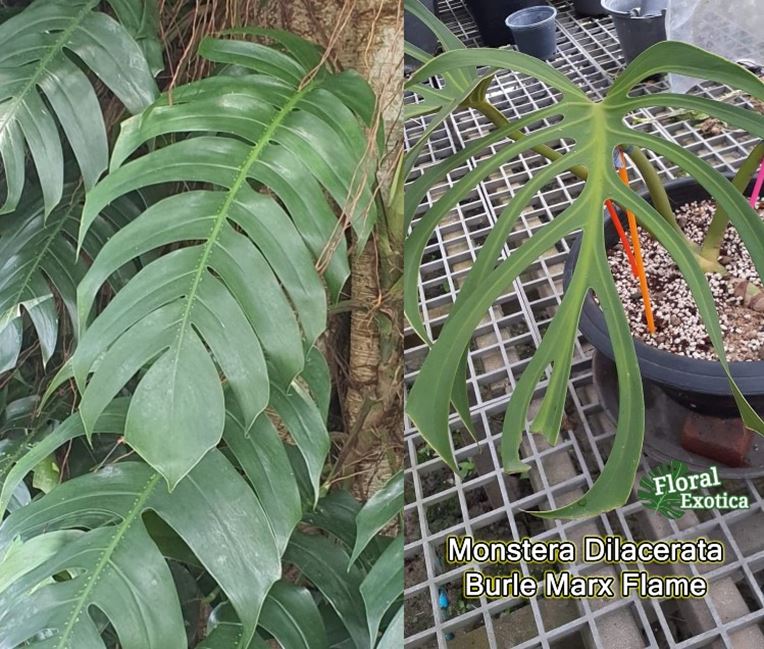 Monstera dilacerata is one of the synonyms of Epipremnum pinnatum. Any plant database can confirm this (1, 2, 3).
Yes, its synonyms suggest it is a Monstera, Rhaphidophora, or even a Scindapsus. But it is an Epipremnum. Many botanists and hobbyists confused it so much until it ended up with 24 synonyms. This is why they ended up with so many names.
Genus Epipremnum has 15 species, with pothos (E. aureum) the most popular with many cultivars. But pinnatum also has varieties or cultivars like Cebu blue, Baltic Blue pothos, and skeleton key. Also, you will get variegated E. pinnatum forms, including cultivar Aurea and Albo variegata.
The juvenile form has small arrow-shaped leaves, while adult plants have larger, oval split leaves resembling palms or a dragon's tail. Also, it has some pin size holes along its midrib.
It is the fenestrations (holes) that made many collectors and botanists confuse it for a Monstera. Also, the confusion arose from some collecting mature plants without seeing the baby forms.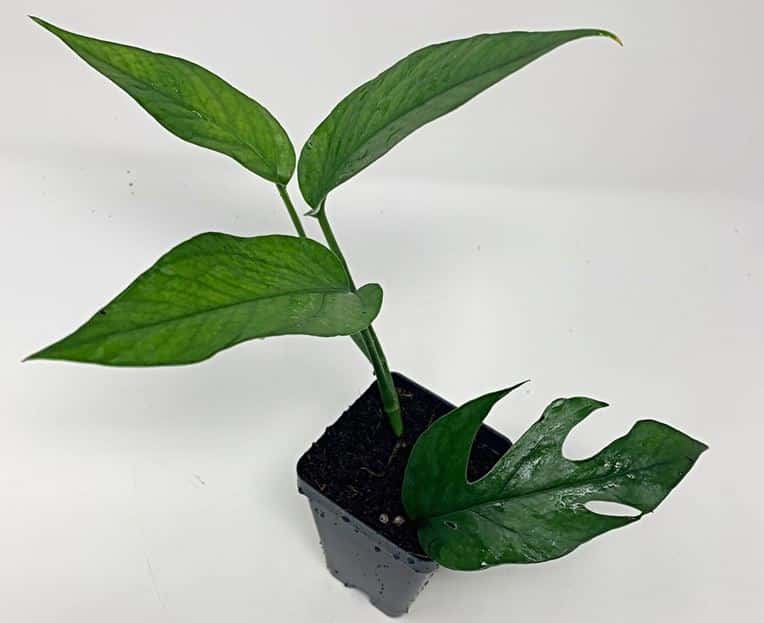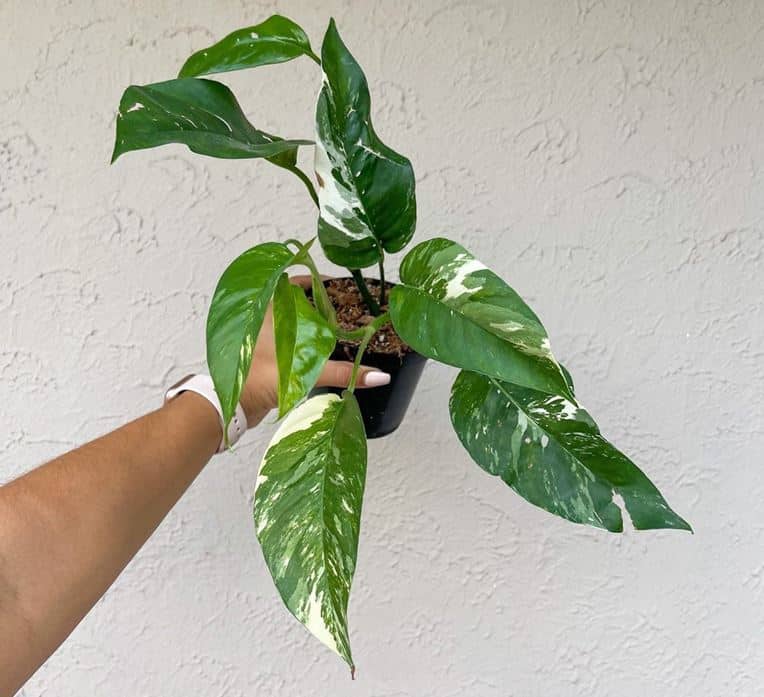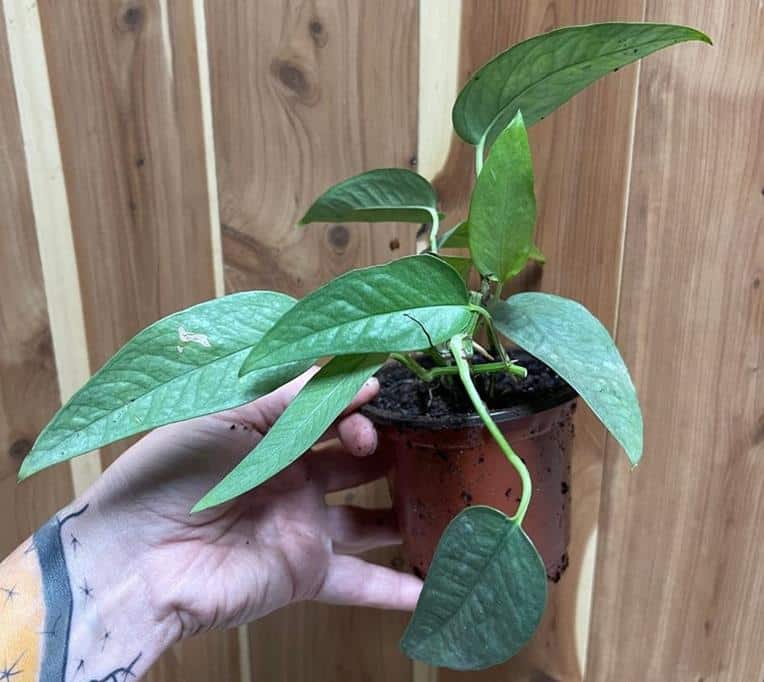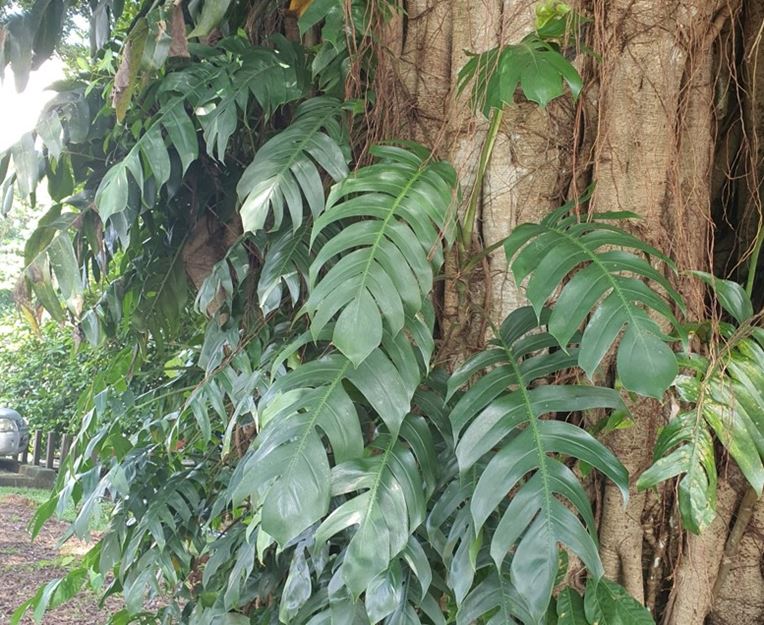 Like Monsteras, these evergreen climbing plants can get very long, i.e., they get between 19 to 66 feet tall. However, for them to mature, they need a climbing place. So, consider giving them a moss pole.
Last but not least, M. dilacerata is native to Asia. They are found from Northern Australia to Indochina and Malaysia, Taiwan, Southern China, Japan, and Melanesia.
Monstera Burle Marx Flame
Scientific name: Monstera Burle Marx Flame
Genus: Monstera
Family: Araceae
Monstera Burle Marx Flame is a type of Monstera, not the same as M. deliciosa var. sierrana as many people suggest or even var. Brazil (Brazil Common Form). But it belongs to the Tornelia section just as a deliciosa.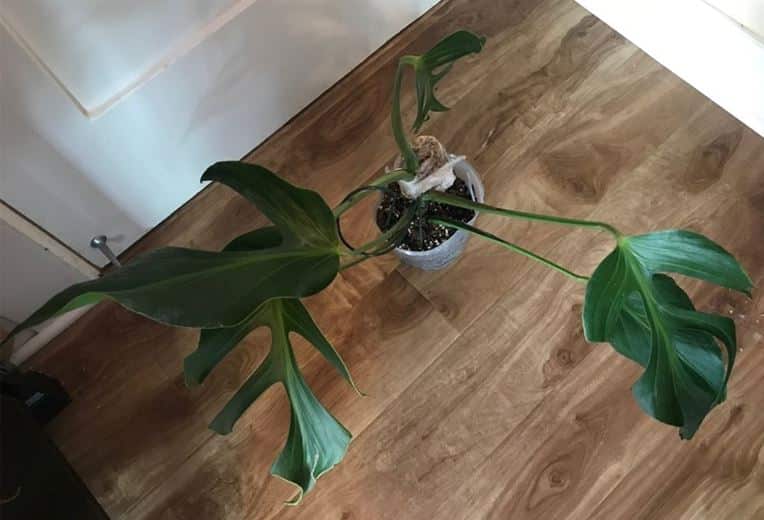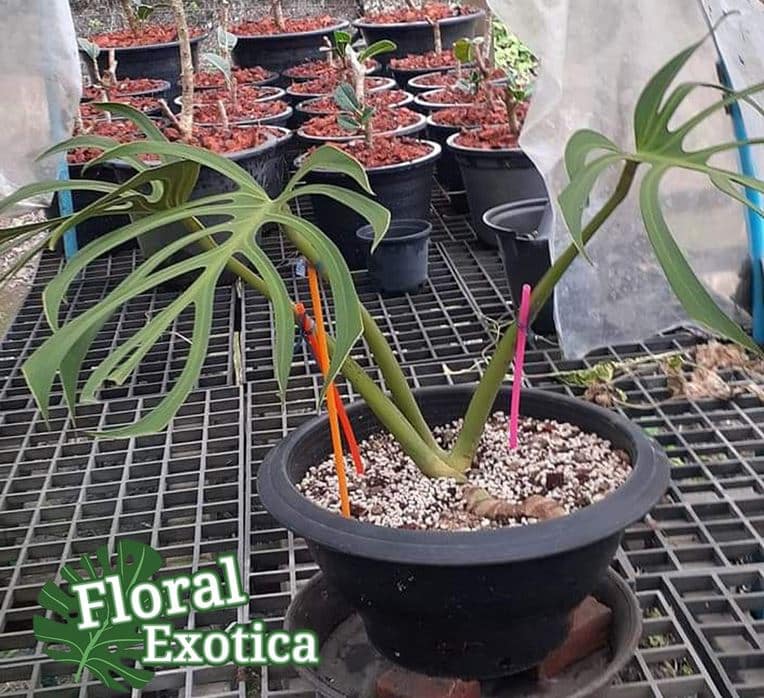 Monstera has over 45 accepted species. They are all native to Mexico and Central America. The Most popular is M. deliciosa (Split-leaf philodendron), followed by M. Adansonii. Their common name is the Swiss cheese plant, together with M. obliqua.
Like deliciosa, it has green pinnatifid and fenestrated leaves, but they are smaller and have fewer pinnae. But its leaves are much thicker.
The other distinctive feature is its light green large veins that run on the midrib and along the pinnae. Also, their pinnae are much thinner than the sinuses (in-between gaps).
Lastly, if you consider the pattern of their pinnae, they form a rib-like cage. You cannot fail to notice these distinctive features, especially on adult plants.
Monstera dilacerata vs. Burle Marx Flame
As seen, these plants are different. They come from separate genera. But they are both members of the Arum family, Araceae. You also deserve to know that they come from the same tribe Monsteroideae, which also has Amydrium, Rhaphidophora, Scindapsus, among others.
Let us now have a side-by-side comparison to help you easily distinguish these two. You don't have to continue confusing these two. Why? They have enormous price differences, and you won't be happy to end up with one when you paid for the other.
| | | |
| --- | --- | --- |
| | M. dilacerata | M. Burle Marx Flame |
| Genus | Epipremnum | Monstera |
| Family | Araceae | Araceae |
| Growth rate | Faster | Slower |
| Leaves appearance | They have oval pinnatifid leaves with small pin-like holes along the mid-rib side. Their pinnae are broader, and the in-between gaps are narrower than pinnae. Also, these leaves a pattern that resembles a dragon tail or centipede. Leaf veins are not conspicuous and narrower. | It has heart-shaped green pinnatifid leaves with few holes. The pinnae are narrower, and the in-between spaces are more significant than the pinnae. The splits form a rib-cage pattern, and they have broader and more conspicuous. |
| Price | They are affordable and readily available. Standard plants go for $10 to $50 depending on the plant size and variegated forms selling at $100 to $200. | Very rare and expensive. Depending on the size, you will pay between $3000 and $20000 per plant. Most vendors sell small rooted plants at $6000 to $9000. |
Care and growth requirements
These two plants have similar care needs. They require bright, indirect light, average to above-average humidity 50 to 60% or more, and cannot withstand frost or freezing temperatures.
Also, they both require warm temperatures, but dilacerata thrives best in slightly higher temperatures, i.e., 70 to 90 degrees Fahrenheit ( 21 to 32°C) vs. Burle Marx Flame's optimum temperature of 70 to 85°F (21 to 29°C). But both will grow well in the temperature range of 65 to 85 °F (18 to 29°C).
To grow them, you need well-drained soils rich in organic matter. We use aroid mix (see Etsy.com).
You should allow the potting mix to slightly dry in-between watering. The watering frequency (how often) these plants depend on the season, environmental conditions (temperature, humidity, and light). Also, the pot size and type and your plant have an influence.
So, water when the the potting mix is dry up to the first knuckle. Alternatively, use a soil moisture sensor like XLUX and water when it reads three or less (dry zone).
Again, both these two plants are medium feeders. Just fertilize them once a month with a liquid, houseplant fertilizer in summer and spring only. See best fertilizers to use.
Where to buy these plants?
E. pinnatum is readily available at Etsy.com. Also, big box stores like Walmart have some of the forms. You will also find it at eBay, Steve's Leaves, among other places.
If you are interested in Burle Marx Flame, it is much harder to find and costly. Try Etsy.com, as it has a few vendors. Also, try Facebook plant groups, Instagram, and so on. Only a few rare plant collectors have it. Get someone you can trust.