Getting a Monstera on plant sale, be it a variegated Monstera like Monstera albo, aurea, mint variegata, Thai constellation, or non-variegated ones like Monstera deliciosa, Peru, or adansonii, shouldn't be a daunting task if you know where to look for these plants.
We have the 12 best places to get the Monstera plant on sale. These are the places you get almost any type, variety, or the Monstera species you want, from rare ones like Monstera obliqua to common ones like Monstera siltepecana, dubia, or pinnatipartita.
But before buying any plant, ensure you see the actual pictures and see whether it's a cutting or a rooted plant. For variegated plants, make sure the node has a variegated leaf. Also get trusted vendors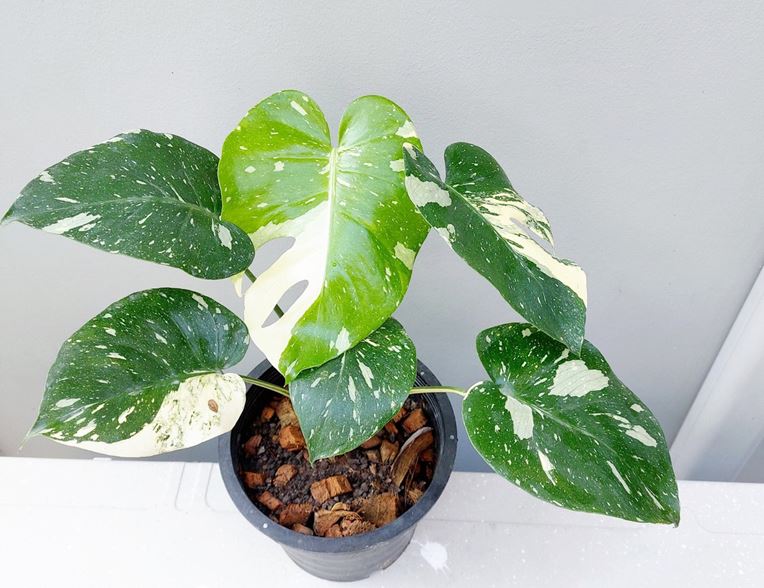 Let us look at these places.
1. Etsy.com
Etsy.com is the best place to find and buy Monstera. Here, you will find virtually any species you want from numerous vendors.
It's not just for the people in the USA but also other regions, including the UK, Canada, Australia, Philippines, New Zealand, and virtually anywhere in the world.
Many reputed companies, including American Plant Exchange, Hirt's Gardens, Brighter Blooms, California Tropicals, Wekiva Foliage, and many others, sell on Etsy.com.
Etsy.com is very easy to use. Just search for the plant you need, see which vendors have it, and select the plant you like. Pick people with many positive reviews, and ensure you see the actual picture of the plant you will receive and not just the mother plant.
Start with vendors near you or ship to your location before going for those in different geographical areas. It will make a saving on the total shipping cost.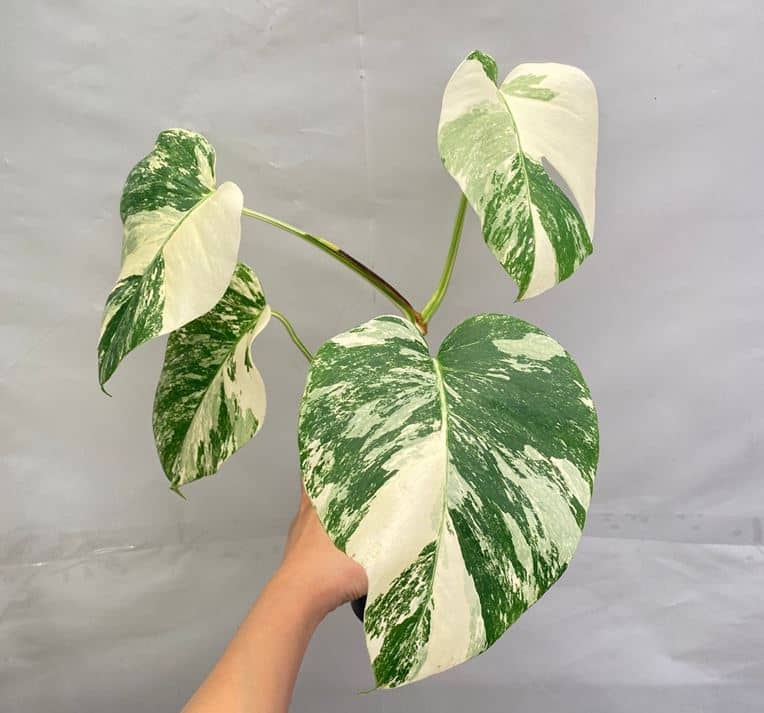 2. eBay
eBay, like Etsy.com, is a great marketplace to buy Monstera. Here you will find almost every species with costly and rare plants available in auctions.
People from other countries, including the UK, Australia, Canada, New Zealand, Germany, etc., can buy from eBay if they find nearby vendors or those willing to ship internationally.
Prices are competitive and comparable to those of Etsy.com, and packaging will vary, i.e., some plants are in pots, others as wet stem cutting.
Last but not least, the shipping information will vary from one vendor to another. Buy from reputed vendors and ensure you see the actual plant.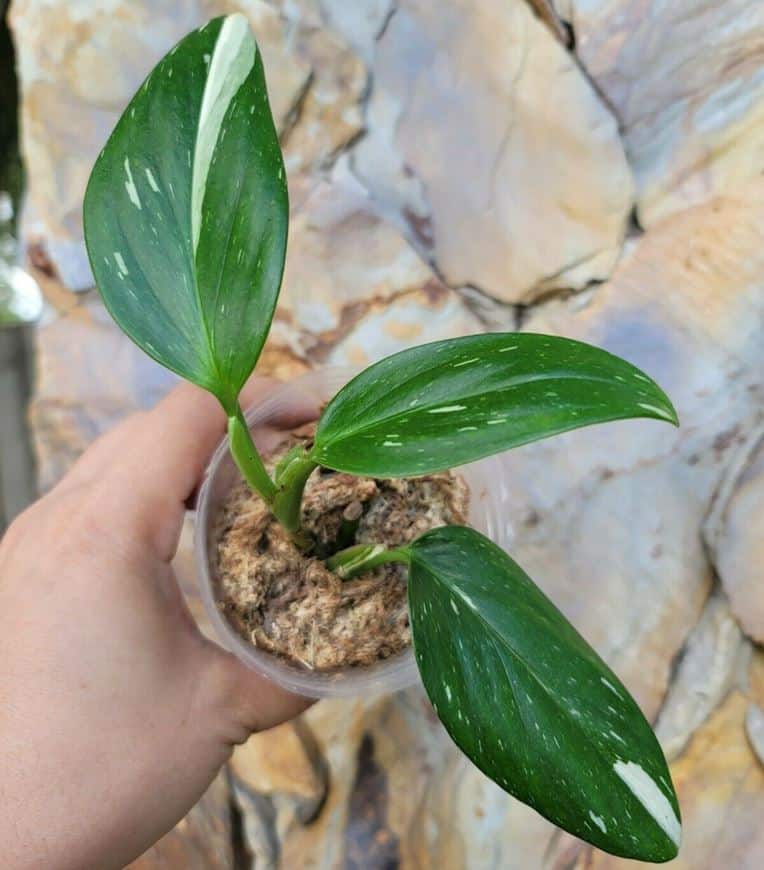 3. Facebook and Instagram
Facebook plants marketplace and Instagram are two places you will find almost every Monstera species and variety, including the variegated forms like Mint, aurea, or albo variegata.
We recommend sticking to reputed vendors as some people may easily dupe you, especially if you want rare and expensive ones.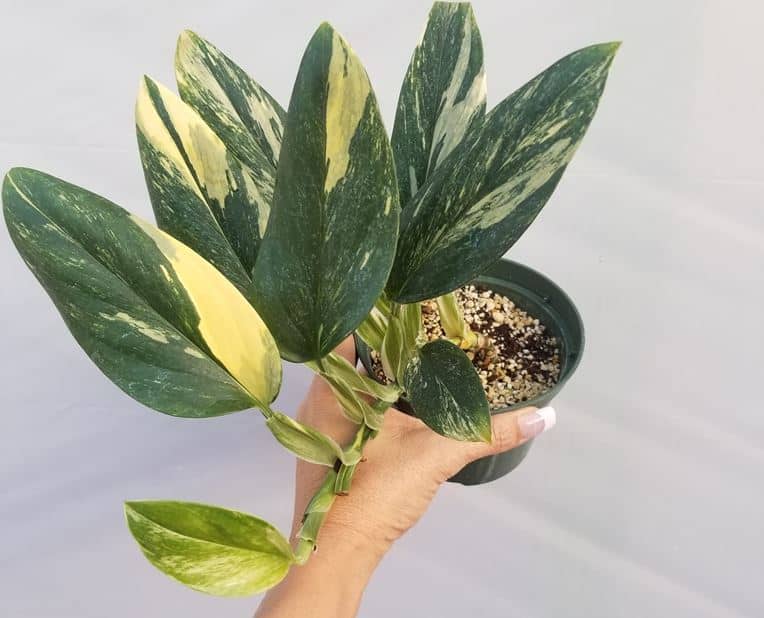 4. Steve's Leaves
Steve's Leaves is a great place to buy your Monstera and other houseplants plants all grown and propagated in their 4-acre facility in Lewisville, Texas. Since its inception in 1976, the company has seen growth, and they have over 1000 plant varieties.
You have an option of buying on auction, from their store, or at wholesale if you intend to resell their plants. Don't worry about their plant quality as their nurseries are Department of Agriculture inspected.
We love Steve's Leaves since they offer a more extensive collection of Monstera species, including M. siltepecana, Monstera so.Peru, Standleyana Albo variegata, M. adansonii var. laniata, and even Monstera deliciosa borsigiana or albo variegata unless sold out.
Steve's Leaves ships their plants nationwide, and it may take up to 7 days to fulfill your order. You can go for FedEx or USPS, but you will have to pay $6 for Winter Shipping Assurance if shipping during winter.
Plant descriptions and prices: Steve's Leaves sell Monstera plants mainly in 3 or 4″ pots with an option of 6-inch pot hanging plants. Prices are competitive but will vary depending on what you select. Different species have different costs.
Bottom line: Steve's Leaves offer a more comprehensive selection of Monstera plants at competitive rates. Their prices are what you will typically find in most marketplaces, making them a great choice since they propagate all their plants and ship from their nurseries.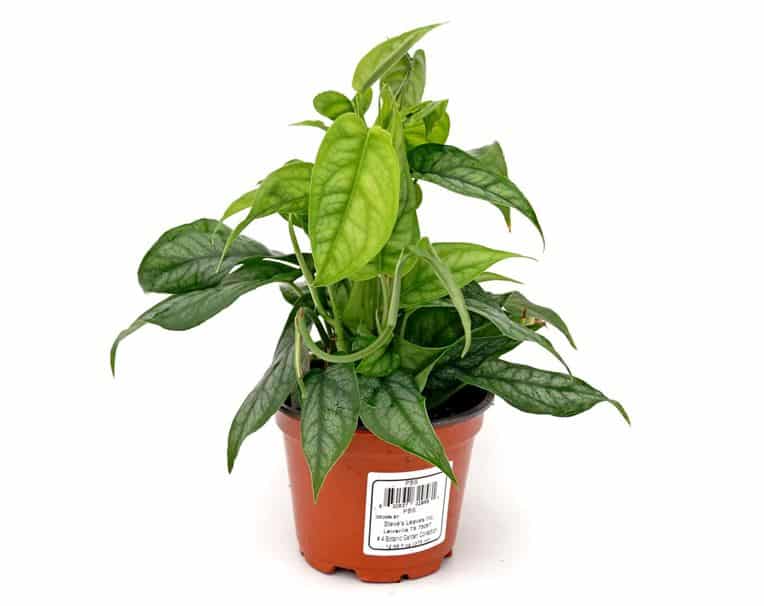 5. Logee's
Logee's boasts a long history of selling fruiting, rare and tropical plants. William D. Logee began this greenhouse in 1892 at 141 North Street, Danielson, CT 06239.
You can order your plants by mail or visit their greenhouses/retail plant store, i.e., fern house, lemon tree house, herb house, potting house, big house, and long house.
They ship their plants nationwide and ship either by FedEx or U.S. Postal Service Priority Mail. But if you buy a rare plant, you will qualify for overnight shipping at no extra cost. How much does the shipping cost? It depends on your order.
Some of the Monstera species they have include Monstera adansonii, including var. laniata (Monstera friedrichsthalii), M. Peru, M. siltepecana, and the rare Monstera 'Borsigiana albo variegata.
Plant description and prices: Plants are shipped in 2.5 to 8-inch pots at competitive prices. How much you will pay for shipping depends on the plant you are buying.
Bottom line: We highly recommend Logee's since they offer excellent prices with an auction option for their rare plants. But their shipping and packaging rates are a little higher, and they don't have any offers for spending large amounts.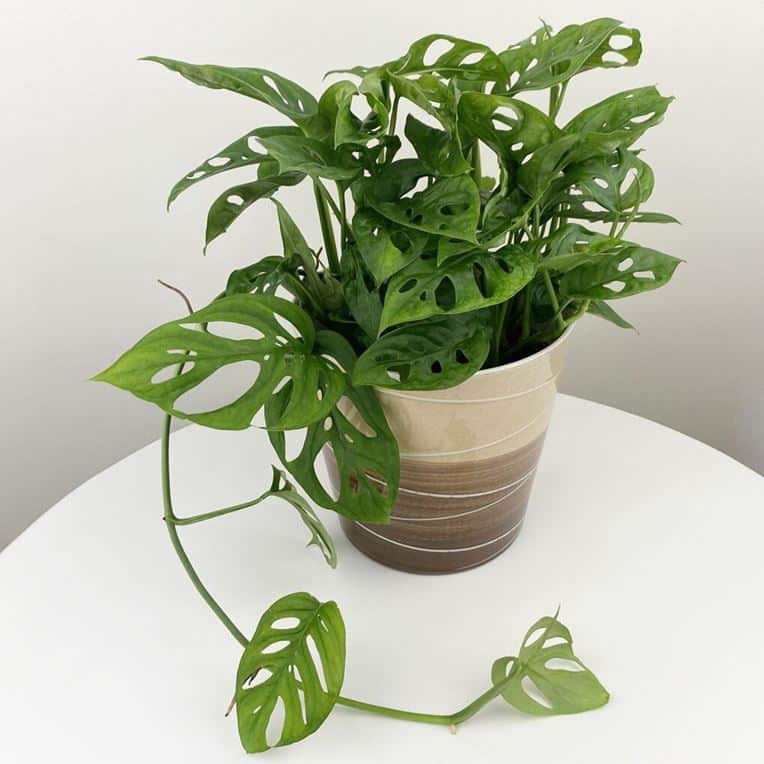 6. The Sill
Founded by Eliza Blank in 2012, the Sill is a great place to buy Monstera and other houseplants. You can purchase these plants in their in-house stores that are in California (LA and San Francisco), New York (Brooklyn, Lower and Upper Westside), Illinois (Chicago), Massachusetts (Boston), or online.
They offer shipping, including winter shipping, to all the 48 states of the contiguous United States, i.e., they don't ship to Alaska or Hawaii. Once you order your package, you will get your plants after 2-6 business days or 1-4 business days if in transit.
We like the Sill because they sell their plants in luxurious pots and plants available in many colors to compliment your indoor space. Their prices are competitive, and they also offer a 30-Day Customer Happiness Guarantee. During this duration, they will replace damaged plants.
While they are a great place to buy plants, they have limited Monstera inventory, i.e., they only have Monstera deliciosa and some trip M. deliciosa faux leaves.
Plant description and prices: You will spend between $52 to $67 depending on your select planter. You can choose between porcelain, ceramic, or upcycled plastic. Some come with a saucer. Pot colors will depend on the type you pick.
Bottom line: The Sill is a great place to buy Monstera and other houseplants. Their pots look luxurious and worth every penny you spend. But they have limited inventory.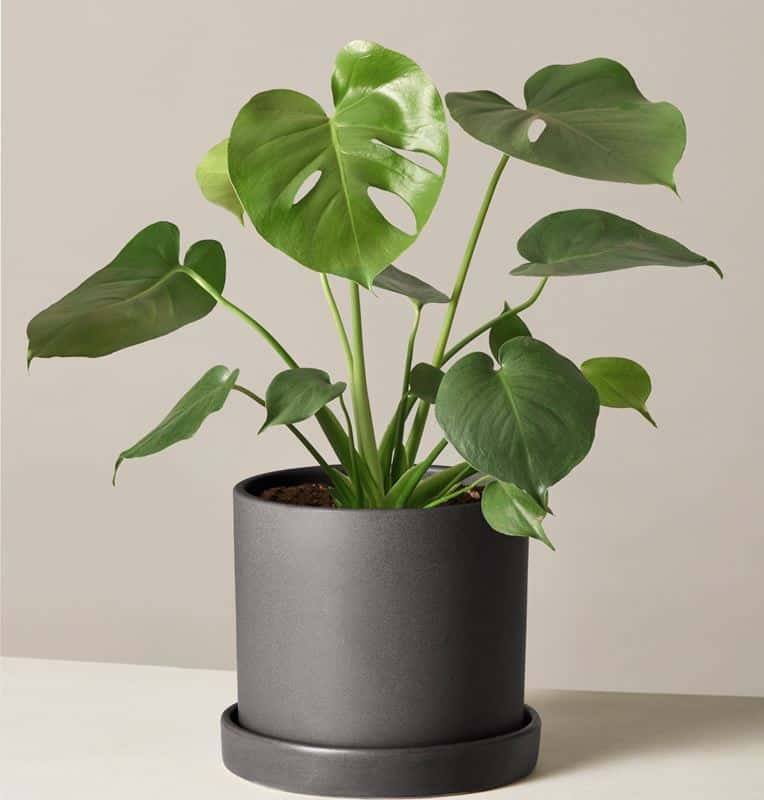 7. Bloomscape
The other fantastic place to buy your Monstera is Bloomscape. This company was founded by Justin Mast, whose ancestors and parents have a rich history in the horticulture industry.
What makes Bloomscape unique is that their plants come directly from a greenhouse, not like those that have spent some time in a box store or nursery. Also, you will get a replacement should your plant die within the first 30 days.
Bloomscape ships to 48 states in the contiguous United States (excluding Alaska and Hawaii).
How soon will you receive your plant? After 2 to 6 business days, depending on where you are.
What is extra? You will get a $10 shipping fee to offer for orders above $75. But if you ship during winter, you will incur an additional non-refundable $9 + tax Winter Shipping Protection fee.
Plant description and prices: You will pay $169 for a plant size 26 to 32 inches tall (including pot). The pots are 11.8-inch (diameter) and 12.25-inch (height) and come with a saucer measuring 10.5-inches. You can pick stone, indigo, slate, charcoal, or clay pot colors.
Bottom line: If you don't mind spending a little more for a larger plant in a modern adorable pot, Bloomscape is a perfect place to get your Monstera. But compared to other vendors, they are slightly expensive. Also, they only have a Monstera deliciosa.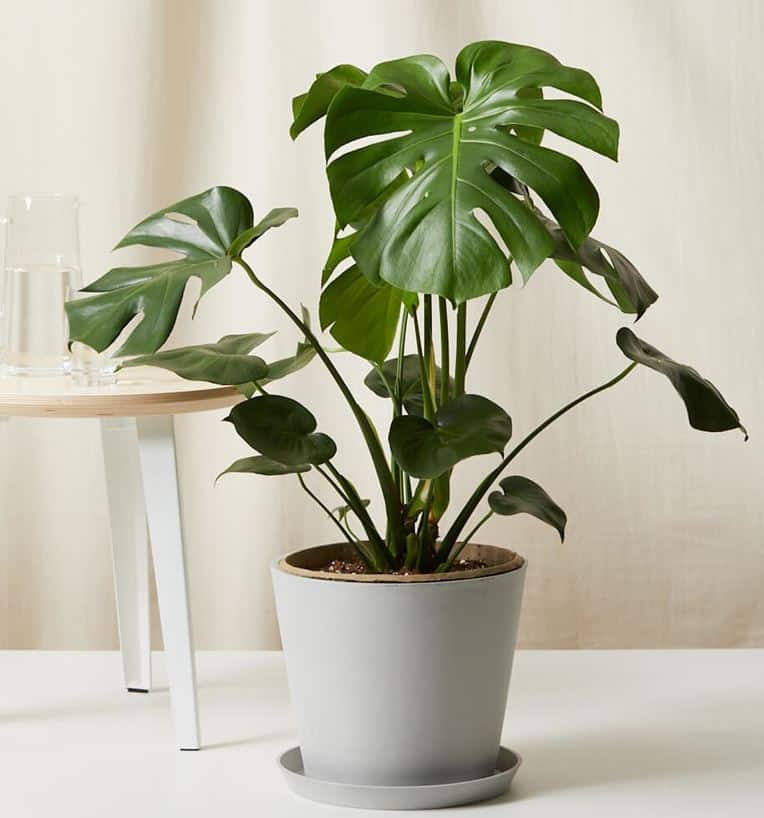 8. Canopy Plant Co.
Canopy Plant Co. is a newly started company (March 2020) by Ben Callender and Ryan Nash in New Orleans.
We love them because they have an extensive inventory of Monsteras. Whether it is M. standleyana, subpinnata, lechleriana, pinnatipartita, dubia, siltepecana, acacoyaguensis, Peru (Karstenianum), deliciosa or adansonii, they have it.
That is not all. You will get rare variegated plants like Monstera standleyana albo variegata, Monstera deliciosa albo variegata, or Thai constellation.
Canopy Plant Co. ships to a couple of states, either on Monday, Tuesday, or Wednesday, depending on your region. You have to opt for a Winter Shipping Insurance at $6.99 that includes heat packs during winter.
Plant description and prices: Most of their plants come in either a 4″ or 6″ pot. Prices vary from one species to another, and they are what you will find on most online marketplaces.
Bottom line: Canopy Plant Co is a fantastic place to buy Monstera if you are looking for variety. Their prices are also ok. But their shipping comes with some limitations, and they don't have an option for in-house purchases.
9. Rare Plant Fairy
From a humble beginning in Detroit, Michigan, Rare Plant Fairy has grown and is now one place you will find some of the rarest Monstera varieties, especially the variegated ones.
Shipping is by UPS next-day or UPS 2-day air. And it occurs from Monday to Wednesday, and they offer Complimentary heat packs if you live in cold places.
Rare Plant Fairy does international deliveries for large orders that take 2 to 5 business days. But you need to apply for a phytosanitary certificate that will cost you $80.
Some of the plants they have include Monstera Thai constellation, Monstera albo borsigiana, Monstera obliqua, Monstera Esqueleto, and Monstera deliciosa aurea.
Plant description and prices: Most plants come in 3 or 4″pots. Prices will vary from plant to plant but are within what you will find from other vendors, including Etsy.com or eBay.
Bottom line: If you want someone with a collection of mainly the rare and variegated Monstera, Rare Plant Fairy is the place to consider.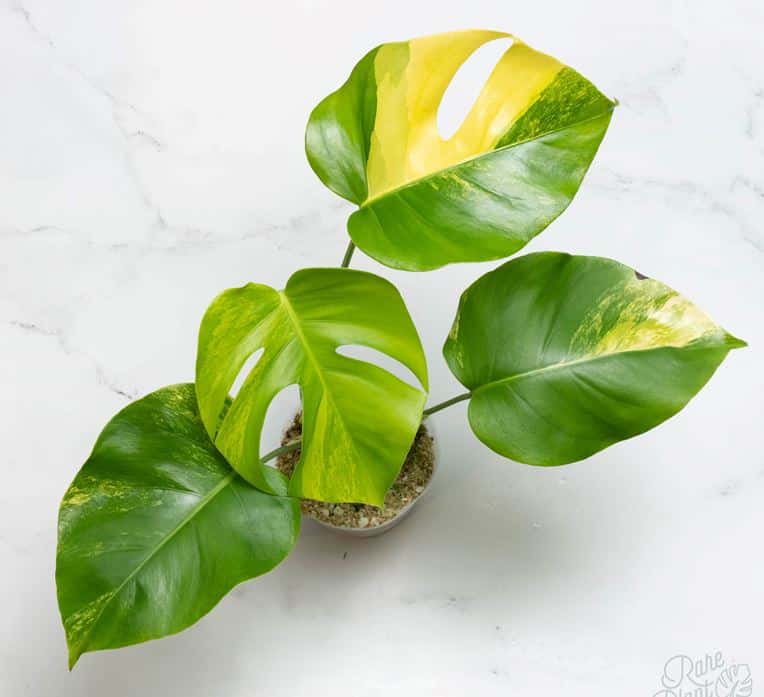 10. Peace Love and Happiness Club
Located in Fremont, Seattle, Peace Love and Happiness Club is one place you will find one of the most extensive Monstera plants inventory. Some of the Monstera plants they have are:
M. spruceana
M. acacoyaguensis
Monstera deliciosa
M. Acuminata
M. Pinnatipartita
Monstera obliqua Peru
M. Peru
M. siltepecana
Monstera dubia
M. Subpinnata
Monstera siltepecana
M. adansonii Indonesian mint variegated and albo
They have two locations in Seattle, one for houseplants and the other for collector plants.
This company ship manly UPS/ USPS to all the states of the US. During winter, they will use heat packs to prevent plant damage.
Plant description and prices: Peace Love and Happiness Club prices are ok, and their plants come in small plastic pots.
Bottom line: Peace Love and Happiness Club should be the first choice if you want a wide variety of plants. But they need to be a little more descriptive and simplify shipping information.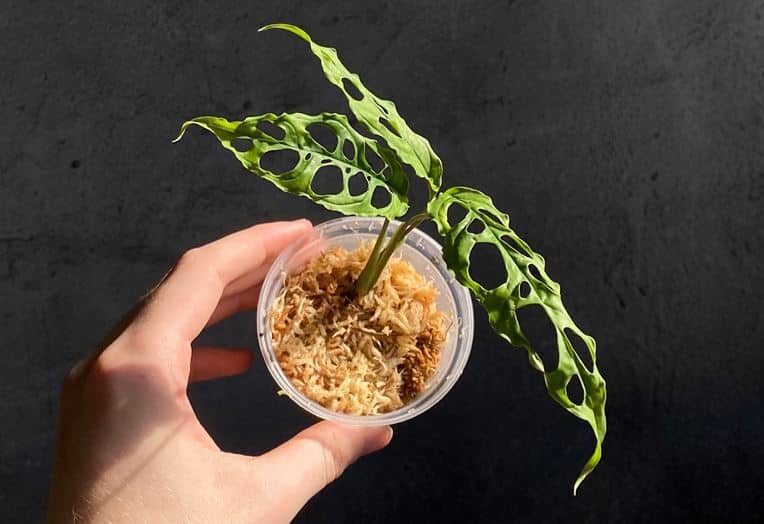 11. Rooted
Rooted began operation in 2018 and is owned Ryan and Kay. It is another place to buy Monstera and other houseplants.
They ship their plants to all the 48 contiguous US states directly from their greenhouse in Florida. If you buy their plants, Rooted will fulfill orders within 2-4 days, and shipment takes about 3-5 business days, depending on your location.
What is fantastic about Rooted is that they ship all plants free of charge. But if you need other items, like planters, merch, etc., you will incur flat-rated shipping costs depending on the weight.
Do they have a vast inventory of Monstera plants? No. They only have Swiss cheese plants (M. deliciosa and adansonii) and Monstera dubia.
Plant description and prices: Most plants come in 3 to 10″pots, and the exact amount you pay depends on the exact one you choose. Their prices are slightly above the average price, but their pots are unique.
Bottom line: We consider Rooted a great place to buy Monstera, especially if you want the Swiss cheese plants. They offer free shipping, but they don't have a vast inventory.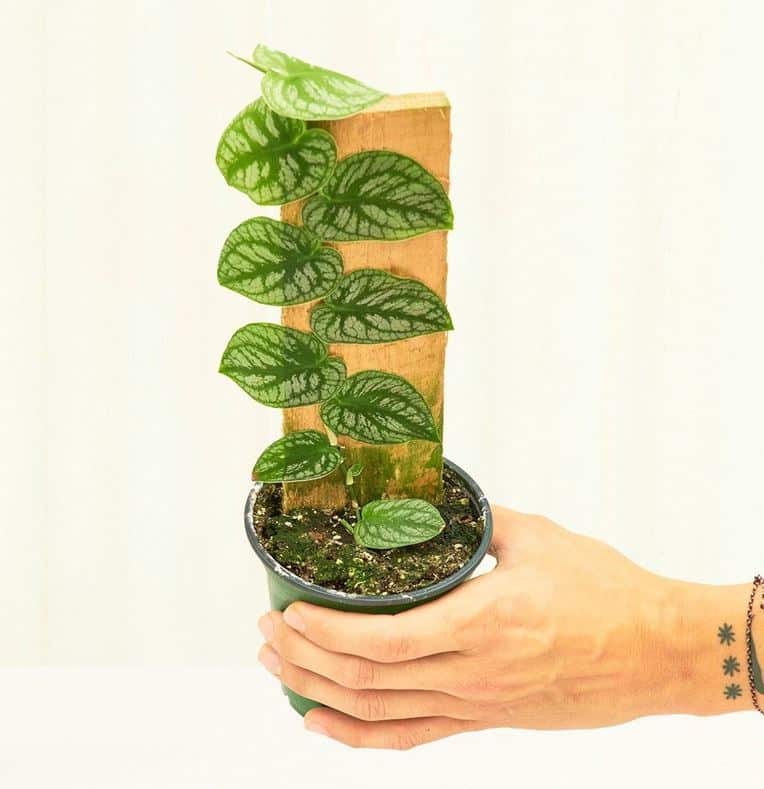 12. More places
Planterina: Planterina is a great place to buy houseplants. If you need Monstera, they have Monstera Peru, adansonii, and deliciosa.
Amazon.com: Here, you will find mainly Monstera adansonii and Monstera deliciosa and Peru sold by Costa Farm, Brighter Blooms, California Tropicals, American Plant exchange, Wekiva Foliage, Rooted, and a few individual vendors.
Walmart: Walmart has Monstera adansonii, Peru, and deliciosa from various vendors, including Costa Farms, Hirts.com, Brighter Blooms, House Plant Shop, and Wekiva Foliage.