Monstera root rot is a common problem mainly caused by overwatering that favors various soilborne pathogens. Your plant will have yellow leaves, wilt, grow slowly, have lesions, wither or even die if you don't fix it.
We have the causes, signs, and Monstera root rot treatments. By the end of it all, you will know how to fix or save your plant.
Last but not least, the causes, treatments, and fixes we will look at will apply to Monstera adansonii, obliqua (Peru), and Monstera deliciosa root rot (Swiss cheese plants). Virtually all the monstera species.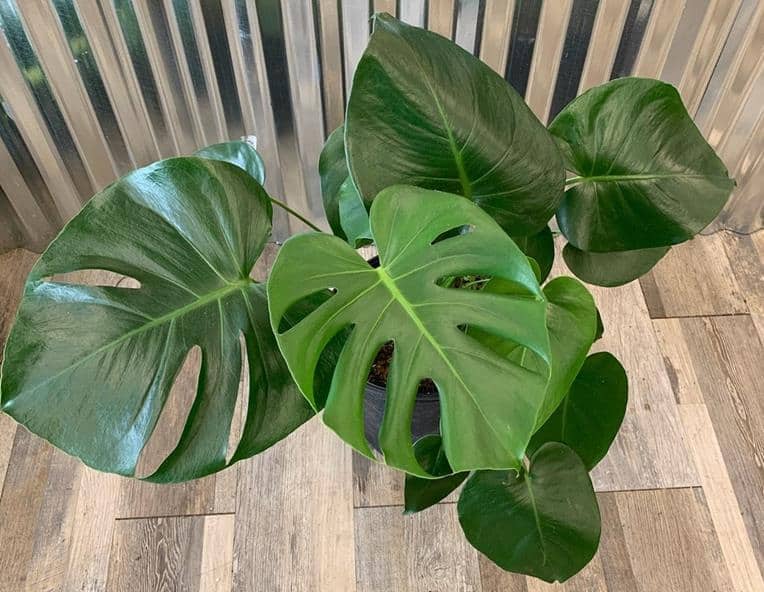 Root rot and overwatering
Overwatering causes root rot. It makes the soil waterlogged, cutting back oxygen. Without oxygen, roots will start to die back and weaken. Also, it favors the various soilborne pathogens responsible for the decay. Did you know that you can grow Monstera in water, which will do just fine? Why is overwatering then an issue?
Overwatering your Monstera or having constantly soggy soil cuts oxygen from roots, which they need to function well and grow. Oxygen helps in respiration or the breakdown of food to get energy. Also, their permeability goes down, meaning they cannot absorb water or nutrients as usual.
Besides cutting oxygen, the excess moisture favors the growth of the various soilborne pathogens. These pathogens will then attack roots, causing decomposition.
Root rot vs. healthy
Here is how rotten and healthy roots look, feel, or smell. It should help you judge if there is decay or not.
| | | |
| --- | --- | --- |
| | Healthy | Decayed |
| Color or appearance | Long white or pale tan roots with white tips | Black, brown, or gray roots with cankers or lesions |
| How do they feel | Firm when pressed, thick and succulent. | Soft, mushy, crumbly, and limp leaves that may slough easily |
| Smell | Their smell resembles your potting mix. | Foul, sulfur-like, rotting matter smell |
Monstera root rot signs
What are the telltale signs or symptoms that your Monstera has root rot?
1. Yellow leaves
Your Monstera leaves will begin turning yellow, starting with the lower ones. It happens since the compromised or overwatered roots cannot absorb water or nutrients as usual.
2. Wilting and drooping
The other prevalent sign is Monstera leaves drooping or wilting. At first, you may assume it is underwatering. But the soil may be wet, and watering won't improve the wilting.
3. Brown tips and margin
As the decay progresses, your plant will lose the ability to absorb water. Thus, the leave tips and margins will become brown, crispy, and dry. Also, it may have some black or brown splotches if overwatering is the leading trigger.
4. Lesions on leaves and stems
Some causes may also affect leaves and stems. You will notice brown to black lesions in such a case, some water-soaked at the beginning. Also, these lesions or cankers may have a yellow halo, and the stems may become girdled with the lesions mainly on or near the soil line.
5. Moldy potting mix
If you look at the potting mix surface, it may be moldy, i.e., you will see molds growing on the surface. This is common when the decay is due to overwatering.
6. Mushy stem base and crown rot
The stem base will turn black or dark and look mushy. This is an indication that the decay is severe. Soon your plant may collapse.
7. Stunted growth
The moment root decay set in, your plant will begin growing slowly, i.e., stunted growth. Why? It cannot get enough nutrients or water from the soil to help it grow.
8. Defoliation
Leaves will start falling off, beginning with the older ones. But sooner, the new ones will also drop. Your plant is trying to save on the little nutrient and water the roots can get.
9. Root and crown root
If you closely examine your plant, you may notice some roots, including those at the crown or the decaying. They will appear mushy, black, or brown and may have visible brown or black lesions.
10. Sudden plant collapse
Severe cases or, if left untreated for a long-time, root decay may result in plant collapse. This is more common on the crown or near the soil line. You will notice a black mushy stem base.
Causes
Various soilborne pathogens, primarily fungi, are responsible for Monstera rotting roots. These pathogens will reach your plants via contaminated soil or water, poor sanitation (dirty pruning shears, hands, or equipment).
Others may get from the soil if you place your plants on the ground or let water splash, among other means of transmission, including pests like fungus gnats
Here are common ones.
1. Rhizoctonia sp.
It causes Rhizoctonia root rot and aerial blight, i.e., it will also affect leaves and stems. Symptoms wilting, aerial web blighting, yellow leaves, sunken yellow cankers, or lesions on stems, common on soil line. Also, roots will turn brown, be mushy and crumbly.
2. Pythium species
Some species of Pythium fungi cause root decay in Monsteras. Soggy conditions favor its growth, and some pests like fungus gnats may spread it to your plants. Symptoms include stunted growth, water-soaked roots that slough leaving a vascular cylinder, crown rot, and death.
3. Sclerotium rolfsii (Southern Blight)
Southern blight will cause water-soaked lesions on lower leaves and stems. Infected plants will wilt, have yellow leaves, and favor warm wet conditions. You will notice thick white mats on potting mix and sclerotia (spherical light tan, reddish-brown or black structures).
More signs include girdled stems, brown or black lesions near soil line or stem, plant collapse, and sudden death.
4. Fusarium sp.
It is not a common cause in Monsteras and results in stunted growth, yellow leaves, wilting, withering, and death. Also, leaves will drop starting from those near the base. Root rot will come in later stages.
Monstera root rot treatment
To fix root rot in Monstera, start by assessing the plant to determine the extent of the decay. If all roots are mushy, brown, or black, you cannot save your plant. But if you see with white tips, tan or white sections, you can save your plant.
Again, the approach you take will largely depend on the rot. Severe cases will need repotting, while minor ones use hydrogen peroxide.
Afterward, it would help to fix the overwatering problem and follow some prevention methods we will give you.
1. How to repot a monstera with root rot
Repotting is one of the very effective ways to treat Monstera root rot in cases where the decay is, but there are some healthy parts.
What you need
10% bleach solution (1 part of bleach and 9 parts of water)
70-90% rubbing alcohol
Gardening scissors
New pot
Fungicide
Fresh potting mix
Steps to follow
Let us now give you the steps to follow.
Step 01. Disinfect your pot
If you don't have a new pot, disinfect the older one. To do so, gently slide the plant out of the pot and wrap the roots with a plastic bag to prevent drying.
Next, soak the pot in a 10% bleach solution. For plastic nursery pots, do this for a few minutes. But if you have a ceramic pot, you need to soak it for several hours.
Afterward, thoroughly rinse the pot under clean running water if plastic. If you have ceramic, soak it in clean water for several hours.
Step 02. Trim rotten parts
Tap the plant to remove as much soil as possible and put it under running water to wash any remaining. Then, sterilize your garden scissor with 70-90% rubbing alcohol and trim off any rotten parts by cutting just above the decomposed area.
Step 03: Cut some leaves
Sterilize your gardening scissor again and cut off up to ½ of the leaves. How much depends on the amount of root you removed. This is to ensure they can support the foliage.
Step 04: Use a fungicide
To prevent reinfection, dip the trimmed roots in a fungicide. Any broad-spectrum brand like Bonide Revitalize Bio Fungicide will do the job.
Step 05: Replanting
Put the fresh potting mix into your disinfected or new pot and plant your Monstera. Then, water the plant and ensure the soil remains moist but not soggy as your plant recovers. Also, provide ideal growing conditions.
Warning: Never reuse the old potting mix, even on healthy plants. Instead, safely discard it together with what you trimmed.
2. Monstera root rot and hydrogen peroxide
If your plant has a minor decay, you don't have to repot your plant. Instead, use hydrogen peroxide. It will kill the responsible pathogens and provide oxygen without damaging roots.
Just add a tablespoon of 3% hydrogen peroxide to a cup of water. Then slowly and evenly pour it into the potting mix.
3. Fixing the overwatering issues
It is not all about treating or saving Monstera from root rot but managing possible causes, and overwatering is one of these reasons.
While overwatering may occur due to watering too often, there are other causes like:
Oversize pots
Heavy, poorly draining potting mixes
Blocked or missing drainage holes
High humidity and poor air circulation
Low temperature and light
Repot your plant to a correct pot size with drainage holes and ensure you use a well-draining potting mix. A peat-based potting mix with perlite and bark chips should work. But ensure it is high in the organic matter too.
I either make an aroid mix or buy one from Etsy.com. Also, Miracle-Gro Indoor Potting Mix is good especially if your plant is prone to fungus gnats. Also, it will feed your plant for the first six months.
Allow the soil to dry in-between watering, i.e., water your Monstera when the top 2-3 inches of the soil feels dries.
So, only water when up to the first knuckle of your finger feels dry. Alternatively, you can buy a soil moisture meter. We use XLUX Soil Moisture Meter and water when the reading is three or less.    
Don't blindly follow a watering schedule. Instead, feel the potting mix with your finger. If it's dry, water your plant and if damp, wait for a couple of days and test it again
Last but not least, provide optimum conditions and ensure proper air circulation.
4. More prevention measures
Apart from correcting overwatering, more measures prevent Monstera root rot.
Check for root rot signs in any new plants you receive and isolate infected ones.
Don't place your pot on the ground. Use raised benches or hanging baskets. Why? Some of the responsible pathogens naturally occur in the soil.
Practice proper sanitation, i.e., sterilize all equipment and clean your hands before and after touching any plant.
Don't wet leaves, especially in the evening, as they may not dry.
In the case of Monstera Pythium rot, add about 20% of well-composted pine bark to your potting mix.
Never use contaminated water.
Frequently asked questions (FAQs)
How do you deal with Monstera in water root rot?
Contaminated water, poor sanitation, and not changing your water (oxygen gets depleted) may cause root rot in Monsteras growing in water, including during propagation. Remove the plant from the jar and disinfect it. Then cut any decayed parts, dip the plant in a fungicide, and return it to the jar.
What causes Monstera aerial root rot 
Monstera aerial root rot is not common, but it can occur. Poor sanitation, constantly wetting your plant, high humidity, and poor circulation may trigger decay. Cut any decayed aerial roots and sprinkle the remaining with a fungicide. Then improve air circulation, and don't wet your plant all the time.