Monstera sunburn or sun damage will make leaves look bleached, have crispy edges and tips (scorched), wilt or droop, etc. It happens when you expose your plant to the full sun.
Get Monstera sunburn signs and what to do in case of sun damage. We will also tell you how to avoid or prevent it from happening.
Why light is vital for your Monstera
Light is essential to Monstera and other green plants as it helps in photosynthesis, i.e., green plants trap light energy with the help of chlorophyll (the green pigment) and use it to convert water and carbon dioxide to glucose.
Besides photosynthesis, flowering plants need light to make chlorophyll, i.e., there is a light-dependent step in chlorophyll synthesis.
When they don't get enough light, your Monstera deliciosa, adansonii, or other species will have the following symptoms:
New leaves will be smaller, pale, yellowish, whitish, or duller.
It will look leggy, i.e., have longer, thinner stems with long internodes as it tries to look for the light. Also, it will grow towards a light source.
Stunted growth.
The soil will take longer to dry.
Leaves may fall off or drop, especially the older ones.
Variegated Monstera may revert to green color or have a much duller coloration.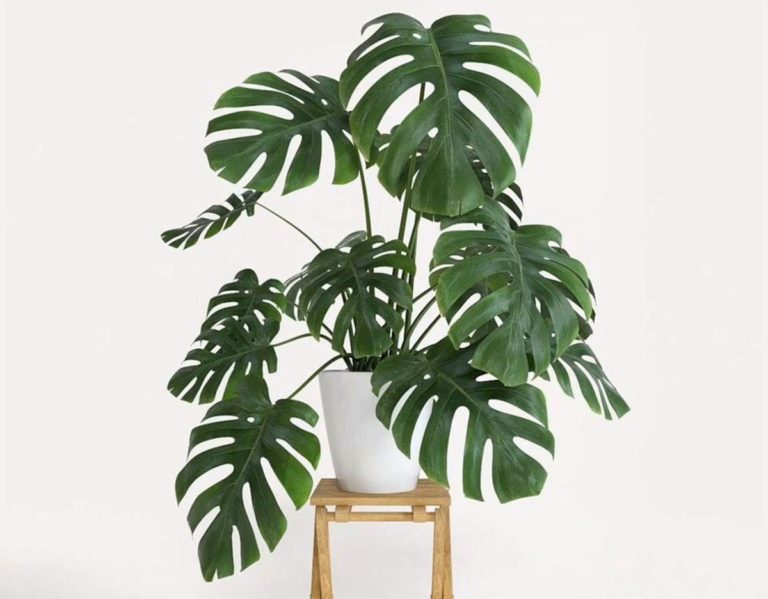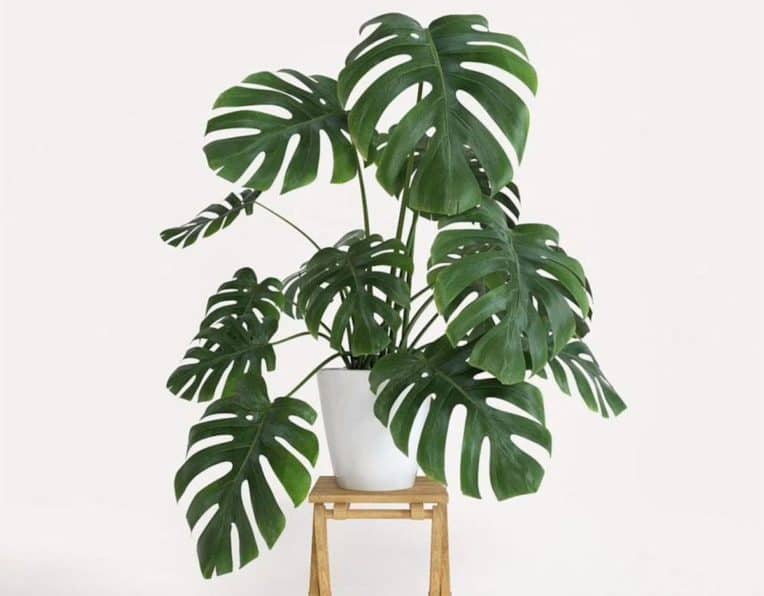 How plants handle excess light
While essential, too light (sunlight or even artificial from grow light) is detrimental. It will cause photodamage, i.e., dehydrate and damage leaves, just as too much sunlight causes damage to our skin.
On a very sunny day, plants will only use about 30% of the light energy it traps. What does it do with the rest to prevent sun damage?.
The answer is simple. "A primary strategy that plants use to protect themselves from this kind of photodamage is to dissipate the extra light as heat," says Gabriela Schlau-Cohen, the Thomas D. and Virginia W. Cabot Career Development Assistant Professor of Chemistry at MIT. We will not delve into the complexities of the whole process.
Afterward, your Monstera will then get rid of the heat energy via water evaporation from the leaf surface (transpiration), convection, and conduction.
But if your potting mix is dry or plants cannot absorb enough water to replace the lost one through transpiration, your Monstera will end up with a sunburn.
It is not just the too much sunlight. But anything that prevents roots from absorbing water or causes more water loss it gets will cause sunburn-like signs, especially leaf scorch.
Signs of Monstera sunburn
Here is how Monstera sunburn looks like:
1. Bleached leaves
Leaves will look washed out, bleached, paler, whitish, greyish, light green, or may turn yellowish. Those closer to the light source will be most affected. This discoloration happens as too much light degrades chlorophyll.
2. Monstera leaf burn or scorch
Your leaves will have crispy brown edges and tips that grow inward. Also, there may be yellow or brown spots and patches in-between veins. It occurs because water cannot reach margins tips or in-between veins. So, plant tissue begins to die.
The yellowing occurs due to chlorophyll degradation and browning when other light-sensitive pigments degrade too. The brown color is due to tannins (not photo-sensitive) leaf behind. At this point, the leaf is as good as dead.
However, leaf scorch isn't a sign of only sunburn. But other factors may contribute to it, including:
Underwatering
Overfeeding
Low humidity
Heat stress
Rootbound
Shock after transplanting or repotting
Root rot and diseases like leaf scorch bacteria (uncommon in Monstera)
Winter
3. Wilting and drooping
Expect your Monstera leaves to droop or wilt because leaves are losing too much water than what roots absorb. The drooping occurs when cells lose water which helps build turgidity or what is known as turgor pressure.
4. Stunted growth
You don't expect your plant to grow as usual. Instead, it will have to grow slowly. Why? The much light is damaging leaves that help in photosynthesis.
What to do in case of a sunburn
If your plant is sunburnt, here is what to do.
1. Remove your Monstera from direct sun
Immediately move your plant to a spot with bright indirect light to prevent sunburn. Outdoors, take your plant to a shade or greenhouse. Also, you can move them indoors on hot summer days.
Inside your home, place your Monstera at a distance from the window where it cannot receive direct sun. This is mainly a problem if you have a south-facing window (in the Northern Hemisphere).
Even the west or east-facing windows may cause this problem depending on how much sun they let in, especially as it goes high on the sky.
2. Switch to recommended grow light and place them well.
If you are using grow lights, buy grow lights that provide the light intensity (not too much or too little).  Your Monstera needs bright indirect light, with about 1000–2,000 footcandles or approximately 10,000–20,000 lux. So buy a bulb between 10,000–20,000 lux.
We use Relassy 15000Lux Sunlike Full Spectrum Grow Lamp. This brand is CE, ROHS, PSE and FCC satisfied and will protect against overcurrent, overheating or overvoltage.
Besides buying the right brand, also, ensure you don't put your light too close. Most manufacturers will give you recommended distances.
3. Water your plants well
Dry soil and underwatering will only worsen sunburn. So, it would be best if you change your watering schedule. We recommend you water your Monstera when the top 2 or 3 inches of the soil feels dry, i.e., up to the first knuckle of the fingers.
Also, you can use a soil moisture meter. We have had excellent experience with both XLUX Soil Moisture Meter and Gouevn.
Don't follow a schedule because conditions and other factors may change plant water needs, including the amount of light. We have something on how often to water Monstera, which may help.
4. Prune damaged leaves
If an entire leaf is damaged, use a sterilized blade to prune it off as it may depend on the plant yet not contribute. But if only edges and tips are brown or yellow, trim them off, just above the discolored area.
How to avoid or prevent sunburn
Once sunburned, there isn't much you can do. Yellow or brown leaves won't turn green again. So it is always to put in place prevention measures. Why? Because sunburn will damage your plants and make leaves look unsightly. Also, it will cause stunted growth, and weaken it, among other problems.
Here are ways to prevent Monstera sunburn:
1. Provide bright, indirect light only
Monstera grows as an understory plant or climber receiving dappled light from taller tree canopies in the wild. So, it prefers bright indirect light. Some, the non-variegated Monstera, can tolerate medium or even lower one. But if you have a variegated Monstera, stick to bright, indirect light.
2. Harden your plants
As plants emerge from dormancy, they are likely to suffer from sunburn. So, towards the end of winter and early spring, slowly introduce your plant to more light instead of suddenly taking them to sunnier places.
Doing so will help them adjust or acclimate, reducing the chances of sunburn.
3. Fertilizer in early spring
The other way to protect your plants from photodamage is fertilizing in early spring and not during hot summer. Why? Because fertilizing in hot summers will promote more and rapid new growth.
The tender, new growth will be vulnerable to sunburn. Also, fertilizers will make your plants water-stressed.
Frequently asked questions
Will Monstera yellow or brown leaves turn green again?
No. Once discolored due to sun damage or any other reason, they will not turn green again. This is why we recommend you either trim the whole leaf or trim the affected part.