This Monstera deliciosa (Swiss cheese plant or split-leaf philodendron) guide will help you know how to identify this lovely plant. We will also give you varieties (Sierrana, Brazil, borsigiana, tauerii) and variegated forms (Thai constellation, Aurea, and Albo variegata).
That is not all. There is a section with Swiss cheese plant care and growth requirements (soil, light, humidity, fertilizer, watering, USDA hardiness zone, pruning, repotting, etc.), and a lot more.
Lastly, we have an area that will guide you on where to get Monstera deliciosa on sale, prices, and compare Monstera adansonii with deliciosa.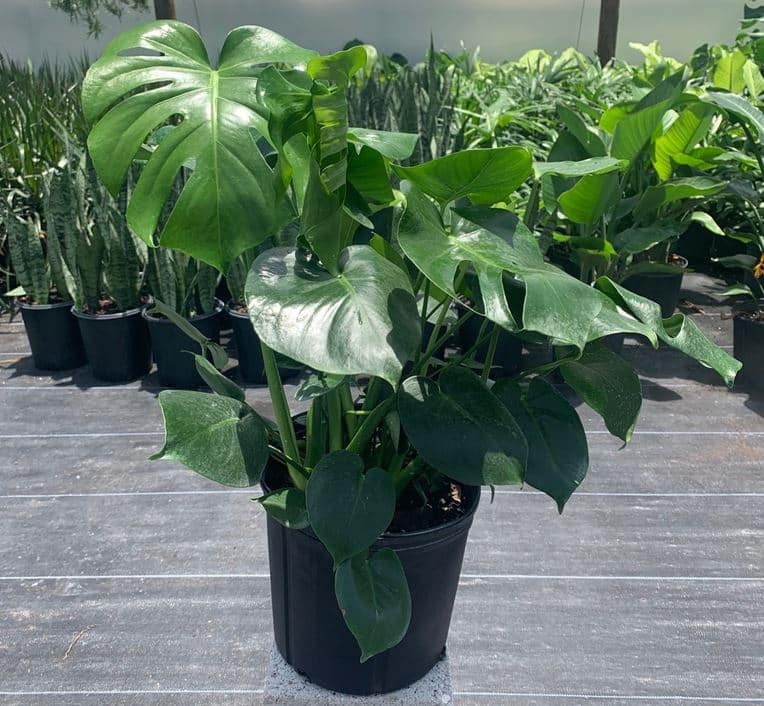 Identification and appearance
Monstera deliciosa, also known as the Swiss cheese plant or Split-leaf philodendron, is the most popular Monstera houseplant. The other popular one is M. adansonii.
It is easy to care for and air purifying. We bet you will love the Monstera deliciosa fenestrations (holes) and regular splits that the large mature leaves have. They are breathtaking.
Scientific name: Monstera deliciosa (Liebm)
Genus: Monstera
Family: Araceae
Common names: Swiss cheese plant, split-leaf philodendron, Windowleaf, Mexican fruit bread, ceriman, delicious monster
Native habitat: South Mexico to Panama
This plant is a highly variable species that belongs to the Tornelia section. It has varieties that show some variation.
1. Growth habits and stages
Monstera is an evergreen climbing hemiepiphyte. A hemiepiphyte is a plant that grows both as a terrestrial (on the grow) or on other plants (epiphyte) but not parasitically.
In the wild or nature, the Swiss cheese plant occurs in warm, humid tropical rainforests, at 5,000 to 7,000 feet (1525- 2,35 m) above sea level.
You will find stout variations that sprawl over a larger area or grow sideways and those more vine-like.
What about growth stages? Monstera deliciosa has three growth stages but only its tropical natural habitat. These stages are:
a. Seedling stage or baby Monstera
When seeds fall on the ground, they germinate, giving rise to terrestrial seedlings that grow towards a darker place. Why? Darkness indicates the base of a large tree where they will climb. This phenomenon is known as negative phototropism, something unusual in most plants.
b. Juvenile or young Swiss cheese plant
The Juvenile or young deliciosa grows as a terrestrial creeper. It has small, leathery, glossy, deep green heart-shaped leaves with a tapering apex. These leaves are entire but start splitting a little early and have erect petioles twice their leaf blade length.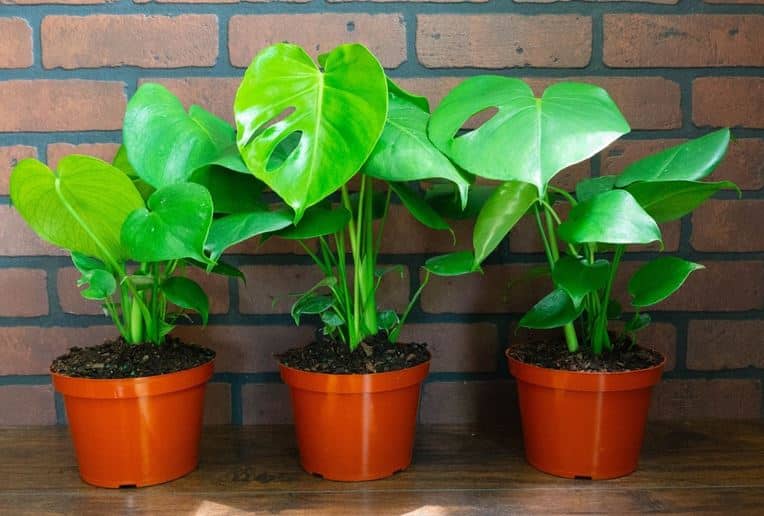 Lastly, it has thinner, green stems with aerial roots for absorbing moisture, nutrients, and anchoring. But unlike other Monsteras, the axillary buds are not any different, except swollen area, just above the node
c. Mature Monstera deliciosa
In the mature stage, it grows as an epiphyte on tree trunks of taller trees after cutting stem linking it with the ground. But unlike other Monsteras, it can attain maturity as either a terrestrial plant or growing on rocks, i.e., as a rupestral plant.
A mature Monstera deliciosa plant has giant (9 to 36 inches long and 9 to 30 inches wide) leathery, glossy heart-shaped deep green leaves with a mucronate or acute apex. These leaves are split and fenestrated, i.e., they are regularly pinnatifid. Also, they may have holes (perforations) or not. Those with holes have a series of 1-5 elliptical holes per side.
That is not all. The petioles are slightly longer than the lamina and are vaginated with either deciduous or marcescent sheathing wings. Also, the geniculum of some has wavy or crispate margins, others a smooth one.
Lastly, the stems are also green but thicker than juvenile plants.
2. How fast does Monstera deliciosa grow?
The Monstera deliciosa growth rate is moderate but a vigorous grower. It will put on 1 to 2 feet of new growth yearly. But the growth conditions and care may influence the rate you will.
3. How big does monstera deliciosa grow or size?
In their natural habitat or wild, Monstera deliciosa can grow up to 60 feet (18m) or more if it gets somewhere to climb, such as a tree trunk.
Your Swiss cheese plant may grow up to 6 to 10 feet tall and spread 8 feet wide at home if you give it a place to climb. If space allows, don't be surprised if it goes up to 15 feet high. Outdoors, it can grow much taller.
Lastly, if you don't give it a place to climb at home, it will grow sideways and sprawl all over.
4. Monstera delicious flowers
Only fully grown Monstera deliciosa will flower. They will bloom throughout the year but commonly during mid-summer. When grown indoors, they will hardly flower.
Monstera has perfect small white or green inflorescence flowers borne on a spadix and a boat-shaped white or cream spathe surrounding the spadix.
These plants have perfect flowers, i.e., male and female parts. So, to avoid self-pollination, females become receptive early than males.
5. Monstera deliciosa fruits and seeds
The fruiting spadix is bluish-green or green and looks more like a corn ear with hexagonal scales. The scales will start lifting before drying and falling as they ripen, and the fruit will have a sweet aroma that doesn't last long.
When ripe, the fruits will have an off-white fleshy pulp with pale green spheroidal seeds (resembling big peas). Its taste resembles a pineapple, banana, and mango. To eat the fruits, you need to cut them from the inedible core.
Warning
Only fully ripe M. deliciosa is edible. Unripe fruits and the rest of the plant (leaves, stems, barks, flowers, spathe, roots, and seeds) are toxic.
Green or Non-variegated forms or types
Besides the main Monstera deliciosa, there are four varieties with slight variations, i.e., Mostera borsigiana, sierrana, var. Brazil and Tauerii. Let us look at each of them.
1. Monstera borsigiana
Monstera deliciosa var. borsigiana, commonly known as just Monstera borsigiana, is one M. delciosa of the varieties. Most sources consider it a heterotic synonym (1, 2, 3).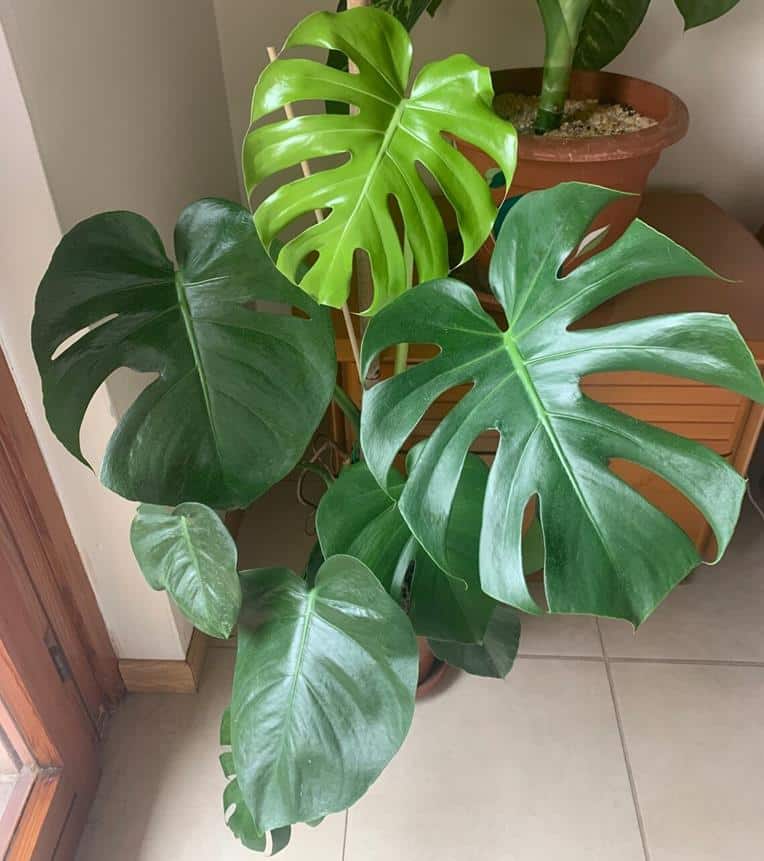 According to the University of Hawaiʻi, var. borsigiana is a "vining type with smaller, glossy leaves with widely and evenly separated pinnate lobes. The leafstalk is wrinkled where it joins the leaf."
Compared to ordinary deliciosa, it does sprawl but climbs and grows faster. Also, var. borsigiana has narrower vines, longer internodes, smaller leaves with fewer holes, and slightly smaller flowers. (4)
The other difference is price. Var. borsigiana is cheaper, selling at $10 to $25. We have a post on Monstera deliciosa vs. borsigiana that has more details. If you need to learn more on care, propagation, see Monstera borsigiana care.
2. Monstera sierrana
Monstera deliciosa var. Sierrana, commonly sold as Monstera sierrana, collected from Sierra de Juárez mountain range in Oaxaca, Mexico. Most people mislabel it as Brazilian Common Form or Monstera sp. Brazil (a different plant).
It has smaller leaves than a typical deliciosa, the splits extend closer to the mid-rib, and the pinnae and sinuses (in-between gap) are comparable in size. Also, it has fewer pinnae and fenestrations.
Last but not least, it is rare and costs a lot more. On average, you will spend $700 to $3000 to buy one. It is rare. Try Etsy.com to see if anyone has listed it.
3. Monstera deliciosa var. Brazil
Monstera deliciosa var. Brazil or Brazilian Common Form resembles var. sierrana. But it has larger leaves, more fenestration, and broader pinnae. Also, the pinnae are wider than sinuses, and it is cheaper than var. sierrana.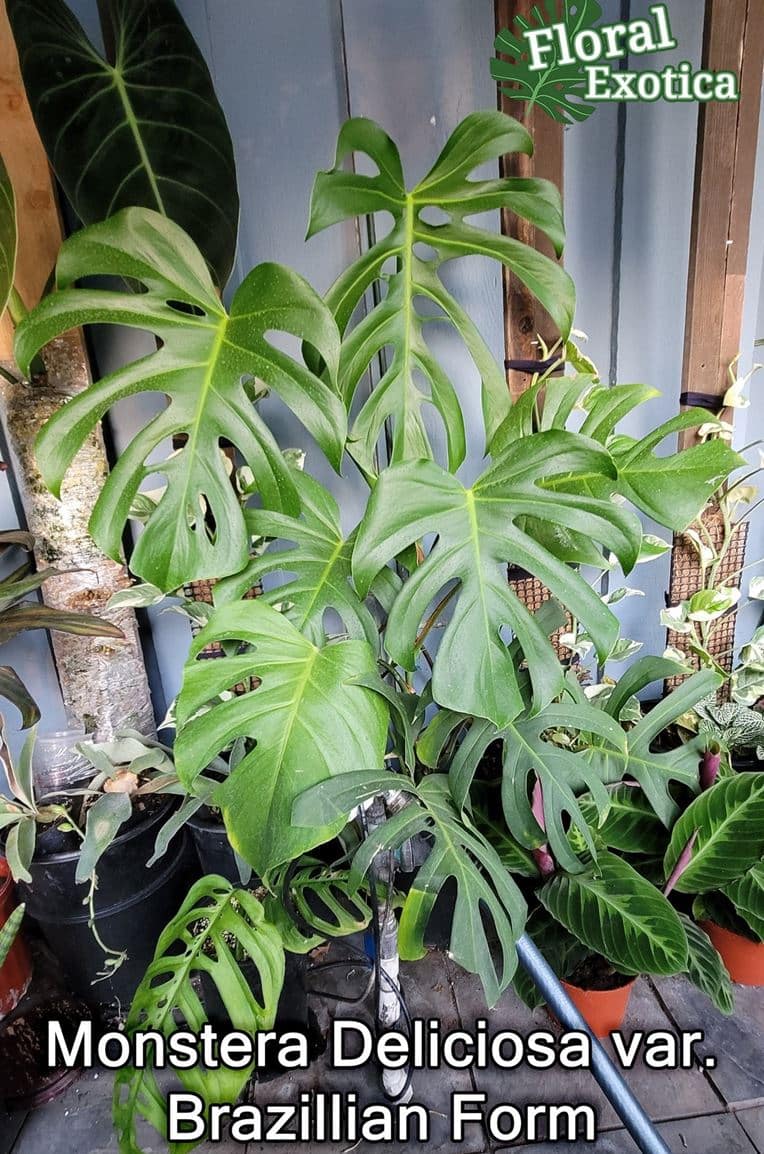 The average price of a Monstera deliciosa var. Brazil is $200 to $1000, depending on the plant size you buy. If you need one, try Etsy.com.
4. Monstera Tauerii
Also known as the dwarf Swiss cheese plant or dwarf fruit salad plant, Monstera deliciosa tauerii is a smaller clone of M. deliciosa that grows 20 to 79 inches tall (0.5 to 2 m) and is popular in Australia. Tauerii also gets splits earlier.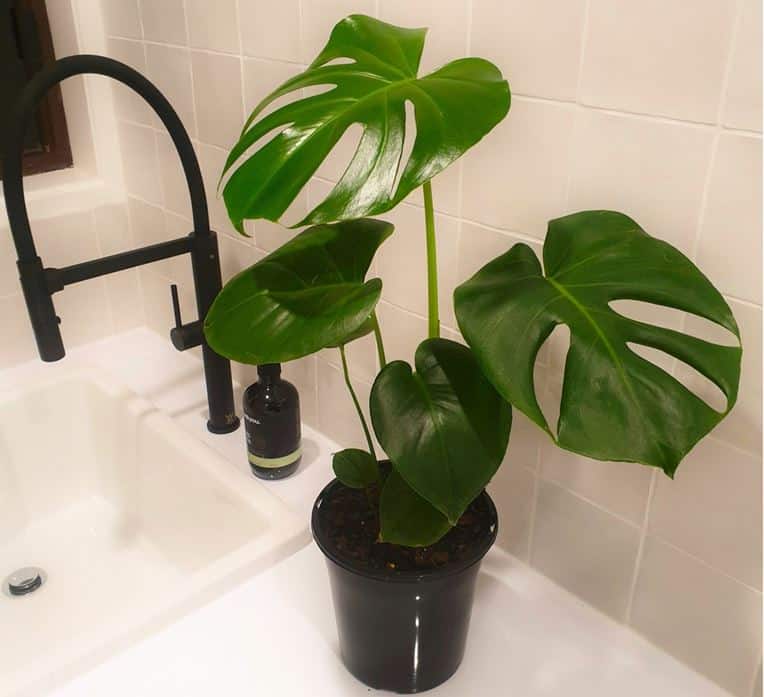 Variegated Monstera deliciosa forms
Variegated forms are expensive and rare. So, always buy from trusted vendors, especially reputed plant collectors. Here are the main Swiss cheese plant variegata to consider:
1. Thai constellation Monstera
Monstera deliciosa Thai constellation has green leaves with cream to white scattered splashes, speckles, spots, or streaks with few sectors or blocks produced by tissue culture in Thailand. The variegations are stable (will not revert) but differ from leaf to leaf.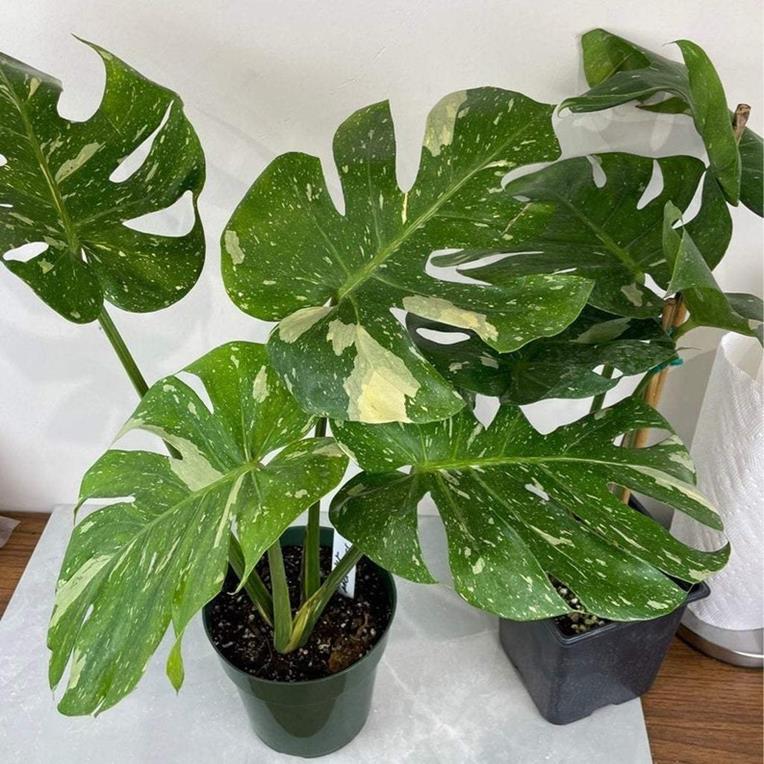 The Thai constellation Monstera price ranges from $150 for a cutting to $1400 if you need a rooted or established plant. If you need to buy one, go to Etsy.com or eBay. But if you are patient, wait. It will be one of the Costa Farms Trending Tropicals® Collection in 2023. Then, the price will go down.
See Monstera Thai Constellation learn more about caring for, propagating, problems, and a lot more.
2. Monstera Albo borsigiana
Monstera deliciosa var. borsigiana albo variegata has green leaves with off-white to whitish streaks, marbling, and blocks. Some leaves may look entirely whitish, and others are half-moon.
The variegation occurs due to a rare genetic mutation that makes the variegated parts unable to produce chlorophyll, hence the off-white coloration. It is unstable, and your plant may revert to green or even become entirely white.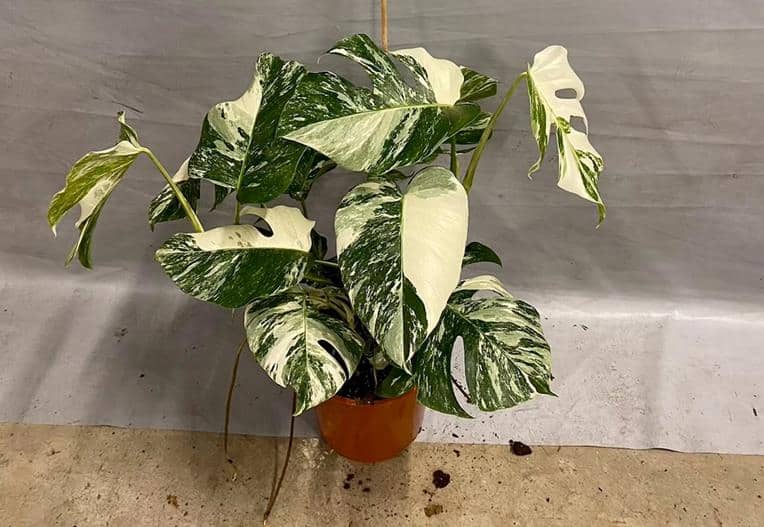 Monstera albo borsigiana price ranges from $120 to $2000, depending on where you buy and plant size. Unrooted cuttings or nodes cost less than fully grown plants.
If you are looking for a Monstera borsigiana albo variegata on sale, go to Esty.com. Many vendors are willing to ship to your location, be it the UK, USA, Canada, Australia, Germany, etc. Other places to buy include eBay, Instagram, Craigslist, or Facebook plant groups in your area.
Read more on Monstera albo borsigiana, including care, propagation, etc. We also have Monstera borsigiana albo vs. Monstera Thai constellation and more information.
3. Monstera borsigiana Aurea variegata
Monstera deliciosa var. borsigiana aurea variegata has green leaves with yellowish streaks, marbling, and sectors, with some having half-moon. You will find it labelled as Monstera Tricolor, or yellow borsigiana or Marmorata Monstera.
Also, there are a few that may have minty variegation. It is unclear if the mint ones are part of the Aurea variegation.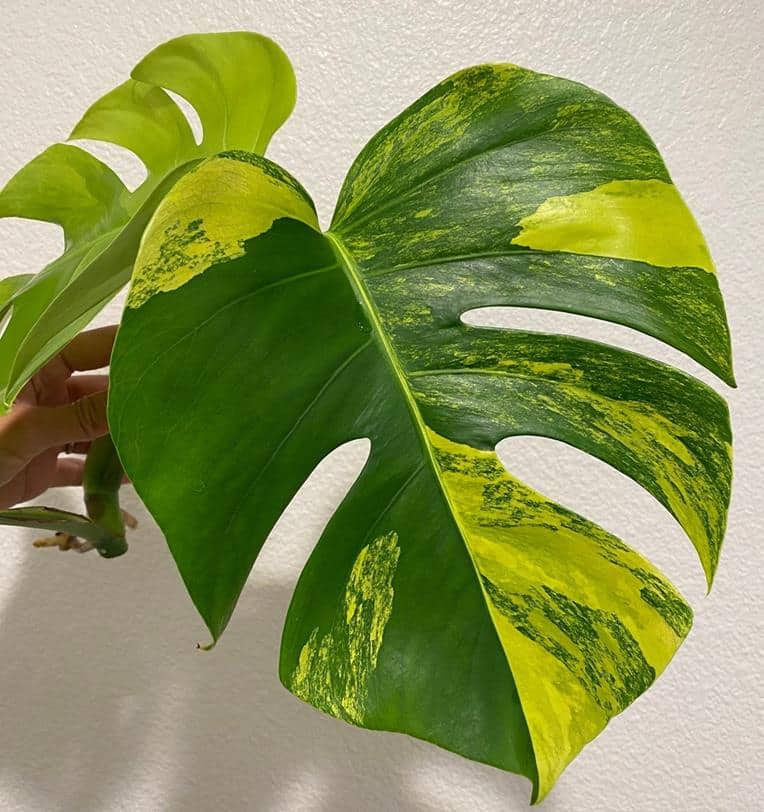 Like Albo variegata, the variegation result from a rare genetic mutation, making them unstable or unpredictable and may revert. Also, each leaf is different from another.
Is it expensive and rare? Yes. Monstera borsigiana aurea variegata price range is $600 to $2500. But the exact amount you pay depends on the size and where you buy it.
Last but not least, if you are looking for Monstera borsigiana aurea variegata on sale, one place you will find it is Etsy.com, the other one is eBay. Also, Facebook plant groups and Instagram. And when buying, ensure you see the actual plant. Also, it should have a node with a variegated leaf.
Care and growth requirement
Monsteras are easy to care for plants. Just give them a warm, humid area with bright indirect light. Have a well-draining airy soil rich in humus and let the soil slightly dry in-between watering sessions.
Since we have a separate care and growth requirements discussion, we will give you a summary. Otherwise, see more Monstera deliciosa care for details. You will get various growing tips and much more.
Here is how to care for the split-leaf philodendron:
| | |
| --- | --- |
| USDA hardiness zone | Swiss cheese plant USDA hardiness zone is 10b to 12. Frost or freezing temperatures will kill your plant. |
| Temperature | The ideal temperature for your Swiss cheese plant is 65 to 85 degrees Fahrenheit (18 to 29°C). Lower temperatures will result in slower growth, and at 50 °F, they stop growing, so move any outdoor plants inside your house. Also, avoid sudden temperature spikes, drops, cold drafts, or places near heating system vents or appliances that emit heat. |
| Humidity | Split-leaf philodendrons love humid areas. So provide average to above average humidity, ideally 60% or more. If low, mist your plant a couple of times a week, have a pebble tray, or buy a humidifier like AquaOasis™ Cool Mist Humidifier (amazon.com's best seller). Also, you can take them to humid rooms like the bathroom or group them. |
| Light requirements | Swiss cheese plant requires bright, indirect light, but the non-variegated forms can tolerate low to medium light. Avoid too little light as it will slow growth, makes leaves smaller, paler or yellow, and your plant will be leggy. Also, avoid direct sunlight because it will cause leaf burn or make them look washed out. |
| Soil | The best soil for Monstera deliciosa should be chunky, well-drained, and high in organic matter, slightly acid to neutral, pH 5.5 to 7.5. You can use an aroid mix or make one at home. Use 30% potting soil, 30% coco coir or peat moss, 20% perlite, and 20% compost like warm casting. Exact ratios don't matter, and you can add some bark chips or charcoal. |
| Watering | Water your Swiss cheese plant when the top 2-3 inches of the soil feel dry. It will be weekly in spring and summer and after 2-3 weeks in winter. How often to water your plant will depend on your conditions and other factors. Don't follow a watering schedule. Instead, feel the soil. |
| Fertilizer | They are medium feeders. Feed your split-leaf philodendron monthly during summer or spring (the growing season) only with a balanced, all-purpose liquid houseplant fertilizer. We use Miracle-Gro Indoor Plant Food (Liquid). |
| Pruning | Use sterilized pruning shears to cut dead, dry, or diseased leaves. You can cut some branches to control growth or overgrown in spring or summer. It will make your plant fuller. Also, wipe dusty leaves with Microfiber Dusting Gloves like Evridwear or a soft piece of cloth. |
| Repotting | You should repot Monstera deliciosa after every 2-3 years or when rootbound. Do this in spring or early summer. |
| Staking | Support your Monstera with a climbing moss pole or burlap-wrapped pole. If large, buy a cedar pole. You can use plant ties, soft string, or twist ties to mount or train your plant to the stake. |
Propagating Swiss cheese plant
The best way to propagate your Swiss cheese is by stem cutting either in soil or water. The stem has to have at least one node. Leaf with petiole stems without nodes or aerial roots won't work or give growth.
If you have a variegated form like Monstera albo borsigiana or Aurea variegata, pick a node with a variegated leaf. This doesn't apply to the Thai constellation as it has stable variegation.
Other ways to propagate Split-leaf philodendron are using air layering or seeds. But seeds won't work for variegated Swiss cheese plants.
Last but not least, the best time to propagate your plants is in spring or early summer. See more details on Monstera deliciosa propagation, including steps, tips, and all you need to know.
Is the Swiss cheese plant toxic to cats, dogs, or humans?
Swiss cheese plant and, by extension, all Monstera spp. are toxic to cats, dogs, other pets, or even humans. Chewing the plant causes severe oral irritation and a burning feeling. Also, it will cause redness, swelling, reduced appetite, swallowing difficulties, and drooling.
Learn why Monstera is toxic to cats, dogs, humans, and other pets. You will also get ways to protect your pets, signs, what to do, and a lot more.
Pests
Although they are not common split-leaf philodendrons grown indoors, watch out for whiteflies, mealybugs, scale insects, thrips, and spider mites.
If your humidity is high and the potting mix is always wet, you may see fungus gnats. Their larvae feed on roots causing yellowing, poor growth, and sudden wilting.
Be checking leaves for bumps or dots that may move or not. Some have waxy bodies. Others have wings and leap when disturbed.
Signs are specific to the pest present. You may notice honeydew, sooty mold, webbing, silvery stippling, webbing or brown, black, or white spots. Don't wait until your leaves are misshapen, deformed, curly, or yellow. Act fast.
Use insecticidal soaps, neem oil, or horticultural oils if you have a severe infestation. And always isolate new or infested plants.
Diseases
Your Swiss cheese plant may have southern blight, anthracnose, rusts botrytis, or bacterial leaf spot disease. Sometimes, Monstera mosaic virus. But they are not common.
Of great concern is root rot. We have a post that will guide you on dealing with Monstera root rot, be it a Monstera siltepecana, Monstera Peru, Monstera dubia (shingle plant), or Monstera Standleyana. You will get ways to save your plant and much more.
Monstera deliciosa problems
Overwatering is the most common problem that will make your Monstera have yellow leaves, starting with the lower ones. Your potting mix will be soggy, and it may cause root rot.
Other signs include leaves curling or having brown or black splotches, stunted growth, wart-like growths (leaf edema), leaf falling off, and a mushy stem base. Also, you may notice a moldy potting mix and brown or black mushy roots (root rot sign).
On the other hand, underwatering may also make your Monstera leaves curl inward, and the soil will be dry. Also, your plant may droop or wilt but improve on watering. More signs are burnt leaves with dry or crispy brown tips and edges, stunted growth, leaves' yellowing, drooping, etc.
Do you have trouble watering your Swiss cheese plant? Here is something special on How often to Water Monstera, Overwatered, Underwatered Signs.
Besides an overwatered and underwatered, other possible problems you may are:
| | | |
| --- | --- | --- |
| Problem | Most likely cause | Less common causes |
| Yellowing of leaves | Overwatering or too little light | Nutritional deficiencies, underwatering, replant shock, rootbound, pests, diseases, cold drafts, and heat stress |
| Leaves curling | Underwatering or low humidity | Other causes are too much light, heat stress, overwatering, cold drafts, pests, or overfeeding. Also, it may be unfurling new leaves, rootbound, or transplant shock. |
| Leaves drooping | Underwatering, too much light, heat, or low humidity | Your Monstera leaves may also droop or wilt due to overfeeding, pests, disease, especially root rot, overwatering, cold drafts, overfeeding, rootbound, or transplant shock, including after repotting. |
| Brown leaves, spots, tips, and edges | Too much light, heat stress, underwatering, and low humidity | Pests and diseases will cause brown spots, while cold drafts may cause sudden browning. Overwatering, rootbound, overfeeding, and plant shock may be other possible causes. |
Monstera adansonii vs Monstera deliciosa
Monstera adansonii, whose common names include Monkey Mask monstera, Swiss cheese plant, Adanson's Monstera, or five-hole plant, is a close relative of deliciosa.
These two plants share the same genus but different sections, i.e., Monstera and Tornelia. Also, both have variations and similar growth and care needs.
Here are their main differences.
| | | |
| --- | --- | --- |
| Feature | M. adansonii | M. deliciosa |
| Size | Smaller in size, i.e., they grow 6.5 to 20 feet long. | It's larger, i.e., it can grow up to 70 feet long. |
| Juvenile leaves | Oval to elliptical, some may be falcate or unequal, may have elliptical holes | Heart-shaped, tend to get splits early. |
| Mature leaves | It has smaller, oval to elliptical glossy leaves with holes (some don't have). But its margins are entire, and some leaves may be very asymmetrical. | Deliciosa leaves are larger (9 to 36 inches long and 9 to 30 inches wide), leathery, glossy, and heart-shaped. They are evenly split and may have holes. |
| Leaf-base | Broadly truncate or cuneate with some oblique or unequal, i.e., one side cuneate and the other almost heart-shaped. | The leaf base is nearly symmetrical and heart-shaped. |
| Flower and fruits | Smaller | Larger |
| Growing habits | Grows mainly as a vining and need a place to climb | Stout and sprawling, but some varieties are also vining |
Where to find Monstera deliciosa for sale
The Swiss cheese plant isn't hard to find. Begin by looking at your local nurseries and big box stores like Amazon, Walmart, Lowes, Home Depot, and so on. Most have stocks from Costa Farms.
The second place to look for a Swiss cheese plant, and our favorite, is Etys.com and eBay.com. One good thing about these two places is that people outside of the US, including the UK, Canada, Australia, Philippines, Germany, etc., can buy. You will get vendors near you who offer delivery services.
More places are Logees.com, Pistilnursery.com, The Sill, Bloomscape, Craigslist, Facebook plant group, or Instagram.
Frequently asked questions (FAQs)
What is the Monstera deliciosa price?
The average Swiss cheese plant price is $15 to $50. Unrooted cuttings may cost a little less, while Giant Monstera deliciosa may cost you over $100. Prices will vary depending on where you buy them. This price is for the ordinary Swiss cheese plant, not variegated forms or rare varieties.
Is Monstera deliciosa a philodendron?
No. It isn't a philodendron. One of its common names is the split-leaf philodendron, which can confuse people. But it has fenestrations (holes) while philodendrons have only splits.
Why Is my Monstera deliciosa not splitting or having holes?
Monstera deliciosa with no holes or not splitting may indicate that your plant is still young or you haven't met some growth needs. For instance, it may not develop perforations if you don't give it enough light, warns the University of Wisconsin-Madison. So, more light means larger split and fenestrated leaves.
Is Monstera deliciosa good for the bedroom?
Yes. The Swiss cheese plant is perfect for your bedroom as long as you have enough space and adequate light. It will look magnificent, give the room a tropical backdrop. Also, it is air purifying and requires minimal maintenance.
What plants look like Monstera deliciosa?
Plants similar or similar to Monstera deliciosa are Rhaphidophora tetrasperma and Thaumatophyllum bipinnatifidum. But they do have visible differences.