Monstera siltepecana is an uncommon beautiful tropical climbing plant. It is native to mainly Belize, Guatemala, El Salvador, Honduras, and Mexico. But it is also found in Panama, Nicaragua, Costa Rica, Chiapa, and Panama.
If you are new to this plant, you need to know that Monstera siltepecana is an aroid, which is a name for plants that belong to the arum family Araceae.
We bet you will love its charming bluish-green leaves with a silvery sheen and dark green veins. It is quite a beauty. But not as lovely as its rarer, more silvery variety, Monstera siltepecana El Salvador.
If you allow it to mature, it will have huge, deep green leaves with many holes. But, it is unlikely to reach this stage if you have it indoors. Also, it will require a place to climb.
Because it has a silvery sheen, its common name is silver Monstera. Also, it goes by the name Seltene Monstera. Please don't confuse it with Cebu Blue.
That is not all. Some people who people confused it with Monstera Peru. These two look so different. We don't know why.
Lastly, some sellers label it as Philodendron Silver Queen, a name it shares with Monstera pinnatipartita. Others call it Philodendron siltepecana. But it is not a Philodendron. Also, the Swiss Cheese Plant is a common name for Monstera delicious or Monstera adansonii. Not this species. But a few people use it too.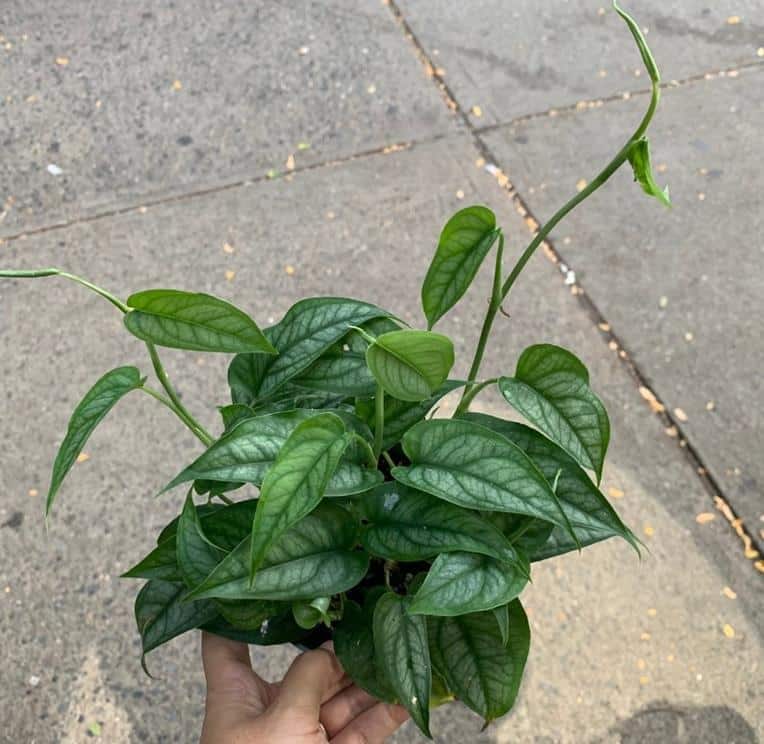 Quick Overview
| | |
| --- | --- |
| Scientific name | Monstera siltepecana |
| Family | Araceae |
| Common names | It is known as silver Monstera or Seltene Monstera. Some people call it Philodendron Silver Queen, a name it shares with some philodendrons. |
| Native habitat | Mainly Belize, El Salvador, Guatemala, Honduras, Mexico. But some have been found in Nicaragua, Panama, Chiapa, Costa Rica, and Panama. |
| Type | Evergreen, tropical climber |
| Size | 20 feet or more its native habitat, and about 4 to 6 feet inside your home |
| Leaves | Bluish-green oval leaves with a silvery sheen and a heart-shaped base. When they mature, they become larger, deep green, and semi-glossy. Also, they get many holes. |
| Stems | Green vine-like stems with short internodes |
| Flowers | It has small white inflorescence flowers found on a spadix. Also, it has a spathe that is greenish-white outside and rose-red inside |
| Blooming time | All year after this plant matures |
| Light requirement | Bright, indirect light |
| USDA hardiness zone | 11b to 12 |
| Temperature | 55°F to 95°F (12.8 to 35°C) |
| Humidity | They love high humidity (60% or more) they can tolerate lower |
| Growth rate | Relatively fast |
| Soil | They require organic-rich, well-drained, and aerated soils or potting mixes |
| Watering | Medium, letting the top 2 to 3 inches of the soil feel dry |
| Propagation | Stem cutting |
| Toxicity | Toxic to humans and pets |
| Care level | Low or easy |
Identification – appearance and description
Before we look at care, let us look at this plant's appearance. We will tell you more about its growing habits and size. Also, we will describe how the leaves look like and flowers.
1. Growing habits
Silver Monstera is an evergreen climbing hemiepiphyte. In its juvenile stages, it grows as a ground creeper. But, if it gets a tree trunk or somewhere to climb, it will mature after 2 to 3 years. Also, it will have stolons and droppers.
This Monstera grows in the warm and humid tropical rainforests. It is a high-altitude species growing at 3937 to 8202 feet (1200-2500m) above sea level. Also, it grows under the canopies of taller trees, where it gets mainly filtered light.
Lastly, the Monstera siltepecana growth rate is relatively fast. But, it will quickly grow if you give it ideal growing conditions.
2. Size
At maturity, silver Monstera can grow up to 20 feet high or more. However, at home, it will hardly grow beyond 4 to 6 feet. But if you give it a place to climb, it will grow taller.
3. Monstera siltepecana fenestration of leaves
Monstera siltepecana has bluish-green juvenile leaves with a silvery sheen or markings and dark green veins. These slightly textured, erect leaves are oval with a heart-shaped base measuring 3 to 5 inches long.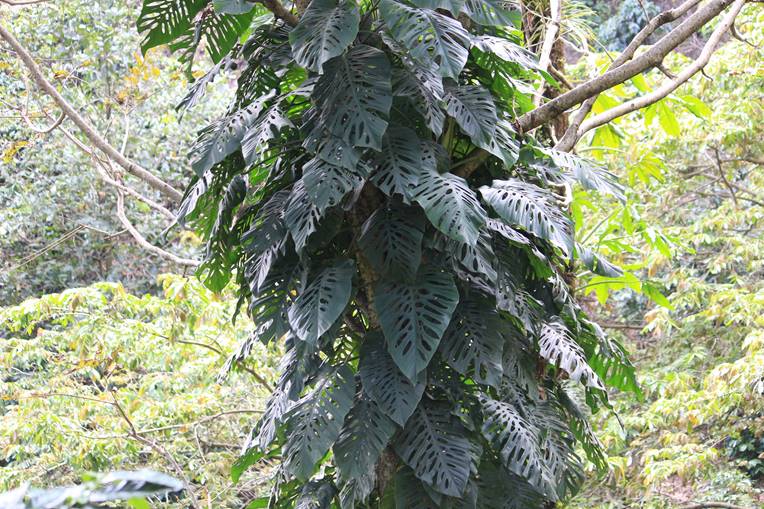 When the plant matures, the leaves become larger, lose their markings and turn a deep or dark green color. These leaves measure 11 to 24 inches long and 7 to 14 inches wide with 11 to 18 inches long petioles. Also, the surface gets slightly leathery and semi-glossy.
The other that happens is that the mature leaves get holes. But Monstera siltepecana has only fenestration not splits. Instead, their margins remain entire.
Lastly, their holes occur in 2 to 4 series on either side of the midrib. Others that have only holes are M. Adansonii, M Subpinnata, M. standleyana, M lechleriana, and M. acuminata.
4. Stems
The stems are green and almost cylindrical. They look like vines and are 0.7 to 1.4 inches thick. Also, they have short internodes.
5. Flowers and fruits
When they mature, this Monstera will begin flowering. Their flowers are perfect, meaning they have both male and female parts.
However, they are not like ordinary flowers such as those of a rose plant. Instead, they are small and clustered - the so-called inflorescence flowers.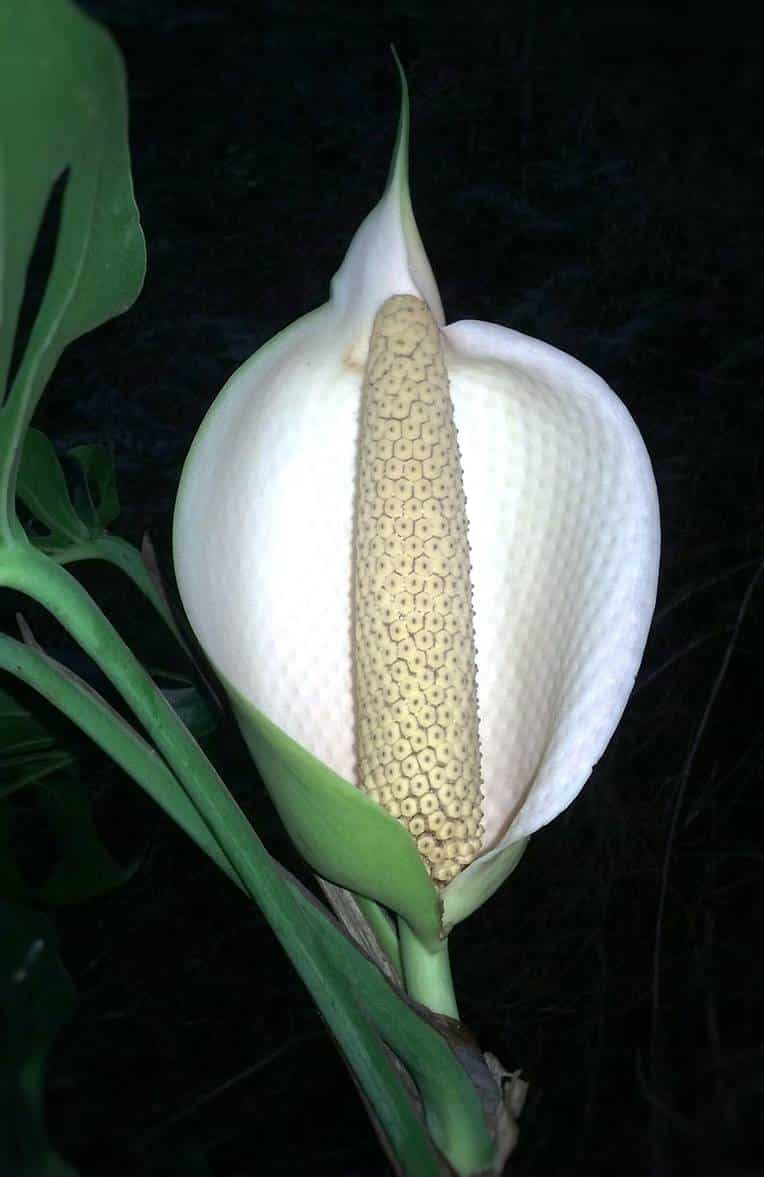 These plants have white inflorescence flowers on a spadix surrounded by a leaf-like structure known as a spathe. This spathe is thick, leathery, greenish-white on the outer side and rose-red from the inside.
When fruiting, the spadix will be deep green and will have clustered berries-like fruits. These fruits will mostly have a single, small, elongated brown seed.
Finally, like M. subpinnata, this Monstera has a flower stalk nearly equal or longer than the spadix. The flower stalk is what they often call a peduncle,
Where to grow them
This Monstera makes a charming houseplant. It is perfect for any room - kitchen, bathroom, living room, and so on. Still, you can grow it outdoor if you have a mild climate.
Inside your home, you can let it climb a trellis, bamboo, burlap-wrapped, or moss pole. Also, it can hang downwards on a hanging basket o trail horizontally on your shelf or desk.
But if you want it to have lush, larger leaves, stack it. Otherwise, leaves will be small and few. Also, it will be leggy with longer internodes.
Lastly, growing this charming tropical plant is also good if you have a terrarium or a greenhouse cabinet.
Monstera siltepecana are and growth requirement
Caring for Monstera siltepecana is easy. If you are a beginner, don't worry. They are very easy to care for, and you cannot go wrong. All you need to do is give these plants conditions similar to where they grow naturally.
For instance, they grow in warm and humid forests in the tropics. This should tell you they love humidity and warmth.
Also, they grow under the shade of taller trees, where they mainly receive filtered light. This is just the tip of the iceberg. Let us go to the various care needs
1. USDA hardiness zone
The USDA hardiness for this Monstera is 10b to 12. If you are in these zones, you can grow your plant outdoors all year. Please note that this plant cannot withstand frost. Why? Because freezing temperatures will damage it.
2. Temperature
Monstera siltepecana prefers warm areas with temperatures ranging from 50 to 95 degrees Fahrenheit (12.8 to 35°C). You will agree this is quite a wide range. But they will do better in temperatures above 65°F.
As it gets colder, anything below 65°F, their growth rate will also go down. By the time it is 50°F, these plants will stop growing.
If you are growing this Monstera outdoor, please bring them inside your house when temperatures hit 50°F or less.
The other thing you need to avoid is sudden drops or spikes in temperature. It will stress them. So, please don't put your plants next to a cooling or heating vent. Also, places with cold draft are not good.
3. Humidity
Monstera siltepecana needs higher relative humidity, about 60% or more. But, they don't mind slightly lower or average. Values ranging from 40% to 50% are still good.
Nevertheless, these aroids will be happiest if you increase humidity. This is very important to people whose homes have lower levels. You don't want to see brown edges or yellowing of their leaves. Also, your plants may wilt or have crispy and dry foliage.
How do you raise humidity? It is easy. You can buy a humidifier, mist your plants a few times a week, or have a pebble tray.
We use AquaOasis™ Cool Mist Humidifier. It is quiet for use in even your bedroom, friendly to children, and can run for up to a day without a refill. Also, it has features like auto-shut and its nozzle rotates 360 degrees.
Lastly, you can also group your plants or take them to the bathroom. These two ways will help raise humidity. It is not rocket science.
4. Monstera siltepecana Light
Put your Monstera siltepecana in a place they receive bright, indirect light. You will have the lushest leaves. Medium, indirect light is still ok. But you must avoid low light or direct sunlight. Here is why.
Low light will make them leggy and have smaller leaves. Also, their leaves may turn yellow, and they will grow slowly. I strongly recommend an artificial grow light if your house is dark.
What about direct sunlight? It will burn their leaves. If they get burnt, you will notice crispy brown tips and edges. Also, the leaves will look washed out.
A little bit of the morning or evening sun will not cause much harm. People with west or east-facing windows can take this advantage. But, they must ensure not direct hot sunlight.
Anyone growing this Monstera outside needs a place with partial shade. Even in their natural habitat, they grow under the shadow of the canopy of tall trees. You can also grow them in a greenhouse or under a 20 to 40% shade cloth.
5. Soil
The ideal Monstera siltepecana soil must be well-drained, well-aerated, and high in organic matter or fertile. These plants love a little bit of a chunky and rich organic mix that drains well. It should retain moisture without drying fast or being too wet for long.
Also, choose one that is slightly acidic to neutral (pH5 to 7.5). Adding moss peat will help lower the pH.
You are free to use an aroid mix (see Etsy.com). Also, you can take a premium quality potting mix, then add about 20 to 30% of perlite and some peat moss or coco coir. Instead of perlite, pumice or bark chips will work well.
These Monsteras are not very picky. Thus, they will still grow even in a soilless potting mix. So long as it is fertile and drains well.
These Monsteras are not very picky. They will still grow even in a soilless potting mix. So long as it is fertile and drains well.
6. Watering
You need to know how to water your Monstera properly. Too much will cause root rot, and too little isn't good either. But, these plants are more forgiving to less water than too much.
Monstera siltepecana needs medium watering. Let to top 2 to 3 inches of the soil first dry. You can also let the top about 50% of the soil first dry.
Knowing when to water your plant shouldn't be a daunting task. Feel if it is moist or dry up to the first knuckle of your finger. Alternatively, use a soil moisture sensor. Our best pick is XLUX. It is highly rated, accurate, and affordable, and you can pick one with a long or short probe.
On frequency, we usually water after 4 to 7 days in growing months and once in two weeks in fall and winter. Your case may be different. Things like humidity, light, temperature, potting mix, etc., may affect how often you water your plants. So, test the soil moisture.
Lastly, to water your plant, pour some water slowly until excess comes from drainage holes. Then, discard any that collects on the saucer. We use tap water, and we haven't had any issues. But some people prefer distilled or rainwater.
i. Overwatered Monstera siltepecana
Overwatering is the number one cause of root rot. Also, it may encourage fungus gnats. Signs that your plant is getting too much water include yellow leaves and a constantly wet potting mix.
Other signs are molded soil, dropping leaves, wilting, or plant death. Also, some plants may have large black spots on leaves and a mushy stem base.
ii. Underwatering
Not giving your plant enough water will make its leaves curl and droop. Other signs that your plant is thirsty are dr soil, leaf yellowing, slow growth, wilting, and death.
7. Fertilizer
This Monstera needs a moderate amount of plant food. Use an all-purpose fertilizer for houseplants and follow what the manufacturer recommends. However, we usually go for half-recommended strength.
If you prefer a balanced formulation, go for Miracle-Gro Indoor Plant Food (Liquid). But Espoma organic (2-2-2) and Bonide (10-10-10) are all good. Start with half recommended strength.
For slow-release fertilizer, there are many spikes and granular brands to buy. Our favorite is Osmocote Smart-Release Plant Food Plus Outdoor & Indoor. 
If you recently repotted or bought your plant, first wait for at least six months. The potting mix that comes with plants has fertilizers.
8. Pruning and grooming
Pruning will involve two things. First, you should cut off any dead, dying, diseased, or leaves. It will create space for more growth. These leaves may don't contribute, but they still depend on the plant. Also, they may attract pests.
Secondly, during summer or spring, you may trim long or leggy stems. This will encourage branching, a fuller and shapely plant.
Use a sharp, sterilized pruning knife or scissor. Doing so will prevent the spread of diseases and make your work easy. Don't you want it?
9. Potting and repotting
We recommend repotting your Monstera siltepecana after 2 to 3 years. Also, you should repot it if it is rout-bound. Check for any signs that your plant is root-bound. They include roots growing from drainage holes and slow growth.
Another time to repot is in case of root rot. We will look at the signs later. Keep reading!
Lastly, the best time is always spring or summer. Also, you need to pick a pot 2 to 3 inches larger in diameter. Furthermore, it should be deep enough for the roots.
Monstera siltepecana Propagation
The best way to propagate Monstera siltepecana is by stem cutting. You are free to use soil, a potting mix, or water. From our experience, water takes the longest. But it allows you to see the rooting progress.
I prefer propagating my plants in early spring. It will give them time to establish themselves during the growing season. Still, summer is a good time too.
We will look at what you need and give you the steps for soil or potting mix propagation. But for those who love water propagation, we have some insight too.
i. What you need
Soil or potting mix
Clean pruning scissors
Transparent plastic bag. It is optional. However, it will help lock humidity. This will boost faster growth. We
Growth hormone. Also, optional. But it will promote quicker root growth. We love HydroDynamics Clonex Rooting Gel. It has a rooting hormone to promote growth and nutrients to nourish your cutting.
Pot
ii. Steps to follow
Start putting your potting mix or soil into a pot. Then water it until some water comes from the drainage hole. If it collects on a saucer, pour it away.
Next, choose a healthy stem with at least two nodes and cut it below the lower node with your pruning scissors. If possible, pick one with some visible aerial roots.
If it has several leaves, remove them, leaving only the upper one or two.
Apply some rooting hormone to the part where you will plant into the soil.  
Make a small hole on your soil, plant the cutting, covering the lower two nodes. Then, tamp the potting lightly to ensure it holds the stem cutting.
Lightly mist the cutting and cover it with your plastic bag. Remember to leave a small opening. Your cutting needs to breathe.
From time to time, check if the soil is moist. If not, lightly mist it. Also, every once in a while, you remove the plastic bag to allow your plant to breathe.
The cutting will start growing roots after 3 to 4 weeks. They will be long enough and ready for transplanting in two months. 2 to 3 inches or more works for us. But we prefer to wait until we see secondary roots.
iii. Propagation in water
If you want to watch your plant grow roots, propagate it in water. Instead of planting it in soil, dip it in a jar with water. But don't submerge leaves. They may rot. Also, change the water after 3 to 4 days.
Toxic to pets and humans
If you have kids or pets, it is good to know that Monstera siltepecana is harmful. Thus, keep your kids, dog, cats, rabbits, bearded dragons, guinea pigs, hamsters, etc., away from this plant.
So why is it harmful, toxic or toxic, or poisonous? The answer is simple. It has insoluble calcium oxalates.
If chewed, these sharp and needle-like solids will pierce the oral lining. This will cause a lot of irritation, pain, and a burning feeling. Other signs are drooling and pawing in pets. Also, they will refuse to eat. Also, their mouth, tongue, or lips may swell or become red.
Pests
Monstera siltepecana can get to pests like mealybugs, scale, spider mites, or aphids. These pests mainly affect outdoor plants. But your indoor plants are not immune.
Signs your plants will have will depend on which pests they have. You may see the bugs, honeydew, and black sooty mold. Also, there may be spots (yellow, black, or silvery), webbing, and yellow or deformed leaves.
Severe cases may cause leaves to fall and stunted growth. You cannot miss out on these signs.
Treatment or remedies depend on the specific pests. You can go for horticultural oil sprays, insecticidal soaps, or neem oil. Moreover, some cases will require you to remove them manually or use rubbing alcohol.
Lastly, if you don't have any pests yet, isolate any new plants when you receive them. Also, check for any signs of bugs and separate the affected ones.
Diseases and conditions
I am aware of the many Monsteras diseases. They include root rot, rust, powdery mildew, mosaic virus, leaf spot, anthracnose, just but a few. You are unlikely to have any of these except root rot.
We will look at root rot. Also, we will tell you some issues your plants are likely to have.
1. Root rot
Overwatering is the common cause of root rot, bacterial or fungal. Also, poorly drained soil, pots without drainage holes, among other things, may cause it.
When your plant has roo-rot, its leaves will turn yellow. Also, it may wilt and grow slowly. More signs will be dropping leaves, black spots on leaves, moldy potting mix, and a mushy stem base.
2. Yellow leaves
Monstera siltepecana yellow leaves occur due to overwatering. However, this is not the only cause. Others are low humidity, cold drafts, or too little or too much light.
At times, the yellow leaves show that your plant lacks some nutrients, has diseases, or has some pests.
Lastly, it can be normal aging if it happens to the lower leaves. Here, you don't have to worry. Just prune these leaves.
3. Curling leaves
Why are the leaves of this Monstera curling? The most likely reason is thirstiness. In this case, they will droop and grow slowly too. Also, low humidity, heat stress, disease, and pest can make leaves drop.
To tell the likely cause, look at other symptoms like dry soil, low humidity, pests, among others. They will tell you what the problem is.
4. Brown leaves
Brown leaves may occur due to too much sunlight, a thirsty plant, or low humidity. If your plant leaves feel crispy with brown tips and edges, your plant is likely thirsty.
Other possible causes are disease, pests, or salt buildup in the soil. Look at the other symptoms that your plant has to help tell the likely cause.
Monstera siltepecana El Salvador
Monstera siltepecana El Salvador is a rare variety of Monstera siltepecana. It is hard to get. Also, it is more expensive. Be prepared to pay about $50 to $200. But it is a little more readily available in Australia.
Monstera siltepecana El Salvador looks much more like the original variety. But its leaves are slightly bigger, about 4 to 5 inches long. Also, it has a more silvery sheen, but the veining is still dark green.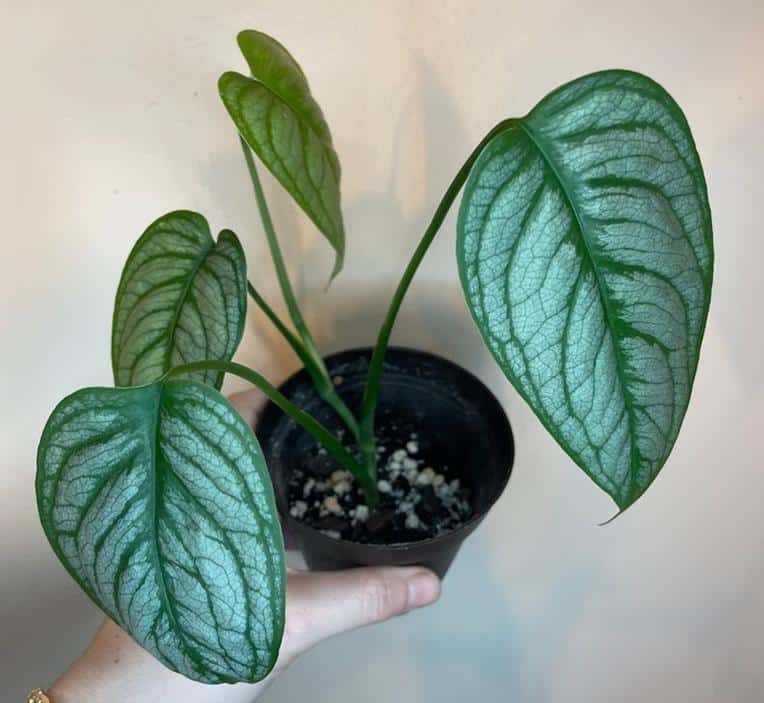 We assume it came from El Salvador, and that is why it has the name. But there isn't much information available. Even the few people selling it don't give much information.
Finally, when it matures, its leaves have holes like the original variety. Also, its leaves turn deep or dark green.
Monstera siltepecana vs. Peru
If you have trouble distinguishing between these two, it is good to say that they don't resemble each other so much.
Both belong to the Araceae family and genus Monstera, meaning they are closely related. Also, their leaves are about the same size.
Here are is a quick Monstera siltepecana vs. Monstera Peru.
| | |
| --- | --- |
| M. siltepecana | M. Peru |
| Accepted Monstera species | Not an accepted Monstera species |
| It has glossy, bluish-green leaves with a silvery sheen. The veins are dark green, and the leaf surface is lightly embossed or puckered. | It has thick, leathery, glossy deep green leaves with light green variegations. The veins are and a more puckered surface. But they don't have a silvery sheen. |
| Mature leaves become larger, and they get holes (fenestration windows) | Mature leaves look like juvenile leaves. They don't get fenestrated |
Monstera siltepecana vs Cebu blue
Monstera Siltepecana and Epipremnum pinnatum 'Cebu Blue' do resemble each other. However, these two plants are from different genera. But they share the same family, Araceae. Here are the differences between the two.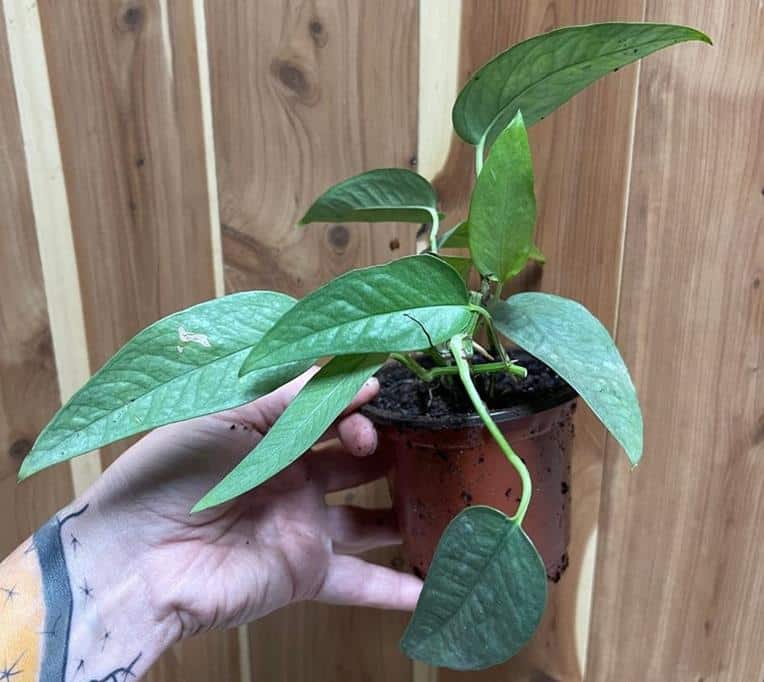 | | |
| --- | --- |
| M. siltepecana | |
| Member of genus Monstera | Member of genus Epipremnum |
| The leaves are glossy, bluish-green with silvery markings and dark green veins. Also, these leaves are slightly textured or puckered and not as elongated. | It has bluish leaves with a silvery sheen and no variegation. Also, the leaves are more elongated and slightly thinner and don't have markings on their veins. |
| It has nearly round, smooth stems without any ridge | The stems have a hard ridge that runs along the stem length. |
Frequently asked questions (FAQS)
Is Monstera Siltepecana rare?
Monstera Siltepecana is uncommon but not so rare. You can find it even in some big box stores like Walmart, or even Steve's Leaves has it. And there are many vendors at Esty and eBay. But Monstera siltepecana El Salvadoris very rare and hard to find.
What is the Monstera Siltepecana price ?
Monstera siltepecana's price ranges from $10 to $40 for a cutting with a few leaves. Well-established plants will cost about $40 to $90. This is not a very good price, considering it is uncommon. But, note that price will vary depending on your location and other things.
Where do I buy Monstera Siltepecana?
If you need this lovely plant, start by looking for it at your local specialty nurseries then go to Etsy.com, they have a large collection. Other places to try include Facebook plant groups in your area, Walmart, Steve's Leaves, or Josh's frogs
People in the USA, Australia, the United Kingdom, or Canada will also get this plant online at eBay. Also, there are many local online vendors in each of these countries.