The best Swiss cheese plant or Monstera deliciosa propagation method is stem cutting, and you can use water or soil. But you can also opt for air layering and propagation using seeds or division.
We will teach you how to propagate your Monstera deliciosa plant by stem cutting and other methods including how to divide Monstera deliciosa.
What you learn will apply to variegated forms, i.e., Monstera Thai Constellation, Monstera albo borsigiana, Aurea variegata, or even varieties like Monstera var. sierrana or Monstera deliciosa var. borsigiana.
We have everything from taking a cutting to caring for your monstera deliciosa cutting. You will also learn something about transplanting after it has rooted well.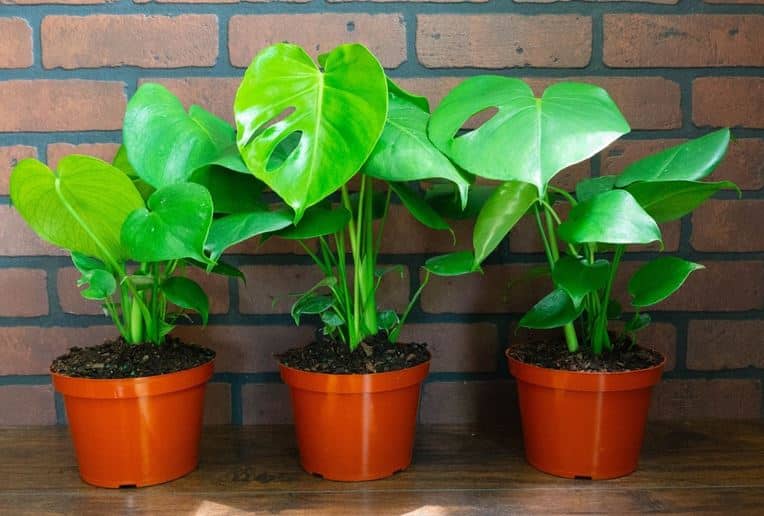 About Monstera deliciosa
Scientific name: Monstera deliciosa
Genus: Monstera
Family: Araceae or arum family (aroids)
Common names: Swiss cheese plant, Split-leaf philodendron, ceriman, Mexican breadfruit, Fruit salad plant, Windowleaf
Native habitat: Southern Mexico to Panama
Monstera deliciosa is a popular climbing evergreen houseplant with heart-shaped deep green leaves that become enormous, split fenestrated (perforated). But there are some variegated forms. This air purifying plant is easy to care for and will give your home a tropical backdrop.
Don't be carried away by the name split-leaf philodendron and assume it is a philodendron. Also, it is neither Thaumatophyllum, although it shares the name with Thaumatophyllum bipinnatifidum.
Last but not least, Monstera deliciosa is harmful or toxic to humans, dogs, cats, and other pets. It can also cause skin irritation. Wear your gardening gloves when handling it. But surprisingly, its fully ripened fruits are safe.
How to propagate Monstera deliciosa by stem cutting
The best way to propagate Monstera deliciosa is by stem cutting either in water or soil. Both methods are ok. But you need to ensure you carefully select the stem to use.
Let us go through the steps to follow:
1. Selecting a Monstera deliciosa stem cutting
Your success of the Swiss cheese plant propagation by stem cuttings depends on picking the right stem. Please, select a healthy (with no disease, pests, and looking vibrant) mature stem with at least one node but ideally two or more. Young stems tend to rot before they root.
A node is a bump where the leaf joins the stem and may have aerial roots. It has an axillary bud from which a new shoot will grow. You cannot propagate Monstera deliciosa via aerial roots, leaves, or stems without a node.
You can go for a stem with a node even if it doesn't have an aerial root. But one with roots means faster rooting. Avoid those with mushy aerial roots or cut them with sterilized pruning scissors. Don't forget to dip it in fungicide.
Use 70 to 90% rubbing alcohol to sterilize your pruning knives or scissors.
Last but not least, if you are propagating a variegated form like Monstera albo borsigiana or Aurea variegata, pick a node with a variegated leaf. However, this doesn't apply to Thai Constellation Monstera since it is stable.
2. Taking and Preparing your stem cutting
Once you have the right stem, use your sterilized sharp pruning scissor and cut just below the node. ¼ to ¼ an inch from the node is fine. You don't need a long stem after the node. It will rot and make it harder for your plant to absorb nutrients.
I usually go for at least two nodes and about 6 to 8 inches long to increase my success rate. Some people use Monstera deliciosa cuttings with only a leaf and a node. It is still ok.
Next, if the cut stem has more than two leaves, snip the lower ones off the stem cutting. Your plant doesn't have roots to help it absorb enough water or nutrients to support many leaves. So, you need to cut some off and let your plant use its energy to grow new roots.
3. Apply your root hormone
While not mandatory, rooting hormones will help speed the rooting (accelerates root cells production) and prevent rot. Why? Most have added fungicide.
We love HydroDynamics Clonex Rooting Gel because it is much easier to use. But all Garden Safe Brand and Hormex are equally good.
Take your rooting hormone and apply it on the bottom two inches (on the cut end). You can dip a cotton pad in the hormone and dab it.
Your plant is not ready for either water or soil propagation. Both methods are ok, and each has its pros and cons.
4. Swiss cheese propagation in soil
If you prefer propagating your Monstera deliciosa cutting in soil or potting mix, you need a well-draining mix, soil, or even sphagnum moss alone. A typical mixture is one with equal parts of peat moss and perlite.
The soil will provide more nutrients to your rooting cutting, promote faster rooting, and your plant will adapt more quickly when you transplant it. Also, you won't go through the hassle of changing water.
On the other hand, soil propagation doesn't give you a chance to see roots growing, and it may be messier.
What you need
Nursery pot (4-inch)
Sealable transparent plastic bag
Potting mix or soil
Steps
Fill your propagation or nursery pot with soil and thoroughly water it until excess water comes from drainage holes. Discard any that collects in the saucer after 15 minutes.
Poke a hole on the potting mix and insert your cutting, ensuring the soil covers the node. Here, make sure you plant the cutting about 2 inches deep. Press the potting mix against the cutting to ensure it remains upright.
Cover your cutting with your transparent bag leaving a small opening for breathing. Also, use a stick to ensure the bag doesn't touch leaves.
Take your plant to a warm place with bright, indirect light. The ideal temperature will be 70 to 77 degrees Fahrenheit (21 to 25°C).
Remove the plastic bag a few times a week for several hours to allow your plant to breathe. Also, keep the soil moist and mist it when it begins to dry.
What to expect
To tell if your plant has rooted, you can tray a tag test, i.e., slightly pull it to see if the stem comes out easily. Also, new growth and healthy leaves will indicate that rooting is going on well.
By the end of the 3rd to 5th week, your cutting will have rooted and ready for transplanting if you give it ideal conditions.
5. Monstera deliciosa propagation in water
Swiss cheese plant propagation in water will allow you to monitor propagation, detect any instance of root rot, is less messy and uncomplicated. You can even use the cutting you are propagating as a centerpiece.
Some of the cons of water propagation are it takes slightly longer, and your plant will not get nutrients in the soil. And when you decide to transplant your rooted cutting, it will suffer some shock.
On what water to use, recommend using rainwater, filtered, or distilled water if your tap water is high in chlorine or fluorine.
Steps
Fill your propagating jar with some water. Then dip your cutting into the water, ensuring it covers the node only and not the leaves.
Take your cutting in a warm area with bright, direct light.
Change the water when the level goes down or after 3 to 4 days. Never let it be cloudy.
What to expect
By the end of the 4th to 6th week, your cutting will have grown roots long enough for transplanting. Also, you will see new growth. But the exact time in your case may vary depending on the conditions you provide.
How to propagate Swiss cheese plant by air layering
Air layering is a straightforward Monstera deliciosa propagation method. It entails wrapping a ball of moist sphagnum moss on a selected node while still attached to the mother plant. It gives a very high success rate.
This method has one issue, the plastic bags with sphagnum wrapped may look unsightly. But if you are creative and your plant is bushy, you can easily hide by rearranging leaves.
1. What you need
Sphagnum moss
Sterilized pruning knife
Polythene bag
Twist ties or a soft string
Rooting hormone
2. Steps to follow
Moisten your sphagnum moss by soaking it in water for about an hour and wring excess water.
Find and select a healthy stem and decide on the node you want to use in your propagation. One with an aerial root will promote faster rooting, but it isn't mandatory.
Make a small nick on the node you have selected with a sterilized pruning knife diagonally upward. The small wound you create will make the plant direct more energy to the area, which will fasten the growth of new roots.
Apply some rooting hormone around the node. You can use a cotton ball to dab your hormone onto the area.
Take a ball on moist sphagnum moss and wrap it around the selected node using a plastic paper bag. Then, tie it with a string or twist ties to ensure it remains in place.
Use a toothpick to poke some holes in the plastic bag. They will allow for aeration and make it easy to mist the sphagnum moss.
Mist the sphagnum moss whenever it begins to dry. But don't make it soggy.
Continue caring for your split-leaf philodendron plant as usual.
Your plant will grow aerial roots after a few weeks to months. When they are long enough (3-4 inches), cut the stem from the mother plant and replant it in its growing pot or planter.
Split-leaf philodendron propagation by seeds
The other way to propagate the Swiss cheese plant is by seeds. But it takes longer to grow new plants.
If you need them, the best place to buy them is Esty.com. But you can also get them at eBay.com, Plantiflix.com, Facebook plant groups, Instagram, and so on.
Swiss cheese plant seeds are large than those of other Monstera species, i.e., they weigh about twice. They are spheroidal in shape, pale-green, and measure about the size of large peas.
These seeds come from Monstera deliciosa fruit. We hope you know that the fruits are edible when fully ripe and taste like pineapple, banana, and mangoes.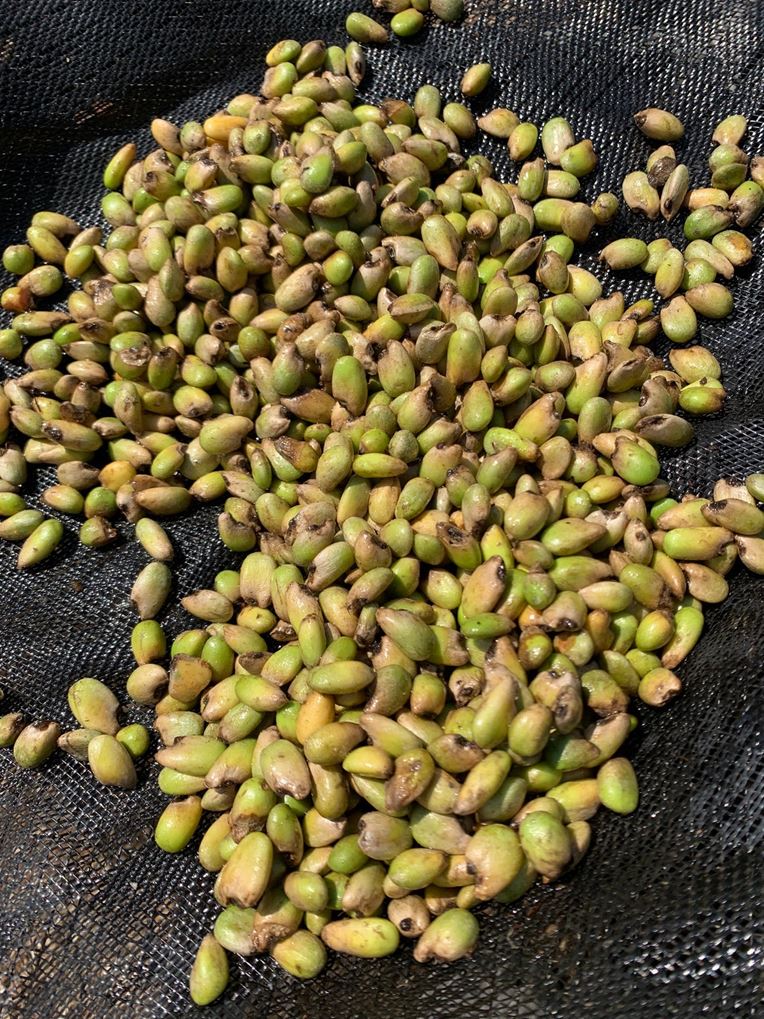 Warning
Monstera adansonii and deliciosa seeds lose viability if left to dry out. But if you keep them in a moist place, they can stay viable for several months.
Also, don't fall prey to people purporting to sell seeds for variegated Monstera deliciosa, especially Monstera albo borsigiana. Ignore them. These variegations are rare, and the genetic mutation responsible is not inheritable.
1. What you need
Germination tray or a shallow pan
Well-drained soil
2. Steps to follow
When you receive your seeds, don't let them dry. Instead, soak them in water for about half a day to a full day.
Moisten your soil and put it on your shallow pan or germination tray
If you have a tray, poke a shallow hole and plant your seeds about ½ an inch. But if you are using a shallow tray, scatter your seeds and shallowly cover the seeds.
Cover your seeds to help lock in humidity and place them in a warm place, with the ideal temperature being (70 -75°f (21 to 24 °C).
Ensure the soil remains moist until they germinate
Your seeds will germinate after about two weeks. Afterward, the seedling may take up to 12 weeks to be ready for transplanting to individual pots.
Split-leaf philodendron propagation by division
The last way you can propagate your Swiss cheese plant is by division. We don't recommend it if you want a bushy plant. Monstera isn't the best candidate.
Plants like the snake plant, Boston fern, peace lily, African violets, philodendrons, and cast irons are ideal division choices.
If you must, the best time to do so is when you intend to repot the mother plant, i.e., after division, you can repot the mother plant. Also, ensure your plant has a well-rooted sucker.
Here is how to divide monstera deliciosa:
What you need
Sterilized pruning knife
New pot
Potting mix
Steps to follow
Fill the new pot with a ⅓ way up with a fresh potting mix
Gently slide your mother plant from the pot and tap it to loosen the root ball.
Next, select the sucker you want to divide. It should have healthy roots. Then cut from the mother plant with your sterilized pruning knife.
Slowly pull it part as you detangle the roots to ensure minimal root damage.
Plant it in the new pot and add more soil to the level before dividing it. Then water it thoroughly.
Replant or repot the mother plant and water it thoroughly.
Unlike the other propagation methods, division allows you to plant the sucker directly you divide to its growing pot.
Transplanting and caring for your rooted Swiss cheese plant
Once the roots are long enough, you can transplant your Swiss cheese plant to its growing pot. Just feel the pot ⅓ way, plant your rooted cutting and add more soil. Afterward, you can thoroughly water it. You can also install the stake.
We suggest growing several cuttings or seedlings together if you need a bushy growth.
Use a chunky and well-draining potting mix rich in organic matter. What you use adult plant is ok. Next, you need to give it optimum growing conditions, just like your adult plant, which are as follows:
Humidity: Above average, 60% or more. Use a humidifier like AquaOasis™ Cool Mist Humidifier (best seller on Amazon.com), mist your plant, have a pebble tray or a greenhouse cabinet if you have low humidity.
Light: Bright, indirect light. Avoid direct sun and too little light. If your house isn't well lit, buy grow lights. We use Relassy 15000Lux Sunlike Full Spectrum Grow Lamp
Temperature: Maintain an ideal temperature of 65 to 85 degrees Fahrenheit (18 to 29°C). Also, avoid cold drafts, sudden temperature changes, and don't place your plant near heat-emitting vents or appliances.
If you want to know more, Monstera deliciosa Care will give you all the care needs for your Monstera and a lot more.
More tips
Don't allow the soil to dry in-between watering. Instead, keep the soil moist but not soggy until your plant adjusts and begins growing.
Don't fertilize your new Monstera deliciosa for at least 3 to 6 months.
Don't prune your plant yet. But you can remove any leaves that turn yellow or brown.
Issues to expect
Immediately after transplanting, your plant may curl leaves, have brown tips or edges, or even yellow leaves. Also, it may droop. Don't worry. It's just plant shock, i.e., Your plant is still adjusting. Give it time.
Frequently asked questions (FAQs)
Can propagate with Monstera deliciosa leaf-cutting?
No. You cannot propagate Monstera deliciosa using a leaf, even with a petiole. Your cutting must have a node since it has the auxiliary bud from where a new stem will sprout.
Can I propagate Monstera deliciosa with aerial roots?
You cannot propagate a split-leaf philodendron using aerial roots, no matter how long and extensive they are.