Proper Split-leaf philodendron, Swiss cheese plant, or Monstera deliciosa care entails ensuring optimum growing conditions (light, temperature, humidity) and watering it correctly. You also need to have the right pot size, soil mix and feed it well with correct fertilizers.
That is not all. You must know how to and when to prune it and pests or diseases it may have. Also, you need to understand the causes of common issues like your leaves turning yellow, curling, or having brown spots, including tips and edges. Sometimes, your Swiss cheese plant may also droop.
This guide will teach you how to care for your Monstera deliciosa. Whether growing your it indoors or outdoors, we have all you need to know including important tips.
Last but not least, what you will learn will apply to all varieties (sierrana, tauerii, borsigiana) and variegated forms. It will also help for baby or young Monsteras as well as mature plants.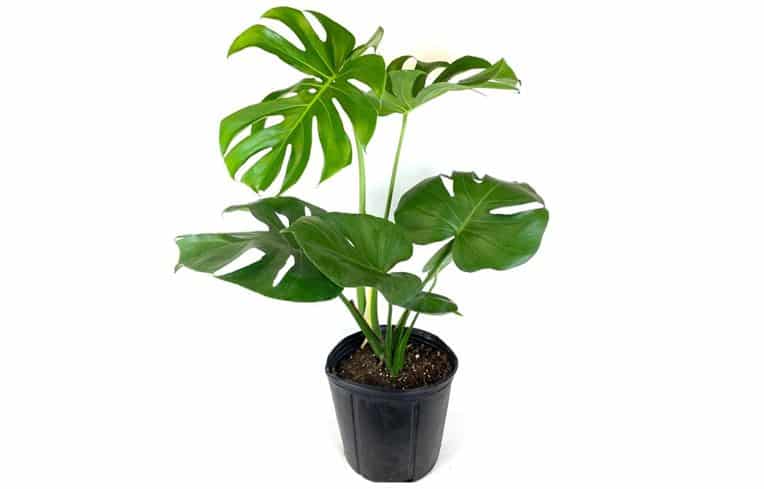 About Monstera deliciosa or Swiss cheese plant
Scientific name: Monstera deliciosa
Varieties: Monstera deliciosa var. borsigiana and Monstera deliciosa var. sierrana.
Genus: Monstera
Family: Araceae (Arum family or aroids)
Native habitat: Southern Mexico and Panama.
Common names: Swiss cheese plant or vine, Split-leaf philodendron, ceriman, Windowleaf, Mexican breadfruit, or fruit salad plant
M. deliciosa is a popular evergreen climbing houseplant. People value it for its deep green heart-shaped leaves that become very large, regularly split, and fenestrated (perforated) as the plant matures. But there are variegated forms like Monstera Thai Constellation and varieties like Monstera albo borsigiana and Aurea variegata.
Did you know that this Monstera is also air purifying? Now you do. But don't think it's a philodendron because of the name Split- leaf philodendron. It's not. Also, it shares the Swiss cheese plant name with Monstera adansonii and Monstera obliqua.
Warning
Fully ripe Monstera deliciosa fruit is edible or safe. But unripe fruits, stems, leaves, and any part of the Swiss cheese plant is toxic harmful to humans, dogs, cats, and other pets. Eating it will cause lots of irritation, burning feeling, swollen and tongue, lip or mouth. Other signs are loss of appetite, drooling, mouth pawing, and so on.
Monstera deliciosa care and growth requirements
Swiss cheese plant is easy to care for houseplant. It is suitable for even beginners. Just ensure no freezing temperature, and you water it well. Also, as a tropical plant, it loves humidity and warmth but not the direct sunlight or too little light.
Here is how to care for Monstera deliciosa:
1. USDA hardiness zone
Monstera deliciosa hardiness zone is 10b to 12 and nothing less. Why? Because "Monstera is not tolerant of freezing temperatures. Leaves are damaged or killed at 30 to 32°F (-1.0 to 0°C), and stems at 26 to 28°F (-2 to -3°C)," warns the University of Florida's Institute of Food and Agricultural Sciences (UF/IFAS).
Its cold hardiness is +35 °F (1.7 °C) to +40 °F (4.4 °C). Don't expose it to lower highly recommend that you ensure the temperature doesn't fall below this level.
2. Temperature
The ideal Monstera deliciosa temperature range is 65 to 85 degrees Fahrenheit (18 to 29°C) but will grow best at 70 to 85°F (24 to 29°C). Lower temperatures will slow growth, and your plant will stop growing when it gets to 50°F (10°C).
This aroid doesn't also like sudden temperature drops or spikes, heat stress, or cold drafts. So, please, don't place it near heat emitting sources or vents like radiators, fireplaces, home heating system vents, etc., as they will cause heat stress. Also, avoid drafty areas during winters, and don't put your plant near the air conditioning vent.
Last but not least, if grown outdoors, move it inside the house when the temperature reaches 50°F.
3. Humidity level
Your Monstera deliciosa humidity level should be 50% or more. These tropical rainforest plants love warm and humid areas. Low humidity may cause leaf browning, and your plant will not grow luxuriantly.
If your home has low humidity mist your Swiss cheese plant a few times a week, or you can have a pebble tray.
A better way is to buy a humidifier. There are many good brands like AquaOasis™ Cool Mist Humidifier (Amazon's best seller), Vicks, LEVOIT or Pure Enrichment® MistAire. Just consider coverage an ensure it is cool mist.
Other ways to raise humidity include moving your plant to the bathroom, kitchen, aquarium, or rooms with high humidity. You can also group your plants to help create a microclimate.
4. Monstera deliciosa light requirements
Monstera deliciosa requires bright, indirect light for 10 to 12 hours daily. These plants grow under tall tree branches where they get mainly filtered light, even in the wild.
The green Swiss cheese plant form will still tolerate low to medium light. But variegated version like Monstera Albo borsigiana, Thai Constellation, or Aurea variegata needs bright, indirect light. Why? Because they have less chlorophyll and need extra light to make enough food to support lush growth.
Very little light will make your plant grow slow, become leggy, and have pale or light green or yellow small leaves. So, if you live in a poorly lit house, go for artificial grow lights.
We use Relassy 15000Lux Sunlike Full Spectrum Grow Lamp. It lasts long (50,000 hours), comes with a gooseneck clamp and has sufficient illumination.
On the other hand, don't grow your Monstera in direct sunlight as it will cause sunburn or scorch the leaves, make them have dry brown tips and edges, and look washed out or bleached.
Outdoors, grow your split-leaf philodendron under a shade or greenhouse. Inside homes, place it at a distance from the window where it doesn't get direct light, especially if on the south-facing window. You can also use blinds but ensure it doesn't get too hot. They don't need full sun.
A little morning sun on the east-facing window is ok. But strictly ensure no direct hot sun. The north window is ok, but avoid the hot late afternoon sun for the west-facing.
Bottom line:
The best light for your Swiss cheese plant should be bright and indirect. Avoid very little light or direct sun. In poorly lit conditions, get grow lights.
5. Best soil for monstera deliciosa
The best monstera deliciosa soil mix should be chunky, well-drained, and high in organic matter. Pick one that is slightly acidic to neutral, pH 5.5 to 7.5.
In the wild, they grow in decaying bark, leaves, or wood, animal droppings, and any soil they can get. So. they are not so fussy when it comes to the potting mix kind you give them.
You are free to buy a good aroid mix (see Etsy.com) or make yours. For instance, a good Monstera deliciosa potting mix can have 30% potting soil, 30% coco coir or peat moss, 20% perlite or pumice, and 20% warm casting or compost. You can also add some orchid bark chips and charcoal.
You can even start with cactus soil mix. But we recommend you add some compost and moss peat to make it hold moisture better and have organic matter.
The exact ratio doesn't matter. You need to ensure the potting mix is rich in humus, drains well, and is well-aerated.
Lastly, if you go for a cactus mix or soils for succulents, you need to add a little more organic matter and some coco coir or peat moss.
6. Watering
Proper Swiss cheese plant watering is a critical care area you must not go wrong. It's not just an issue how often to water this plant or its water needs but a lot more you must know. Remember, too much water, and your plant will end up with root rot, and too little it won't grow well or may die.
Firstly, you should know that Monstera deliciosa watering needs are medium or average, and you need to allow the soil to dry in-between watering.
Secondly, water your Monstera deliciosa when the top 2-3 inches of the soil feel dry. Ordinarily, it will be once a week in spring and summer and bi-weekly or after about three weeks in winter.
The secret here is to feel the soil. Some people use a soil meter like XLUX Soil Moisture Meter - water when it reads three or less. Alternatively, water when the potting mix feels dry up to the first knuckle of your finger.
Wrong watering is a big issue because most people will tell you how often to water Monstera deliciosa. But one thing they forget is that your Monstera's water needs depend on your conditions (temperature, light, or humidity), soil, season, plant size, and pot size or type.
Please never follow a watering schedule. Instead, test the soil. The best time to water is early morning. And when watering, evenly saturate the potting until excess water comes from drainage holes. Wait for about 15 minutes and pour any in your cachepot or saucer.
i. Overwatered
Overwatered Monstera deliciosa will have yellow leaves, starting with the lower ones, and the soil will be soggy or wet. Also, it may droop or wilt, have brown or black splotches, wart-like growths due to leaf edema, moldy potting mix, a mushy stem base, and you may see some moisture-loving pests.
What overwatering or soggy soil does is choke oxygen from roots that need it. Thus, they will not grow or work well. Also, they cannot absorb water and nutrients as usual.
The next thing will be root rot in your Monstera. Why? High moisture favors soilborne pathogens multiplication. They will then attack the already weakened roots causing decay.
ii. Underwatering
Neglecting or letting your plants go for long without water is also harmful. Your Monstera will start curling leaves and wilt or droop. But the wilting will improve with watering. Also, it will have crispy brown tips and edges, grow slowly, and some leaves may turn yellow and drop. If not corrected in time, your plant may wither and die.
Bottom line:
Water your Swiss cheese plant when the top few inches of the soil feel dry. Don't follow a watering schedule or program. If you have trouble watering this plant, we have something exclusive on watering Monstera and dealing with overwatering and underwatering.
7. Fertilizer and feeding
Monstera deliciosa fertilizer needs are moderate. These plants don't need much feeding so long as you have the right potting mix. It should be rich in organic matter.
Feed your Monstera deliciosa with an all-purpose balanced liquid houseplant fertilizer (10-10-10 or 20-20-20) during growing months starting with half recommended strength. While balanced is the best way to go, it doesn't always have to be. Also, in winter or non-growing seasons, don't feed these plants.
Some people prefer slow-release formulas. It helps avoid the need to feed your plants frequently. Pick one for potted or houseplants and start feeding in early spring. Then follow what the manufacturer recommends.
We use Miracle-Gro Indoor Plant Food (Liquid). It is a balanced formula (NPK 1-1-1), feeds instantly, and you can use it with water or alone.
There are other great brands for your Monstera deliciosa, including slow release formula. See more on best fertilizers for Monstera.
That is not all. If you recently purchased a new plant or repotted one, wait for 3 to 6 months before feeding it. Why? Because most potting soils have fertilizer and growers fertilize their plants before selling them.
Last but not least, always feed your plant after fertilizing. Also, please don't overdo it, as it will cause fertilizer burns. You will see brown patches, tips, and margin and symptoms similar to those of an underwatered plant.
8. Pruning and trimming
To prune Monstera deliciosa, cut dead, damaged, or diseased leaves using sterilized gardening shears. This will include cutting yellow or brown. But if only brown tips or edges, trim them off and don't cut the whole leaf.
In preferably early spring, you can trim a few branches to control its shape and growth. But don't cut more than ⅓ at a time.
Lastly, don't forget to wipe the leaves whenever they are dusty. Use a soft piece of cloth or Microfiber Dusting Gloves.
9. The best pot for Monstera deliciosa and size
Deciding on the Monstera deliciosa pot size shouldn't be a difficult task. You need to go for one 2-4 inches wider than the current one you have.
On which pot you should pick, we recommend terracotta. But you can still buy nursery pots. They are still ok.
Etsy.com has some of the best and most affordable unique terracotta pots. Why are terracotta pots better? Because they are porous. So, they will allow air and water to move through their wall, meaning your plant gets oxygen, and it may help prevent root rot or soggy soils.
That is not all. You can also tell the soil moisture level by looking at the pot. It will look slightly different than the part where it's dry.
10. Repotting your Swiss cheese plant
Monstera deliciosa repotting is after every 2 to 3 years or when rootbound. It has a medium or average growth rate, meaning you don't have to repot every year.
The best time to do so is in early spring. But summer is also ok. Don't replant your Monstera in winter or non-growing seasons. Also, we recommend that you repot your plant two days after watering
Here is how to do it:
Pick a pot 2-4 inches wider and fill it ⅓ way with fresh potting mix.
Gently slide out your plant from the older pot, and tap its roots to get rid of as much soil as possible.
Check for any mushy, black, or brown roots and cut them off with sterilized pruning scissors.
Insert a stake or supporting pole and plant your Monstera
Fill the soil up to the level the roots were before repotting. Slightly tamp it to ensure it holds the stem firmly.
Mount the plant's stem to your stake using a soft string or
Thoroughly water the plant.
Last but not least, when repotting, minimize damaging the rooting system. Otherwise, you may notice some plant shock after transplanting, resulting in yellowing, brown tips and edges, leaves falling or curling, etc.
11. Support and staking and training
As climbers, these plants need support or stack, especially the borsigiana variety, which has a more vining growth. They will reward you with those large fenestrations (with holes) and splits.
If you don't give it a climbing place, your Monstera deliciosa may be leggy and have smaller leaves.
You can buy a burlap wrapped, trellis, or moss pole. But a bamboo or cedar pole will give the required strength if you have a huge plant.
Once you have your stake in place, use a fishing line, plant ties, twist ties, or soft string to tie the stem close to the stake loosely. Don't tie leaves. This is how to train your Monstera.
Indoor Monstera deliciosa care
When grown indoors, your Monstera will not grow so large. It will be about 6 to 8 feet and take a long time to reach that height. But it is unlikely to flower or have fruits.
The care they need is what we have looked at in our discussion, including watering, light, feeding, humidity, temperature, etc.
Just ensure your plant doesn't grow too large as you may not be able to move it. And since it is toxic or harmful, limit pets and children access.
Growing monstera deliciosa outdoors
If your weather conditions allow you to grow your Swiss cheese plant outdoors, you must ensure it's under a shade. Alternatively, you can opt for a greenhouse or use shade cloth.
Next, we recommend growing it near a tree or giving it a climbing trellis. This way, it will grow large and give you those lovely, huge pinnatifid and fenestrated leaves. Also, you may see a full-grown plant.
Unlike indoors, plants growing outdoor require more watering. So, you need to adjust your watering frequency. But you will need only water when the soil feels dry.
That is not all. Consider sheltering your plant during drafty cold seasons. The rest of the care required, including pruning, is what we have seen.
Pests
While uncommon indoors, it is possible for your Monstera deliciosa to have thrips, spider mites, mealybugs, scale insects, and whiteflies. These bugs will suck sap from your plant and damage tissues and some chlorophyll.
Fungus gnats are also possible if your potting mix is constantly wet. Their larvae feed on roots resulting in sudden wilting, poor growth, and yellow leaves.
To avoid bugs, routinely check leaves, mainly the underside, for any stationary, moving bumps, dots, or bugs. Some have fluffy bodies, wings or may leap if disturbed. You should see them before they cause any severe damage.
Signs will depend on the bug your plant has. They include silvery stippling, webbing, honeydew, holes, sooty mold, and black, yellow, or brown spots.
Severe cases may make leaves misshapen, ruffled, curly, or distorted. Also, the leaves may turn yellow, fall prematurely, cause slow growth, etc.
To manage pests, always isolate new or infested plants. Also, hose your plants to knock them off, use neem oil, insecticidal soap, or horticultural soaps.
We use mostly Bonide Ready to Use Neem Oil to control pests. It can protect your plants against most pests.
Diseases
Diseases are not common except for root rot, but your plant may affect the Monstera genus. Common Monstera deliciosa diseases include southern blight, rusts, botrytis, anthracnose, and bacterial leaf spot.
The Monstera mosaic virus is a rare disease, which causes a dark and light green abnormal mottling or pattern.
In the case of leaf spots diseases, you will notice leaf problems like brown or black spots or lesions, some with a yellow halo on leaves. Some may merge to form a large patch, or the infected part may fall, leaving a hole behind. Also, there may be abnormal discoloration.
On the other hand, Monstera root rot will result in wilting, brown cankers on stems, yellow leaves, girdled stems, and mushy brown or black roots. Some causes may also affect leaves and the stem base may become black and mushy too.
Monstera deliciosa problems
Besides diseases and pests, let's look at some Swiss cheese plant problems and probable causes. With causes, you should know how to handle them best.
1. Monstera deliciosa yellow leaves
Monstera deliciosa yellow leaves likely indicate that you are overwatering your plant, root rot, or too little light. Feel if the soil is soggy and check for any signs of root rot. But other causes may make leaves turn yellow, and they include:
Low humidity
Underwatering
Too much light
Heat stress
Overfeeding
Nutritional deficiencies
Aging
Plant shock after repotting or transplanting
Last but not least, yellow spots often indicate disease and pests.
2. Monstera deliciosa leaves curling
Are your Monstera leaves curling? It is most likely that your plant is underwatered and curling to help prevent further loss.
Any other factor contributing to fast moisture loss from the leaves or preventing absorption will also cause the curling. Such factors include heat stress, low humidity, overfeeding, too much light, rootbound, repotting, or transplant.
But sometimes, the curling protects your plant from extreme weather conditions, including cold drafts and freezing conditions.
Lastly, pests and disease may be a cause as they suck plant juices, depriving them of nutrients and water.
3. Monstera deliciosa drooping
Water helps keep cell turgor pressure or turgidity. Cells will become flaccid when they lack water, and your Monstera will droop or wilt. So, underwatering is the number one cause of drooping leaves or plants.
Other drooping causes are low humidity, heat stress, cold drafts, overfeeding, plant shock, pests, too much light, and overwatering.
4. Swiss cheese plant brown spots, tips, edges or leaves
Monstera deliciosa brown spots, tips, and edges likely indicate sunburn (direct sunlight), heat stress, low humidity, underwatering, and water high in chlorine.
Cold draft and overwatering may cause brown or brown splotches, with cold drafts causing browning overnight. Other causes are overfeeding (fertilizer burn), pests, diseases, aging, and your plant is rootbound.
Frequently asked questions FAQs
Why is my Monstera deliciosa dripping water
Your Swiss cheese plant dripping water at night or early morning is due to guttation that occurs when the soil is so moist. It occurs when roots absorb too much water. This creates a force that pushes the water to leaves and out from pores known as hydathodes at leaf edges.
Can I cut Monstera deliciosa aerial roots?
We don't recommend cutting, trimming, or pruning your Split-leaf philodendron aerial roots as they help in gas exchange and anchoring to a supporting moss pole, trellis, or totem. But if you must, only cut no more than half at any given time. A better way is to direct them to the soil.
How do I revive a dying Monstera deliciosa?
To revive a dying Monstera deliciosa, you need to check what is killing this plant. Start by checking if it is underwatered or overwatered. Next, check for any signs of root rot, pests, or disease. Other things to consider are humidity, light, temperature, feeding, and whether it is rootbound. If any of these above are causes, fix them.