Monstera Thai Constellation is a variegated form of Monstera deliciosa produced in Thailand via tissue culture. It has large split and fenestrated leaves with scattered cream to white speckles or splashes with streaks resembling a constellation.
Here is how to care for your Thai Constellation Monstera, including the best soil, light, humidity, and watering. We will also give you ways to propagate this variegated Monstera.
If you want to buy one, there is a section on finding Monstera Thai Constellation on sale. If you need it, see the latest prices. Also, we have something on Monstera albo borsigiana vs. Thai constellation to help you differentiate the two. Why? Because they closely resemble each other.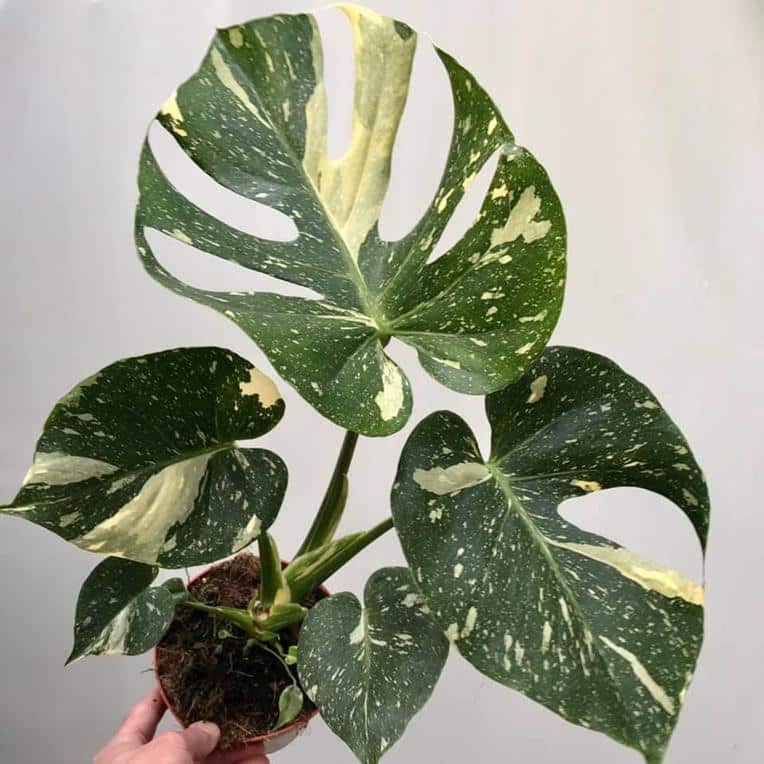 About Monstera Thai Constellation
Scientific name: Monstera deliciosa Thai constellation
Species: Monstera deliciosa
Genus: Monstera
Family: Araceae (arum family)
Monstera Thai Constellation is a variegated form of Monstera deliciosa (Swiss cheese plant or split-leaf philodendron) produced via tissue culture in Thailand, hence the name Thai.
It has green leaves with cream to white scattered speckles, splashes, spots, and streaks that resemble a constellation in the sky, thus the name, constellation. Stems and petiole will also have these speckles.
Besides the speckles, spots or streak, it does have a few sectors or blocks but not as much as a Monstera Albo borsigiana. Also, some plants may have green leaves with a yellowish tinge or soft butter variegations. It's normal.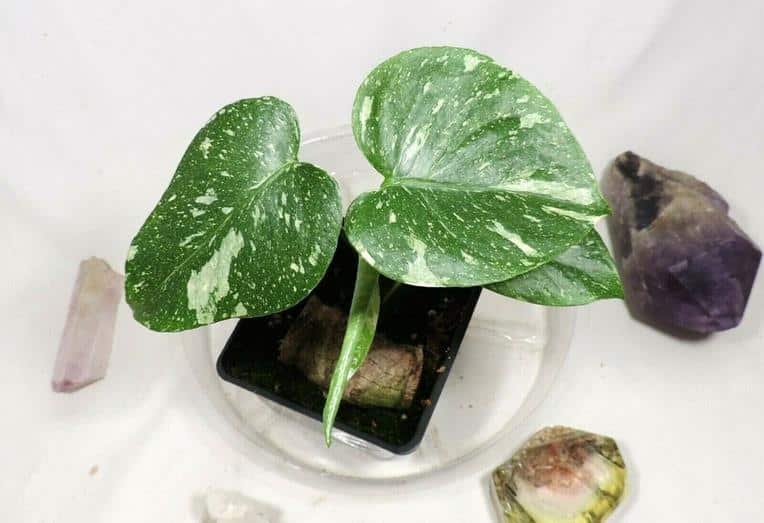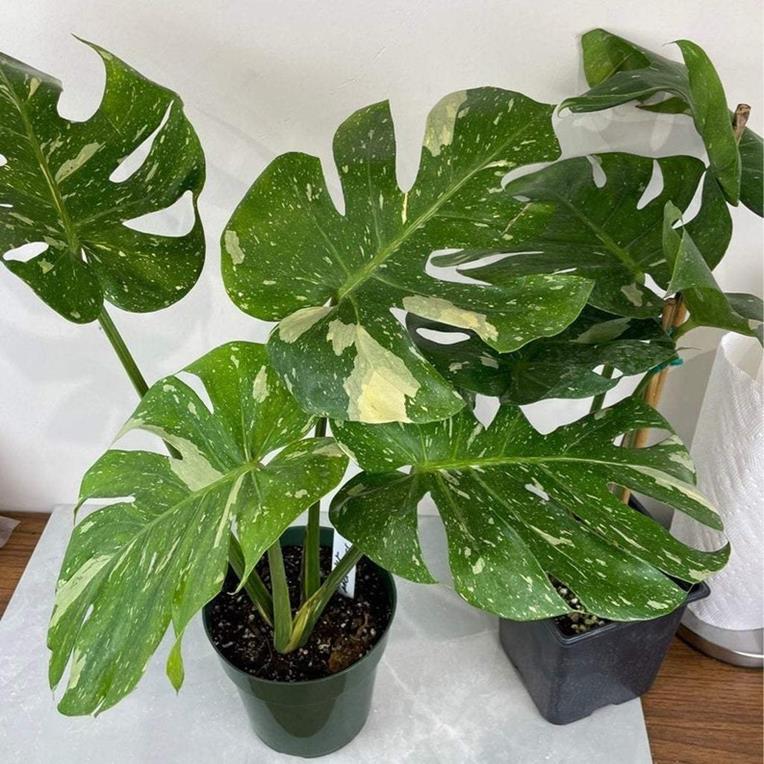 One fantastic thing about this Monstera is that the variegations are stable (will not revert), and every cutting will be variegated. Nonetheless, no two leaves are the same.
Like Monstera deliciosa, juvenile leaves will start getting splits after the plant has a few leaves. As it matures, expect variegated large, fenestrated, and pinnatifid leaves.
If you are looking for one, you will find most Thai constellation Monstera as young plants. Why? Because they are culture tissue in lab products. But you can still buy or find cuttings.
Last but not least, the variegation happens due to cells that don't produce chlorophyll. This should tell you that the plant will need more light.
Monstera Thai Constellation care and growth requirements
Monstera Thai constellation is easy to care for plant. The only thing you need to ensure is bright, indirect light, and perhaps a humidity that is 50% or more, preferably 60% plus. The rest of the care and growth needs are typical of Monsteras.
1. USDA hardiness zone
Thai Constellation Monstera USDA hardiness zone is 10b to 12. Freezing temperature and frost will damage and kill your plant. Only people in these zones can grow it outdoors all year, provided they meet other growth needs.
2. Temperature
As tropical plants, the Monstera Thai constellation prefers warm temperatures with an ideal range of 65 to 85 degrees Fahrenheit (18 to 29°C). Lower temperatures will slow growth, and at 50°F (10°C), your plant will not grow.
Please, don't place your plant near heat emitting sources (radiator, house heating system, etc.), cold drafts, air conditioning vent, or exposing it to sudden temperature changes.
3. Humidity
The Thai Constellation loves humid areas. We recommend keeping your humidity at 60% or for lush leaves and best growth. But they can tolerate 50% or more. Too low will cause brown edges and tips.
If you have low humidity, mist your plant a few times a week or have a pebble tray. Also, you can group your plants or take them to the kitchen, bathroom, or rooms with high humidity.
A sure way to maintain optimum humidity and optimize comfort is by buying a humidifier. We use  LEVOIT Humidifiers Top Fill, 6 Liter, Cool Mist since it covers a large area and runs for up to 60 hours. Also, it is easy to control, thanks to the Vesync connectible to 3rd party voice assistants. 
4. Light
While Monstera deliciosa can tolerate low to medium light, your Monstera Thai constellation requires bright, indirect light for about 10-12 hours. Why? Because it has less chlorophyll. So, it needs extra light to be able to photosynthesize effectively. Also, rotate it for balanced growth.
Low light will slow growth, and leaves may not get proper fenestrations. Thus, if your room doesn't have enough light, go for grow lights.
There are many good brands. Our favorite is Relassy 15000Lux Sunlike Full Spectrum Grow Lamp with a clampable gooseneck stand. It has a lifespan of about 50,000 hours. Other features include overheating, overcurrent and overheating protection. Also, it has FCC, ROHS, PSE and CE certifications. 
You can also verify if your plant gets enough light with Dr. meter LX1330B Digital Illuminance Light Meter. 
That said, you shouldn't put it in direct sunlight as it will burn leaves. You don't want bleached or faded leaves with brown crispy tips or edges. So, place it at a distance from your window where no direct sunlight reaches it, especially on the south-facing window. But a little morning sun on an east-facing window won't damage your plant.
Last but not least, if you grow it outdoors, have a shade cloth, grow it in a greenhouse or under a shade.
5. Soil
The best soil for Monstera Thai Constellation should be chunky, well-drained, and high in organic matter. It can be slightly acidic to neutral.
You can go for aroid mix (see Etsy.com). Alternatively, a blend with potting soil, peat moss, perlite, and worm castings will work well. You can also add some charcoal or bark chips. The exact composition doesn't matter.
We use 30% potting soil, 30% peat moss, 20% perlite, and 20% composite material like warm casting, and our Monstera is super healthy. Just avoid mixes with water-retentive gels.
6. Watering
Water your Thai Constellation Monstera when the top 2 to 3 inches of the soil feels dry, i.e., allow the potting mix to slightly dry in-between watering. It may be about once in spring and summer and after 2-3 weeks in winter or non-growing season.
How often to water this Monstera depends on your conditions (light, humidity, temperature), plant size, soil, pot type, etc. So, always feel the potting mix, and please don't follow a watering schedule.
To test the soil, insert your finger into the potting mix and water only if it feels dry up to the first knuckle. Also, you can conveniently test it with a soil moisture meter. We use XLUX Soil Moisture Meter and only water when the reading is in the red zone (3 or less). 
When watering, slowly saturate the soil until excess water comes from drainage holes. Wait for about 10 minutes and discard any water that collects on the cache pot or saucer.
a. Overwatered
This Monstera is sensitive to overwatering, and it may result in root rot, which will kill your plant if not corrected.
Signs that you have overwatered your Monstera include constantly soggy soil, yellow lower leaves, drooping or wilting that doesn't improve with watering, and brown spots or splotches.
Others are leaves falling off, moldy potting mix, and mushy black stem base, especially in the case of root rot.
b. Underwatered
When thirsty, your Monstera will curl leaves inward, have crispy brown tips and edges, grow slowly.
More signs include your Monstera wilting or drooping that improves with watering, leaves yellowing, falling, and your plant may wither or die.
7. Fertilizer
This Monstera is a medium feeder. So, feed it once a month with a balanced liquid houseplant fertilizer (10-10-10 or 20-20-20) in spring and summer. In winter or when they are not growing, hold the fertilizer.
We use Miracle-Gro Indoor Plant Food (Liquid) NPK 1-1-1 and feed once bi-weekly. Use a pump for a small pot and two for large (over six inches).
Bonide 10-10-10 is also good and you can also use a slow release formula like Osmocote Smart-Release Plant Food
If you recently repotted your plant or bought a new one, wait for at least 3 to 6 months before you start fertilizing it.
8. Pruning and grooming
Use a sharp, sterilized pruning shear to cut damaged, diseased or dead leaves. In preferably early spring or summer, you can trim a few branches to control growth and encourage a fuller plant.
That is not all. Wipe leaves when they are dusty with microfiber dusting gloves, or you can shower them during the watering season. Just ensure they dry.
9. Potting and repotting
Repot this plant every 2-3 years in early spring or when rootbound, i.e., when you see roots growing from drainage holes, it's time. When repotting, use a pot, 2-3 inches wider in diameter.
How to propagate Monstera Thai Constellation
The best way to propagate your Monstera Thai constellation is by stem cutting in water or soil if you have a large plant. Also, you can opt for air layering.
Wait until early to propagate your plant. Why? Because it will give your plant enough time to root before the next non-growing season.
a. Soil propagation
What you need
Potting mix (soil or soilless). If you use sphagnum moss alone, soak it in water and wring or squeeze excess water.
Nursery growing pot
Pruning shears
Rooting hormone. We use HydroDynamics Clonex Rooting Gel since it has both nutrients and rooting stimulating hormone.
Sealable transparent plastic bag
Steps to follow
Select a mature, healthy stem with at least a node and cut it below the node using sterilized pruning shears. One with aerial roots will root faster.
If it has several leaves, remove the remaining leaves, leaving one or two.
Dip the cut end in rooting hormone. It will help stimulate faster growth and minimize the chances of the stem rotting.
Fill your nursery pot with a potting mix and poke a hole in your potting mix. Then plant your cutting, ensuring the node is under the soil, and lightly tamp it to help keep the cutting right.
Thoroughly water your cutting and cover it with your polythene bag to help lock in humidity and take it to a warm place with bright indirect light. But don't forget to leave a small opening for breathing.
Once in a few days, remove the plastic bag to allow your plant to breathe. Also, mist the soil to ensure it remains moist.
Your Monstera will root after 3 to 5 weeks. When the roots are at least 3 inches and you see some secondary rots, you can transplant your plant to a growing pot.
Lastly, remember to keep the soil moist but not soggy or too wet as it adjusts. Afterward, take care of it as seen above.
b. Water propagation
If you want a less messy propagation that allows you to see roots as they grow, go for water propagation. Did you know you can even use the stem cutting you propagated as a centerpiece on your tables?
However, it takes longer, and plants will have a shock when you finally take them to the soil. Also, they may not get all the nutrients in the potting mix.
To use this method, you will follow all the steps for soil propagation. But instead of growing it in soil, you will dip your Monstera Thai constellation cutting stem in water. Only the node should be in water, not leaves.
The other thing is that you don't have to cover it with a polythene bag but place the cutting in a warm place with bright indirect light. Then change the water after 3 to 4 days or when the level drops.
It will take about 4 to 6weeks for roots to grow long enough for transplanting. But this depends on prevailing conditions.
Last but not least, when transplanting, ensure the soil remains moist, not soggy. Don't let it dry in-between watering until your plant adjusts fully.
c. Air layering
It's a reliable propagation method that doesn't require cutting the stem from the mother plant. Instead, you will make a slight nip near the chosen node and wrap moist sphagnum moss with a plastic bag.
Then, make some holes on the plastic bag with a toothpick to allow air circulation and regularly mist the moss to keep it moist. Once the roots are about 3-4 inches long, you can cut off the stem and transplant it.
Safety to pets
Monstera Thai constellation is toxic or harmful to humans, dogs, cats, and other pets. Why? It has needle-like insoluble calcium oxalates. If chewed, it will cause severe oral irritation and a burning sensation. Also, the tongue, mouth, or lips will swell and become reddish.
Other signs are swallowing difficulties, excessive salvation, reduced appetite, mouth pawing (in pets), among others. Also, it can cause skin irritation if it touches a sensitive skin part. Thus, we recommend that you use gloves when handling it.
Pests
If grown indoors, Thai Constellation Monstera is not prone to pests. But it may end up with thrips, spider mites, scale insects, mealybugs, or even whiteflies. These bugs may appear as tiny stationary or moving bumps or dots, or small flying insects.
If you regularly check them, you are likely to detect them before making mishappened, ruffled, deformed, or yellow leaves. Depending on the bug, you may see silvery stippling, webbing, honeydew, sooty molds, yellow, brown, or black spots, etc.
To control pests, always isolate new plants and regularly check your plant, especially on the underside. For minor infestation, hose your plant. But if it is heavy, use neem oil like Bonide Ready to Use Neem Oil, horticultural oil spray, or insecticidal soaps.
Diseases and conditions
Root rot is the main issue. We have something specific on Monstera root rot that will give you signs and treatment or ways to fix or save your plant.
Besides root rot, your plant can have leaf spot bacteria or fungal diseases like botrytis, anthracnose, rust, southern blight, and rarely Monstera mosaic virus.
To reduce disease instances, practice good sanitation (sterilize equipment and clean your hands before and after handling your plant), avoid contaminated water or soil, isolate diseased plants. Also, place your plants on benches (not ground).
Last but not least, your plant may also have some conditions. Here is a summary of their probable causes:
1. Yellow leaves
Most probable cause: Overwatering and root rot
Others: Nutrient deficiency, underwatering, too little or too much light, heat stress, cold drafts, low humidity, overfeeding, normal aging, plants shock after repotting, pests, and diseases.
2. Leaves curling
Most probably cause: Underwatering and low humidity
Others: Extreme temperatures, too much light, transplant shock, pests, diseases, overfeeding, or rootbound.
3. Leaves turning brown, including brown tips and edges
Most probably causes: Underwatering, too much light, low humidity, extreme temperatures (heat stress or cold drafts)
Others: Overfeeding, pests (brown spots), diseases, or your plant may be rootbound.
4. Drooping or wilting
Most probable causes: Underwatering and low humidity
Others: Root rot, extreme temperatures, too much light, pests, and transplant shock after repotting. Also, when rootbound, it may droop.
Monstera Thai constellation vs. albo borsigiana
This Monstera albo vs. Thai constellation discussion focuses difference between Monstera albo borsigiana and this plant. In the end, you shouldn't have trouble identifying these two.
| | | |
| --- | --- | --- |
| | Monstera Thai Constellation | Monstera albo borsigiana |
| Appearance | It has numerous creamy to white speckles or splashes scattered all over the green leaves, resembling a constellation. They also have variegated blocks or sectors but are fewer. | Green leaves with nearly white or off-white streaks, marbling, large blocks, or half-moon. The streaks and speckles are fewer, sectors or blocks are more significant, and some leaves may have lots of white. |
| Origin | Produced in Thailand through culture tissue, a reason why they are known as Thai | A rare natural mutation that occurs naturally makes some cells unable to synthesis chlorophyll. |
| Stability | Variegations are stable and more consistent but differ from one leaf to another. | Unpredictable and unstable variegation, with some reverting to green others going completely white |
| Cost | It costs less, with prices ranging from $150 for a cutting to $1400 if you want an established larger plant. | They are a little expensive. Typical prices are from $170 to $2000 for a cutting and established plant. |
| Rarity | Rare but not as much as Monstera albo borsigiana. | Rarer because it grows slowly, and mutation occurs in very few plants. |
Besides the above differences, the Thai constellation will have a thicker stem with shorter internodes and spread over a larger area. Moreover, the leaves will be larger and more fenestrated.
On the other hand, borsigiana will have thinner stems with longer internodes, slightly smaller leaves and will grow more like a vine. Also, the leaves are less fenestrated.
How to find Monstera Thai Constellation on sale
If you are looking for a Monstera Thai Constellation to buy, we bet you won't find it at your local nurseries, and big box stores don't have the plant yet, including Home Depot or Walmart.
It is now a rare plant that has seen increased demand since the Tropical Plant International Expo 2020 named it the Favorite New Foliage Plant. So, expect to pay a little more.
The best place you should start looking for is Etsy.com or eBay. People in the UK, USA, Canada, Australia, or any other part of the world can buy from Etsy. Just get in your location or who ships to where you are.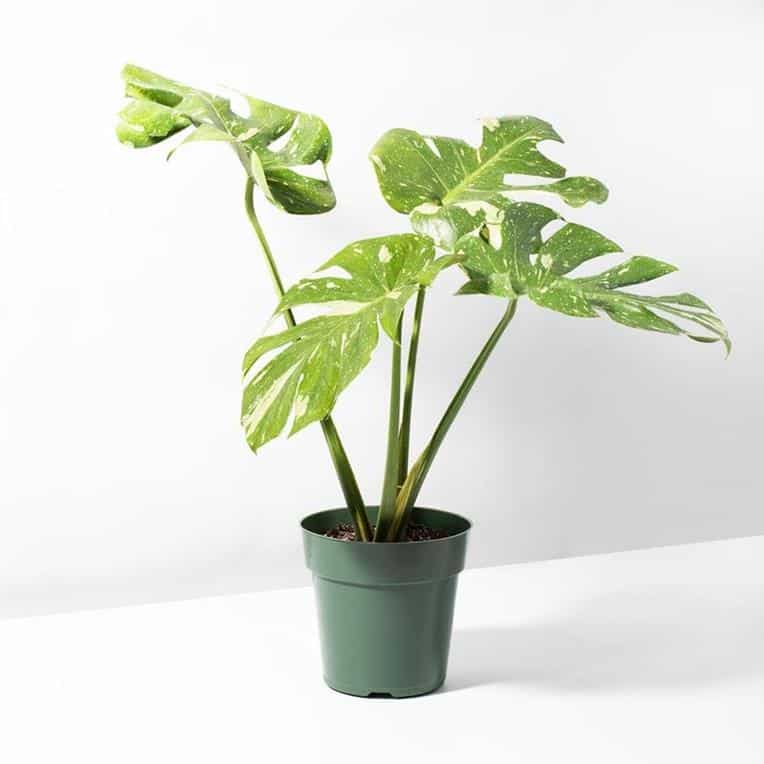 The next place to hunt for a Monstera Thai Constellation on sale is Instagram, Facebook plant groups, or even Craigslist. Here you may find a few rare collectors selling this charming plant.
If you still haven't found one yet, try searching for "Monstera Thai Constellation for sale" on the Google search engine. Here you will get a few websites near you that have the plant.
Last but not least, you can decide to wait until 2023 when it will feature in Costa Farms Trending Tropicals® Collection. Most big box stores like Home Depot and Walmart will have it. We bet it will make it much affordable then.
Frequently asked questions (FAQS)
Is Monstera Thai constellation rare?
Yes. Thai Constellation Monstera is a rare plant. Why? Because it is produced only in Thailand via tissue culture, something you cannot do at home, but you can propagate it. Also, not many people have it, and mass propagation will take time and space (it is large) and you cannot use seeds.
What is the Monstera Thai constellation price?
Monstera Thai constellation price ranges from $150 for a cutting to as high as $1400 for a large plant. The exact costs will depend on where you buy it and the size of your plant, i.e., is it a cutting, a rooted plant, or a well-established one.
While these prices may go down, we don't expect that soon, especially with the Costa Farm deciding to feature it in the Trending Tropicals® Collection in 2023. The reason, they need a lot of space, and reproducing them takes a very long time.
Can I cut monstera aerial roots?
We don't recommend cutting Monstera aerial roots. Why? They help in climbing and absorbing oxygen. But if you must, only trim one-third to half of the roots at a time with sterilized pruning shears. A better way is to guide the roots to the soil.
Can I buy a Thai constellation Monstera cutting?
Yes. You can buy a Monstera Thai constellation cutting if you cannot get plants grown from culture tissue. It will give you variegated leaves because it is stable. But be ready to part with $150 to $300 per cutting, depending on if it's rooted or not.