Aging is the usual cause of peace lily flower turning brown and occurs after about a month. But environmental stress or improper care may cause premature browning, including brown edges and spots.
We have the reasons for peace lily flower turning brown like too much light, water issues (overwatering, underwatering, or water quality), extreme temperature, overfeeding, and low humidity. Others are plant shock, pests, disease, and being rootbound.
For each cause, we will also give you what to do or fix. But, note that once turned brown, these flowers cannot go back to their original color.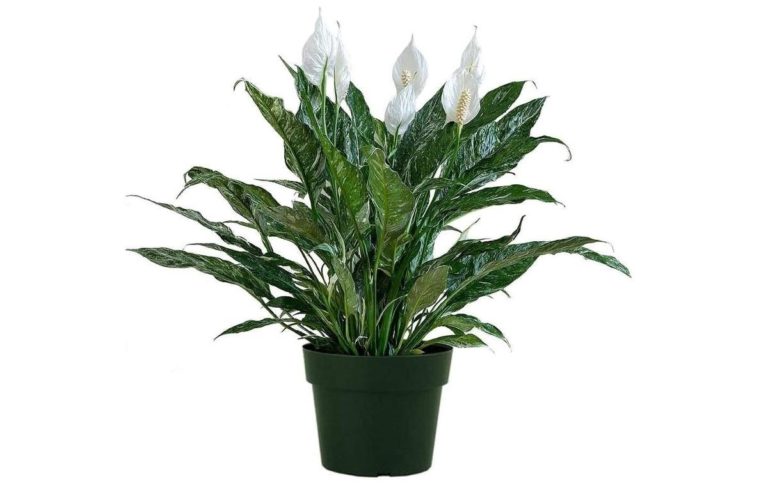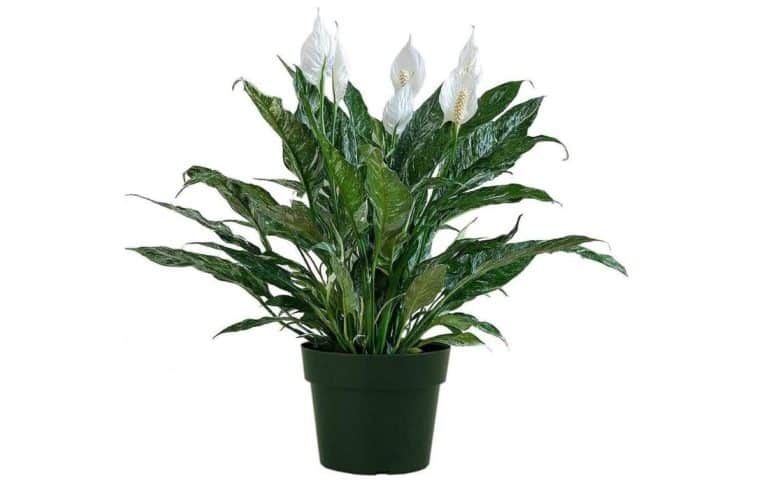 About peace lilies
Peace lilies (Spathiphyllum ssp.) or spath are lovely houseplants with beautiful cream to whitish flowers and glossy deep green. These evergreen ornamental plants native to southeastern Asia and tropical America are aroids, i.e., they belong to the arum Arecaceae family and not true lilies, family Liliaceae.
Peace lilies have cream to greenish-white small inflorescence flowers born on a spadix. The spadix is surrounded by a spathe, i.e., what looks like a white flag or sail. Did you know that a spathe is a bract or modified leaf?
Many cultivars of Spathiphyllum exist. Popular ones are sensation peace, Picasso, Clevelandii, Mauna Loa Supreme, and Domino peace lily. But there are others, like Starlight, Patricia, Piccolino, White stripe, Jetty, etc.
Peace lilies care and growth conditions
Most of the causes of peace lily flower turning brown have to do with care and growing conditions. When not maintained at optimum levels, they will cause some stress. So, we decided to give you a summary of Spathiphyllum care and growth requirements.
| | |
| --- | --- |
| Care level | Low maintenance or easy |
| USDA hardiness zone | 11 to 12 |
| Temperature | Peace lilies can survive a temperature range of 40-100°F (12-38 °C) but will grow best at 65-90°F (18-32 °C). (1) |
| Humidity | Maintain a humidity of least 50% or more, ideal being 60% or more |
| Light requirement | They prefer bright, indirect light but can grow in low light |
| Best soil | Acidic (pH 5.6 to 6.5) well-drained, and aerated soil high in organic matter |
| Watering | Water when the top inch of the soil feels dry. Peace lilies love a constantly moist potting soil but not a soggy or wet one. |
| Fertilizer | Not heavy feeders. Thus, feed your Spathiphyllum with a balanced houseplant fertilizer once in after about six weeks. |
| Pruning and grooming | Use a sterilized sharp pruning scissor to cut brown flowers with their stalk. If it has any dead, diseased, or damaged leaves, cut them off with their petiole, i.e., close to the stem. But if they have brown tips, cut the damaged part. Also, shower or hose dusty leaves. |
| Repotting | They need repotting or division after every one to two years or if rootbound. |
| Propagation | Division |
| Toxicity | Toxic or harmful to humans, dogs, cats, and other pets |
Why is my peace lily flower turning brown
Peace lilies get their white or cream flower color from anthoxanthins, i.e., flavones and flavanols. Thus, the browning occurs when anthoxanthins get damaged or degraded. What you see as a brown color is tannins which remain behind.
The spathe or bract (modified leaf) is what will mainly turn brown. If pollination occurs, the spadix will bear fruits. If not, it will also turn brown and die.
Let us now look at the possible causes of peace lily flower turning brown, including brown splotches, spots, or edges.
1. Aging (a most common reason for lily flower turning brown)
Aging is the most common reason for your peace lily flower turning brown. When they emerge, they will be greenish. Then, they will turn to cream or white. As they age, you will notice them turning greenish and finally brown.
This is a normal aging process and will occur after about a month or more, initiated by plant hormones. Once they begin browning, just cut the flower stalk or peduncle closest to its bottom.
Once the aging process sets in, there isn't much you can do to prolong the lifespan of your flower. But providing perfect growing conditions and the proper care may make flowers take longer before they begin aging.
2. Too much direct light
Exposure to direct sunlight may cause the browning of flowers, especially the spathe edges. The excessive light energy will dry or degrade some of the pigments that give your peace lily flowers the adorable white or cream color.
In case of a sunburn, it will also make leaves have crispy brown tips and margin, curl, look faded, yellowish or bleached, and they may drop if you do nothing.
Fix
Provide your peace lilies with bright, indirect light. If you grow them outdoor, put them under a shade. Also, you can have a greenhouse or shade cloth.
Indoors, put them a distance from windows, where they don't receive direct sunlight. The most notorious window is the south-facing. But the west-facing may cause the same issue.
Last but not least, a north-facing window is acceptable, and the east-facing will not cause much harm if only the early morning sun reaches your plant.
3. Extreme temperature
Browning of leaves and flowers may indicate both too hot or too cold weather and cold drafts.
a. Low temperature and cold drafts
When in cold temperatures or cold air blasts, especially during winter, leaves and flowers may turn brown. Also, leaves will look discolored and may turn brown overnight.
Freezing temperatures will cause damage to cells. Also, it will interfere with normal plant function.
Fix
Move your Spathiphyllum indoors when temperatures fall below 50°F (10°C) and put them from air conditioning vents. Furthermore, move this plant from drafty areas like open windows and doorways to warmer, less drafty areas.
b. Very high temperatures
When the temperature goes too high, your Spathiphyllum leaves and flowers may burn (have brown margins or tips). Also, leaves will curl, droop, turn yellowish, or even drop. This happens because too much heat affects plant function and makes it lose too much water.
Fix
Maintain an optimum temperature range of 65-90°F (18-32 °C). We recommend you buy a thermometer like Govee Hygrometer Thermometer H5075 that also measures humidity. It has a smart alert APP that will notify when temperatures are below or exceed the set range.  
During heatwave or hot summer days, take your plant to a shade or cooler areas. Also, don't put these plants near heating system vents, radiators, fireplace, or any gadget that emit heat.
4. Watering issues and lily flower turning brown
Overwatering, underwatering, and water high in chloramines, fluorides, or other compounds may cause browning.
a. Underwatering
When thirsty, your peace lily flower may have brown edges or tips. This will also occur in leaves, and the soil will be dry and pulled from the pot. Additionally, leaves will curl, wilt or droop, turn yellow, fall, and your plant will grow slowly.
Fix
Start by checking your potting mix. You can use your finger. Your plant needs watering if it feels dry up to the first knuckle. A better way is using XLUX Soil Moisture Meter or any other good brand. I water my plants when the reading is in the dry zone, usually 3 or below for XLUX. 
To water your plant, evenly saturate the soil until excess water comes from drainage holes. Next, check for signs that your plant is pot bound and ensure your potting mix can hold moisture well.
Last but not least, keep optimum growing conditions and set a reminder to avoid neglect.
b. Overwatering
The other reason for peace lily flower turning brown is overwatering. Leaves will also turn yellow, starting with lower ones, have brown splotches, wilt, and so on. Other signs are mushy stem base, molded potting mix, etc.
This houseplant is sensitive to overwatering and not corrected. Your plant will end up with root rot. In soggy conditions, roots cannot absorb nutrients or even water since they don't get oxygen.
That is not all. The soggy soil favors bacteria and fungi that will then attack the weakened roots causing root rot.
Fix
Hold the watering, improve air circulation, and provide bright indirect light and optimum temperature. They will help faster water loss. Next, ensure your pot has drainage holes, and your pot isn't oversize.
Also, ensure you have the right potting mix. We use aroid mixes or Miracle-Gro Indoor Potting Mix.
Last but not least, water peace lilies when the top 1 inch of the soil feels dry. Use your finger to touch the potting mix. Please, never follow a watering routine.
c. Water quality
If you use tap water high in chlorine, fluoride, or salts, an accumulation of these contaminants, especially chlorine, may cause brown tips and tips on flowers and leaves.
Fix
Use filtered or rainwater. If your tap water isn't so bad, let it stay in an open container for two days to help dissipate chlorine.
5. Low humidity
Low humidity will cause faster water loss. This may dehydrate the plant, making it to crispy brown tips and edges. Also, the leaves will curl, wilt, turn yellow, and your plant will look dull.
Fix
Spathiphyllum prefer high humidity, but they don't mind anything from 50% or more. It would help if you had a hygrometer.
If your house has low humidity, here is what you need to do:
Mist your plants a couple of times a week
Buy a humidifier. We love LEVOIT Humidifiers Top Fill, 6 Liter, Cool Mist. It runs for over two days, and it is quiet. Also, it has extensive coverage. But if you have smaller rooms, LEVOIT has a smaller one 
Have a pebble tray
Group your plants – creates a microclimate
Move them to more humid rooms like the kitchen or bathroom.
6. Overfeeding
Peace lilies are not heavy feeders. Thus, too much fertilizer will cause salt deposits in the soil, alter pH, and burn roots. All these will make absorption of water and minerals hard.
When overfed, your peace lily flower can have a brown tip and edges. Common signs are leaf discoloration, fertilizer deposits on the crust, fertilizer burns, wilting, and so on.
Fix
Feed your Spathiphyllum with a balanced houseplant fertilizer once every one to two months in spring or summer (the growing seasons). In spring, don't feed this plan.
To get rid of the excess fertilizer, either change the potting mix or leach it, i.e., flush it with a lot of water.
7. Rootbound
Does your plant have roots growing from drainage holes and flowers or leaves with brown tips or edges? Although this may encourage flowering, your plant won't have enough water or nutrients in extreme cases. Thus, it will show signs similar to underwatered peace lilies.
Fix
If this happens during the growing months, immediately repot your plant. Otherwise, you will have to wait till late winter. When repotting, cut any brown or black roots with sterilized pruning scissors.
8. Plant shock
If you recently repotted or relocated, peace lily leaves and flowers turning brown may be a sign of plant shock. Leaves may curl, wilt, turn yellow, and so on.
There isn't much you can do. The plant is still adjusting. But ensure you provide ideal growing conditions and the soil remains moist (not soggy). Also, as you transplant, reduce root damage.
Less likely reasons for lily flower turning brown
We have seen the most common reasons for the browning of your Spathiphyllum. Let us now look at the less likely causes.
Diseases?
If your lily flower is turning brown, especially brown spots, it may be a disease. This is an unusual cause as most diseases will target leaves, stems, and roots. But the following may attack flowers, especially the spathe.
a. Botrytis
Botrytis blight will cause brown spots on leaves but may attack the spathe too. It will progress to fuzzy or dust-like grayish mold. Wet leaves and very high humidity 85% or more may favor these fungal diseases.
Treatment is by the use of fungicides. And to manage botrytis, water your plant at a time when leaves will quickly dry and improve air circulation. Also, use disinfected pruning scissors to cut any affected parts of the plant.
b. Powdery mildew
Severe infestation of powdery mildew may also affect leaves and flowers. It will start as pale-yellow spots on leaves. Then you will see white powder spots that grow into large splotches. A severe infection will make the leaves and flowers turn brown and drop.
Unlike other fungal diseases, it doesn't thrive in wet, humid areas but in dry and warm conditions.
To control and treat powdery mildew, use a fungicide or homemade spray mix of 1 teaspoon of baking powder, ½ a teaspoon of non-detergent liquid soap, and a gallon of water.
b. Pests
Sap sucking pests, aphids, thrips, spider mites, scale insects, or mealybugs will mainly attack the stalks and leaves of your peace lilies. But in the case of a heavy infestation, they may also attack the spathe, especially as it begins growing.
You will see black, yellow, or brown spots on leaves, but they can occur on spathe too. Also, these bugs may distort leaves, make them ruffled, curled, and so on. But the exact signs will depend on the bug present.
Treatment is by hosing the plant to knock the bugs off or using neem oil like Bonide BND022, insecticidal soaps, and horticultural spray oil. Don't forget to isolate new or infested plants.
FAQs
When should I cut dead peace lily flower?
Cut peace lily flower once it begins to fade or decline because the peduncle or stalk will not produce a new flower again. If you leave it, it will turn brown and eventually die. Use a sterilized pruning shear to this peduncle or flower stalk closest to its bottom. Don't snap it as this will damage the plant.
Why is my peace lily flower turning black?
Overwatering, cold drafts, diseases, and some pests are the often reasons why your peace lily flower may turn black.