Peace lily brown tips or margins are likely signs of underwatering, overwatering, low humidity, too much light, heat stress, or cold drafts. But other things like a rootbound plant, overfeeding, shock after repotting, water quality, or aging may be responsible.
If you, however, see brown spots, it may be leaf spot diseases (fungal or bacterial in some cases of root rot) or pests like thrips, spider mites, mealybugs, etc., that suck sap.
To tell the cause, you need to look at other signs present. Brown tips, margins, spots, patches, etc., hardly occur alone. They may happen with peace lily drooping or wilting, leaves curling, turning yellow, or dropping, stunted growth, etc.
We've all the causes of peace lily brown tips, spots, or leaf browning, and what to do or fix. We will also talk about how to trim brown leaves on peace lily and care. Please note that causes of leaves turning brown may also make peace lily flowers turn brown.
Last but not least, what you will learn applies to all peace lily (Spathiphyllum) species and cultivars like Picasso, sensation peace, Mauna Loa Supreme, Clevelandii, Domino, etc.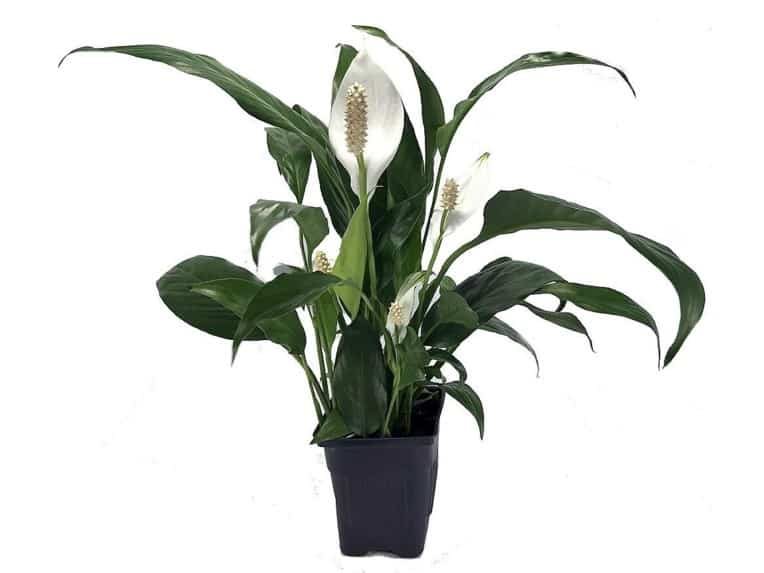 What browning means
When leaves turn brown, it means that the light-sensitive pigments that give the leaf color are gone, and most cells and tissues are dead. What is left behind are tannins responsible for the brown colorations.
Causes of peace lily brown tips and margins
Does your peace lily have brown tips or even margins and can't unravel why? There are many possible causes, but the main one is moisture not reaching these regions. When this happens, plant cells and tissues will begin dying.
Here are the possible reasons for peace lily brown tips or margins:
1. Improper watering and water quality
Underwatering, overwatering, and water quality may cause peace lily brown tips, margins, patches, or splotches. How?
a. Underwatering
Peace lily leaves may curl when thirsty, your plant may droop or wilt, and the soil will be dry and pulled from the pot sides. If not corrected, leaves will start yellow, have yellow tips and edges, and your plant will grow slowly. Also, leaves may drop, and your plant may wither and die.
The crispy or dry tips and margins occur because water cannot reach these areas. So, cells start dying.
What do to
Start by giving your plant a drink. Water it slowly and evenly until excess water flows from drainage holes. But don't forget to discard the water that collects in cachepot or saucer.
Afterward, be watering when the top few inches of the soil feel dry. Please, don't follow a watering routine as water needs vary with conditions (temperature, humidity, or light), plant size, pot size or type, season, etc.
Instead, feel with your finger or use a soil moisture sensor. A brand like XLUX is accurate and responds fast. Water when the reading is three or less.
Avoid frequent shallow watering, ensure your soil holds moisture, and set a reminder if you forget. Additionally, you can go for a self-watering pot. HBServices USA has a great pick.
b. Overwatering
Overwatering will cut off oxygen from roots, yet they need it to function correctly. So, they won't effectively absorb water, which causes leaf scorch.
Signs include a constantly wet potting mix even after not watering for a few days, brown tips and edges, lower peace lily leaves turning yellow, and brown or black splotches. Others are drooping or wilting that doesn't improve with watering, mushy stem base, leaves falling off, and stunted growth.
What to do
Water plants correctly, ensure your potting mix drains (avoid heavy or compacted soil), and the pot has drainage holes. Also, provide optimum conditions and use the correct pot size. Oversize may cause overwatering.
Do you still want to learn more? See overwatered and underwatered peace lily signs and how to save your plant. It should answer all questions you have concerning watering peace lily, including how often.
c. Water quality
Water high in salts, chlorine, or fluoride may affect your peace lily negatively. Salts will accumulate in the soil, making it hard to absorb water. This will deprive your plant of water, causing leaf scorch.
If high in chlorine, it (chlorine) may accumulate on leaf tissue resulting in tips, margins, or interveinal burnt appearance.
On the other hand, fluoride may cause necrosis that begins from the leaf margin and spreads inward. Results will include brown or black margins and tips.
What to do
If your municipal water is high in chlorine, fluoride, or salts, use rain or filtered water. But if it's just high in chlorine, let it stand overnight in an open container. Doing so will ensure chlorine dissipates.
2. Low humidity
Low humidity will cause quick water evaporation from leaves, making reaching the leaf tip or margins hard. The tips margins and interveinal areas may be crispy and brown as plant cells die without water.
Other possible indicators that humidity is the problem include peace lily drooping or wilting, curling or yellowing of leaves, stunted growth, and leaves will feel dry and crispy. Also, plants will need more water, the potting mix may dry fast, and your plant will look dull. In extreme cases, leaves may start falling.
Peace lilies need average to above average humidity, 50% or more. To confirm your level, use a hygrometer. AcuRite Digital Hygrometer & Thermometer is a good brand if you don't have one. Readings below 35% may be directly be causing the brown tips or edges.
What to do
To raise the humidity, mist your plant a few times a week, move them to more humid rooms like bathrooms or kitchen if they have enough light or have a pebble tray. You can also group plants (creates a micro-climate).
But if you want to have better control of your humidity, get a humidifier. I use AquaOasis™ Cool Mist Humidifier for my medium room. It is silent and runs for up to a day. Pure Enrichment® MistAire is a good alternative. However, it isn't as easy to refill it.
For larger rooms, you need a humidifier like LEVOIT Humidifiers Top Fill, 6 Liter, Cool Mist. It runs for up to 60 hours per refill and is also quiet. One thing you will love more about this humidifier is the Vesync APP that you can connect to Alexa or other voice assistants.
3. Too much light
Like low humidity, too much light will cause peace lily leaf scorch, and one of the signs is a browning of tips or edges. Other signs are curling, looking pale, washed out, bleached, or leaves turning yellow. Also, your peace lily may droop.
Why does it occur? You may wonder. The answer is straightforward. Plants convert excess light energy to heat energy and dissipate it via transpiration. As this happens, they will lose a lot of moisture, and if they cannot replace the lost water as quickly, you expect brown tips, edges, patches, and the symptoms we have given you.
What to do
Peace lilies need bright, indirect light. Too low will make your plant leggy, have smaller leaves or turn yellow in extreme cases. On the other hand, direct sunlight causes brown tips or edges.
We recommend placing your plant where it doesn't get direct sunlight, especially the hot midday to afternoon sun. Outdoors have a greenhouse, or grow it under a shade.
On the other hand, if indoors, place them at a distance from the window where they don't get direct sun. In the Northern Hemisphere (North America), the southern and west-facing windows allow the hot sun in the afternoon. Ensure it doesn't reach your plants.
Lastly, even grow lights can cause leaf scorch. Go for those rated 10000 to 20000 lux (1000-2000 foot-candle). But remember, keep it at the correct distance. A illuminance meter like Dr. meter LX1330B Digital Illuminance Light Meter will help you know if the light is enough or too much.
4. Heat stress
Extreme heat will cause fast water loss from leaves through transpiration. If the peace lily leaves lose water before reaching the tips or margin, you should expect some browning.
More signs include wilting or drooping, leaf yellowing or curling, flowers or leaves falling off, stunted growth, etc.
What to do
The ideal temperature for peace lilies is 65 and 85°F (18 and 29°C), temperatures above 95°F may start harming your plant. The whole room may not be hot, but they may suffer from heat stress if placed next to heat vents, radiators, fireplaces, or other appliances emitting heat.
Move plants away from heat-emitting sources or vents, or cooler areas. Outdoors, take them to a shade, especially during hot summers or heatwaves.
5. Fertilizer burns
It's not a common cause unless you overfeed your plant but still a possible cause. Too much or wrong fertilizer may burn roots or increase salts in potting mix. Both these two actions will make it hard for plants to absorb water.
Other signs besides leaf scorch include stunted growth, fertilizer crusts on soil, leaf drop, drooping or wilting, yellowing of leaves, etc.
What to do
Peace lilies are moderate feeders. Only feed them once a month in growing months with an all-purpose, balanced, liquid houseplant fertilizer. A brand like Miracle-Gro Indoor Plant Food (Liquid) isn't likely to cause fertilizer burn if you use as recommended.
If you already overfeed them, scoop top ¼ inch of the soil if you see fertilizer crusts or leach the soil (pour a lot of lukewarm water for about 20-30 minutes). Also, you can repot your plant.
6. Cold drafts and peace lily leaves turning brown
Cold and chilling winter drafts may result in brown patches or the whole leaf turning brown overnight. Also, the leaves and flowers may have a burnt-like appearance (brown tips and edges)
It occurs because water freezes inside the plant, damaging cells. Also, the dry cold winter wind may strip away moisture, causing the dry, crispy edges or tips.
What to do
Move plants from drafty areas like doorways, open windows, or near air conditioning vents. You can also have curtains or blinds at night or close the windows.
Outdoors, use cold frames to protect plants and hold. Alternatively, you can move outdoor plants inside your home if possible.
7. Less frequent causes of brown tips and margins
Besides the above, less frequent causes of peace lily brown tips, edges, patches, and sometimes leaves turning yellow are:
Rootbound: A plant is rootbound if it outgrows its current pot and doesn't have any new soil for root growth. So, it cannot get enough water or even nutrients. Also, soil compaction may occur. Signs include lower leaves turning yellow, wilting, or drooping. Also, you may notice stunted growth and leaves turning brown. To fix the issue, repot your plant.
Aging: As the older leaves age, they will turn yellow and have brown tips, edges, or patches. It's a normal process, and you shouldn't worry if it affects a few leaves at a time.
Repotting and transplant shock: If you recently transplanted or repotted your peace lily, some wilting, brown tips and edges (leaf scorch), leaves falling, curling, etc., may occur. To minimize the shock, provide optimum conditions to ensure the soil is moist and reduce root damage when repotting.
Peace lily brown spots
Besides having brown tips or edges, your peace lily may have brown spots. Here are the likely causes.
1. Pests
Sap sucking pests like scale insects, thrips, mealybugs, spider mites, or whiteflies may attack your plant, causing yellow, black, or brown spots. Heavy infestation may cause curly, distorted, or yellow leaves. Also, leaf defoliation may occur.
These bugs will appear as bumps, dots, or spots. Some move, others don't. Also, some may have a waxy body, and others, like thrips, have wings. They like the lower side or hidden parts of your plant.
Signs will vary depending on the bugs you have. Things to look out for are silvery stippling, webbing, honeydew, sooty mold, holes, spots, etc.
What to do
For minor infections, hose your plant or clean the bugs off with rubbing alcohol. But the more effective ways are to use neem oil, insecticidal soaps, or horticultural oil sprays.
On specific brands, buy Bonide BND022- Ready to Use Neem Oil which has a 3-in-1 formula. It will kill insects (eggs, larvae and adults) and mites. Also, it will prevent some fungal diseases. 
For those who prefer insecticidal soap, we have had the best results with Garden Safe Brand Insecticidal Soap Insect Killer. It kills any soft-bodied bugs like aphids, whiteflies, mites, etc. 
Lastly, for a horticultural oil, go for Garden Safe Brand Insecticidal Soap Insect Killer. It kills aphids, scale insects, mites, mealybugs, etc. Also, it will help control botrytis, rust, powdery mildew and greasy spots. 
2. Diseases
Fungal or bacterial leaf spots, blights, or rusts are another reason for brown spots on peace lilies. These diseases may result in blackish or brown lesions, some with a yellow halo.
What to do
Water-soaked lesions indicate a bacterial infection. Discard such plants as there is no chemical cure.
On the other hand, fungal infections need a fungicide. Start by pruning the affected part with a sterilized pruning knife or scissors.
Last but not least, to prevent diseases, you need to practice proper sanitation (use sterilized gardening tools, wash hands before handling plants, disinfect pots before reusing, etc.). Also, insect and isolate infected plants.
3. Root rot
Overwatering and contaminated potting mix may cause peace lily root rot. Common causes are Phytophthora parasitica, Cylindrocladium spathyphylli, Pythium root rot, Rhizoctonia solani, and Sclerotium rolfsii.
Signs are yellow leaves, wilting or drooping, stunted growth, brown tips or edges, moldy potting mix that may at times have a foul smell. Others are mushy stem base, plant collapse, brown or black roots, etc.
Leaf scorch (brown tips and edges occur if plants cannot absorb water or has a girded stem. Some causes also affect foliage causing brown or black lesions.
What to do
The solution depends on the extent of the decay. If all the root ball has rotten, discard your plant. So, start by examining the plant.
If some sections of the roots are ok, repot the plant. As you do so, use a sterilized pruning scissor to cut off decayed parts. Then dip the plant in fungicide and replant it in fresh potting mix.
How to trim brown leaves on peace lily and care
Once pant leaves turn brown, they cannot revert to green even if you fix the underlying issue. And, you need to prune or remove the brown parts or leaves because they may attract pests and don't benefit your plant in any way.
Here is how to go about it:
1. Cut the whole leaf
If the browning cause is a disease or most of the leaf has turned yellow or brown, cut it as close to the stem as possible with sterilized gardening shears.
Diseased leaves may spread the diseases. So, the solution is to cut and discard the leaf. If a fungal infection, apply a fungicide and for bacterial, go for bactericides with copper compounds. But note that bacterial infections are untreatable and, if widespread, discard the plant.
On the other hand, those whose most part have changed yellow or brown no longer photosynthesis but may still depend on the plant. Therefore, we recommend cutting them off to let your peace lily focus its energy on growing new leaves.
2. Trim brown tips and margins
If only the margins and tips have turned brown or yellow, you don't have to cut the whole leaf. Instead, use a sterilized kitchen scissor to trim the brown parts. The remaining will still benefit your plant as it can still photosynthesize.
That said, if the cause is a disease, you better remove the whole leaf. Otherwise, there is a risk of it spreading.