Common reasons for peace lily yellow leaves are overwatering, underwatering, water quality, low humidity, too much or little light, extreme temperatures, nutritional deficiencies, and overfeeding. However, aging, pests, disease, transplant shock, or being rootbound may be a cause.
The yellowing will occur with other signs like leaves wilting or drooping, browning, curling, or leaf burn (brown tips and edges). Sometimes, you will end up with yellow spots or patches or yellow tips.
We have the reasons for Spathiphyllum, or peace lily leaves turning yellow, or what it means. Also, and other signs to each cause and what to do. And these reasons will apply to all varieties of species, including Mauna Loa Supreme Sensation, Picasso, Clevelandii, or Domino peace lily, the variegated one.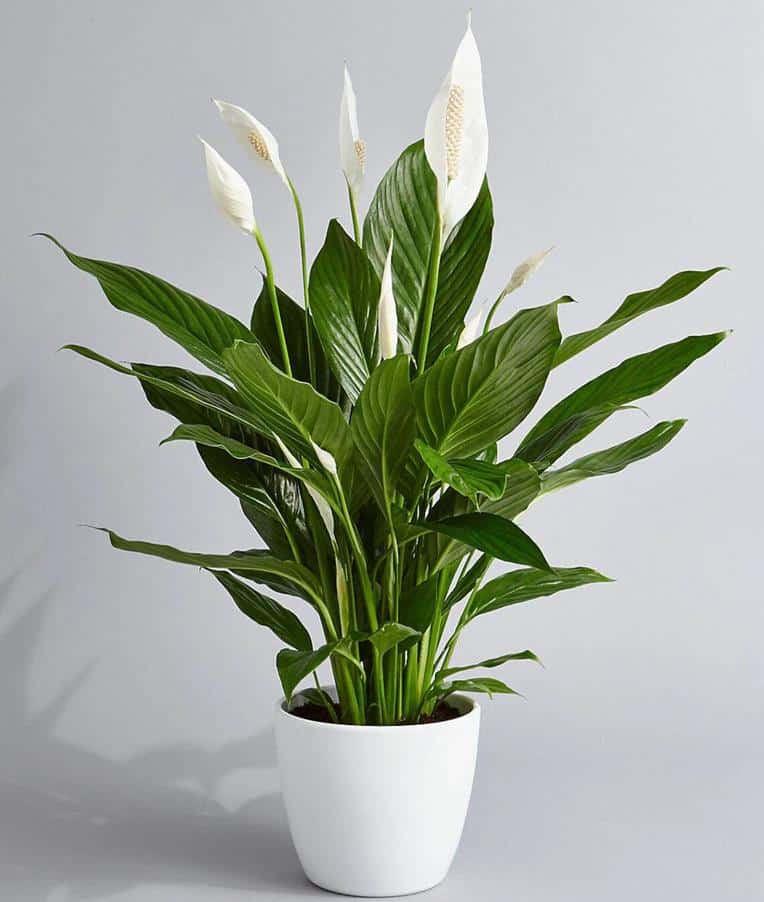 Peace lily care and growth requirements
Before we explain why your peace lily leaves are turning yellow, here are care and growth needs. As you will realize, most causes have to do with improper care and wrong growing conditions.
| | |
| --- | --- |
| Care level | Low or easy |
| USDA hardiness zone | 11 to 12 |
| Temperature | The ideal temperature is between 65 and 90°F (18 and32 °C). Avoid sudden spikes or dips. |
| Humidity | Peace lilies prefer high humidity but can tolerate anything above 50% or more. |
| Light requirement | Lower to bright indirect light is ok. But avoid too low or direct sunlight. |
| Best soil | Please give them a slightly acidic, well-drained, and high organic matter soil. pH 5.6 to 6 is superb. |
| Watering | Keep the soil constantly moist but not soggy and water when the top inch of the soil feels dry. |
| Fertilizer | Spathiphyllum species don't need a lot of feeding. Thus, feed them once or after two months with a balanced, houseplant fertilizer during growing seasons only. In fall or winter, don't fertilize these plants. |
| Pruning and grooming | Cut any dead, diseased, or damaged leaves with sterilized gardening shears near the stem or soil line. Also, shower the leaves to remove dust. |
| Repotting | Peace lilies require repotting or division after 1-2 years or if rootbound. |
Reasons for peace lily yellow leaves and what to do
Peace lily leaves turning yellow are signs they cannot make enough chlorophyll (the green pigment), or there is degradation. Factors like light, temperature, some minerals, and water may affect chlorophyll biosynthesis.
That is not all. Some extreme environmental conditions, pests, and diseases may cause degradation. Here are the reasons for peace lily yellow leaves.
1. Water problems and peace lily yellow leaves
Overwatering, underwatering, and water high in chlorine, fluoride, and salts may cause peace lily yellow leaves.
a. Overwatering and root rot
Overwatering is the most common reason for peace lily yellow leaves. Waterlogged soil cuts oxygen from reaching roots. Without oxygen, roots become weak and cannot function (absorb water or nutrients).
Again, the soggy conditions favor the growth of opportunistic pathogens like Phytophthora parasitica or Cylindrocladium spathyphylli which will then attack roots and cause root rot. If not controlled in time, it will kill your plant.
Besides yellowing starting with bottom or lower leaves, leaves may have brown or black splotches, curl and wilt or droop, But these leaves will remain soft, not dry as in the cause of a thirsty peace lily.
More signs are mushy stems that may turn yellowish, brown, or black, moldy, potting mix, and leaf edema. Also, it may attract fungus gnats and other pests that love moist conditions.
What to do
Hold the watering, improve aeration and provide bright indirect light. Then, poke the soil with a pencil to enhance aeration and faster drying. But don't fertilize your plants or squeeze the potting mix (it will cause root damage).
Next, check if the potting mix drains (if not, get a good aroid mix see Etsy.com) and the drainage holes are open. Also, check if your pot is oversized. If any of these things are an overwatering cause, amend them accordingly.
In case of root rot, you need to repot your plant. As you do so, cut any brown or black roots with a sterilized pruning scissor. Also, ensure you remove most of the old potting mix and then sprinkle some fungicide like Bonide Revitalize.
If you don't have a fungicide, mix one part of 3% hydrogen peroxide with two parts of water and sprinkle on the leaves. It will help kill the pathogens causing the rot.
b. Underwatering
Underwatered peace lilies will curl leaves inward and have brown crispy tips and edges (leaf burn). Also, the leaves will wilt or droop and may turn yellow.
When the soil is dry, these plants cannot absorb water or minerals. If it goes for a long time, they will drop leaves, grow slowly, wither and eventually die.
What to do?
We use XLUX Soil Moisture Meter to confirm whether the potting mix is dry. If the reading is 3 or less, you must water your plant. However, you can still test with your finger and water if it feels dry past your first finger knuckle. 
If underwatering is the issue, give your plant a proper drink. Then check if the soil dries too fast, the pot is too small, or your plant becomes rootbound. These things can contribute to your plant becoming thirsty so quickly.
If you neglect your plant, get the approximate time it takes to the next session and set a reminder. But don't forget to feel the soil before watering it.
c. Water quality
Using tap water high in chlorine, fluoride, and salts may harm your plant, especially if they accumulate in the soil. For instance, too much chlorine will scorch leaves, making them yellow and smaller than usual, notes the University of Maryland Extension.
What to do
Use filtered (reverse osmosis), distilled, or rainwater. If your tap water isn't terrible, let it stay in an open container to dissipate chlorine for one or two days.
2. Too little or too much light
Light isn't just critical in photosynthesis. It is also vital for chlorophyll formation in all flowering plants or angiosperms.
a. Too little light
Too little light is one of the most common reasons for peace lily yellow leaves. Yes, they can tolerate lower light, but you will see paler or yellow smaller and fewer leaves if it's too low.
That is not all. The soil will take longer to dry, variegated cultivars like Domino peace lily may not have proper coloration.
What to do
Move your plant to a place with bright, indirect light. If your house doesn't get enough light, buy grow lights.
We use Relassy 15000Lux Sunlike Full Spectrum Grow Lamp with a dual gooseneck stand you can clamp on anything. 
Any other brand is ok. And you can ensure the light is enough using your Dr. meter LX1330B Digital Illuminance Light Meter. Bright, indirect light is between 10,000 lux and 20,000 lux. 
b. Too much light
While it is essential, too much light will degrade chlorophyll making peace lily leaves yellow, pale, or washed out. Also, expect burnt brown tips and edges or dry patches on leaves and leaf curling, wilting, and drooping. And sometimes, your peace lily flower may turn brown or look scorched.
What to do
Never place your peace lilies under direct sunlight. Outdoor, grow them in a greenhouse or a shade. Inside, put them at a distance where they cannot receive sunlight, especially if you have a south-facing window. Or you can have blinds.
The east-facing window isn't too bad but make sure only the very early morning sun can reach your plant. And if you have a west-facing, watch out for the late afternoon sun. It may scorch leaves.
3. Extreme temperatures
Temperature plays a role in chlorophyll formation. But too high or too low may negatively impact or even destroy this green pigment.
a. Cold drafts and chilly conditions
Chilly winters and cold drafts will inhibit chlorophyll formation. If water inside the plant freezes, cells will get damaged, including chloroplasts that have chlorophyll.
Signs are wilting and drooping, leaves turning white, yellow, brown, black, or patches. Browning is the most common, and at times, it may occur overnight. Also, there may be brown tips and margins, among other signs.
What to do
When the temperature falls below 50°F (10°C), move any outdoor plants inside your house. Next, remove any plants on draft areas like windows and entrances and take them to warmer, less windy areas. Such places include near air conditioning vent.
b. Heat stress
Heat stress will cause irreversible damage to how plants function and develop, including denaturing proteins that bind chlorophyll. So, you expect your peace lily leaves to turn yellow, curl, wilt, or droop. Also, there will be leaf and flower scalds, stunted growth, and so on.
What to do
Move your plants to a cooler place during hot summer days or a heatwave, including under a shade. Also, move your plant from HVACs vents, fireplaces, radiators, or any appliance that emits heat.
Last but not least, avoid sudden temperature spikes or drops. They will also stress your plant.
4. Overfeeding and nutritional deficiencies
Too much or a lack of some nutrients may both cause yellowing. Here is how each of these two will cause this foliage discoloration.
a. Nutritional deficiencies
Soils low in nutrients, unbalanced fertilizers, and not feeding your plants may cause nutritional deficiencies. Why? Because some form part of chlorophyll and others involved in the formation, including as enzymes activators or aid utilization of nutrients.
Iron deficiency is the most common cause of chlorosis or leaves yellowing. You will see yellowing in-between veins, starting with the youngest upper leaves. But magnesium, zinc, and nitrogen may also cause chlorosis, starting with inner, older leaves. Manganese will cause yellowing, just like iron.
Others that will cause yellowing are molybdenum, nitrogen, and sulfur. But sulfur will also result in necrotic leaf tips.
What to do
Make sure you use a potting mix rich in organic matter. You can add worm castings or compost.
Next, feed your peace lily about once in 2-4 weeks when growing with a balanced, houseplant fertilizer. But don't feed a newly repotted plant, one you just received or during fall and winter. Otherwise, you risk overfeeding, which again is harmful.
We use Bonide Liquid Plant Food 10-10-10. We feed ¼ a teaspoon per quart of water monthly. 
However, you can also use slow-release formula or any other good houseplant fertilizer, not necessarily balanced. 
b. Overfeeding
If you notice your peace lily leaves turning yellow, curling, wilting, or looking scorched (brown tips and margin) and you feed them heavily, it may be the fertilizers. Also, you will notice fertilizer deposits on the soil.
That is not all. Other signs are leaf falling off and stunted growth. Also, your peace lily flower may turn greenish.
Too much feeding may burn roots, increase salts in the soil or alter soil pH. All these will make it hard for your pant to absorb water or minerals. Too much salt may even draw water from roots.
What to do
If you suspect you overfed your plants, leach or flush the soil. This process involves pouring a lot of water at room temperature through the potting mix. Alternatively, you can change your potting mix and, after that, feed as above.
5. Pests
While not so common indoors, Spathiphyllum species or varieties may end up with sap-sucking pests like whiteflies, scale insects, thrips, mealybugs, or spider mites. Most will come with your plant from greenhouses or nurseries.
These pests will drink plant juice, damage plant tissues, and cause black, brown, or yellow spots on your peace lilies. Some will inject toxins or cause leaves to look mishappened, twisted, deform curly, or ruffled.
Similarly, if you maintain moist conditions, you may end up with fungus gnat, whose larvae feed on roots and cause poor growth, sudden wilting, and yellowing of leaves.
The exact symptoms to expect may depend on the bug. The obvious one is the presence of stationary, flying, or moving dots or bumps or things. Some have waxy bodies.
Some produce honeydew and consequently sooty mold, others webbing, silvery or pale stippling or make leaves drop prematurely. Also, you should expect slow or stunted growth and some wilting.
What to do
You can start by hosing any plants off the plant for those that don't leap away. For heavy infestation, go for insecticidal soap, horticultural oils, or neem oil like Bonide Ready to Use Neem Oil.
You can also use miticides on spider mites like BioAdvanced 701290B and for aphids, use a dilute soap dish solution.
6. Rootbound
Does your peace lily have roots growing from drainage holes, some leaves turning yellow, wilting, curling, or having crispy brown tips and edges? Your plant is rootbound or has outgrown the pot with nowhere to grow. So, it cannot get enough water and minerals.
It will also grow slowly, drop leaves, crack or damage your pot. And if you check the roots, they will be spiraling around with no growth space. Also, you may notice higher water needs.
What to do
If this happens during the growing season, repot or divide the plant. But if it is during the non-growing season, you got to wait.
7. Low humidity
Low humidity will increase transpiration and water evaporation from the soil mix. This can cause yellowing of leaves just as it does in a thirsty plant. Also, signs are similar to an underwatered peace lily, including scorched or curled leaves.
What to do
It would help if you had a hygrometer to help you check your humidity.
If humidity is low, here is what to do:
Mist your plant a few times a week
Buy a humidifier. There are many good brands. Ensure you go for cool mist not warm. A good brand is LEVOIT Humidifiers Top Fill, 6 Liter, Cool Mist.
Have a pebble tray
Put your plants together to create a microclimate
Move them to rooms high in humidity, like your kitchen or bathroom.
8. Shock
Peace lily leaves turning yellow after repotting, transplanting, or relocating your plant is a sign of shock. Your plant is still adjusting to the change and may not function as usual, i.e., absorb water, minerals, make food, and so on.
You may also notice signs similar to those it has when thirsty – curling leaves, brown tips, and edges, or wilting or drooping. And in extreme cases, it will drop leaves or even die.
What to do
Maintain optimum growing conditions – temperature, humidity, light, and ensure the soil remains moist but not soggy. When repotting or transplanting, minimize root damage, i.e., keep roots intact, where possible.
9. Diseases
Fungal and viral diseases are also possible reasons for peace lily leaves turning yellow, including yellow spots and patterns. Some of these diseases include:
Dasheen Mosaic Virus (DMV): Your peace lily will have a light green to a yellow pattern on new leaves, but it won't deform leaves. It has no cure. Thus, discard infected plants and control aphids as they help spread this disease.
Myrothecium leaf spot: This fungal disease mainly causes black or brown lesions on leaf centers and margins. But you may see concentric spots with bright yellow halo or border. Use fungicides to treat it.
Southern blight: This is another fungal disease that starts as water-soaked spots or lesions on lower leaves, and infected plants may turn yellow, wilt, and collapse. Like other fungal diseases, use fungicides. Also, fumigants may help.
10. Aging is a normal cause of peace lily yellow leaves
Aging is a usual reason for your peace lilies leaves turning yellow them brown before it dies. This is a genetically programmed process, i.e., plant senescence that degrades chlorophyll and other pigments.
When it occurs due to aging, only a few older and lower leaves should turn yellow at a time. Also, your plant should remain healthy and grow as usual.
What to do
Once they turn yellow, you can prune these leaves off using sterilized pruning shears. They still eat from the plant but don't contribute. Also, they will look unsightly and may attract pests.
Frequently asked questions (FAQs)
01. Should I cut the yellow leaves off of my peace lily?
Yes. Remove or cut off any peace lily yellow leaves. Why? Because they still depend on the plant but don't contribute. Also, they look unsightly and may attract pests. Just don't forget to use sterilized garden shears. Cleaning with at least 70% rubbing alcohol or more will disinfect it.
02. Will yellow peace lily leaves turn green again
No. Even after fixing the cause, your yellow leaves will not turn green again. If the whole leaf is yellow, just cut it off with sterilized pruning scissors. It no longer benefits your plant.
03. Why are my peace lily leaves turning yellow and brown?
Peace lily leaves turning yellow and brown and sometimes having brown tips or edges is a sign of underwatering, overwatering, sunburn (too much light), overfeeding, or low humidity. But it can be heat stress, chilly conditions, cold drafts, diseases, transplant shock, water quality, or rootbound.
04. Why are my peace lily leaves turning black?
Peace lily leaves turning black is a sign of overwatering, pests, and diseases. Also, cold drafts or chilly conditions may cause brown or black discoloration.
06. Why are my peace lily leaves turning yellow and dropping
Peace lily leaves turning yellow and dropping or falling are due to low light, extreme temperature, low humidity, overwatering, underwatering, and shock. Also, pests, nutritional deficiencies, being rootbound may cause it.
Warning
Peace lilies are toxic to humans, dogs, cats, and other pets. Why? Because they have insoluble calcium oxalates, which will cause irritation and burning sensation. The tongue, lips, or mouth may swell, and it won't be easy to swallow.
Other signs include drooling, refusal to eat, drooling (in pets), and rarely, they may cause gastrointestinal irritation.