Your peace lily flower turning green is a normal part of a natural cycle. But it may be due to too much fertilizer, light, or improper care. Sometimes it is just the variety you have or its plant shock.
Learn more on each of the causes of peace flower greening, including just before they fade, turn brown, and die. We will also give you some fixes or what to do, except when it is natural.
About lily flowers
Peace lilies (Spathiphyllum ssp.) are trendy houseplants valued for their lovely cream to whitish flag or sail-like 'flowers' and deep green charming leaves. Some varieties may have variegated leaves!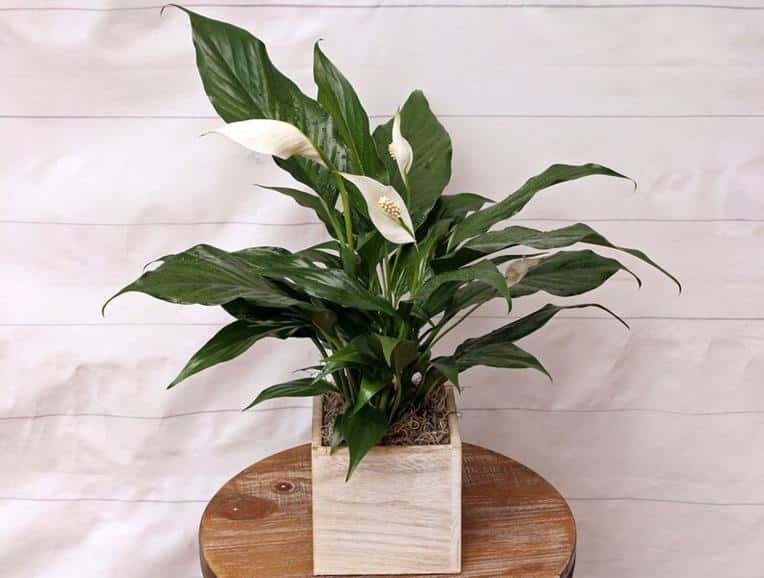 This evergreen plant is an aroid, belongs to the Araceae family, and not a true lily, not in the Liliaceae. They share a family with philodendrons, Monsteras, pothos, among many other ornamental plants.
What we are calling 'flower' is indeed not a flower but a spathe. A spathe is a modified leaf or bract that protects the spadix. It's the spadix that bears tiny, greenish-white to cream inflorescence flowers.
Since the spathe is a modified leaf, the spathe can change color and even photosynthesis. Let us now look at the different reasons why they turn green.
1. A peace lily flower turning green is normal
A peace lily flower turning green is part of the natural cycle. Usually, as the flower emerge before they open, the spathe is greenish. But when it open, it turns brighter, i.e., cream or white. The flower will remain for a while, then turn green before they turn brown and die.
The possible explanation for the flowers turning green is to allow them to photosynthesis. But to do this, they need chlorophyll, the green pigment. This is a genetically programmed process to help them make food to use in fruiting.
One study, 'Green spathe of peace lily (Spathiphyllum wallisii): An assimilate source for developing fruit' notes that the spathe stays longer and has a more greening intensity if the flower gets fertilized than when not.
These findings further affirm the fact that turning green is normal and fruiting controls it. Why else will they be greener and last longer?
To conclude, we can say that in the beginning, the spathe is green to produce energy for the growing flower. When it opens, it will turn brighter since the flower doesn't need much energy and is not growing. But when it is about to start fruiting, it will again turn green to conduct photosynthesis.
2. Too much fertilizer
Fertilizers are essential to Spathiphyllum as they will provide some vital nutrients in a healthy plant. But too much fertilizer, especially those high in nitrogen and iron, may make peace lily flowers turn green.
The University of Vermont Department of Plant and Soil Science affirms this by stating, "if the flower blooms are rather green, this is a sign plant is getting too much fertility." But unlike in the first case, the greening can occur at anything, even when the flower is just opening. Also, if corrected, flowers may revert to their cream to whitish.
Iron helps in the synthesis of chlorophyll, a reason why a deficiency will lead to chlorosis or leaf yellowing.
On the other hand, nitrogen is part of the chlorophyll molecule, and too much will make your plant overly green. You may also notice the flowers turning green too.
Last but not least, when overfed, the plants may look weak and end up with fertilizer burns. Also, their blooms may be fewer and look weak.
What to do?
Spathiphyllum species are not heavy feeders. Thus, they need after 1 to 2 months during spring and summer (growing months) or as the manufacturer recommends. In fall or winter, don't feed these plants.
Besides feeding correctly, you need to use a balanced houseplant fertilizer. A 10-10-10 is ok. If you use a 20-20-20, you may have to use half the strength. An all-purpose brand should do well.
Last but not least, you should consider switching to fertilizer brands intended to promote flowering. Such brands are often higher in phosphorus.
3. Too much light
The other speculated reason for peace lily flower turning green is too much light. Some say it's too little light. Let's face facts.
Light is necessary for chlorophyll formation in all flowering plants (angiosperms). This is why too little light causes yellowing. It is not the same as bleaching, which occurs when in too much light due to chlorophyll degradation.
That said, too much light may make your Spathiphyllum flowers begin turning greenish. The greening will occur because the spathe (modified leaf) may start making some chlorophyll and consequently start the photosynthesis process.
What to do
Peace lilies require bright indirect light. But if you are giving them too much light and their flowers are becoming less striking, move them to a place with lower light.
Allowing them to remain on too much light may make burn leaves and flowers, making the tips and edges dry, crispy, and brownish.
4. Variation in varieties
As you may be knowing, there are many varieties and cultivars of Spathiphyllum. Common ones are Sensation, Picasso, Clevelandii, Mauna Loa Supreme, and Domino peace lily, the most popular. There are others like Starlight, Piccolino, Patricia, White Stripe peace lily, etc.
Each of these may have a slightly varying appearance of a flower. Even sizes and foliage do differ, with Domino peace lily having variegated leaves. Thus, if you recently bought a new variety, a tinge of green in the white or creamy flowers is normal.
What to do?
Begin by doing some research to be sure if that is the usual coloration. Also, ensure you keep optimum growing conditions – temperature, humidity, light, and an appropriate soil mix. Don't forget to water and feed your plant correctly.
5. Improper care and environmental stress
Not meeting some of the care and growth requirements may result in the flowers turning green. It could be humidity, temperature, water quality, etc., acting alone or together.
What to do
To ensure that the greening isn't due to environmental stress, try to maintain the below basic care needs and optimum growing conditions.
| | |
| --- | --- |
| USDA hardiness zone | 11 to 12 |
| Temperature | 65-90°F (18-32 °C). Avoid sudden temperature changes, cold drafts, or placing near air conditioning or heating system vents. |
| Humidity | At least 50% plus |
| Light requirement | Bright, indirect light, but lower light is ok. |
| Best soil | Slightly acid, pH 5.6 to 6.5, well-drained, soil high rich in organic matter. |
| Watering | Keep the soil constantly moist but not soggy, and only water when the top one inch of the potting mix feels dry. |
| Fertilizer | Feed once in 6 to 8 weeks or as recommended using a balanced, houseplant fertilizer. |
| Pruning and grooming | Prune off any dead, damaged, or diseased leaves at the lower end of the leaf stalk with sterilized pruning scissors. Also, shower their leaves when they become too dusty. |
| Repotting | You should repot your Spathiphyllum after every 1-2 years. As you repot, you can divide the plant. |
6. Plant shock
If the flowers start turning green to a new plant or after repotting it, then the possible reason may be plant shock. Your plant is trying to acclimatize to the new environment or change, and the green tinge is just one of the signs.
What to do
Minimize root damage when repotting and try to give optimum conditions we have provided above.
Frequently asked question
Do I cut peace lily flowers when they turn green?
No. We don't recommend cutting your peace lily leaves the moment they turn green. Instead, wait until they begin turning brown or dying. As you have seen, many reasons may be behind it. Thus, it is not necessarily a sign they are about to die.
Why is peace lily flower not turning white?
If your peace lily flower didn't turn cream or whitish, it might be the variety you have. Besides variety, any of the above reasons except aging is a likely cause, especially too much fertilizer just before blooming.
Why is my peace lily flower turning brown?
Peace lily flower turning brown may be normal after maturity. It is about to die. But it may occur due to too much light, overwatering, underwatering, extreme temperature, your water quality, or overfeeding. Also, low humidity, pests, diseases, or being rootbound may cause this problem.