Philodendron Jerry Horne (Philodendron Ecuador Canoe) is a natural Philodendron bipennifolium hybrid native Brazilian rainforest. It has charming multi-lobed leaves with elongated posterior lobes, shorter wing-like middle lobes, and a long anterior lobe.
This rare climbing houseplant grows fast, is easy to care for, and will add that alluring tropical appeal to your home. Did you know that it is also air purifying?
Learn more about Philodendron Jerry Horne's care, appearance, and differences from P. mexicanum. We will also give you prices and where to buy this aroid, Etsy.com being our favorite marketplace.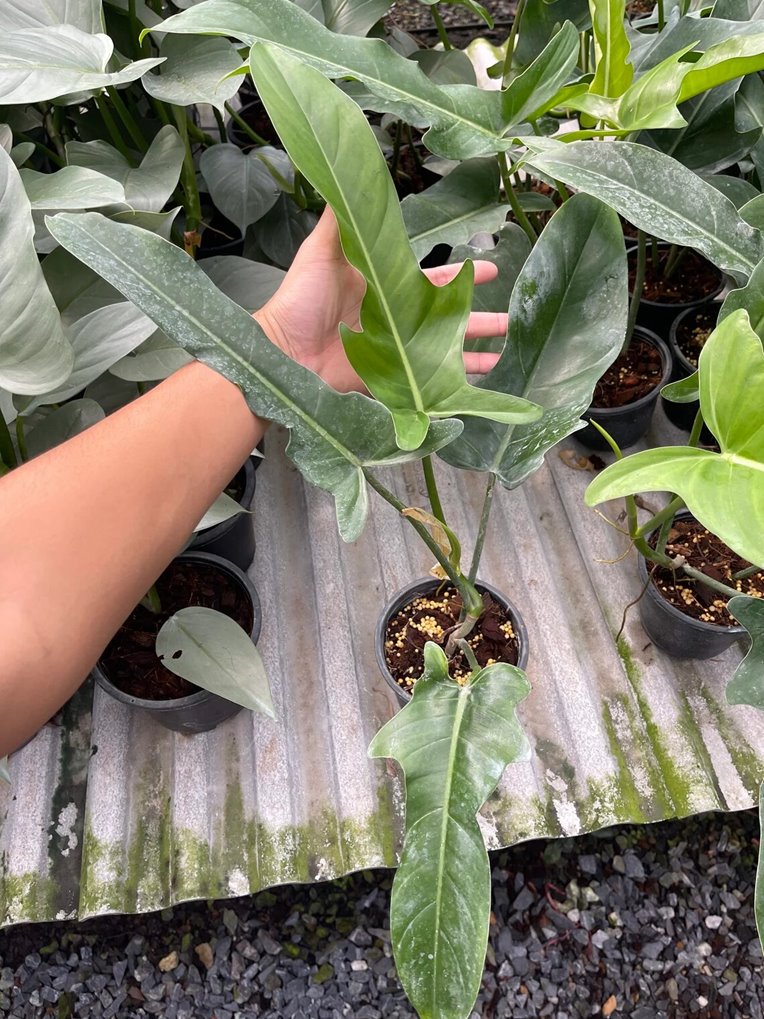 Quick overview
Scientific or hybrid name: Philodendron 'Jerry Horne' syn. Philodendron 'Ecuador' or Philodendron 'Ecuador Canoe'
Common names: Philodendron Ecuadorian Canoe Leaf, Philodendron bipennifolium Hybrid Ecuador,
Family: Araceae (aroids or arum family)
Natural habitat: Brazil
Toxicity: This aroid is toxic to cats, dogs, and humans since its sap has sharp insoluble calcium oxalates. So, it will cause severe oral irritation, a burning sensation, and swelling and redness of lips, tongue, or mouth when ingested. Other symptoms are swallowing difficulties, loss of appetite, drooling, etc.
Care level: Low maintenance or easy
Philodendron Jerry Horne is most likely a natural Philodendron bipennifolium hybrid released by a Miami collector and nurseryman Jerry Horne. Up until now, botanists haven't named or described this hybrid. So, only scanty information is available.
Some people call it Philodendron Ecuadorian Canoe Leaf due to its lamina, whose shape resembles an old Ecuadorian canoe. But we think the leaf is a little more like that of P. bipennifolium save for the fact that it is a little elongated, making it not have a horse's head shape.
Description and identification
Philodendron Jerry Horne is a tropical climbing hemiepiphyte native to the Brazilian rainforest. A hemiepiphyte is a plant that has epiphyte and terrestrial growth phases.
How large does it get, and what is its growth rate? If those are your concerns, you should know that Jerry Horne Philodendron has a fast growth rate and can grow about 6-8 feet tall or more at home. However, if you want it to grow that long and have mature leaves, you must give it a place to climb, i.e., a moss pole, trellis, or totem.
Like other Philodendron plants, Philodendron Ecuador morphs as it grows from a baby to a mature plant. But unless you give it a place to climb, you may not see the adult leaves.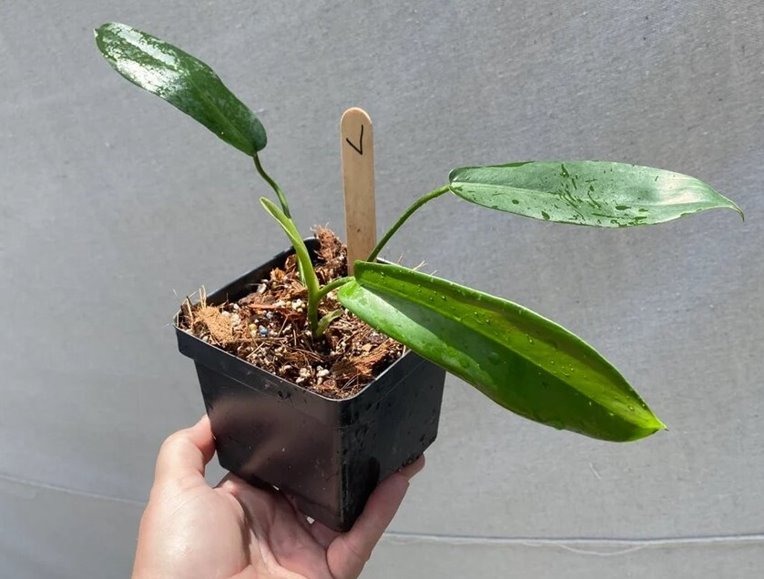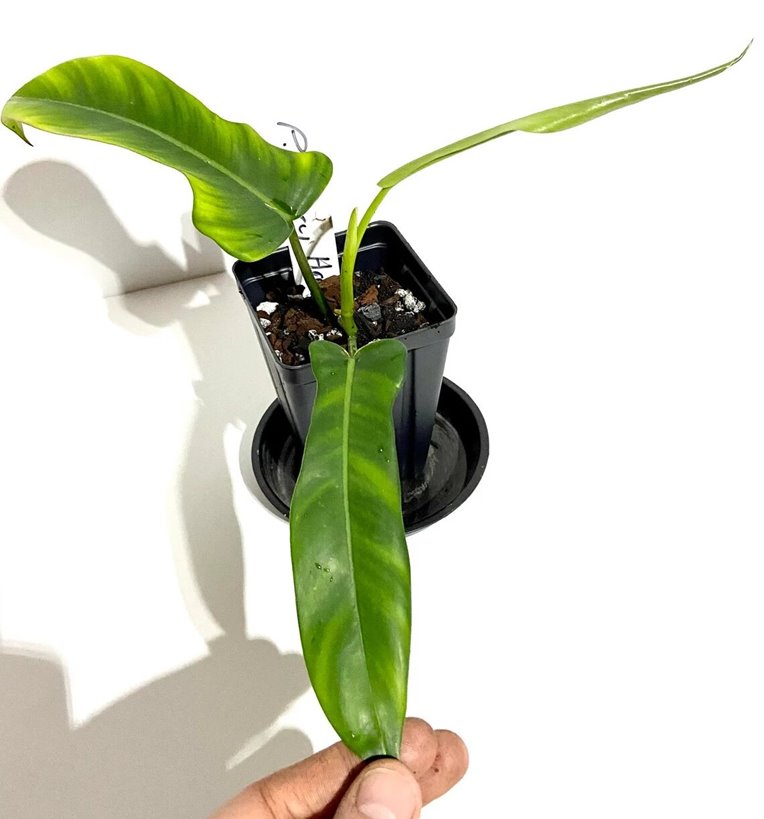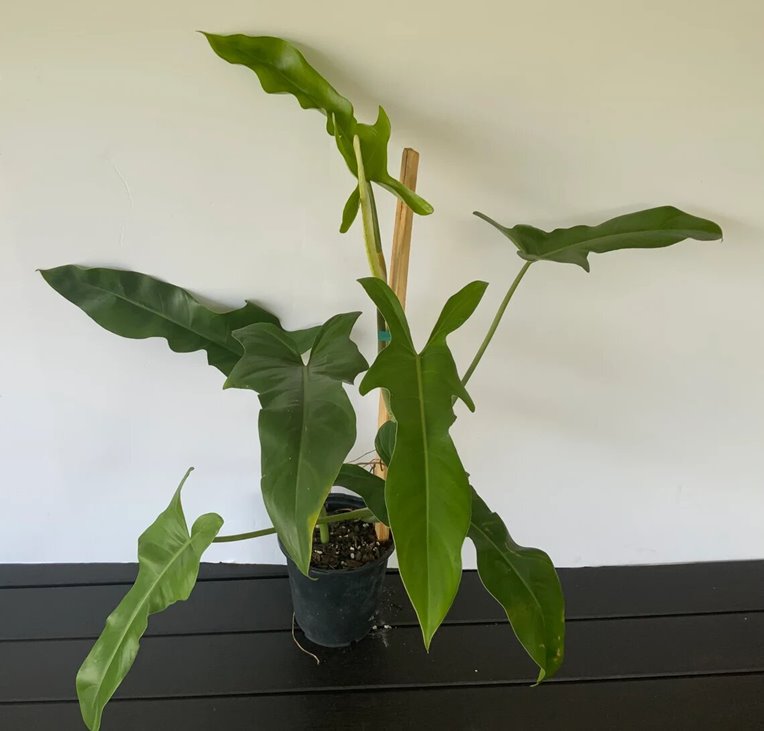 Baby plants will have oblong to elongated elliptical shiny green leaves and green petiole. Then your plant will start having smaller back lobes and wing-like bulged lobes near the midsection in the juvenile stage.
On the other hand, mature Philodendron Jerry Horne has large (2-3 feet long), elongated, multi-lobed glossy green leaves. These leaves have long and narrow upper lobes or ears, odd wing-like lobes near the midsection, and an elongated posterior (lower) lobe.
Also, these leaves have a conspicuously thick midrib, and their edges are somewhat scalloped.
Jerry Horne Philodendron vs. mexicanum
Philodendron mexicanum resembles Jerry Horne Philodendron since both plants have elongated leaves with long anterior lobes. However, Philodendron Jerry Horne has the middle, odd, wing-like shorter lobes, which mexicanum doesn't have.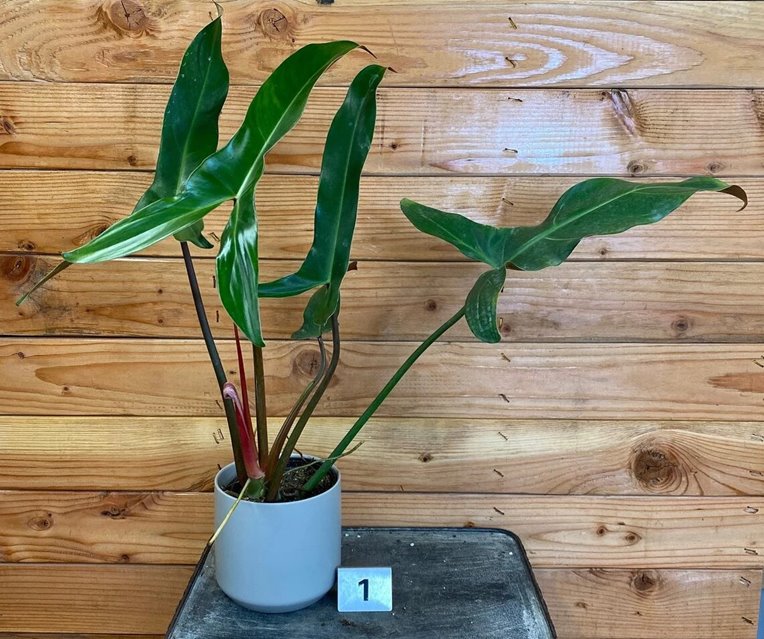 Philodendron Jerry Horne care
Philodendron Jerry Horne requires a warm (65 to 85°F), humid area with bright indirect light. The soil should be airy, well-drained, and rich in organic, and you should water it when a few top inches feel dry.
Here is more on care and growth needs:
USDA hardiness zone: 10-11, not frost-hardy
Temperature: 65-85°F(18-29°C). Avoid temperatures below 50°F, sudden changes, or cold drafts. Also, don't place your plant near heat sources.
Humidity: Ideal humidity is 60% or more but can tolerate moderate to slightly low. If yours is too low, mist plants, have a pebble tray, move them to humid rooms or buy a humidifier. AquaOasis™ Cool Mist Humidifier is a good, select brand. It runs for up to a whole day per refill and has many other awesome features.
 Light needs: Bright indirect light but can tolerate medium. Avoid direct sun except for early morning on the east-facing window. And if your light is too little, invest in grow lights.  
Best soil mix: It needs a well-drained and aerated soil high in organic matter. Go for aroid mix (See Etsy.com) or add perlite, coco coir (or peat moss), compost, and bark chips to make yours.
Watering: Water when the top 1-2 inches (up to your 1st knuckle of the finger) feel dry or when your soil moisture meter like XLUX reads three or less (on the dry zone).
Fertilizer: Feed at least once a month with a balanced liquid houseplant fertilizer at half recommended strength during the growing months. Add ⅛ teaspoon of Bonide Liquid Plant Food 10-10-10 to a quart of water and use the solution to feed your plants twice a month.
Pruning: With sterilized gardening shears, cut any dead, damaged, or diseased leaves, and in spring, you can cut back a few stems to control growth.
Repotting: Repot after 2-3 years or if your plant is rootbound. Use a pot 2-3 inches wider in diameter.
Staking: Provide and train your plant on a moss pole, trellis, totem, etc.
Propagation
The best way to propagate Philodendron Jerry Horne is by stem cutting in water or soil. Your stem cutting should at least have a node (the knobby part with aerial roots and where leaves attach).
However, you can also go for air layering, where you wrap moist sphagnum moss on a node of a selected stem while still attached to the mother plant. The sphagnum moss is moist and aerated, and when the node grows long enough roots, you can cut and transplant it.
Problems or issues
This plant isn't susceptible to specific problems except those that usually affect Philodendron plants. Such issues include the following:
1. Pests
Your plant may have mealybugs, scale insects, thrips, and mites but are uncommon. Nonetheless, always check for their signs or bugs. Should you notice any, use insecticidal soaps or neem oil to manage these bugs.
2. Diseases
The Common diseases that these aroids get are fungal or bacterial leaf spots. Luckily they are uncommon. Also, you can prevent them by maintaining proper sanitation and isolating new plants.
3. Root rot
Root rot is a more prevalent issue to anyone fond of overwatering this aroid or has a poorly draining potting mix. Also, an oversized pot may contribute to this problem.
Signs include mushy stem base, stunted growth, wilting, leaves turning yellow, and mushy brown or black roots.
If there are still some healthy roots (tan or whitish), repot your plant, removing any decayed bits with sterilized gardening shears.
3. Leaf discoloration – yellowing or browning
Reasons for leaf discoloration in Jerry Horne Philodendron relate to growth conditions, care, and rarely pests and disease. For instance, leaves turning yellow often indicate overwatering. But low humidity, underwatering, heat stress, cold draft, and too much or little light may be possible causes. The other rare reason is nutritional deficiency.
On the other hand, brown tips or edges indicate water doesn't reach these areas. Possible causes include underwatering, low humidity, too much light, heat stress, fertilizer burns, etc.
Lastly, brown, black or yellow spots may indicate diseases or pests. Look at other signs present to pinpoint the exact cause.
4. Drooping and leaves curling
Is your plant drooping? Cells don't have enough water. Causes are underwatering or anything that affects absorption or increases moisture loss like low humidity, too much light, heat stress, fertilizer burns, root rot, transplant shock, etc.
What about leaf curling? It is a response to prevent moisture loss or protect your plant. Causes are similar to those that make these plants droop.
Where to find Philodendron Jerry Horne on sale
If you are looking for Philodendron Jerry Horne on sale, start with Etsy.com, eBay, Instagram, and Facebook. These online marketplaces and social media networks have sellers from the US and Canada, Australia, the UK, etc. Also, their prices are unbeatable.
More vendors, their locations, and prices where you can buy this plant are as follows:
North America (the USA and Canada)
Planty Queens (Minneapolis, MN) - $45.00
Brian's Botanicals (Shepherdsville, KY) - $149.99
Plant Bro (Hamilton, Ontario, Canada) - $175
Jungle Vibes and Vines (Bradenton, Florida) $225
New Orleans (New Orleans, LA) - $75.00
Aya's Tropical Plants (Quebec, Canada) - C$49.95
The UK and Europe
The rare plant shop (Burnley, UK) - £ 80.00
Foliage Factory (Zimmern ob Rottweil, Germany) - €85.00Price
Green Planet (Oranienbaum-Wörlitz, Germany) € 79,25 – € 132,53
Asia
Alpine Tropical Plants (Bangkok, Thailand) - US$30.00
Almost Green (Kuningan, Indonesia) - $ 456.46
That is not all. You can use search engines, i.e., google "Philodendron Jerry Horne for sale," and see what results you get. You won't fail to get a few new places we didn't mention near you.
Lastly, when you find a vendor, ensure you see the actual plant on sale, not the mother plant. Also, select a reputed buyer with many positive reviews and comments.
Frequently asked questions (FAQs)
Is Philodendron Jerry Horne rare?
Yes. Jerry Horne Philodendron is an extremely rare and hard-to-find houseplant even amongst online vendors. Only a handful of sellers have it. We bet you will not find it at your local plant store, and the last time we checked, none of the big box stores have it.
What is the Philodendron Jerry Horne price?
The price of Jerry Horne Philodendron ranges from $40 to $200 for small plants, rooted cuttings to medium established plants. However, huge plants may cost over $200.