Philodendron McDowell (Philodendron 'Dean McDowell') is a charming Philodendron pastazanum and Philodendron gloriosum hybrid. It was created by John Banta, who named it after his friend Dean McDowell.
This Philodendron pastazanum dominant hybrid has heart-shaped, a bit velvety dark green leaves with sunken primary veins that give it a rippled or quilted look. Also, the midrib and primary veins are a little paler but not as white and conspicuous as a gloriosum.
Discover more on Philodendron McDowell, including care (soil, humidity, watering, fertilizer, temperature, light, etc.), issues, and where to find it on sale, starting with Etsy.com. We will also look at Philodendron McDowell vs. pastazanum and gloriosum.
About Philodendron gloriosum
Philodendron gloriosum is a lovely, terrestrial creeping, evergreen plant native to Colombia. By terrestrial creeping, we mean it doesn't climb or grow upright. Instead, its repent stems (crawling on the ground growing with roots on the nodes) creep just as the Philodendron luxurians plant does.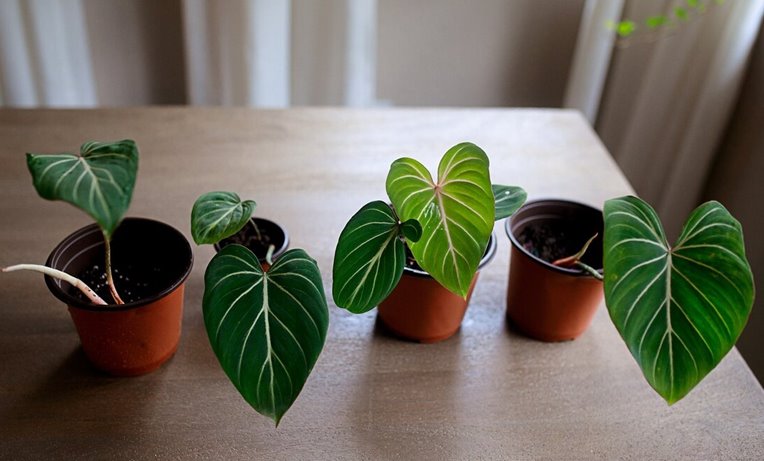 Gloriosum has large (up to 36 inches) heart-shaped velvety deep green leaves with paler (yellow-green or whitish but at times pinkish) midrib and primary veins. But when emerging, the leaves may be chartreuse with the midrib, prominent veins, and margin pinkish. But this color fades as they grow.
It has green, nearly round (semi-terete) petioles that are pinkish towards the apex and have whitish striations. Also, its purplish cataphylls persist but become fibrous with age.
Last but not least, this aroid doesn't grow so high, i.e., it can reach up to only 3 feet high and will make a perfect houseplant or ground cover (in milder climates).
About Philodendron pastazanum
Like gloriosum, Philodendron pastazanum is also a ground-creeping evergreen plant native to Ecuador and Peru. It is a moderately fast-growing plant that can reach up to 4.5 feet high.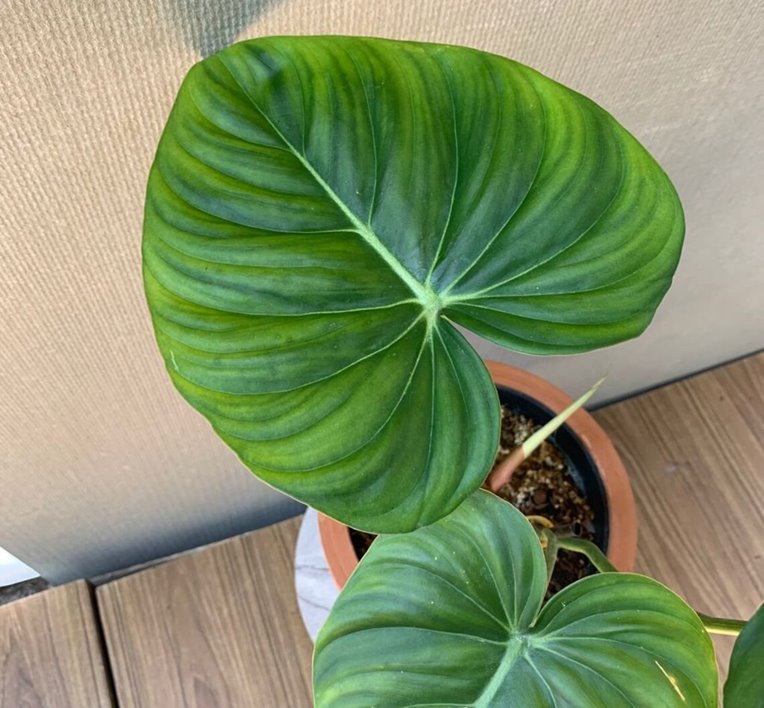 What does it look like? Philodendron pastazanum has large (up to26 inches) heart-shaped, dark green leaves that may be semi-glossy or glossy and sub-leathery. The midrib is a little paler, while broadly sunken primary veins make it look ridges or pleated. Also, they are lighter towards the midrib.
Petioles are subterete, firm, dark to medium green. Also, they have numerous tiny, short whitish streaks. But towards the apex, the petioles are flatter.
Last but not least, the cataphylls are green, reddish-brown, or red and remain intact or fall. These leaf stalks also have pale striates.
About Philodendron McDowell
This Philodendron pastazanum and gloriosum cross looks more like a pastazanum (dominant hybrid). It is a terrestrial creeper like the parent plants and can grow up to nearly 3 feet tall.
McDowell has large dark green, somewhat velvety heart-shaped leaves that appear quilted due to the sunken primary veins. The midrib and primary veins toward the midrib are paler, and it forms a closed to V-shaped sinus on its anterior lobes.
The other feature is reddish cataphylls and pink or reddish margin on leaves, especially new ones.
Lastly, new leaves may have pinkish veins, petiole (especially the apex), and white lines or streaks.
Philodendron McDowell vs. pastazanum
We know that most people mislabel Philodendron McDowell and pastazanum, they look alike, and some people can't tell the difference. If you are one of them, let us give you ways to identify these two aroids quickly.
The first way is to consider leaf appearance and texture. Philodendron McDowell has more velvety, dull, or less glossy leaves with margins that may be reddish or pinkish. But pastazanum's leaves are glossier or shiny and matte sub-velvety in rare cases.
Secondly, McDowell will have reddish cataphylls, while in Philodendron pastazanum, they are mainly greenish.
Thirdly, petioles in McDowell have longer, more visible white lines, while in pastazanum, these lines are shorter and less visible.
Lastly, McDowell leaves will have pinkish veins and margins in new growth, while in pastazanum, they are greenish.
Philodendron McDowell vs. gloriosum
These two shouldn't be hard to differentiate. Philodendron gloriosum has much darker or deep green velvety leaves with more conspicuous and paler (whitish or pinkish) midrib and veins.
On the other hand, McDowell leaves are not as dark green or velvety and have a quilted appearance due to broadly sunken primary veins.
Philodendron McDowell care
Philodendron McDowell is easy to care for, making it ideal even for beginners. It requires a warm, humid place with bright, indirect light. Also, ensure it has a fertile, well-draining potting mix, water it when the top few inches of the potting mix start to dry, etc.
Here are the P. McDowell care and growth requirements.
1. USDA hardiness zone
P. McDowell's USDA hardiness zone is 10 to 11. It is not frost-hardy, and prolonged freezing temperatures will kill it. Only people in these zones can grow it outdoors, including a ground cover.
2. Philodendron McDowell Humidity
They grow best at average to above-average humidity, i.e., 50% or more. People with very low household humidity need to mist their plants a few times a day, have a pebble tray, or move their plants to more humid rooms like the kitchen or bathroom.
More ways include buying a humidifier or grouping your plants (creates a micro-climate).
3. Temperature
The ideal temperature is 65 to 85 degrees Fahrenheit (18-29°C). Avoid temperatures below 55 °F (12.8 °C) or sudden temperature changes. Also, don't place it in drafty places, heat emitting sources, vents, or near air conditioning vents.
4. Light needs
Philodendron McDowell grows best in bright, indirect light but can tolerate medium, indirect light. Too little light will make your plant leggy or have smaller, paler leaves. In such a case, buy grow lights with around 1000 to 2000-foot candles (10000 to 20000 lux). Brands like Relassy 15000Lux Sunlike Full Spectrum Grow Lamp, GE, Barrina, or Briignite are perfect.
On the other hand, avoid the direct hot sun as it will cause sunburn – crispy brown edge and tips and a washed-out, bleached or pale look. So, place your plant at a spot where it doesn't get direct sunlight except for the morning early sun.
5. Best soil
The best soil for Philodendron McDowell should be slightly acidic to neutral, well-drained, airy, and rich in organic matter. These plants are not fussy and can grow even in sphagnum moss alone.
There are many vendors at Etsy.com with excellent aroid mixes, or you can make yours at home. To make one, mix perlite, bark chips, and peat moss or coco fiber to your regular potting soil.
6. Watering
Water your Philodendron McDowell when the top few inches of the potting mix feel dry. Test the soil with your finger and water if it feels dry up to the first knuckle. Alternatively, you can buy a soil moisture meter like XLUX and water when the reading is three or less.
How often it will depend on your conditions (light, soil, or humidity), potting mix, pot, plant size, etc. So, always test the soil. And when watering, saturate the soil until excess water flows from drainage holes. Then discard any that collects on the saucer after 15-20 minutes.
Lastly, avoid overwatering as it may cause root rot. Remember, this aroid prefers the potting mix to be slightly dry in-between watering. But don't wait for leaves to start drooping or having brown tips and edges.
7. Feeding
Feed your McDowell once a month with a balanced, liquid houseplant fertilizer that has other necessary micronutrients during growing months only. An N-P-K 10-10-10 like Bonide Liquid Plant Food 10-10-10, 20-20-20, or one with slightly higher nitrogen will work well.
Alternatively, you can use a slow-release formula for houseplants. Start applying in early winter and follow the manufacturer's recommendations.
8. Pruning and grooming
They don't need much pruning. Just remove any dead, diseased, or damaged leaves or parts with sterilized pruning scissors. Also, wipe leaves when they become dusty or shower your plant.
You can also trim part of the stem during the growing months, especially when they grow beyond your pot.
9. Repotting
Repotting is after about two years or when rootbound (roots growing through drainage holes and spiraling inside the pot). When repotting, go for a rectangular planter 2-4 inches larger since it crawls on the ground. It doesn't have to be so deep.
10. Staking
P. McDowell creeps on the ground. So, it doesn't require a stake (moss pole, trellis, totem, etc.).
Philodendron McDowell propagation
Philodendron McDowell propagation is by stem cutting in water or soil. Stems are what crawl on top of the potting mix, i.e., what some people refer to as rhizomes.
We recommend propagating this plant in spring or early summer. Why? It will give your plant ample time to establish itself before the non-growing months.
Here is how to propagate McDowell in soil
Put your aroid mix into your nursery pot. If using sphagnum moss alone, you will have to soak it for 20-30 minutes and wring it. Afterward, don't water it after planting your cutting.
Find a healthy stem with at least one or two nodes and cut just before the lower node with a sterilized pruning knife or gardening scissors. If some roots are growing into the potting mix, remove some soil before taking your cut. Afterward, gently dig the cutting out without damaging any roots.
Apply a rooting hormone on the cut end. It is not mandatory but will minimize rot changes and ensure rooting occurs faster. We love HydroDynamics Clonex Rooting Gel.
Plant your cutting horizontally in your potting mix, ensuring any roots go into the potting mix and only partially cover the stem. Use a small totem and Velcro tape to help keep the large leaves upright.
Thoroughly water it until excess water flows from drainage holes. Then place it in a warm area with bright, indirect light.
Routinely mist the potting mix when it begins to dry, i.e., don't let it a bit dry in-between waterings like you do to mature plants.
By the end of the 4th to the 6th week, your plant will have rooted and started producing a new shoot. Transplant when you feel it is large enough.
Problems
While growing your Philodendron McDowell, you may encounter a few problems or issues. Common ones include the following.
1. Pests
If grown indoors, pests are uncommon. Nevertheless, they may occur, common ones being spider mites, aphids, thrips, mealybugs, and scale insects.
Regularly check for the signs or presence of the bugs, especially on surfaces beneath the leaves with a 10X magnifying glass. If you see any, isolate the infested plant and treat it with neem oil, insecticidal soaps, or horticultural oils.
2. Diseases
These aroids may get bacterial and fungal leaf spots, rusts, or blights. Signs include brown to black spots, some with a yellow halo and others water-soaked.
To prevent diseases, isolate new plants to confirm if they are healthy. Also, practice proper sanitation (wash hands and sterilize gardening tools).
Lastly, if diseased, cut and discard the affected part using sterilized scissors. Then use fungicide for fungal infection. Bacterial diseases have no cure but you can use a copper-containing bactericide to help prevent spread.
3. Root rot
Root rot in Philodendron McDowell is a prevalent problem if you overwater your plant or your potting mix doesn't drain well.
Signs include leaves turning yellow, moldy potting mix, wilting and drooping, leaf scorch, and a mushy stem base. Also, the roots will be mushy and brown or black.
If the entire root ball hasn't decayed, repot your plant, cutting away any rotten bits with sterilized gardening scissors. Afterward, avoid overwatering your plants.
4. Leaf curling, discoloration, and drooping or wilting
The other issues you may have include leaves turning yellow or brown, curling, and your plant drooping or wilting.
Leaves are turning yellow: Overwatering is the most likely cause. Other reasons are too much or too little light, lack of nutrients, low humidity, underwatering, and cold drafts.
Brown tips, edges, spots, or browning leaves: If you see brown tips and margin, it may be low humidity, heat stress, sunburn, or underwatering. Brown spots on the other hand signify diseases and pests. But if you see brown blotches, overwatering may be responsible.
Drooping or wilting: Occurs when cells don't have enough water to keep them turgid. Causes include underwatering, low humidity, transplant shock, too much light, heat stress, etc.
Leaves are curling: Curling occurs to prevent moisture loss or protect the plant. The leading causes include underwatering, too much light, heat stress, low humidity, etc.
Where to find Philodendron McDowell on sale
Are you interested in buying a Philodendron McDowell? Etsy.com should be your first place, then eBay.com. Both these two marketplaces have vendors from all over the world, i.e., the UK, Canada, Australia, and New Zealand, and not just the US. Some vendors label it as Philodendron Dean McDowell.
The next place to try is Instagram and Facebook. There are many vendors on these social networks who sell this rare plant. There are also a couple of websites that have this plant.
If you still haven't gotten it, search for either "Philodendron McDowell for sale" or "Philodendron Dean McDowell" for sale on google. You will get several websites that have this lovely plant online
FAQs
Is Philodendron McDowell rare?
Yes. Philodendron McDowell is a rare and hard-to-find house plant. None of the big box stores or horticultural growers sell it. Also, you are unlikely to find it in your local tropical plant store and it will cost you a fortune.
What is the Philodendron McDowell price?
Philodendron McDowell's price ranges from $75 to $250, with most vendors selling between $100 and $200. An unrooted cutting may sell a little bit lower. But the exact amount you pay depends on where you will buy yours.