Make a statement today with the adorable Philodendron sharoniae houseplant. This pricey climbing evergreen plant has gorgeous, long arrow-shaped, ridged, or pleated green pendent leaves that everyone will notice. It is easy to grow and air-purifying.
Get insight on P. sharoniae, including appearance and care (humidity, temperature, light, soil, fertilizer, etc.). We will also talk about some problems like leaf discoloration and pests.
That is not all. We have a discussion on Philodendron tenue vs. sharoniae, and you will know Philodendron sharoniae San Antonio (Goat) and Mosquera are. Also, we have where to buy this adorable plant, the best being Etsy.com. mature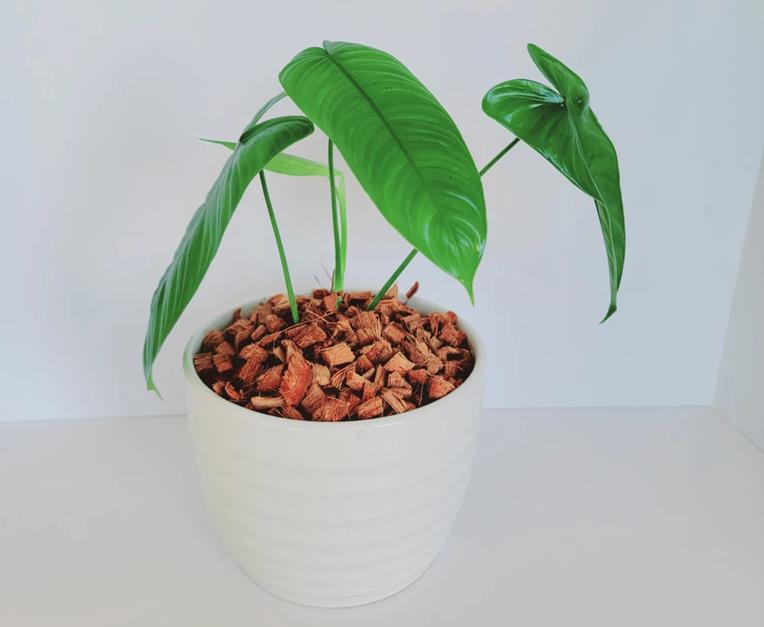 Quick overview
Scientific name: Philodendron sharoniae
Family: Araceae (arum family or aroids)
Native habitat: Ecuador and Colombia
Toxicity: All plant parts are toxic to humans, dogs, cats, and other pets. Why? Because they have insoluble calcium oxalates. These needle-like sharp crystals will cause severe oral irritation and burning when chewed. Also, patients may have a red or swollen mouth, lips, or tongue, find it hard to swallow, lose appetite, and drool.
Care level: Easy or low maintenance
Did you know that Dr. Thomas Croat named it after Sharon Christoph, who and her husband, Chris Davidson, sponsored his Araceae work? Now you know.
Description and appearance
What does P. sharoniae look like, and what are its growing habits?
1. Growing habits
Philodendron sharoniae is a climbing evergreen plant native to Ecuador and Colombia. It occurs mainly at Valle del Cauca in Colombia, while in Ecuador, you will find it at Carchi, Esmeraldas, and Pichincha Provinces.
This evergreen flowering plant grows at a wide range of altitudes, i.e., 131-7545 feet (40-2300m) in the moist tropical rainforest and premontane and montane wet forests.
Lastly, its preadult (juvenile) morphology differs from the adult form.
2. Growth rate and size
P. sharoniae is a fast-growing flowering plant. It can grow up to about 10 feet long in its natural habitat. But it will grow up to about 6 to 8 feet long at home, and you need to give it a climbing moss pole or support.
3. Leaves
Juvenile leaves are smaller and oval-oblong to heart-shaped pendent or overhanging leaves. But as it grows, these leaves become larger (up to 3 feet long).
Mature plants have elongated arrow-shaped or elongate sagittate-hastate pleated somewhat leathery, semi-glossy green to dark leaves with a paler, glossy underside. The sunken primary veins make them appear ridges or pleated, and the posterior lobe is much more prominent and longer than the two anterior lobes, giving them their shape.
Lastly, sharoniae has a round, medium green to dark green petiole with coarse intermittent ribs.
4. Stems
Mature plants have short internodes with reddish, persistent intact cataphylls that become fibrous.
5. Flowers
Once they mature, P. sharoniae will bear inflorescences with cream to whitish spadix and a moderately constricted spathe.
Philodendron sharoniae vs. tenure
Philodendron sharoniae somewhat resembles and is closely related to Philodendron tenue. They are both climbers with pendent, pleated, or ridged leaves, and many people confuse these two.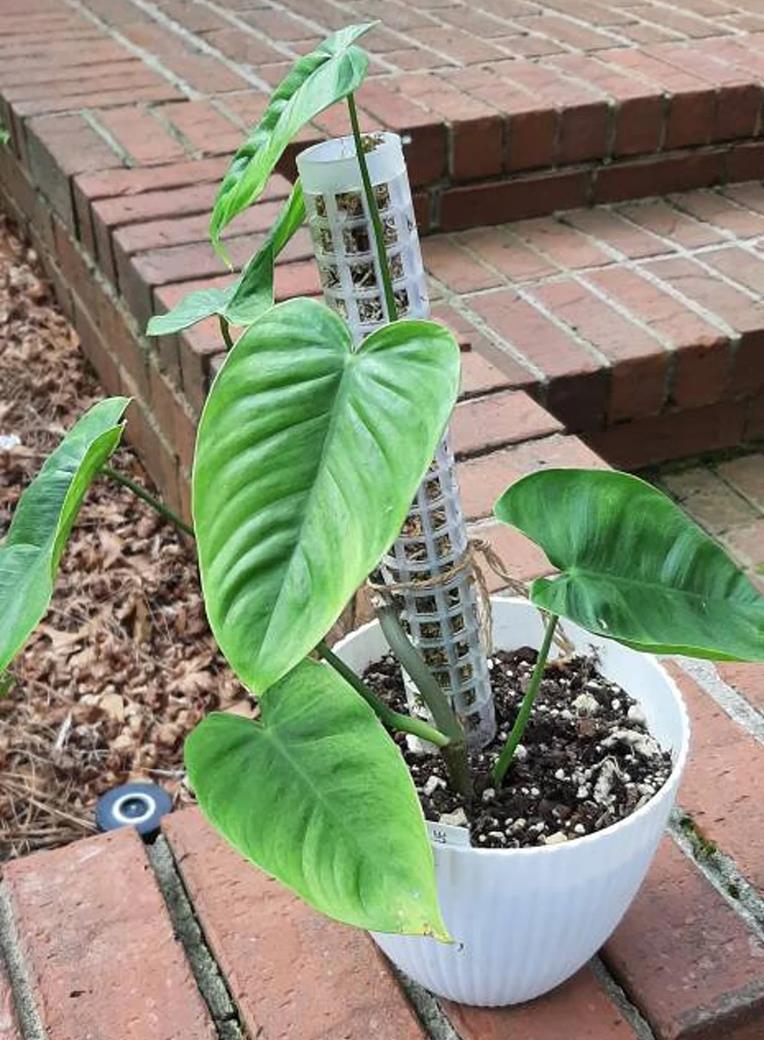 If you are of the people who confuse these two, you should know that P. sharoniae has elongated, arrow-shaped leaves.
On the other hand, P. tenue has shorter, oval, or oval-triangular leaves with a heart-shaped base.
Philodendron sharoniae San Antonio (Goat) vs. Mosquera
The primary difference between these forms, i.e., P. sharoniae Goat and Mosquera, is more how leaves appear.
P. sharoniae San Antonio or Goat leaves have longer anterior lobes that extend outwards, making them appear as if they were three-lobed or more like goat's horns. In contrast, in Philodendron sharoniae Mosquera, the anterior lobes don't extend much outwards, making them narrower.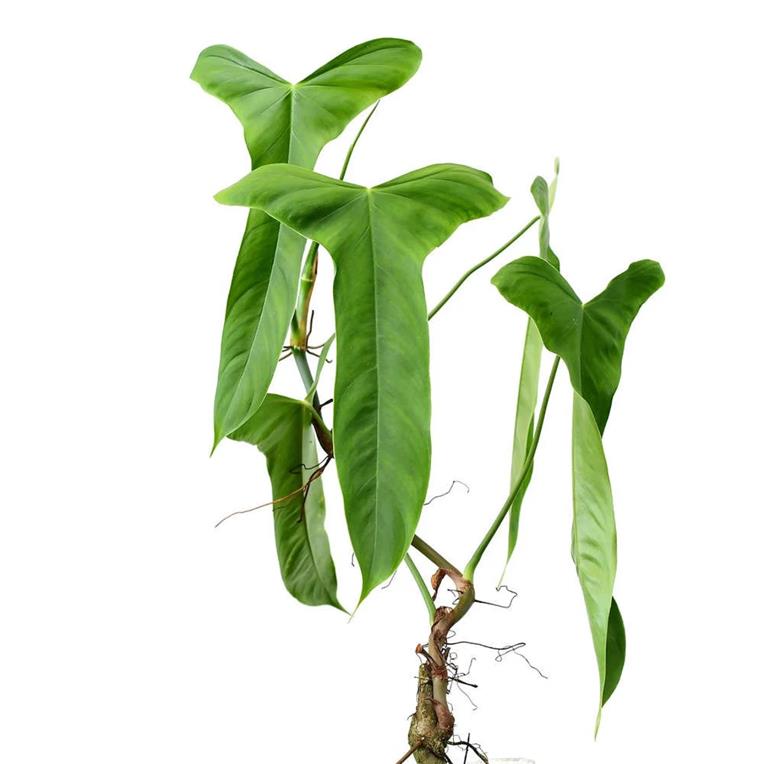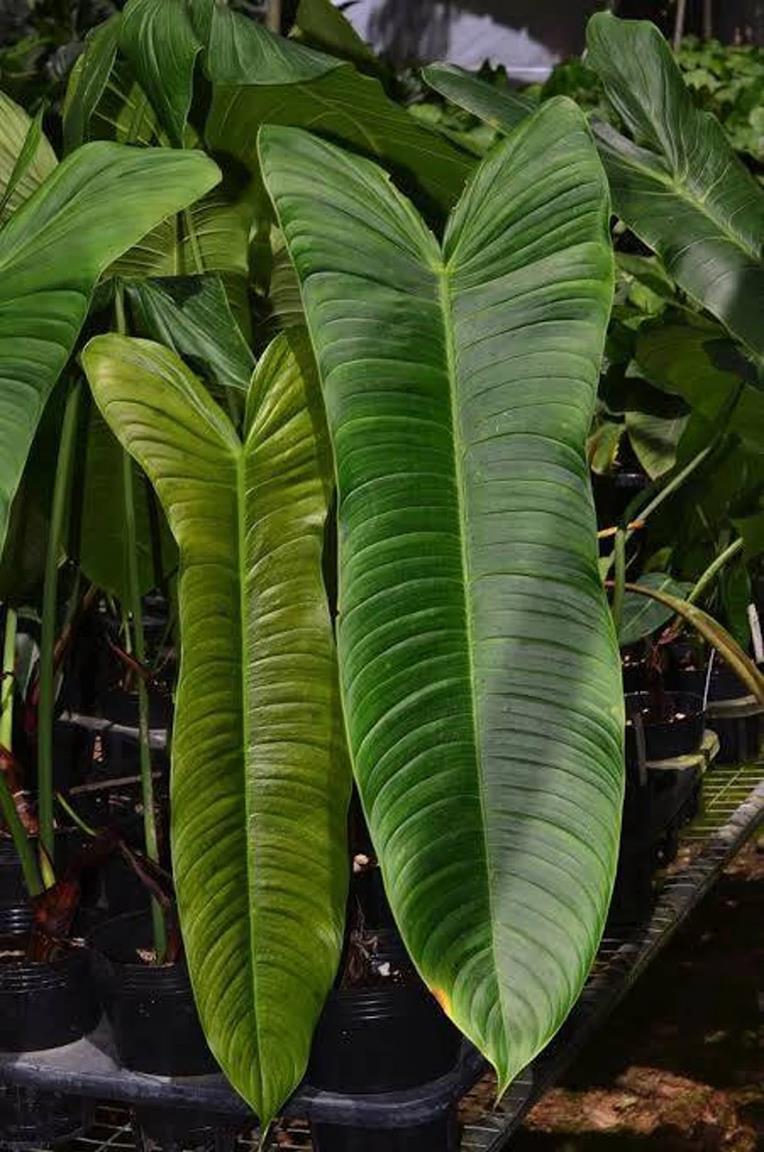 Philodendron sharoniae care
Philodendron sharoniae requires a warm (65-80°F) humid ( humidity 60% or more) spot with a bright, indirect light. Grow these plants in chunky, well-drained, fertile potting mix and water when the soil's top 2-3 inches is dry.
Also, regularly prune your plant, feed it monthly and repot it after 2-3 years and don't forget a climbing moss pole, trellis, or totem.
Here is more on P. sharoniae care
USDA hardiness zone: 10-11, not frost hardy and cannot tolerate freezing temperatures.
Humidity: 60% or more but can withstand slightly lower humidity, 40ish or 50ish.
Temperature: Ideal temperature should be 65 to 85 degrees Fahrenheit (18-29°C). Avoid cold drafts, putting plants near heat sources, or sudden temperature changes.
Light: P. sharoniae needs bright, indirect light but can still grow in medium indirect light. Avoid direct sun or too little light.
Best soil: Provide an airy, well-drained potting mix high in organic matter. An aroid mix (see Etsy.com) or potting mix with added perlite, coco coir (or peat moss), bark chips, and compost will work.
Watering: Thoroughly water your P. sharoniae when the potting mix's top few inches (or up to 1st finger knuckle) feel dry. But if you are using a soil moisture meter like XLUX, water when the reading is three or less.
Fertilizer: Feed your plant once a month in the growing season with a balanced, liquid fertilizer for houseplants at half recommended strength. Try Bonide Liquid Plant Food 10-10-10. You can go wrong with this great brand.
Pruning: Remove dead, damaged, or diseased leaves with sterilized gardening scissors, and in the growing months, you can cut back the stems to control size or growth.
Repotting: Repot after 2-3 years or when rootbound. Use a pot 2-3 inches wider in diameter.
Staking: Provide and train your plant on a moss pole, trellis, etc.
Propagation
Philodendron sharoniae propagation is by stem cutting in water or soil. The stem cutting must have at least a node (where aerial roots, leaves, or branches grow). But you can also opt for air layering.
The steps to follow are identical to what we talk about when looking at Philodendron micans or any other climbing species.
Lastly, if during cold months, wait until spring to do your propagation. Your cutting will root faster, and you will have a high success rate.
Problems
Sharoniae isn't prone to any specific issue except those that affect other Philodendron species. Some of the problems to expect include:
1. Root rot
It is the most prevalent issue in overwatered plants or those grown in compact, heavy, and poorly draining potting mix.
Signs include yellowing of leaves, leaves falling, smaller paler leaves, wilting, stunted growth, a mushy stem base, etc.
If the entire root system hasn't decayed, repot your plant, cutting off any rotten bits. Otherwise, discard your plant.
2. Pests
Spots (yellow, brown, whitish, or black), silvery stippling, honeydew, sooty mold, webbing, leaves curling, etc., may indicate pests. Those that may attack your plant are spider mites, mealybugs, thrips, scale insects, aphids, etc., but are uncommon.
Use your 10X magnifying to check for bugs, especially hidden or beneath. Use insecticidal soaps, neem oil, or horticultural oil sprays if you see these bugs.
3. Diseases
They are uncommon. But these plants can end up with bacterial or fungal leaf spots and blights. Signs to expect to include brown or black lesions that may be sunken, have a yellow halo or be water-soaked at the beginning.
To prevent these diseases, practice proper sanitation and isolate new plants.
4. Leaves turning yellow
The main suspect of leaves turning yellow, especially the lower ones, is overwatering. Other common possible reasons are underwatering, low humidity, too little or too much light, and nutritional deficiency.
5. Leaves turning brown
Brown tips and margins are a likely sign of underwatering, low humidity, direct sunlight, heat stress, or fertilizer burns.
On the other hand, if you see brown spots, the causes are likely pests or diseases. But if brown splotches, it may be overwatering.
Lastly, cold drafts and freezing conditions may make leaves turn brown overnight
6. Leaves curling
Leaves curl to reduce moisture loss or protect themselves. The most likely reasons are underwatering, low humidity, heat stress, and too much light.
Also, root rot, fertilizer burns, or anything that affects water absorption by roots or results in more moisture loss from leaves may be a reason.
7. Drooping and wilting
Water helps keep plant cells turgid. But if they don't have enough water, the cells will be flaccid, and your plant will droop. Reasons are similar to those of leaves curling.
Where to find Philodendron sharoniae on sale
If you want to buy Philodendron sharoniae, Etsy.com is the best marketplace. It has many vendors, not just in the US but also in the UK, Canada, Australia, etc.
The other great places are eBay, Facebook, and Instagram. Additionally, you can try Ecuagenera (Ecuador), Canopy Plant Co. (New Orleans, LA), Carnivero (Austin, TX 78709), Gabriella Plant, etc.
Lastly, search "Philodendron sharoniae for sale" to see what recommendations you get.
Frequently asked questions FAQs
Is Philodendron sharoniae rare?
Yes. Philodendron sharoniae is a rare, hard-to-find, and expensive houseplant. You won't get it in your local plant stores. And large horticultural growers like Costa Farms or big box stores like Walmart don't have it.
What is Philodendron sharoniae price?
The price of Philodendron sharoniae ranges from $70 to $350 for an unrooted cutting to an established plant. If you want a big plant with mature leaves, you may have to pay as much as $650.