This Monstera adansonii care guide will give you information on Monstera adansonii soil, light, watering, repotting, pruning, fertilizer, and temperature.
We will also have an FAQ section that may have some issues you experience, like your Monstera leaves turning yellow or brown. And whether you need to let this plant climb on a moss pole or not.
Last but not least, if you want to know more about propagation, we have Monstera adansonii propagation in water and soil elsewhere. But we will still talk about it briefly.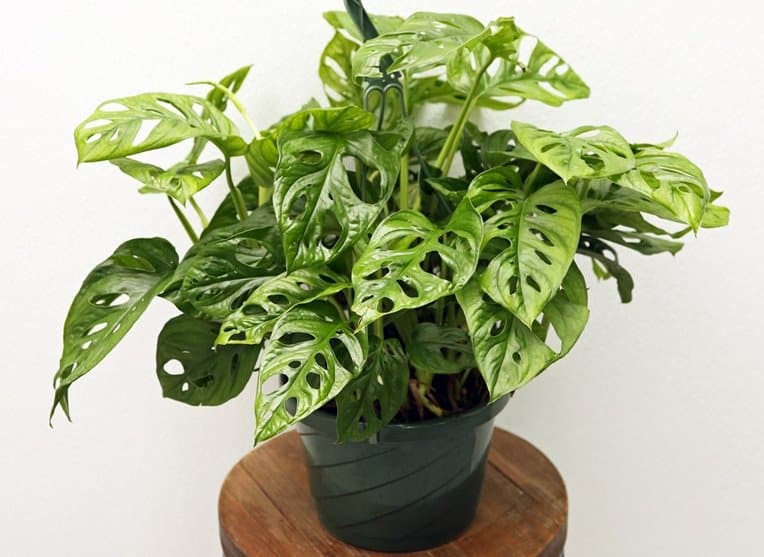 About Monstera adansonii
Before we tell you more about how to care for monstera adansonii, it is good to introduce you to this plant.
Monstera adansonii is an evergreen climbing plant native to Central and Tropical South America. But it also occurs in some of the surrounding islands.
It is an aroid, a name for plants in the arum family Araceae. People value this Monstera for its lovely entire juvenile leaves that may have a few holes (fenestrations) and the large perforated leaves. It is a beauty you cannot afford to miss. Also, this plant will create that adorable that tropical backdrop, and it is air purifying.
Its common names are Adanson's Monstera, Swiss Cheese plant or vine, or five holes plant.
In Sweden, Germany, New Zealand, Poland, and other countries, you will find the label Monstera Monkey Mask. Also, it shares the name Swiss Cheese plant or vine with Monstera deliciosa and Monstera obliqua.
That is not all. You also need to know that this is a complex species with subspecies that include M. adansonii var. blanchetii and Monstera friedrichsthalii (M. adansonii var. laniata).
Last but not least, in the market, you will find mainly the Monstera adansonii narrow and wide form. However, there is the normal form and the very rare Monstera adansonii Variegata or the variegated form.
Growing habitat
You already know where it grows in the wild. And we know you probably are interested in the Monstera adansonii care and growing requirements. But nothing will make care requirements clear as knowing something small about its growing habitat.
Monstera adansonii grows a climbing hemiepiphyte. A hemiepiphyte grows as a terrestrial plant at one life stage and as an epiphyte (growing on hosts) at the other. In this case, a ground creeper in its juvenile form and an epiphyte in its adult form. If it doesn't get a place to climb, it will never grow to its adult form.
Lastly, the other thing is that it grows in tropical rainforests that are warm and humid. Also, it grows beneath the canopies of a tall tree, receiving mainly filtered or dappled light.
Monstera adansonii care and growth requirements
This Monstera is easy to care for, making it suitable for even newbies. You need to ensure you give it high humidity, bright indirect light, and a chunky, organic-rich soil mix. The other thing is to water it when a few top inches of the soil is dry. Of course, you will need to prune, repot and give it a place to climb.
Here are the Monstera adansonii care needs and requirements.
1. USDA hardiness zone
Can you grow your Monstera outdoors? The answer is not a yes or no, it depends on your USDA hardiness zone. The Monstera adansonii USDA hardiness is 10b to 12. Only people in this zone can grow it outdoor all year.
This plant cannot withstand freezing temperatures. Also, frost will kill it. This cuts across all Monstera species. To affirm this, the University of Florida's Institute of Food and Agricultural Sciences (UF/IFAS) states that, "Monstera is not tolerant of freezing temperatures. Leaves are damaged or killed at 30 to 32°F (-1.0 to 0°C), and stems at 26 to 28°F (-2 to -3°C)."
2. Temperature
The optimum Monstera adansonii temperature should be 65 to 80 degrees Fahrenheit (18 to 27°C). This tells you it can grow well in average household temperatures. Also, it can withstand slightly lower temperatures of about 55°F (12.5°C) and a high of almost 90 °F (32°C).
That said, it is also good to note that Monsteras are tropical plants that need warm places. So, a lower temperature will make your plant grow slowly, and when it hits 50°F (10°C) or less, it will stop growing.
Moreover, freezing temperatures and cold drafts will make your Monstera start drooping leaves or wilting. Also, expect leaf discoloration (turning yellow, brown, or black), including some leaves turning brown overnight.
On the other hand, high temperatures, including a heatwave, will cause heat stress. Heat stress will cause leaf burn, which will make tips or margins turn brown or yellow. Also, the leaves will curl, and it may lose leaves, among other things.
The other thing you need to avoid sudden changes in temperatures as it will equally stress this plant. Why? Because they need time to adjust to any changes.
Last but not least, if you want your plant to be happy as far as temperature is concerned, adhere to these three things.
Don't put your plant on cold drafts like a draft window, near porch or patio window, air conditioning vents, and so on. Instead, grow it in less drafty, warmer places.
If the temperature goes too low during winter, take any outdoor monstera indoor. Also, you should turn on your heating system or HVACs.
In case of temperature rises, move your plant to cooler places. Also, avoid placing it near heat radiators, fireplaces, furnaces, space heaters, or any other appliances that emit heat.
3. Humidity
Monstera adansonii prefers above average or high humidity (60% or more). But it can withstand slightly lower to average amounts of 40% to 50%.
To measure humidity accurately, start by buying an accurate hygrometer. Govee Hygrometer Thermometer, Wireless Thermometer is an excellent pick. Why? Because it has a mobile app that can alert you when humidity or temperature goes beyond set points.
When in higher humidity, this Monstera will grow faster and have lush, glossy leaves.
On the other hand, very low humidity may result in dry leaves with crispy, brown edges. Also, the leaves start curling upwards, droop, turn yellow, fall, and look dull. That is not all. Your plant will also grow slowly.
To raise the humidity, mist your plant a few times a week or have a pebble tray. A surer way is to buy a humidifier. It has also received very high consumer ratings.
That is not all. You can also try a cabinet greenhouse, group your plants (creates a microclimate), or take them to rooms with higher humidity like the kitchen and bathroom.
Lastly, as you try to raise the humidity, ensure the leaves are not wet and have proper air circulation. Otherwise, its leaves may become moldy or start to rot.
4. Monstera adansonii light requirements
Monstera adansonii needs bright, indirect light, but they can withstand medium light.
Low light will make the plant grow slowly and become leggy (have long, thin stems as it tries to reach the light). Also, the leaves may turn yellow, and if you have a variegated variety, it will not show its proper coloration. Other possible signs include small leaves, and drooping of leaves, among others.
For Grow lights, go for Relassy 15000Lux Sunlike Full Spectrum Grow Lamp. It has 50k hours of lifetime, and its lux range is within the bright, indirect light. GE. Barrina, and VIPARSPECTRA are also good.  
To be sure light is enough, you need Dr. meter LX1330B Digital Illuminance Light Meter. The ideal light should be between 10k and 20k lux. But a little lower value is ok. 
On the other hand, you need to avoid direct sunlight as it will cause leaf burn (leaves with crispy edges and tips), and your plant will look bleached or faded out. Furthermore, the leaves may also curl, droop, or turn yellowish.
You can place your plant on the south, east, west, or north-facing window. They are all ok. Just ensure no direct sunlight, especially the hot afternoon sun. One way of achieving this is by placing your plant away from the window. A little early morning sun or evening sunlight east and west-facing windows may not cause much damage.
If you grow your Monstera outdoor, ensure there is a shade. Also, you can have a shade cloth or greenhouse. They will still work well.
Last but not least, if your house cannot meet the above Monstera adansonii light requirements, you can use artificial grow lights.
5. Best Monstera adansonii soil
The best soil for Monstera adansonii should be chunky, well-drained, and very high in organic matter. Also, it should be slightly acid to neutral, pH 5.5 and 7.5. Having suitable soil is an essential part of Monstera adansonii care you must get right.
When it comes to the soil, these plants are epiphytes and are not fussy. They can even grow on soilless potting mixes. But ensure the kind you pick is aerated and very fertile. Also, it has to hold moisture for some time, and it shouldn't become soggy or too wet. Otherwise, they will suffer from root rot.
You can buy an aroid mix from Etsy.com or make your Monstera soil mix at home. For instance, mix two parts of Miracle-Gro Indoor Potting to one part of peat moss/coco coir and one part of perlite/pumice. You can also add some charcoal and orchid barks. Some people also include some worm castings for extra organic matter.
Last but not least, peat moss will provide organic matter, help maintain moisture, and lower pH. On the other hand, perlite and orchid bark will promote drainage.
6. Monstera adansonii Watering
One area that can be very challenging in monstera adansonii care is watering. Too much will cause root rot, and too little will make your plant thirsty with curly leaves.
Monstera adansonii needs medium watering. So, please water your Monstera only when the top 2 to 3 inches of the soil dries. Some people will recommend watering after the top 50 to 75% of the soil is dry.
The next question we need to address well is the one on how often to water Monstera adansonii. We recommend that you first feel the soil with your index finger. If the top few inches are dry, water it. If not, wait for a couple of days and test again.
From our experience, we water ours after 5 to 7 days in the growing season and biweekly when they are not growing. However, this frequency may not apply to your case. Why? Because it all depends on your temperature, humidity, lighting, plant size, pot size, and many other factors. Please, always test the soil with your finger.
On the water, you are free to use distilled, rainwater, or tap water. But if your municipal water is high in chlorine, let it stay in an open container overnight.
Lastly, when watering, slowly saturate the soil until excess comes from the drainage holes. Pour any that collects on the pot saucer.
i. Overwatered Monstera
This plant's roots don't like standing in water as waterlogged soil makes it impossible for them to absorb oxygen. Thus, they won't also absorb nutrients and water well. Also, if prolonged, it may cause root rot.
The first sign of an overwatered Monstera adansonii is leaves turning yellow, yet the soil is still wet or moist. Other signs are:
Wilting and drooping leaves that are not crispy or dry
Leaf curling
Brown spots with a yellow hallo
Browning of young leaves or brown splotches
Old and young leaves dropping
Moldy potting mix
Slow growth
Mushy stem bases
To fix the issue, change how often you water your plants. Also, always feel the soil, have a well-draining potting mix, and consider prevailing conditions.
Lastly, please don't have an oversized pot or one without drainage holes. These two may be a reason.
ii. Underwatered
The other thing that may happen with this plant is not giving them enough. This may occur for many reasons. Common ones are negligence, wrong soil mix, prevailing conditions, having a watering routine, etc.
Signs include dry soil, your Monstera leaves curling upwards, or having dry or crispy edges and tips. Also, they will droop or wilt, grow slowly, have yellow leaves, and may drop some leaves. If you do nothing, your plant will dry.
To fix the issue, water your plants immediately. Then, look at your routine and set watering reminders. Also, make sure your soil holds some moisture.
7. Monstera adansonii fertilizer
This Monstera is a medium feeder. We recommend using balanced, all-purpose, indoor liquid plant food. It will ensure these houseplants are healthy and have lush leaves. Feed your Monstera once a month when it is actively growing. In winter and spring, please don't feed them.
Alternatively, you can go for a slow-release formula for indoor or potted plants. Start applying in early spring and follow what the manufacturer says.
When deciding on what fertilizer you buy, go for N-P-K 20-20-20 or 10-10-10. If you prefer or organic ones, go for 2-2-2 or 1-1-1 if you want something balanced. Avoid any brand that has urea as it may cause root burn.
If you recently repotted your plant or bought a new one, wait for six months. The potting mix may be having some fertilizer.
Last but not least, avoid too much plant food. Why? Because it will cause fertilizer burns (brown or yellow leaves starting with the lower ones), wilting, leaf drop, stunted growth, and so on. An obvious sign will be the presence of fertilizers on the soil.
8. Pruning and grooming
As part of your monstera adansonii care, you need to prune it. This involves routine cutting dead, damaged, or diseased leaves. Also, during the growing season, you may trim a few stems to keep their shape and the size you want. It will also help make your plant fuller (encourages branching).
When pruning Monstera adansonii, you need to use sharp, sterilized pruning scissors. This practice will prevent the spread of diseases from one plant to another. Use at least 70% rubbing alcohol to sterilize your scissors.
That is not all. It will be a good idea to wipe your Monstera leaves when they become dusty. Dust may prevent photosynthesis and make your plant look unsightly.
Finally, when pruning this plant, never cut more than 25% of the plant at any given time. Doing so will weaken your plant.
9. Potting and repotting
The other critical bit on Monstera adansonii plant care is repotting. You need to repot this plant after every other year during spring or summer. But if you see roots growing from drainage holes, your plant is probably rootbound, and it needs repotting. Still wait until the growing season.
When pot bound, your plant has outgrown your pot, and it has no new soil to grow into or get nutrients and water. More signs it is rootbound include:
Curling leaves
Leggy plants
Drooping or wilting
Yellow leaves beginning with at the bottom
Spiraling roots (if you check inside the container)
Stunted growth
Leaves dropping
When repotting M. adansonii, pick a pot 2-3 inches wider in diameter. Also, wait for two days after your last watering session. This will reduce the repotting shock.
The next thing to do is fill the pot up to about ⅓ way up using a fresh potting mix. Then, you can gently slide your plant out and slightly tap it to eliminate the older potting mix stuck on the roots. As you do this, make sure you support your plant well as you do so to avoid damages.
While repotting, If you see any black or brown roots, cut them off with a sterilized scissor. They are probably rotten. Afterward, plant your Monstera in the new pot, fill the soil up to the level it was before, and water it well.
Propagation
The best way to propagate this Monstera is by stem cutting, and the best time to do so is early winter. But summer is still ok. Also, you can grow the cuttings in soil or water. Both these two methods will work well and are very easy.
The other less common ways to propagate this Monstera is by air layering and the use of seeds. Read Propagating M. adansonii, where we will cover all these ways.
Frequently asked questions or FAQs
1. Does my Monstera adansonii need a moss pole?
It depends. Giving your Monstera a moss pole or any other climbing place (trellis, burlap-wrapped, or bamboo pole) will make it have larger leaves. However, you can decide to let it grow on a hanging basket. It will still grow fine but will have leggy stems and smaller leaves.
2. Why are my Monstera adansonii yellow leaves
M. adansonii leaves turning yellow means they lack chlorophyll or nutrients. In most cases, it has something to do with your care. For instance, the yellowing may be due to low light, overwatering, underwatering, compacted roots (rootbound), and nutritional deficiencies (not feeding your plants).
Other causes are transplant shock, too much fertilizer, wrong soil pH (affects nutrient absorption and availability), and low humidity. Also, it may be cold drafts, pests, diseases, or too much light.
3. Why are my Monstera adansonii leaves brown?
The causes of Monstera brown leaves or even brown spots are what we have already seen. They include things like too much or too little water and light or low humidity. Others are too much fertilizer, heat stress, cold drafts, rootbound, or transplant shock.
If your plant has brown spots, it may be diseases, pests, or a sunburn. If you see brown edges and tips, it may be underwatering, cold drafts, low humidity, salt accumulation in soil, or damaged roots.
4. Why do my Monstera adansonii have black spots?
Black spots on stems or leaves are a sign of overwatering in case of edema. These spots may occur on leaves or stems. Also, it may be root and stem root disease.
The other possible cause is sooty mold from pests that produce honeydew like whiteflies, scale insects, and aphids. If you see tiny black spots, they may be a sign you have thrips, i.e., their fecal matter.