If you have scale on Monstera, they are likely the soft scale and not armored ones. These pests will suck plant juices causing spots. Also, they produce honeydew that will result in sooty mold. And a heavy infestation will cause wilting, leaves turning yellow, falling off, among other issues.
Learn how easily identify Scale on Monstera, including on your Monstera deliciosa, adansonii, standleyana, or any other species you have.
We will also give you damage signs, treatments, and how to prevent these pests.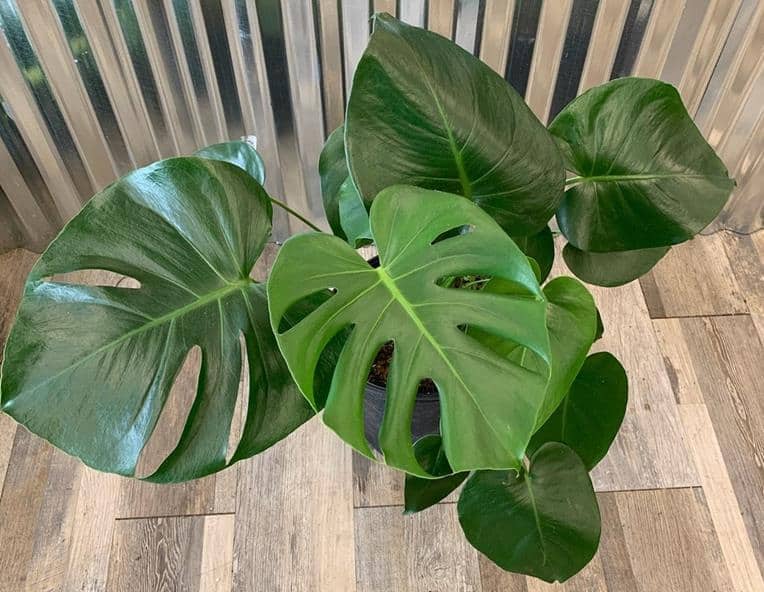 Identification
Scales are small (1/16 to ½ inch), sap-sucking insects belonging to several families under the superfamily Coccoidea and order Hemiptera. They are flat or dome-shaped (bump-like), with fluffy or shell-like bodies.
These insects usually affix them on a chosen point after their crawler stage. But males in a few species may move. Also, males don't have mouthparts, meaning they cannot feed and look gnat-like.
It's good to note that these insects love humidity and warmth. So, they will expect them outdoor during spring and summer. Indoor, they can be present anytime.
There are two types of scales:
1. Armored scales
Armored scales are smaller (1/16 to ⅛ inches long), and their bodies have a shell-like cover, which they secrete. They are variedly colored, shaped (circular, elongated, or elliptical), and appear flattened, i.e., not raised or brumby.
They have invisible legs and antennae, and their bodies are either yellow or orange beneath the shell.
You will commonly find them stationary on lower leaf surfaces, and they may appear as spots. Buy but you can also find them on stems, leaf joints, or any other hidden area, and they don't move, i.e., they are stationary.
That is not all. Armored scales are not a widespread issue in houseplants, except in orchids. So, many people often overlook them.
Last but not least, some of the armored scales include Oystershell, Euonymus, Pine Needle, and San Jose scale.
2. Soft scale
Soft scales are slightly larger (⅛ to ¼ inch long), oval to round, raised, bumpy, or dome-shaped. Unlike armored scales, their bodies don't have shell-like covering. Instead, they have waxy secretions, making their bodies somewhat fluffy.
Most resemble tiny tortoise shells, and their colors vary. But when immature, they look a little light. As they mature, they darken.
Again, unlike armored scales, they don't completely lose their legs or antennae. But they are reduced. Whereas they can move, most adults hardly move.
Soft scales are the most common scales you will likely see on your Monstera, especially the soft brown scale. However, others attack plants, including cottony maple, European elm, Fletcher, hemispherical, Lecanium, and magnolia scale. Their name will give you a hint on which plants they attack.
Scale lifecycle
They have three life stages, egg, crawlers (immature), and adults. The females lay about 600 to 800 eggs which hatch after a few days.
The hatched crawlers are small (pinhead size), have six legs, are highly mobile, and don't have any protective covers. They are the easiest to kill with pesticides.
Scale on Monstera signs and damage
Soft scales, especially the hemispherical and brown scales, are the most prevalent in Monstera and most indoor plants. They use their mouthparts to suck plant juices. This damages cell tissues. Some will even inject toxins.
The signs will depend on the severity of infestation. Some, including damage, are:
Small browning bumps on leaves underside, stems, and other parts of the plant
Honeydew that may attract bees, ants, and wasps
Sooty mold
Yellow mottled leaves
Wilting of leaves
Leaves falling
Stunted growth
How to control or treat scale on Monstera
Some of the ways to treat or deal with scale insects include:
Quarantine infested plants: If your houseplants have scale insects, immediately quarantine them to avoid spread.
Hose or wash your plants: If you have a minor infestation, hose or wash their plants. As you do so, check the leaves underside and midrib, and stems. Also, You can use a soft-bristle toothbrush to remove them.
70% rubbing alcohol: Dip a cotton ball in 70% rubbing alcohol and use it to wipe the leaves.
Insecticidal soaps: Spraying insecticidal for indoor plants may help kill scales. But you will need proper coverage and several treatments, i.e., repeat after every 6 to 7 days until they are gone.  
Neem oil: It will suffocate soft scales and poison them since it contains azadirachtin.
Horticultural oils: Like insecticidal soaps, horticultural oils will help kill these bugs. Just ensure proper coverage, repeat at least three times and use one for indoor plants. They will suffocate these bugs, including adults.
Going to specific brands, here is what we have tried and are happy with:
Bonide Ready to Use Neem Oil - It has a 3-in-1 formulation that will kill eggs, larvae or adult insects. Also, it will help control mites and mildew. 
Garden Safe Brand Insecticidal Soap Insect Killer: It has selected fatty acids (soaps) that effectively kill aphids, mealybugs, aphids, mites, scale insects, thrips, etc. 
Bonide All Seasons Horticultural and Dormant Spray Oil, Insecticide: It controls pests like mites, aphids, thrips, scale insects, mites, etc., and powdery mildew, grease spots, botrytis, rust, etc. 
Outdoor control
Besides the above ways. Here are additional control methods to use outdoors, especially those with nurseries:
Use parasitic scale predators: If outdoors, consider using natural predators like lady beetles, soldier beetles, and parasitic wasps, among others. Don't use insecticides if you have these natural predators.
Systemic pesticides: These pesticides are applied and absorbed into plant tissues. So, these bugs will die the moment they eat the sap.
How to prevent scale insects
Your Monstera may end up with scale insects if you take it outside, bring in an infested plant, or even through open windows, i.e., crawlers can enter your home.
Here are prevention ways:
Inspect any new plants and isolate those with these bugs or any other pests. Be thorough as these bugs can easily blend and won't be noticeable.
Provide proper care and water your plants well. It reduces stress on your plant, making them less vulnerable to these pests.