Finding Thrips on Monstera isn't uncommon, even in indoor ones. They belong to the insect order Thysanoptera and are known as thunderflies and will suck plant juices resulting in discolored or silvery stippling or specks.
They can attack your Monstera adansonii, deliciosa, obliqua, or any other species and many other houseplants.
Learn how to identify thrips on Monstera, damage signs, signs, and how to get rid of these bugs. We will also give you ways to control them and much more.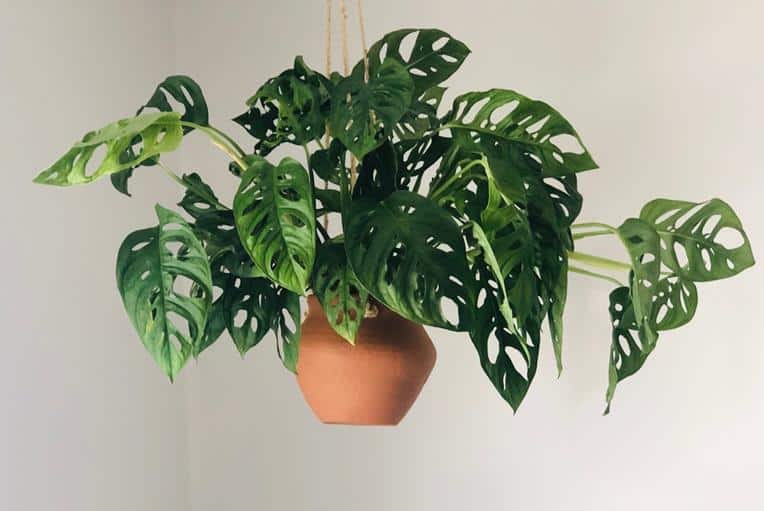 How to identify thrips?
Adult thrips appear as elongated (slender), tiny (1/20-inches or smaller), translucent, white, yellow, brown, or black insects with narrow fringed wings, i.e., both wing pairs have long fringes on margins. If you disturb them, they will fly away or leap.
On the other hand, nymphs are smaller than adults and wingless. They are often yellow to light green and oblong or slender.
Females cause the most damage. And they lay oblong, cylindrical, or kidney-shaped edges into or on buds, leaves, etc.
Last but not least, you are unlikely to see thrips well without a magnifying glass. They will appear as tiny speckles. You need to shake them to a white background to see them.
Life cycle
Females lay eggs that hatch into larvae after 3 to 5 days. The larvae undergo two feeding and non-feeding stage before turning to pupa. For most species, the pupae will fall into your potting mix or in any crevices on the plant. Afterward, they will grow wings and transform into adults.
Do thrips bite
Besides damaging your plants, larval and adult thrips may bite humans. You will see some rashes, welts, and other reactions or irritations on the skin. Luckily, unlike plants, they are not known to transmit any diseases in humans.
Monstera thrips damage or signs
Besides seeing the bugs, there are apparent Monstera thrips damage and signs indicating an infestation. But what you will see will depend damage will depend on the extent of the infestation.
Common signs of thrips on Monstera include the following
The punching and sucking will result in discolored, whitish, or silvery stippling, specks, or tiny spots on leaves. These pests drink cell content, including chlorophyll. Spider mites are the other pests that may cause silvery marks.
You will notice black, varnish-like frass or flecks deposits on leaves. The spots or dots are fecal matter and are more on the leaf underside.
Another sign is injured, twisted, or scarred leaves. Also, you may notice distorted or deformed leaves with papery growths caused by females that damage your plant when they want to lay eggs.
Stunted growth
Burrows on the lower or upper leaf surface (depends on the species present)
Presence of viral disease
Yellow leaves
If you see silvery or grayish-white flecking without any honeydew, webbing, or sooty mold, you likely have thrips and not spider mites.
How to get rid of thrips on Monstera?
You don't like seeing thrips on Monstera or any other plant. They cause a lot of damage, and the adults and larvae may even bite you. Here are ways to control them effectively.
Shake your plant: Place a cloth, light-colored paper, or beating tray beneath your Monstera and vigorously shake it. They will fall on these surfaces, and you can catch them. Just take care not to damage your plant.
Blast with water: Take your plant to a sink or outside and blast it with water for minor infestation. It will knock these bugs off your plant.
Dormant oils: Spray infested plants with dormant oil as they are not harmful. These oils will cover the plant surface (leaves or stems) and suffocate thrips and eggs.
Insecticidal soaps: Spray your Monstera with insecticidal soaps. Insecticidal soaps contain potassium salts of fatty acids, which suffocate these pests. They only work when wet. Once dry, it doesn't work. Garden Safe Brand Insecticidal Soap Insect Killer is one of the best brands in the market.
Use horticultural oil:  Spraying petroleum-based horticultural oils designed for pest control may help. These pesticides will kill thrips and other bugs like aphids, spider mites, whiteflies, and so on. We recommend Bonide (BND212) - All Seasons Horticultural and Dormant Spray Oil, Insecticide.
Neem oil and other lant-based horticultural oils: They too will kill thrips and other pests. But ensure you get safe ones since those are less refined by burn leaves. Besides neem oil, others are soybean, sesame, and cottonseed. Our favorite brand is Bonide BND022- Ready to Use Neem Oil.
Diatomaceous earth: Dust the underside of leaves with diatomaceous earth. It will deter and possibly kill thrips in their pupal state.  Some like Diatomaceous Earth are organic and food-grade safe. Also, they don't cost much.
Use traps: Blue or yellow sticky traps may help kill adult thrips.
Managing them outdoors
Besides the above methods, you can treat thrips on outdoor plants in your nurseries using the following methods.
Try predators like pirate bugs, parasitic wasps, mites, and green lacewings.
Apply pyrethrum 3 to 4 days apart.
Use systemic insecticides like imidacloprid
Try chemical insecticides such as bifenthrin or acephate and spray at least twice a week apart.
How to prevent thrips
It's not just your Monstera that thrips will attack but many of your other houseplants. Also, these pests will be a big problem for people who have plant nurseries. So, it would be best if you put control measures.
Some of the ways to prevent houseplant infestation by thrips include the following:
Regularly check your plants for any signs of these bugs and kill them early before they present a severe problem. If you see any infected plant, isolate it.
Inspect all new plants before buying them or putting them with others. If you see these bugs, don't buy them.
Use a sterilized pruning shear to cut any heavily infested or injured part of the plant and adequately dispose of them. Don't compost them.
Avoid underwatering or overfertilizing your Monstera, especially with fertilizers rich in nitrogen. Why? Because underwatered or overfertilized plants will have a higher nutrient concentration. So, these bugs eat more of your plants as they find them nutritious.
Regularly mist your plant and ensure they are well-watered. This will discourage thrips that favor drier places.
Consider covering your pots with reflective mulches like silver polyethylene or aluminum mulch as they help hide your plants from thrips, i.e., they cannot easily see your plants well.
For nurseries, consider having plants that attract thrips, predators. Also, don't use insecticides as they may kill these beneficiary insects.  
Cage your plants in a mess or glass.