This Amerique Bamboo flooring review will enlighten you on the various bamboo products they have, including solid (strand-woven, vertical or horizontal) and engineered planks.
We will also look at pros and cons, installation, prices/costs, cleaning, care, and maintenance.
Amerique Bamboo flooring planks
Amerique Bamboo flooring uses Mao Bamboo harvested after five years (peak maturing time) to ensure hard and durable planks. This company has solid strand-woven, engineered, vertical, and horizontal bamboo planks.
Depending on the exact one you pick, you may end up with carbonized, natural, or stained planks with a smooth texture or hand-scraped.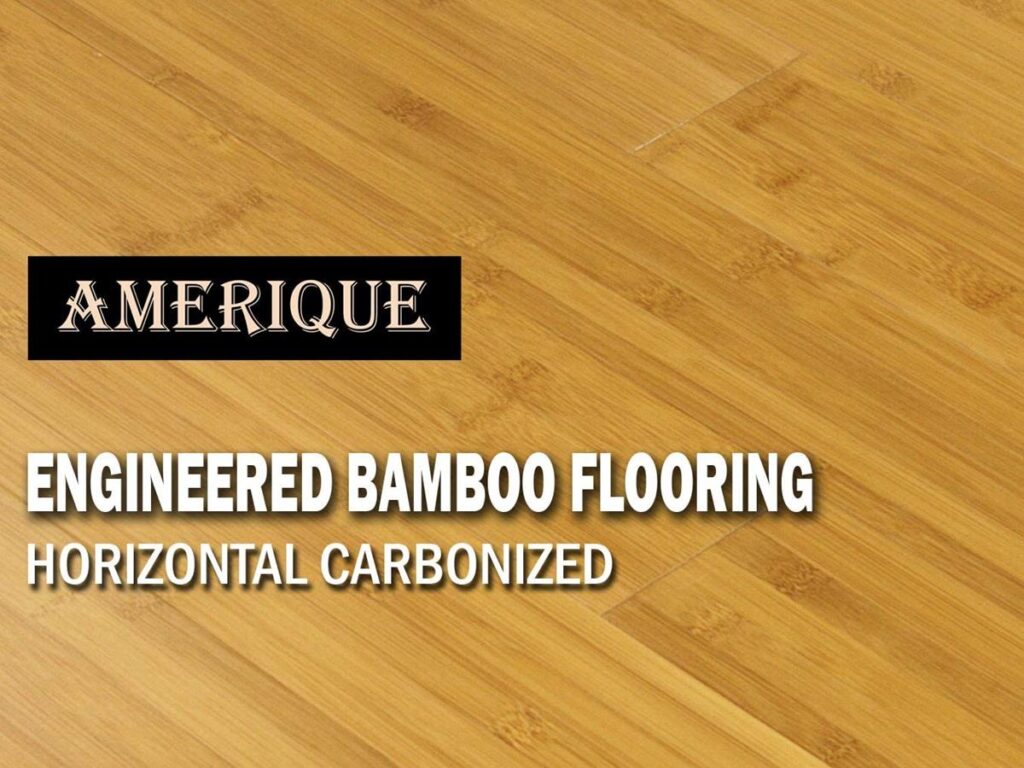 All these planks come with the following specs
Gloss level: Semi-gloss
Edge style: Beveled on all the four edges
Finish: 9 coats of UV cured polyurethane with aluminum oxide
Warranty: 25-year finish warranty and a lifetime structural warranty
Let us look at each of their products in detail.
1. Amerique Solid Bamboo Flooring Premium
Amerique has six solid bamboo flooring planks that are either horizontal or vertical grained. Of the six, two are horizontal (carbonized and natural), two are vertical grained planks (natural and carbonized while the last two are stained.
The stained planks are Amerique Solid Bamboo Flooring 3 feet Horizontal Merlot (Red) and Amerique Solid Bamboo Flooring 3 feet Horizontal Espresso (Burnt Mocha).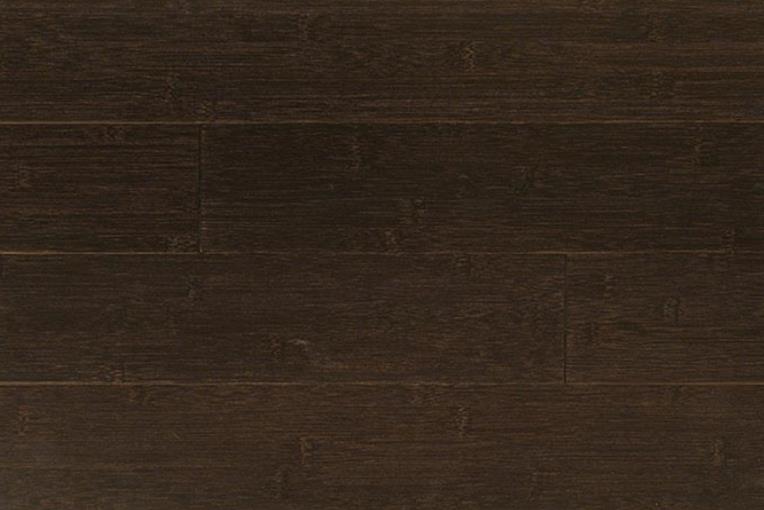 Dimensions 37-¾″ x 3-¾″ x ⅝″
Prices: $2.98/Sq. Ft (carbonized and natural), $2.99 Sq. Ft for the stained planks. However, if you opt for at least 500 square feet, you will pay $2.85 Sq. Ft,  instead of 2.98 Sq. Ft, for the natural or carbonized bamboo planks.
Colors: Brown (carbonized), blonde (natural), expresso, and merlot (red)
Installation: Nail or glue down  
Milling: Tongue and groove
installation level: On/above grade
Edge style: Beveled Edge on all four sides
2. Amerique Engineered Click Bamboo Floor
Amerique Engineered Click bamboo floor has planks. Two of these planks are 7 feet horizontal (a carbonized and a natural) and two 6 feet vertical (natural and carbonized) planks.
These prefinished bamboo planks have nine coatings finish, and you can install them on both wood and concrete subfloors.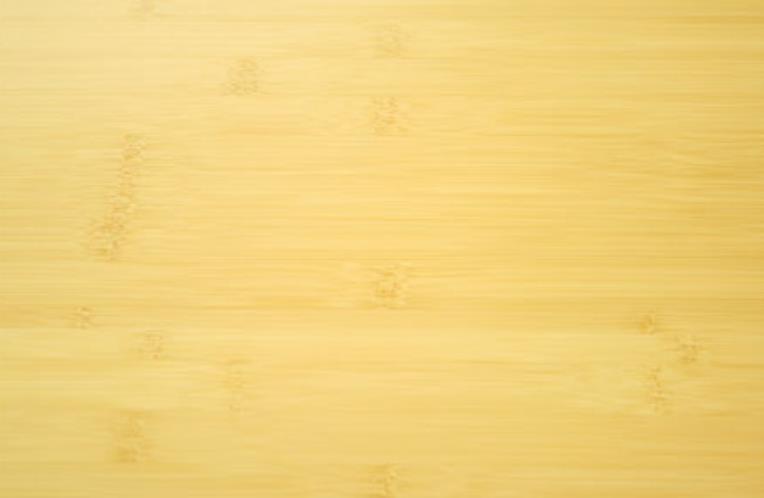 Details and specs
Dimensions: ⅝″ thick x 7-7/16″ wide x 74-¾″ long (vertical) and 86-½″ long (horizontal)
Price: $3.24/Sq ft (horizontal) and $3.50 /Sq ft (vertical)
Colors: Brown (carbonized) and blonde (natural)
Wear layer: 4mm
Installation: Float or glue down
Milling: Click-lock
installation level: Below/On/above grade
3. Amerique Strand Woven Bamboo Floor
If you need strand-woven bamboo from Amerique (FloorUS), you can go for the 5-⅛″ wide or the 3-¾″ wide planks available as either carbonized or natural.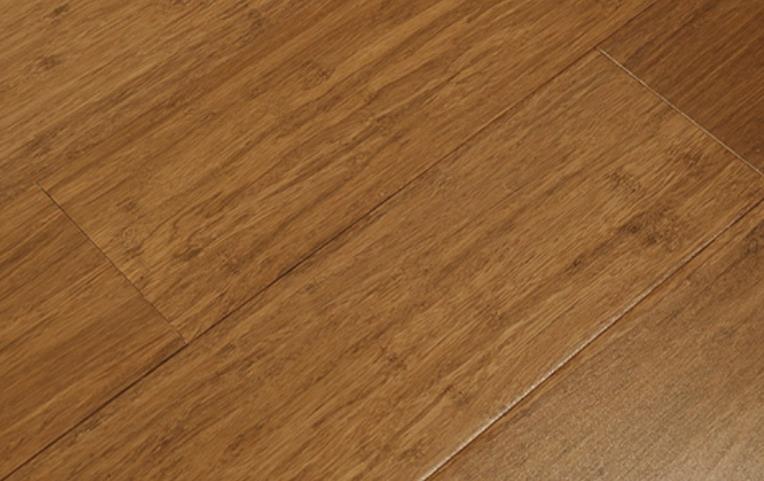 Price: $3.89 per Sq. ft or 3-¾″or $4.28 for the wider 5-⅛″
Installation: Nail, staple, or glue down
Installation level: On/above grade
Janka hardness rating: 3000
Finish: Polyurethane with aluminum oxide
Milling: Tongue and groove
Installation grade: On/above
Installation: Nail, staples, or glue
4. Amerique Orientique Distressed Hand-Scraped Bamboo Flooring
These antique-looking solid, horizontal bamboo flooring planks with a distressed hand-scraped surface texture are available in two sizes.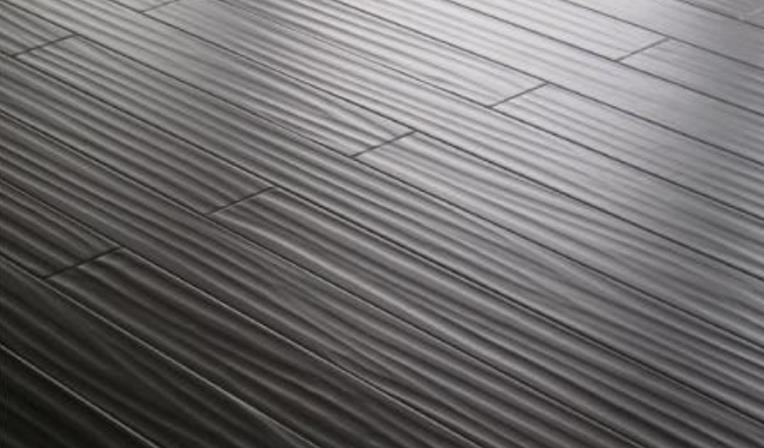 The Distressed Hand-Scraped Bamboo Medium Carbonized (Brown) 6 feet Flooring measures 72″ x 6-¼″ x ⅝″ while Orientique Distressed Hand-Scraped Bamboo Pacific Mahogany (Satin Red) and ORIENTIQUE Distressed Hand-Scraped Solid Bamboo Smoke Dark (Jacobean) measure 47-¼″ x 5″ x ⅝″
All the three planks go for $4.00/Sq Ft., are 100% hand-scraped, and have a T&G installation profile. Installation is done by nail, staple, or gluing down.
5. Moldings
Besides planks, Amerique Bamboo has various molding, i.e., quarter round, reducer, threshold, T-molding, and wallboards, both carbonized and natural.
Other products
Besides bamboo flooring planks, Amerique also sells Underlayments like AMERIQUE Wood, Bamboo & Laminate Flooring Underlayment Padding with Vapor Barrier 3-in-1, 2mm, artificial planks, bath tissues, packaging materials, electronics, LED tubes, cabinets, and vanity.
Price/cost
Amerique bamboo price ranges from $2.98-to $4.00/Sq Ft. This cost does include professional installation, which may cost you anything between $2 and $5 (natural average). How well do these planks compete with other brands?
Amerique bamboo prices are comparable with Yanchi, Lumber Liquidators ($2.48- $3.89/Sq. Ft.) LifeProof ($2.99-$3.79/Sq. Ft.), Yanchi $3.99/Sq. Ft, Eco Forest ($1.99-4.29/sq. ft.) and Home Legend ($2.49-$4.79/sq. ft.)
However, they are cheaper than brands like Teragren ($5-$9/Sq. Ft), ECOfusion ($6.19-$8.88/Sq. ft), Cali Bamboo ($3.79-$6.24/Sq. ft). Ambient $4.07-$8.21/Sq. Ft.
Considering their quality, and because most are either horizontal or vertical with a low Janka rating, we don't think these planks are worth the price.
Pros and cons
Some of the pros of Amerique bamboo planks include the following:
This company has an extensive collection of horizontal and vertical planks with a charming, classic bamboo-like look with visible knuckles.
You get a lifetime structural and a 25-year finish warranty.
They are affordable when compared to other brands like Cali Bamboo, Ambient BP, or Teragren.
Cons
Amerique bamboo planks don't have an indoor air quality certification like GreenGuard Gold or FloorScore.
They lack precise installation and product information. For instance, the company will refer you to use Goodfellow's Installation Instructions, yet there is no apparent connection between them.
The company has primarily horizontal or vertical planks, which have a low Janka hardness.
They scratch and dent easily
Installation
Before installation, acclimate Amerique bamboo flooring planks for at least 72 hours at an ideal temperature of 16°C to 27°C (60-80° F) with a relative humidity of 40% to 55%. After that, maintain these conditions during installation and for the rest of your floor's lifespan.
Installation of the Amerique Solid, strand-woven, and Orientique distressed hand-scraped bamboo plank with tongue and groove installation profile is by a nail or glue-down method.
You can install them on or above grade levels on appropriate subfloors on wood, including ¾-inch thick OSB (oriented strand board) or CDX plywood or fully cured concrete slab.
These subfloors must be even and clean, and for those not vapor sealed, including concrete, you need a vapor barrier or glue with a vapor barrier.
On the other hand, float the Amerique Engineered Click Bamboo installation since they come with a click-lock installation profile.
You can float these planks at all levels (below, on, and above grade) on a wood or concrete subfloor. If the subfloor emits vapor, use a 6 mil polyethylene vapor barrier.
The rest of the details, including expansion gap, adhesives to use, cleats, or nailers, are more or less what you use on any bamboo flooring installation.
Care and maintenance
Proper care and maintenance will help elongate your floor's lifespan. This care and maintenance will include using the correct cleaning methods, protecting them, and maintaining recommended 60-80° F temperatures and relative humidity of 40% to 55%.
Some of the necessary care and maintenance include:
Vacuum clean, sweep or dust-mop your floors regularly to remove any grit or loose dirt. Grit may cause scratches (rub the surface as you walk).
During routine cleaning of your Amerique bamboo floors, use no-wax hardwood cleaners. Consider buying a Bona Hardwood Floor Kit. Never use oil soap, harsh, corrosive, or abrasive cleaners.
Never wax, wet mop, or even steam mop your floors, as this will invalidate the warranty and may damage them.
In case of spillages, use a slightly damp piece of cloth to wipe them off and clean the area with your cleaner
Ensure your furniture legs have protective felt, trim your pet's claws, or remove shoes with spikes or cleats.
Also, don't drag heavy appliances or furniture, use approved rags on high-traffic areas, and have doormats at external entrances to collect dirt, grit, dust, etc.
In case of any damages, let a professional handle the repair part. Professionals will know which way to repair or fix any damage.