Tesoro bamboo flooring planks (engineered and solid strand) are among the best and most eco-friendly bamboo flooring planks you can buy.
This Tesoro Woods bamboo flooring review covers more on their products, cons, pros, prices, installation, cleaning, repair, and much more.
About Tesoro Woods
Tesoro Woods was incepted in 2009 by William Jopling, and it is part of TW Flooring Group, which also acquired EcoTimber in 2012.
This company aims to grow a green residential flooring market using truly eco-friendly wood and bamboo from sustainably grown forests and plantations, in line with the Forest Stewardship Council (FSC®) regulations.
Besides bamboo, Tesoro Woods also sells cork and various wood floorings such as French oak, white oak, hickory, maple, walnut, rosewood, and poplar.
In this post, we will be focusing only on Tesoro Woods bamboo flooring.
Tesoro Woods bamboo flooring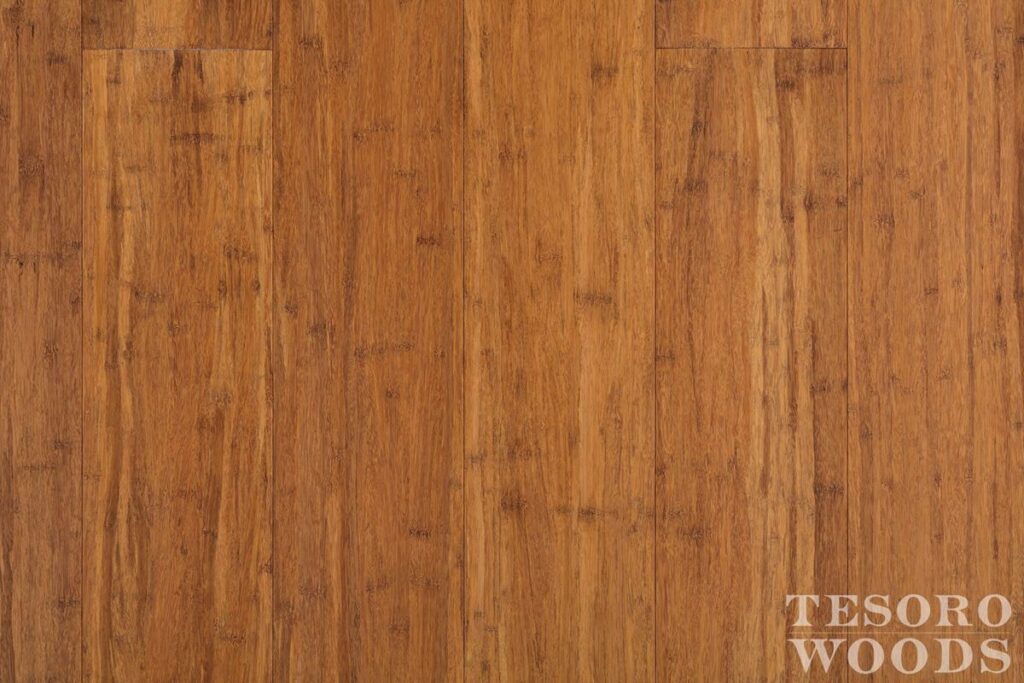 Through a partnership with the Netherlands-based MOSO® Bamboo Products (MOSO® International), Tesoro Woods brings you eco-friendly, superior-quality bamboo flooring intended for residential use.
They are the exclusive residential dealer of solid bamboo by MOSO® Bamboo Products in the US, whose products are CO2 neutral.
As you may already know, MOSO® International is one of the pioneers of creating innovative bamboo products and the first company to introduce bamboo flooring products sourced from China to Europe in 1997.
Some of the eco-friendly attributes of these planks include:
FloorScore indoor air quality certification
LEED MR6 (Rapidly renewable material) and LEED EQ4.4 (low emitting material) contribution
No added urea,
Ultra-low VOCs
Lacey act compliant
Additionally, all Tesoro Hardwood planks have a
Cfl-s1 Fire Rating
Matte gloss
Janka hardness of 5342
UV-cured acrylic urethane finish.
Finally, Tesoro Woods has two main bamboo flooring products, i.e., the solid and engineered bamboo planks. Let us look at each of these two in detail.
1. Tesoro Woods Solid Strand Bamboo flooring
Like other solid strand planks, Tesoro Hardwood solid strand bamboo floorings have a strand-woven plank on their entire thickness and a core and a veneer, as it is the cause of engineered planks.
You can install Tesoro solid strand bamboo planks in areas with high traffic, including high heels, and people with pets and kids can still have this flooring since it is almost three times stronger than oak.
Finally, these planks come in various colors, and their texture may be smooth, textured, or hand-scraped. Also, the planks are carbon dioxide neutral, i.e., the manufacture achieves net-zero carbon dioxide emissions.
Additional details/specs
Dimensions: 9/16″ thick x 5-⅝″ wide x 72″ long except honey which is 3-¾″ wide x 72″ long
Installation profile: Tongue and groove (T&G)
Edge style: Micro-beveled edges and ends
Installation level: On or above the level
| | |
| --- | --- |
| Name (Dimensions) | Color, surface characteristics |
| Honey (9/16″ T x 3-¾″ W x 72″L) | Blonde, smooth |
| Honey Wide (9/16″ T x 5-⅝″ W x 72″L) | Blonde, smooth |
| Caramel Wide (9/16″ T x 5-⅝″ W x 72″L) | Brown, smooth |
| Caramel Antiqued (9/16″ T x 5-⅝″ W x 72″L) | Brown, hand-scraped |
| Coffee bean (9/16″ T x 5-⅝″ W x 72″L) | Brown, smooth |
| Greystone Rustic (9/16″ T x 5-⅝″ W x 72″L) | Gray, hand-scraped |
| Oak Grain Whitewash (9/16″ T x 5-⅝″ W x 72″L) | Beige, brown, gray shades, textured |
| Pearl (9/16″ T x 5-⅝″ W x 72″L) | Grey, smooth |
| Roasted bark (9/16″ T x 5-⅝″ W x 72″L) | Brown, hand-scraped |
| Teton Rustic (9/16″ T x 5-⅝″ W x 72″L) | Sand (brows and gray shades), hand-scraped |
2. Tesoro Woods Engineered Bamboo flooring
Tesoro engineered bamboo planks come with an easy-to-install click-lock system, are more dimensionally stable, and you can install them on all levels.
They have the same durability as solid strand bamboo, as we have seen above. You can refinish (re-sanded) them severally, making them perfect for active families, including those with pets and dogs.
These planks come with various surface textures (hand-scraped, wire-brushed, or smooth) and colors.
All the planks are9/16″ thick and 72″ long except for Stonewash come in varying lengths. However, depending on which plank you pick, it could be 5-⅝″ wide with a 4mm strand bamboo wear layer or 7-½″ wide with a 3mm ear layer.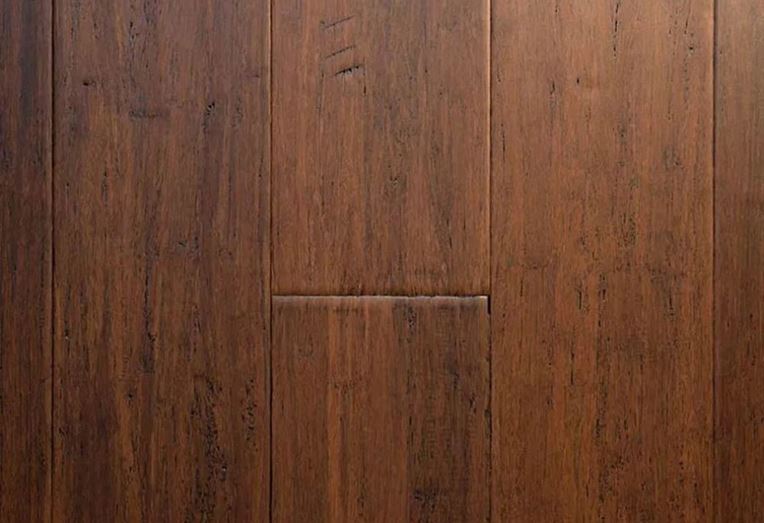 Details/specs
Installation profile: click-lock
Edge style: Micro-beveled edges and ends
Installation: below, on, or above grade
| | |
| --- | --- |
| Name (dimensions) | Color and Surface attributes |
| Caramel (9/16″T x 5-⅝″ W x 72″L) | Brown, smooth |
| Honey (9/16″ thick x 5-⅝″ Wide x 72″ Long) | Natural/Blonde, smooth |
| Coffee X-Wide (9/16″ T x 7-½″ W x 72″ L) | Coffee/dark brown, hand-scraped |
| Greystone Rustic (9/16″T x 5-⅝″ W x 72″L) | Gray, hand-scraped with modern and vintage appeal |
| Roasted Bark (9/16″ T x 7-½″ W x 72″ L) | Brown, hand-scraped |
| Stonewash (9/16″ T x 7-½″ W x 24″$ 48″ L) | Gray, smooth |
| Tucson (9/16″ T x 7-½″ W x 72″ L) | Light Brown and cream shades with an old/rustic hand-scraped texture |
| Whisper (9/16″ T x 7-½″ W x 72″ L) | Weathered light gray colored planks a wire-brushed |
Prices/cost
Tesoro bamboo flooring price ranges from $6.50-$9.00 per square foot. However, since you can only get these planks from the various distributors, i.e., the company doesn't directly sell flooring planks, this price may be higher or lower as some vendors' prices depend on your order size.
Besides the buying costs, expect to professional incur about $2-$5 per square foot. If you need a sample, be ready to pay $0.50 per piece.
Comparing Tesoro Woods bamboo price with other high caliber bamboo flooring companies like Ambient ($4.07-$8.21/Sq. Ft), ECOfusion ($6.19-$8.88/Sq. Ft), Cal Bamboo ($3.79-$6.24/Sq. Ft), and Teragren ($5-$9/Sq. Ft), it is clear that Tesoro is comparable but on the higher side.
However, if you want something cheaper, try Eco Forest ($1.99-4.29/sq. ft), Lumber Liquidators ($2.48- $3.89/sq. ft), Yanchi ($3.99/sq. ft), LifeProof ($2.99-$3.79/Sq. Ft ) among others.
Finally, price alone shouldn't be a determinant since quality, safety, and durability matter too.
Where to buy them - dealers
As already hinted, Tesoro Woods doesn't sell their flooring directly to buyers. However, you can use their dealer locator to know the closest place where you can get their planks.
Warranty
Tesoro Woods bamboo planks came with a lifetime structural warranty, a 27 residential wear wear-through finish warranty. For light commercial use, the wear-through contract is five years.
Pros and cons
So far, from this review, you have a general overview of what to expect from Tesoro Wood bamboo. Here are some of the pros of these bamboo planks.
Hard (high Janka rating and highly durable planks that will work even in high traffic or active families with pets and kids. Additionally, the solid strand planks are compatible with high heels.
You can refinish these bamboo flooring planks several times. Therefore, in case of any deep scratches or gorges, just sand, stain(optional), and seal the planks.
Available in a variety of colors and surface treatments/textures. Depending on your choice, you can achieve both modern or traditional rustic appeal.
Some planks, i.e., the engineered, are radiant heat safe.
The company has a massive network of suppliers near you. Just find the nearest dealer.
Tesoro Woods offers excellent customer service. Just talk to them, and they will address any issues you have.
On the downside, these planks have these cons or disadvantages.
Tesoro Woods bamboo planks are among the most expensive in the market, competing with Teragren and ECOfusion.
A few people have complained that these planks scratch easily.
There are cases of the planks warping, cupping, and shrinking, something we link with wrong conditions.
Installation
Tesoro bamboo flooring planks require ideal conditions of 60-80°F with a relative humidity of 40%-60%. Maintain these conditions 48 hours before installation, during acclimation, installation, and throughout the lifetime of your floor.
All planks require at least 72 hours (3-full days) acclimation or up to 7 days if installing in places with extreme conditions.
Acclimate the planks inside the rooms you will install, but if the subfloors emit moisture, lay an 8-mil polyethylene plastic tarp and use wood sleepers or pallets to keep them 4 inches off the vapor barrier.
Ensure you install on the suitable subfloor with the correct humidity level and maintain recommended expansion spaces. Also, don't forget to have molding on required runs lengthwise or across.
Finally, how to install the planks depend on whether you pick the solid or the engineered planks. Let us look at each briefly:
1. Solid strand bamboo
Tesoro solid strand bamboo planks come with a tongue and groove (T&G) milling profile, and you should install on or above the grade only.
Installation is by glue or nail-down, and acceptable subfloors are as follows:
Glue down: Concrete, gypcrete (first apply an acrylic-based sealer), OSB ¾", Advantech OSB, existing wood floors (sand lightly), and Ceramic/marble (first scuff them)
Nail: PLYWOOD ⅝" min, Advantech OSB, Existing Wood Floors, and firm kitchen vinyl or linoleum installed over plywood.
Ensure you use the right nailer and adhesive with a vapor barrier if the subfloor emits moisture.
2. Engineered bamboo floors
You can install Tesoro Wood engineered bamboo flooring planks below, on, or above grade on any subfloor that is dry, firm, and level.
If installed on concrete, ensure it is fully cured and use a 6 mil polyethylene sheet or a 3-in-1 underlayment (vapor barrier). Do the same for the case of crawl spaces or moisture-emitting subfloors.
Radiant heat
Install only 9/16" multi-ply engineered bamboo flooring over the radiant heat system as the warranty covers the radiant heat systems.
However, ensure you use at least 2mm IXPE closed cell 3 in 1 underlayment or an equivalent and follow the recommendations of NWFA Radiant Heat Protocol.
a). cleaning
Cleaning Tesoro bamboo floors is more or less like cleaning any other bamboo or hardwood floors. Here is what you should/shouldn't do:
Regularly sweep or vacuum clean your flooring to remove dirt and grit. Grit accumulation may cause abrasion. Also, clean any area mats/rugs or replace them regularly as they too can accumulate grit.
During a routine cleaning, use Bona Ultimate Hardwood Floor Care Kit and follow the cleaning instructions provided.  
Never use floor waxes, petroleum-based cleaners, oils, or any other harsh cleaning products.
Never stem-mop or wet-mop your floor. However, a thoroughly wrung mop will be ok as long as the water evaporates fast enough to prevent it from seeping in-between spaces.
b). Preventive maintenance and preventing scratches
While very hard, bamboo flooring isn't scratch-resistant. Therefore, you must make a deliberate effort to avoid scratches in the following ways.
Have furniture or felt padding on all furniture legs
Remove spiked shoes, those with cleats or work boots that may be having pebbles lodged on their sole.
Trim your pet's claws
Have mats at all exterior entry points to collect dirt, grit, or water and ensure you regularly clean them.
Dry any spillages immediately using a soft piece of cloth.
Remove any soiled mats as they can trap moisture which will, in turn, damage your floors.
c). Top coating/recoating
Periodically recoat your floors to help elongate their lifespan as well as restore the new vibrant appearance.
Also, recoat them immediately you notice some wear as this will cost less and keep your floors looking new. You don't want them looking dull.
Recoating will entail a Screen and Recoat process, and we highly recommend that you let a professional handle the job.
c). How to repair scratches
In case of minor scratches that don't compromise the clear finish/coat, hide the blemishes using Tibet Almond Stick Scratch remover or any good stain pen.
However, look for Minwax pens or Varathane that closely match your floor color if you have darker planks.
Finally, if your floor has severe scratches that go beyond the finish layer, go for a blend and fill wax pencil. Sometimes, it may require a combination of these techniques.
Verdict
Tesoro Woods bamboo flooring is a durable and genuinely eco-friendly bamboo flooring with ultra-low VOCs and no added urea. We highly recommend it, and any green building material should pick it.