Today, we will be reviewing Wellmade bamboo flooring to tell you about their HDPC® Waterproof Strand Bamboo flooring planks.
Besides telling you more about their bamboo planks, this Wellmade bamboo flooring review will cover pros, cons, installation, care, and maintenance. Are these Wellmade strand bamboo flooring a good buy?
About Wellmade
Wellmade is an innovative flooring manufacturer headquartered at 26300 SW 95th Avenue, Suite 103 Wilsonville, Oregon 97070. They recently opened a new facility in Bartow County, Georgia.
This company manufactures various HDPC flooring like traditional hardwood, premium hardwood, strand bamboo, vinyl planks and vinyl tiles, and related accessories.
This review will only focus on prefinished Wellmade bamboo flooring made using sustainably harvested bamboo and an HDPC core.
Wellmade strand bamboo review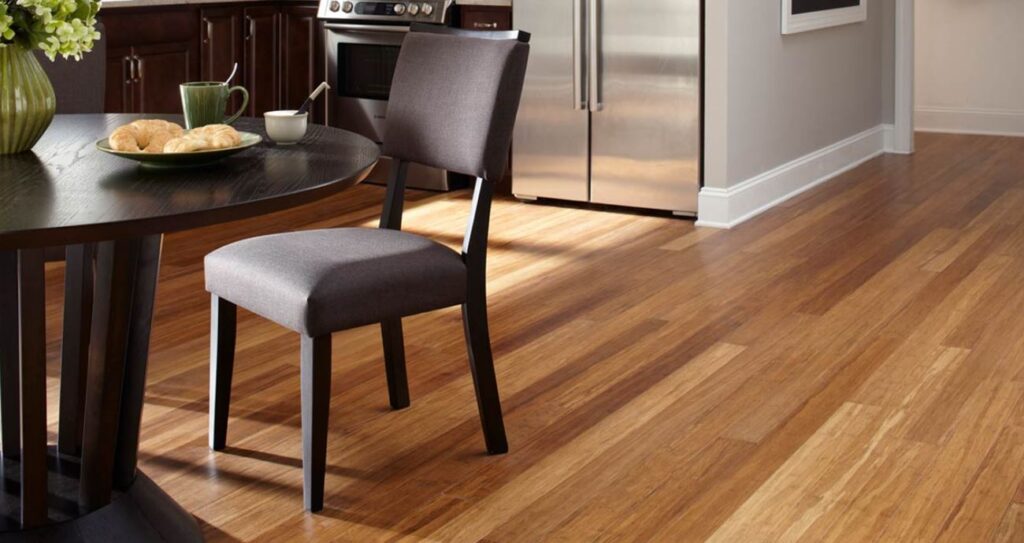 Enjoy the warmth and charm of real bamboo flooring with the Wellmade HDPC® Waterproof Strand Bamboo planks.
Wellmade has other products sold as Hydri-HDPC bamboo flooring at Lowe's or OptiWood bamboo flooring at Home Depot.
These bamboo floorings are times harder than solid oak hardwood flooring, resist water and impact better and emit ultra-low VOCs (have a GreenGuard Gold indoor air quality certification).
Here are additional details about these planks:
1. Construction
These planks have a strand bamboo veneer bonded on a High-Density Plastic Composite (HDPC) made of calcium carbonate, virgin PVC, and plasticizer additives. Also, the planks have a vinyl backing, meaning you don't need to install one.
Be guaranteed that the patent-pending HDPC® outperforms the traditional SPC bamboo flooring. It is harder, denser, and has better thermal properties.
2. Finish
To ensure these bamboo planks resist scratches/wear and are easy to clean and maintain, Wellmade uses the HardMAX® nano finish technology composed of UV-cured 13-coats Polyurethane/aluminum oxide finish. This finish shows superior thermal stability and is much harder.
3. Colors and dimensions
Wellmade has 10 HDPC® Waterproof Strand Bamboo planks available in various adorable colors, i.e., Coastal Path, Morrel, Tanglewood, Greyhound, Gunsmoke, Ginger Root Bungalow, Gingerbread, Old Country and Sheffield.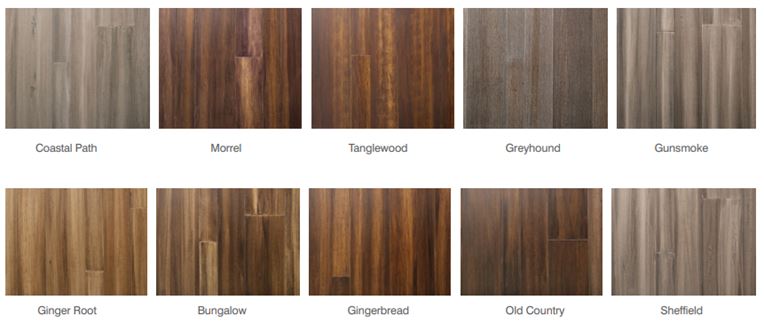 Each of the ten planks is available in two sizes, i.e., the traditional plank that measures 7.3mm x 5.13″ x 36″ and a premium plank whose dimensions are 8.3mm x 7.48″ x 72″.
4. Installation profile and level
Additionally, these planks are easy to install, thanks to the Uniclic® Locking System (click-lock), and you can install them on any level, i.e., below, on, or above grade.
5. Warranty
Wellmade HDPC® Waterproof Strand Bamboo flooring has a lifetime residential and a 10-year light commercial warranty. These warranties protect you against wear-through under normal traffic conditions and that the planks are free of any manufacturer defects.
Also, these warranties cover damp mopping and regular household spills and water-based radiant-heated subfloors (not electric) with temperatures not exceeding 81°F (27°C), and the relative humidity should be between 25% and 65%.
Discontinued products
Initially, Wellmade had strand bamboo flooring such as Golden Arowana, Wellmade carbonized strand bamboo, etc., which they no longer have
Moldings
Besides the planks, you can also purchase complimentary matching moldings such as the T-mold, overlap reducer, overlap stair nosing
Price/cost
If you are interested in Wellmade HDPC® Waterproof Strand Bamboo, kindly contact the company for pricing once you decide if you want the private label or Wellmade branded planks.
Pros and cons
Why should you buy these Wellmade bamboo planks? Here are some pros that make these planks an excellent choice:
These planks resist water significantly better, making them versatile. You can use them in almost any room of your house, including the kitchen.
Superior impact resistance and more dimensionally stable planks
Ultra-low VOCs emission that meets the set standards.
Superior HardMAX® nano finish technology will ensure they don't get scratches quickly, is easy to clean, and has thermal stability
Unlike most bamboo planks, you can damp-mop these planks using recommended cleaners. However, ensure you don't thoroughly wring the mop.
On the downside, these planks have the following issues
Installation
Wellmade bamboo flooring installation is by floating since they come with a click-lock (Uniclic™ locking system) installation profile., i.e., glueless floating. You can install these flooring on all grade levels, i.e., below, on, or above grade.
Secondly, these planks require ideal temperatures of 60°F and 85°F (15.56°C 29.44°C) with the relative humidity ranging from 25%-60% during acclimation, installation, and for the rest of the floor's lifespan.
Ensure you install these floors on the suitable subfloors with recommended moisture levels, keep the correct expansion gaps, and use a vapor barrier to emit vapor, such as concrete floors on any floor. A 6-mil polyethylene film will work fine.
Finally, while click-lock installation is straightforward, let a professional installation do it if you are not a DIYer. Wrong installation may invalidate the warranty.
Acclimation
Wellmade bamboo flooring doesn't require acclimation. However, it is beneficial. To acclimate these planks, store them inside the rooms, where you will install them for at least 24 hours under the ideal conditions given above.
Subfloors
You can install these planks on wood/concrete subfloors or some existing floors (not all existing floors are eligible)
For concrete, you need to cure the slab fully and use a vapor barrier. Also, concrete should have the recommended moisture level.
When installing wood subfloor, including lauan plywood, underlayment grade plywood, ensure these subfloors are smooth, level, and flat. Also, ensure no vertical movement of wood subfloors as this will wear and damage the click-lock system.
Finally, you can install these planks on various subfloors, including ceramic, marble, terrazzo, tile/single layer resilient sheet flooring. However, they should be in sound condition.
Radiant heated subfloors
You can install these floors in radiant heated subfloors. However, ensure you follow recommended guidelines. Additionally, only water-based radiant heating systems have a warranty cover.
Wellmade bamboo floors care and maintenance
How to care for and maintain your Wellmade bamboo flooring is more or less the same as you do with any other bamboo flooring. It includes proper cleaning, maintaining the right conditions (humidity and temperature), and some protective/preventive measures:
Ideal conditions
Maintain temperatures of 60°F and 85°F (15.56°C 29.44°C) with a relative humidity of 25%-60% throughout the lifespan of your floor. Invest in an HVACs system or an air conditioner with either a humidifier or dehumidifier.
Cleaning
Regularly sweep with a broom/microfiber dust-mop or vacuum the floor to get rid of dirt and grit. Don't use a vacuum cleaner with a beater head or stiff brush or one for carpets.
During a routine cleaning, use bamboo/hardwood cleaners like Bona and follow cleaning instructions. You can damp mop these floors using these cleaners.
Don't use any harsh or abrasive products, oil soaps, or any other cleaning product not intended for bamboo or hardwood floors.
Protective/preventive measures
Install furniture or felt pads on furniture legs (chairs, tables, sofas, etc.)
Have doormats on all exterior entrances to help collect dirt, water, grit, and so on.
Remove shoes with cleats
Never drag heavy appliances, furniture, or items on your floors
Trim your pet's nail
Dry any spills immediately using a damp piece of cloth