Brands like LifeProof, Cali's Geowood Bamboo, AquaSeal, AquaGuard bamboo flooring may make one conclude that some bamboo floorings are waterproof. Are they genuinely waterproof, or is this just another marketing gimmick?
We will tell you if bamboo flooring is waterproof or water-resistant and whether it is suitable for the basement, bathrooms, or kitchen. Also, we will give you an overview of the best alternative for places prone to high moisture and much more.
Why bamboo?
Bamboo is a charming flooring option whose planks of various colors (natural, stained, or carbonized), textures and plank sizes (wide, narrow, long, or even parquet blocks). It is eco-friendly, easy to care for, will raise property value, and comfortable for your foot.
Furthermore, well-manufactured strand-woven bamboo flooring (solid or engineered) is harder than any hardwood with Janka Hardness of 4000-6000, doesn't get scratched or dented easily, and lasts long, and so on. Some superior brands can handle children's messes, places with high traffic, pets, and high heels!
However, even strand-woven bamboo does get scratches but not easily. Fortunately, for most brands, you will still refinish them once they have lots of scratches, become dull, or you can even replace damaged ones easily, especially if your house has click-lock engineered bamboo planks.
What about water? Is this flooring resistant and waterproof or not? Remember, it is grass and not wood!
Is bamboo flooring waterproof or water-resistant?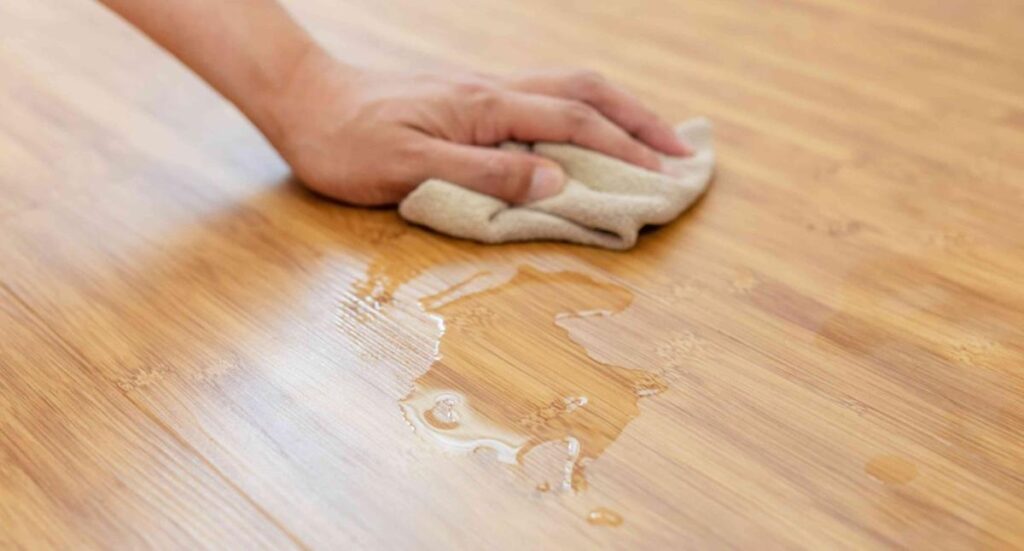 Before we give you an answer, it is good to distinguish between waterproof and water-resistant. A floor is waterproof if water cannot penetrate it irrespective of how long you let water stand on it. An excellent example of waterproof flooring is tiles and vinyl.
On the other hand, water-resistant flooring can withstand water for some time but cannot do that for so long, like for several days or months.
Back to our subject matter, you deserve to know that bamboo flooring is not waterproof, and there is no organic flooring that is 100% waterproof, including cork and wood. Even bamboo itself isn't waterproof!
Water or liquids will eventually seep through and soak it. Excessive exposure to water and moisture will cause water damage, i.e., expect unsightly spots marks, discoloration, warping, swelling, carping, and so on. In extreme cases, bacteria may grow.
You may argue about the waterproof finish on bamboo flooring. Yes, it will help prevent water penetration. However, even if glued, water will eventually penetrate between the plank joints and soak the plank, making it swell. Therefore, gluing won't seal against standing water completely.
Also, as it shrinks, it will leave some gaps between planks or boards. Even waterproof topcoats like polyurethane cannot wholly prevent the gaps created, and they will make way for water or liquids.
Typically, well-made or high-quality engineered or SPC bamboo flooring can resist water for about 20-30 hours (better quality offers superior resistance to spills). And when compared to wood, bamboo is slightly more water-resistant. It also resists mildew and molds much better than wood and can withstand humidity and temperature fluctuations better too.
For instance, unlike wood, strand-woven bamboo may remain intact when exposed to water for several hours and retain its shape once it dries, but wood gets damaged permanently.
Because of the better water resistance, you can use some bamboo flooring in rooms with humidity or temperature fluctuation (40 and 60 percent). Such rooms may include basements (if designed for below-grade installation), kitchen, bathroom, utility, laundry rooms, so long as they don't get so wet for a long time.
Finally, we encourage that you dry your bamboo flooring using a towel or any soft, absorbent fabric as soon as it gets wet. Drying will help elongate its lifespan and prevent warping and discoloration. Also, before using bamboo in these rooms, check if the warranty covers them or not if you are considering compensation.
Kitchen bamboo flooring
Bamboo is water-resistant but not immune to water. However, since it can resist small spills or water puddles for much longer, it is a perfect choice for your kitchen if you don't want ceramic tiles or vinyl.
The use of bamboo flooring for kitchens does have pros and cons. It looks great, is comfortable, will raise your property value and other pros. On the downside, you must be ready to dry any liquid spills or splashes. Leaving a lot of water on the floor for a long time will cause damage (swelling, discoloration, distortion, and warping, as already seen.
Also, ensure your sink, water-supply lines, dishwater drains don't leak, overflow, leak or flood your bamboo kitchen floor.
Additionally, if you opt for this flooring, go for either SPC or engineered one. Avoid horizontal or vertical bamboo planks as they are not as strong and don't resist water so well. And always
Finally, if you are not willing to do some babying, why not opt for a waterproof flooring solution?
Is it suitable for the bathroom?
We wouldn't recommend having a bamboo floor in bathrooms. While it will look elegant and is comfortable to stand on, among other pros, the bamboo flooring in the bathroom's cons outweigh the pros.
For instance, most companies don't recommend the use, and therefore, they don't offer a warranty. Also, a bathroom is one place you expect a lot of flooding, constant wetting, high humidity, or moisture, something that will quickly damage any non-waterproof tiles.
However, if you insist on selecting bamboo tiles for the bathroom, ensure it is private and used by you or your spouse or for half-baths. Don't allow kids into such a bathroom or many people as they will cause many messes. In such a bathroom, use ceramic tiles or vinyl.
Secondly, ensure you install a bathtub as it will minimize any spillages. You can shower in a bamboo bathroom while letting water just run to the floor.
Finally, have rugs or mats at the bathtub entrance to collect any water you carry from your tub. We will look at more ways to ensure these floors last longer under care.
Basement
The use of bamboo flooring for basements is ok. Most manufacturers have brands you can install below-grade (basement). However, don't install it if the basement is prone to dampness or moisture as the floor will get damaged quickly.
Also, follow manufacturer installation requirements which may require a waterproofing membrane underlayment.
Finally, ensure the basement doesn't flood and no water spills or leakages that end up in your basement, including from supply or drainage lines or any appliances overflowing.
Care
Since bamboo floors are not waterproof, ensure you take good care as this will ensure they last and remain vibrant looking for a longer time.
Avoid spilling liquids or water on the surface, and if it happens accidentally, immediately dry puddles or spillages using a dry towel or absorbent cloth.
Have doormats to collect the water you carry from outside with your shoes, and don't put wet rain umbrellas on your floor.
Also, reseal your bamboo flooring periodically after about two years to enhance water resistance using sealers like polyurethane and glue seams and waterproof the expansion gap.
Finally, prevent scratches, have mats on high traffic areas or places under direct sunlight (sunlight may cause discoloration) if you can't use blinds or shades.
Cleaning
Sweep (with a microfiber dust mop or broom with soft bristle) or vacuum floors regularly (remove the beater of your vacuum or buy one without a beater), use a damp mop (wring it thoroughly) when cleaning it. For stubborn stains, use recommended products to remove them.
Don't wet or steam mop bamboo or any hardwood floors, don't use any harsh cleaning chemicals, including acidic or alkaline, oil soap, bleach, wax, or abrasive cleaning agents. Only use cleaners or cleaning kits designed for bamboo or hardwood floors.
Best Alternatives high moisture places
Besides bamboo, some of the best alternative you should consider for your bathroom, kitchen, laundry, utility rooms, or basement with high moisture include the following:
a). Vinyl
Vinyl is one of the best choices for bathrooms, kitchens, or areas prone to moisture and water. It is 100% waterproof, budget-friendly, scratch-resistant, easy to install, including on top of older floors. Also, vinyl, especially luxury vinyl, may mimic stone, ceramics, marble, stone, or wood.
However, it may not increase your property value, and lower quality may require regular replacement.
c). Ceramic and porcelain tiles
They are durable, waterproof, non-allergenic, easy to clean, and low maintenance, making them a superb choice of flooring material for your kitchen, bathroom, laundry room, or basement. However, these are cold, hard on foot, heavy, and no easy to install.
c). Laminate
Laminate floorings look like wood, don't emit VOCs like wood, are affordable, easy to maintain, pet and kid-friendly. However, like hardwood, they are water-resistant and not waterproof, making them not the best choice.
d). Cork
Made from the cork of oak tree, it offers superior water resistance, is compressible, making it very comfortable, is easy to clean and install. Also, it offers great thermal and noise insulation and is recycled. However, it is not 100% waterproof.
Best brands
Engineered bamboo flooring is an excellent pick for the kitchen, bathroom, basement, laundry, and other utility rooms prone to higher moisture and water spills.
However, if you want bamboo flooring that offers superior water resistance, we recommend going for the engineered SPC (Stone Plastic/Polymer Composite) bamboo planks. Such floorings will outperform traditional engineered bamboo flooring.
While some manufacturers may refer to their planks as waterproof engineered bamboo flooring, they only resist water better, with some resisting water for up to three days (72 hours).
They are just like ordinary engineered planks except for a waterproof stone plastic composite core and not plywood or fiberboard. Therefore, they have a thin bamboo veneer, an SPC core, and stabilizing layer (bottom).
Some best picks include the following:
1. LifeProof bamboo flooring review – Home Depot
If you are looking for the most popular waterproof bamboo flooring, the first choice should be LifeProof.
LifeProof has 17 affordable, superior quality, and waterproof SPC engineered flooring Made with strand-woven exotic bamboo veneer, Including LifeProof Stargazer, Berkeley, Hillside, Mojave Bamboo Flooring.
These planks are available in various colors, have a micro-beveled edge, a hand-scraped finish, and have a FloorScore or GREENGUARD Indoor Air Quality Certification.
LifeProof bamboo flooring is easy to install (click-lock system or float installation). You can install these planks below, on or above grade, and they come with a limited lifetime residential use and a 15-commercial warranty.
Finally, you can use them in baths, kitchens, and basement, and they are scratch resistant as well as pet and children friendly.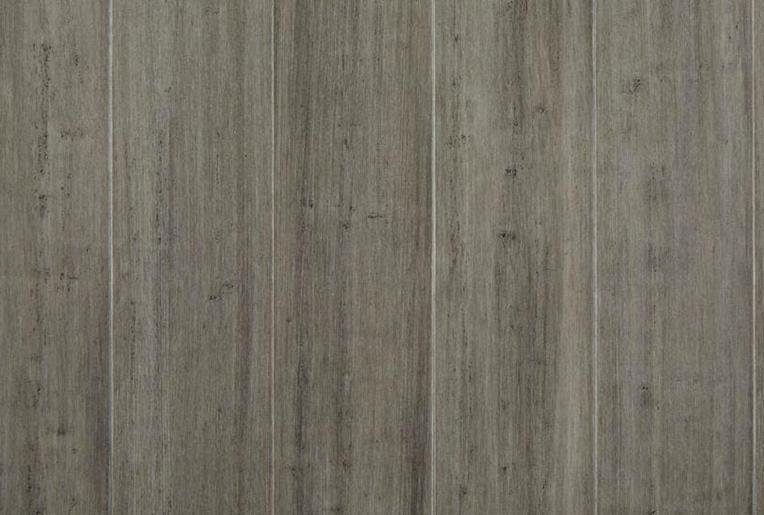 Price range: $2.99-$3.79 per square foot
Cali Bamboo GeoWood review
Is Cali Bamboo flooring waterproof? The answer is a No. They are water-resistant, i.e., they have a strand-woven bamboo veneer made with their Fossilized® manufacturing process layered on a waterproof GeoCore limestone composite that improves their water resistance.
Therefore, you can install them in your kitchen, basement or bathroom, and other rooms prone to high moisture; Also, the planks are easy to clean, emit ultra-low VOC, are easy to install (click lock system), and come with a 50 years residential warranty
Cali has four brands, i.e., Antique iron, Aged Amber, Copperstone, and Jasperstone bamboo SPC flooring layered on a waterproof GeoCore limestone composite.
Finally, depending on whether you pick, the planks may be lightly distressed, hand-scraped, aged, have French bleeds, claw marks, micro-bevel edge, a smooth surface, or have a combination of these surface effects.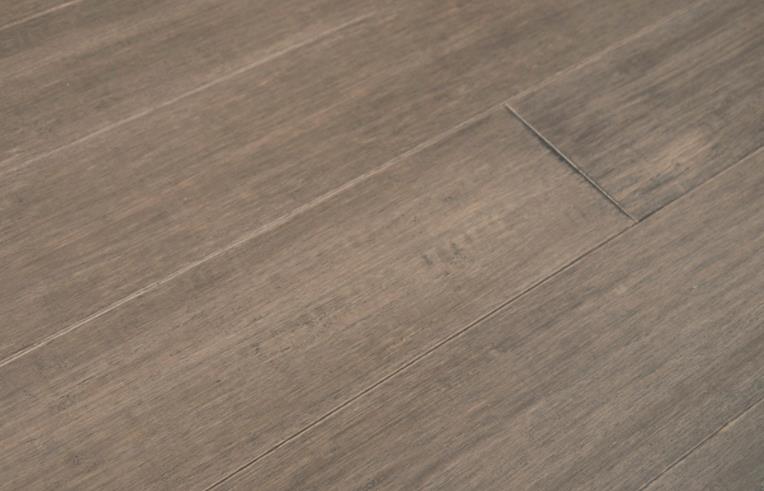 Price range – $4.64-$4.99/ Sq. Ft at Lowes
AquaSeal bamboo flooring - Lumber Liquidators
Lumber Liquidators (LL Flooring) have three water-resistant floorings, i.e., Strand Toffee, Cabernet, Dove Spring Extra-Wide Plank Engineered Bamboo Flooring. These planks provide water protection for up to 72 hours, and you can install them Above Grade, On Grade, Below Grade using click-lock or approved glue.
Additionally, you can occasionally wet mop them, have a 2-side bevel, and you can pick a light, medium, or dark stained finish.
Finally, although meant for residential installation where a 50-year warranty backs them, you can install them in light commercial areas where they have a 15 years warranty. Don't worry about VOC certification, as they have either FloorScore or GreenGuard Gold.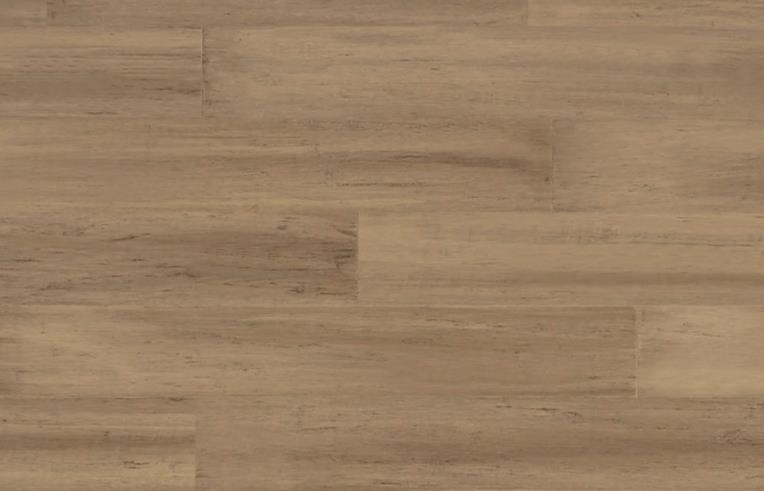 Price range: $2.99-$3.99/ Sq. Ft
AquaGuard bamboo flooring review
AquaGuard water-resistant stranded bamboo by Floor & Décor comes with an easy and quick locking (above, on, or below grade) installation. AquaGuard can resist water for up to 30 hours, making perfect all rooms, including your kitchen, bathroom, or mudrooms.
Also, this engineered click bamboo flooring is durable, easy to clean, maintain, and resists wear and tear, thanks to the aluminum oxide finish, a stranded veneer, and a high-density composite core.
You will receive a 15-year warranty on residential use but is also usable on light commercial areas, and you can choose between smooth, hand-scraped, wire-brushed, smooth, or distressed finish.
Finally, all planks come with a 4-sided micro-bevel, are either dark, medium, or show high color variation (colors are mainly gray or brown), and have a GreenGuard Gold VOC certification.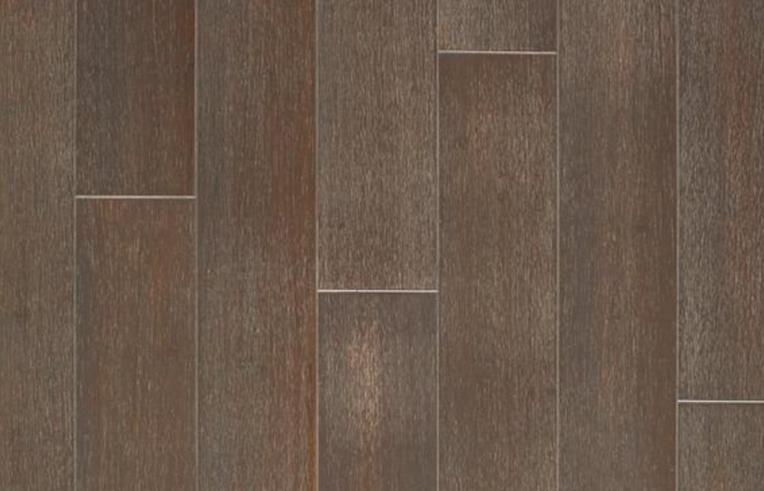 Price range: $2.99-$3.49/ Sq. Ft
Hydri-HDPC 100% Waterproof Rigid Core Engineered Bamboo Flooring
Hydri-HDPC is another Strand-woven bamboo layered on a waterproof HDPC vinyl rigid core ideal for commercial and residential that you can install at any level. They are easy to install via the click locking system, come in various colors (light, dark and medium), and either a wire-brushed or hand-scraped surface finish.
The High-Density Plastic Composite (HDPC) makes the flooring twice harder than standard solid bamboo flooring, has a GREENGUARD Gold VOC, and are CARB 2 certification as well as EPA (TSCA Title VI) compliant.
Finally, you get a lifetime limited warranty for residential use, and the floor resists scratches and dents, thanks to the Janka rating of 5 (2501+).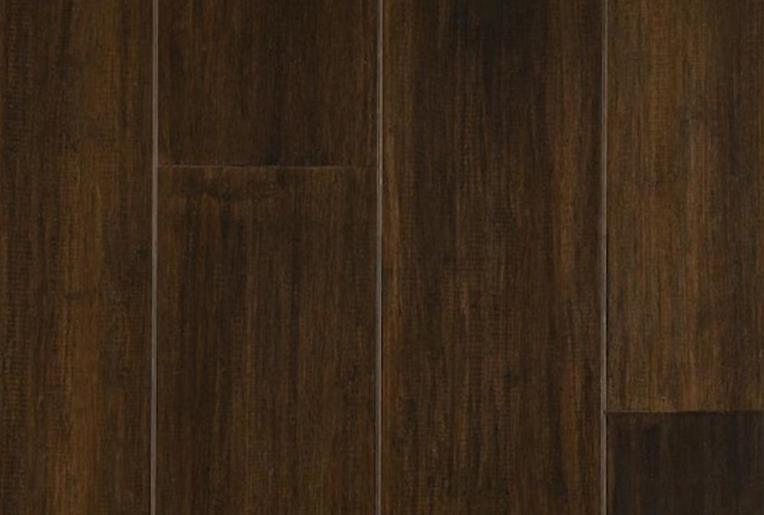 Price: $4.38 per square foot
Others
More SPC bamboo flooring include
Home Legend (Home Depot) – Price range $2.49-$4.79 Sq. Ft
OptiWood (Home Depot) - Price range: 4.19 per Sq. Ft
SmartCore (Lowe's) – Price range: $3.79/ Sq. Ft
Islander (Home Depot) – Price: 3.19/Sq. Ft