Engineered bamboo flooring is easy to install (especially for DIYers), resists moisture better, is stable, durable, affordable, among other benefits. However, it does have its downside too.
Let us look at what engineered bamboo flooring is, how it is made, pros, cons, installation, care, and give you reviews of some of the best brands. We will also have a few FAQs and a lot more.
Meaning
Engineering bamboo flooring is a composite or human-made type of flooring with three layers, i.e., a top thin bamboo veneer (the wear layer with varying thickness), middle wooden core (cross-laminated plywood or fiberboard), and a final stabilizing layer bonded together with powerful resins under intense pressure and heat.
Unlike solid bamboo, where the entire plank is made of bamboo (strips or fiber strands), engineered planks have a thin bamboo veneer.
Therefore, these planks are mainly wood and are made similar to engineered wood except for the top layer, i.e., in engineered wood flooring, the thin veneer is wood (mostly hardwood).
When it comes to installation profile, engineered bamboo flooring may come with a click and lock system (for float installation or gluing to the subfloor) or tongue and groove or T&G (that you can nail, glue down, or even float if you glue them together).
How are they made?
Mature harvested bamboo undergoes the normal manufacture process to make planks. The process begins slicing to strips and shredding (to make fibers for strand woven bamboo planks). The following steps are boiling (in boric acid to kill pests, preserve, remove grime and starch), drying, and carbonizing (if you need a carbonized bamboo flooring).
Afterward, the manufacturer glues the strips either horizontally (flat) or vertically to make horizontal and vertical bamboo planks under intense pressure and heat or weave fiber strands soaked in adhesives under pressure and heat too.
For solid horizontal, vertical, or strand-woven, the resultant planks will undergo cutting, milling (to create installation profiles), sanding, bleaching (optional), staining (optional), and finishing (apply scuff-resistant, waterproof, final protective layers or coats.
However, for engineered bamboo planks, the unfinished planks, horizontal, vertical, or strand-woven, are cut into thin veneers.
The manufacturers will then glue the bamboo veneer (top wear layer), cross-laminated plywood or fiberboard (middle), and a stabilizing layer (bottom) together under pressure to create an engineered bamboo flooring plank.
After moisture balancing, the resultant engineered plank undergoes milling and finishing just like ordinary solid bamboo planks.
Sometimes, before applying the finishing coats, the plank surface may undergo various distressing techniques like hand-scraping, wire-brushing, aging, claw-marks, french bleed, streaks created by dark brushstrokes, and so on.
Also, the manufacturer may apply edge styles, including square scraped, pillowed, eased, micro-bevel, or beveled edge. Each of these edges has its significances.
Finally, there are bamboo engineered boards or planks of different thicknesses, lengths, widths, or colors. Coloring is through staining or carbonization, which will result in almost all colors you find in hardwoods, including blonde, honey, charcoal, coffee, and so on.
Bamboo engineered hardwood flooring and solid wood bamboo flooring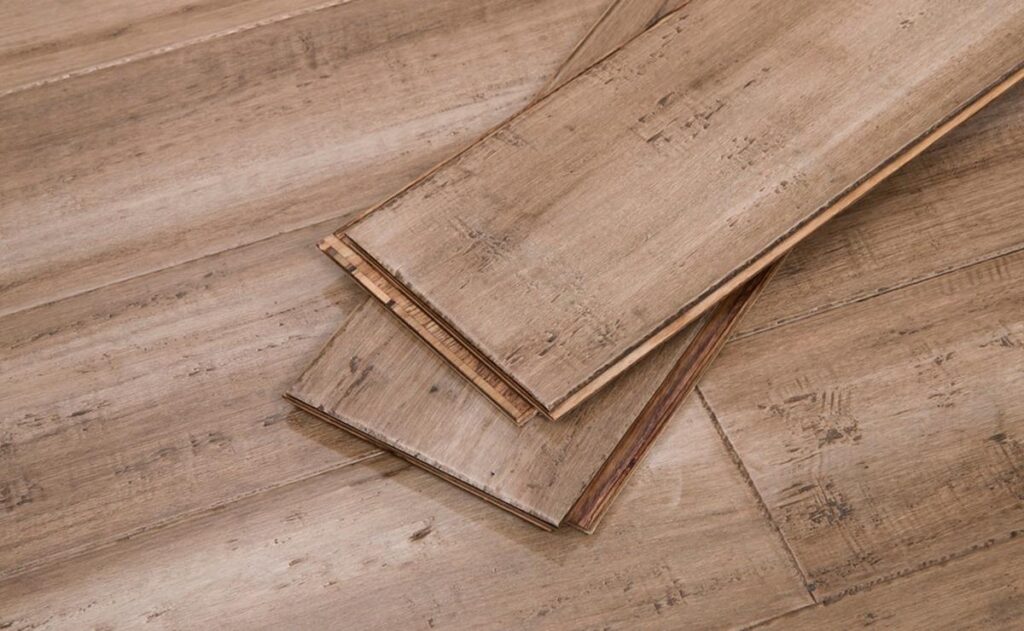 The term bamboo engineered hardwood flooring shouldn't confuse you. It only implies that the middle wooden part of the engineered plank is hardwood.
A solid wood bamboo flooring is where a solid wood (wood throughout the entire thickness) replaces the plywood or fiberboard.
However, many people use these two terms interchangeably to imply the typical or standard engineered planks and nothing special.
Pros
While giving you pros, we will be pitching them against solid bamboo planks (strand-woven, horizontal or vertical). We will make a comparison with engineered wood afterward.
1. Dimensionally stable
Engineered bamboo is dimensionally stable than 100% solid bamboo since the cross-laminated plywood core has veneers with alternating grain. i.e., they are bonded to each other at 90 degrees.
Therefore, these flooring planks are solid-rock, unlikely to expand, shrink or warp due to changes in weather changes, i.e., they can withstand changes in humidity or temperature.
2. Withstand moisture and resist water better
Is engineered bamboo flooring waterproof? No. Not entirely. No organic flooring is 100% waterproof, including wood. However, this flooring has a waterproof undercoat, and the surface layer has waterproof finishes. Therefore, they resist moisture and water better.
However, this isn't a ticket for you to leave spilled water for prolonged durations as this may cause damage. Always wipe any spillages and ensure no standing water.
3. Wider application
Since they resist moisture better, can withstand weather change, and dimensionally stable, you can install them in most rooms and even below grade (basements), cellars, on a concrete subfloor, over in-floor radiant heating system (thermal underlay), soundproofing, and so on.
Additionally, they are suitable for places such as a laundry room, kitchen, utility rooms, conservatories, rooms with glazing, or those where you burn logs,
However, don't install them in your bathroom and if installed in places exposed to water, ensure you dry them immediately afterward and follow any recommendations from the vendor.
4. Easy to install or repair
Most come with the click and lock system for float installation (loosely laid), and for the few that have T&G, you close them to the surface, making installation, replacement, or repair of an individual plank easier if damaged. Also, you can drill, cut, route, fasten, join, and so on with a lot of ease.
Finally, most don't need nailing as some, making them an attractive option to many DIYers, especially those with click and lock systems.
5. You can refinish them
Contrary to what some sources may be saying, you can refinish engineered bamboo floors. However, there's a limitation on many times you can, with most allowing you to refinish them twice.
How many times you can refinish these bamboo floorings depends on the thickness of the wear veneer (bamboo). Also, there are those which manufacturers recommend that you don't refinish them, kindly follow that as warranties may be tied with this condition.
6. Wide planks
The use of plywood, SPC, or fiberboard makes it possible to have wider planks than solid, typically available in standard or narrower planks.
Cons
Don't be excited or carried with the pros. It is good to know the cons or disadvantages that engineered bamboo has.
1. Slightly expensive
Since manufacturing takes a longer process, needs more energy, and is more complex, engineered bamboo is more expensive than its solid counterpart.
2. Not as eco-friendly
Bamboo is very eco-friendly. However, since the more significant part of the plank is wood which is not as eco-friendly as bamboo (it takes decades to mature), the entire plank isn't very eco-friendly.
3. Limitations in refinishing it
Since they have a thin wear layer, about a ¼ of an inch, you can only refinish these flooring a few times, typically once or twice, unlike solid bamboo, where you can refinish more times, depending on their thickness.
Kindly check what their manufacturer recommends as some do not recommend refinishing, even once.
4. Higher VOC
Its manufacturer involves the use of more adhesive, resins, or 'toxic' chemicals, something that may potentially increase the amount of volatile organic compounds they will release, including as you cut them.
Therefore, ensure you for a brand certified as respiratory friendly, especially if you have respiratory issues including asthma or allergies.
Bamboo flooring vs. engineered hardwood
Vinyl, laminate, tile, and engineered wood are among the most trending and popular flooring options. You want to know how engineered wood compares with engineered bamboo.
Both are comfortable, offer thermal insulation, available in many lovely colors, and eco-friendly.
Here is how they compare.
1. Hardness
Strand-woven bamboo has one of the hardest organic surfaces, twice as hard as oak and beating Patagonian rosewood with a Janka hardness rating of 3,840 and Ipe 3680, the hardest hardwoods used in making flooring planks.
On average, engineered strand woven bamboo flooring has a Janka hardness rating of 4000-6000 depending on the manufacturing process compared to hardest hardwood, whose Janka hardness rating doesn't go beyond 4000. The only worthy competitor is strand-woven eucalyptus.
Therefore, bamboo floors will not get scratches quickly, and some can withstand children's mess, pet claws, and heels better than wood.
However, vertical or horizontal engineered bamboo boards are not as hard as hardwoods.
2. Refinishing
Since they are both made of a veneer, how many times you can refinish them is comparable. However, bamboo has an edge as it will not get scratches, wear, or be dull quickly.
3. Cost
Engineered bamboo is slightly cheaper than wood, primarily where rare and stronger hardwoods are used. However, the difference isn't much, considering the difference is the veneer used which is thin.
4. Resistance to mold, mildew, and water
Bamboo has a better natural ability to resist water, moisture, mold, and mildew when compared to wood. These attributes make it usable in places exposed to water like the kitchen and laundry rooms or even below grade, cellars, and so on where you cannot use wood.
Wood will tolerate only a small amount of water, and you have to wipe the floors immediately, while for bamboo, you have a window period of up to 24 hours. However, always wipe any spillages as soon as possible.
5. Eco-friendliness
Both wood and bamboo are comparable when it comes to eco-friendliness. While the latter is slightly more eco-friendly, manufacturers use only a tiny portion (veneer). If you factor in the emission effects of transportation from China and Asia, they grow these two ties.
If eco-friendliness is your main concern, ensure you check for Forestry Stewardship Council (FSC) Certificate.
6. Cleaning and care
Bamboo is relatively easier to clean and care for since it is harder and resistant to moisture. However, the cleaning and care routine are more or less the same.
Cost or price
The average engineered bamboo flooring cost is $4 to $12 per square foot (buying and professional installation). Therefore, if you are a DIY expert, expect to make savings of $2-$5 per square foot.
Also, the price is slightly higher than solid bamboo, and it varies depending on the brand and other factors. For instance, Teragren and Cali have higher prices.
Finally, strand-wove engineered bamboo planks are expensive than their horizontal or vertical counterparts. We will mention more on prices was we look at different brands.
Engineered bamboo floors vs. laminate
While they may resemble each other, these two are very different since, unlike engineered bamboo, laminate has four layers bonded together, and what you see that looks like stone or wood isn't actual wood.
The topmost layer is the wear layer made from aluminum oxide or several melamine coats that protects the decorative layer beneath it (a paper with a picture, pattern, color, or design you want your laminate to stimulate)
The decorative layer is bonded on a stabilizing HDF (high-density fiberboard) and backer balancing sheet for balance, stability and gives the board a straight base.
Finally, some laminates may have an attached underlayment.
Installation
Installing engineered bamboo flooring is very easy, and both DIYers and experts can do the work effectively. Here are the steps to follow.
Step 1 - Subfloor preparation
Ensure your subfloor is even, clean and dry. If you install these planks onto a new concrete, let it completely dry or go for an excellent quality 3-in-1 underlayment.
Also, an underlayment will help even minor bumps, muffle footsteps, protect the planks from moisture, and aid in soundproofing to beneath floors.
Some best underlayments to use with engineered bamboo flooring to consider are Eco Cork Foam, Quietwalk, DMX 1-STEP, or Sound Step.
Step 2 - acclimating engineered bamboo flooring
Once you have received your engineered bamboo planks, let them acclimate for at least 3-14 days to adapt to the temperature and humidity in your home. How long you do this depends on the quality, with superior quality requiring as little as 72 hours to acclimate.
During this time, you need to cross-stack them for better aeration, and the temperature and humidity be at what they will be under normal circumstances.
Step 3- Sorting
If their colors are different and you intend to stagger them or create a particular pattern as you install them, we recommend sorting them according to colors.
Step 4: installation
Depending on whether you have click lock or T&G, you can begin the installation. Click-lock planks are the easiest to install since you will float the boards.
However, for the T&G, you need to glue them to the subfloor or nail (recommended by some vendors). Also, you can choose to glue T&G and float them.
During installation, leave a small gap next to the wall to give allowance for expansion. On average, you should have about half an inch.
Whenever the piece you have is longer than what you need, you have to cut it. Cutting engineered bamboo flooring isn't very difficult. All you need is to mark the cutting line and the right saw, i.e.
Cross-cutting – Use miter circular or chop saw with a carbide blade. It should have at least 70 teeth and cut the bard while it is facing downwards.
Cutting straight along the length or lengthwise – Use a fence or table saw and place the board facing upwards
Cutting at angles – Use a table saw and cut the back's board.
Cutting along curves – Cut from the back using a band saw or jigsaw. This way of cutting will minimize chipping.
Care and how to clean engineered bamboo floors
Proper bamboo floor cleaning and care can elongate the lifespan their lifespan.
Firstly, you need to protect your floor. Your furniture legs should have felt pads or rubber caps, protect high traffic areas, avoid spikes, and use furniture-moving coasters to move heavy furniture. Never drag them on the floor.
Secondly, sweep (with a microfiber mop or broom) or vacuum floors regularly to get rid of any debris or grit as they tend to cause scratches. Your vacuums shouldn't have a beater.
Thirdly, use products or kits approved for mopping bamboo floors. Most products for hardwoods will work just fine.
Finally, wipe spillages immediately. Also, use doormats on the entrance to reduce dirt, moisture, grit, or water from outside. Never steam mop, avoid abrasive or harsh (alkaline or acidic) chemicals, don't wax, use furniture polish, etc.
Best engineered bamboo flooring reviews
If you need engineered bamboo flooring, ensure you go for a superior brand since manufacturing does affect hardness and durability. Some of the best to go for include:
Teragren
Incepted in 1994, Teragren strives to make the most durable flooring, veneer, panels, and countertops. Their planks are made with Teragren's Exclusive Optimum 5.5® Moso Bamboo and boast of a low VOC (TSCA Title VI Compliant) and USGBC's LEED green building rating system certifications.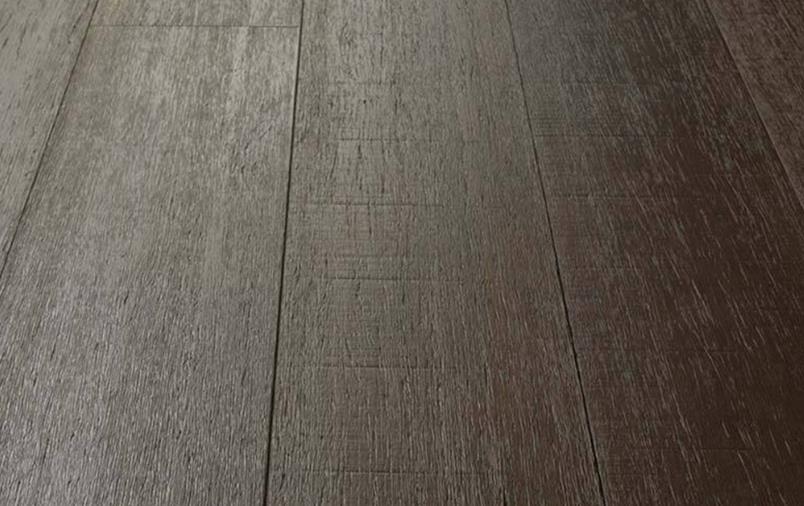 Their premium quality strand-woven bamboo flooring panels come with a 25 year and 10-year finish warranty for residential and commercial use and a Lifetime structural protection.
Teragren has two collections, the Essence Collection ultra-wide planks and Neotra Collection with wide planks collection, both with a tongue & groove installation profile.
The Essence Collection has EXCORA Prairie, Savanna, Grasslands, Open Range, Tundra, And Meadows. These six have a handcrafted micro-bevel edge, and their surface is wire brushed and hand scraped with natural saw marks. The other two, Essence Collection, i.e., EXCORA Chestnut and Wheat, have a smooth surface and a micro bevel edge.
On the other hand, Neotra Collection has XCORA Sherman, Warhol, Pollock, and Rothko, all with handcrafted micro-bevel edge and a Smooth with natural graining.
Price range: $5.49 – $7.79 with some vendor selling them at up to $9.35
Cali Bamboo
Cali boasts of their FSC® Certified Fossilized® manufacturing that ensures their bamboo floorings are the hardest. They emit ultra-low VOC, comes with a 50-year warranty. You can go for engineered, Solid, GeoWood, and all are strand-woven.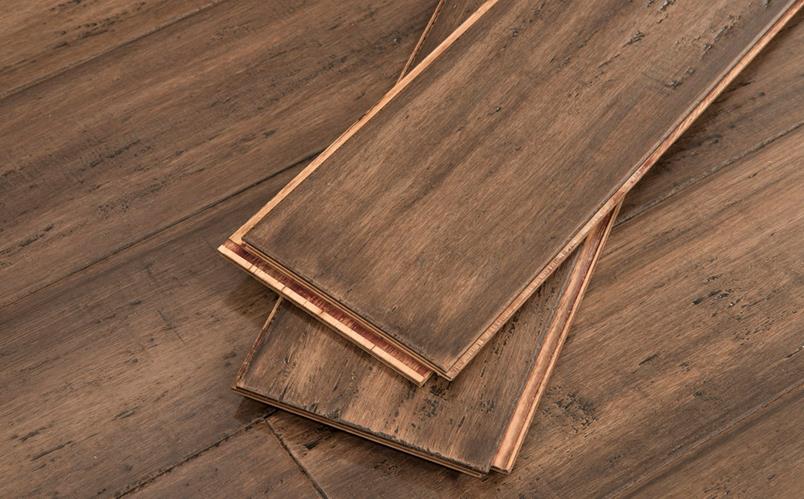 Cali engineered bamboo flooring panels are antique java, Broadwalk, Bordeaux, Bourbon Barrel, Cognac, Distressed Mocha, Java, Mocha, Savanna, natural, Treehouse, and Vintage Port, which are all pet friendly and easy to install.
Depending on which one you pick, these planks are available in natural/tan (golden honey color), light-brown, brown, dark brown/black, and dark gray. Their textures may be hand-scraped, distressed, or smooth.
Cali's strand woven bamboo flooring prices range: $4.99 - $6.22 at Lowe's Home Improvement
Lumber Liquidators or LLFlooring.com
Lumber liquidators have a total of 14 ReNature wide and extra-wide strand woven engineered bamboo intended for residential use. They come with either MDF (30 years residential and 5 years light commercial warranty) or plywood (50-year warranty on residential area and a 10 year on light) core, perfect for residential use.
Also, you will find both carbonized and natural, those with distressed, subtle, or smooth, and planks that may have a natural wood grain texture, clear or stained.
Planks with Tongue and Groove installation profile require nailing, gluing down, edge gluing, or nailing with gluing assist while the click ones are floated. You can install them below, above, or on grade.
Don't worry about VOC emissions, as all the planks are certified with either FloorScore or GreenguardGold
Going to specific names, ReNature has Cordova, Saint Anton, Natural, Raleigh, Sierra Vista, Copenhagen, Kona, Portland, and Madison County. Others are Cape Town, Porto Ferry, Bismark, Belgrade, and Strand Natural Wide Plank Engineered Click.
Price range - $2.49 - $89
Notice: Morning Star XD½" x 5" Antique Click Strand Bamboo and Supreme Bamboo Engineered Bamboo flooring are NO Longer available
Home Depot
If you need engineered bamboo flooring from Home Depot, you will find some very affordable brands. Popular ones include the following:
a) Home Decoration Collections
Home Depot's Home Decorators Collection has Honey, Tigerstripe, Sahara, Tacoma (dark-colored), Light Taupe, Mahogany, Java, Chai, Hand Scraped Strand Woven Harvest Engineered Click Bamboo flooring. Others are W Berkshire, Cocoa Bean, Dark Honey, Herringbone, Sand, Charcoal, Earl Grey, Brown, Wellington wide plank.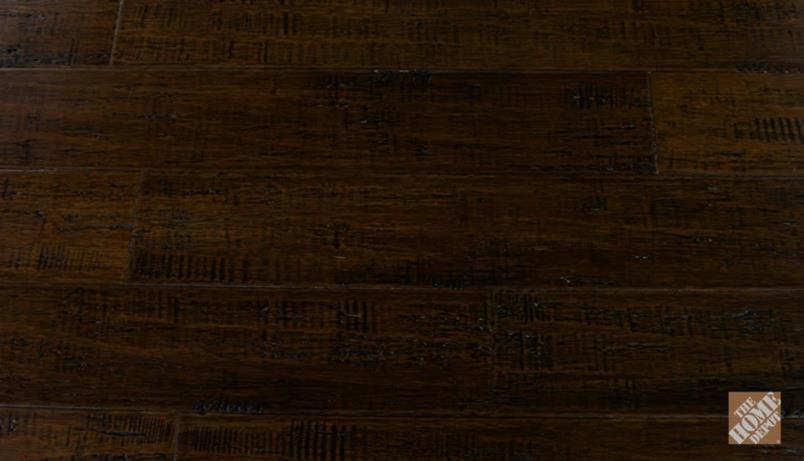 If you are worried about VOC emissions, these flooring planks are safe, most certified by GREENGUARD and others FloorScore.
Their surfaces are smooth finish hand-scraped finish, wire-brushed, and either a micro-beveled or beveled edge. Also, they have a medium to low gloss surface with a smooth, hand-scraped, or wire-brushed finish
Furthermore, they have either have HDF or a 3-ply HDF core. Are they hard enough? Yes, their Janka hardness rating is either 3000 or 4000 for the strand woven (depending on what you choose), and the Horizontal toast has 1500
To install these planks, you can float or glue them down, and they are ideal for both residential and commercial places, with some intended for residential use only.
Finally, depending on your choice, there are on and above grade or all grade (above, on, or below grade).
Price Range: $1.68-$3.99
B). Home Legend
Home Legend have Natural, Expresso, Sepelli, Cherry Sangria, Poppyseed, and Distressed Strand Woven Harvest Click Lock planks. Depending on the choice, you will get those both commercial and residential or residential use only.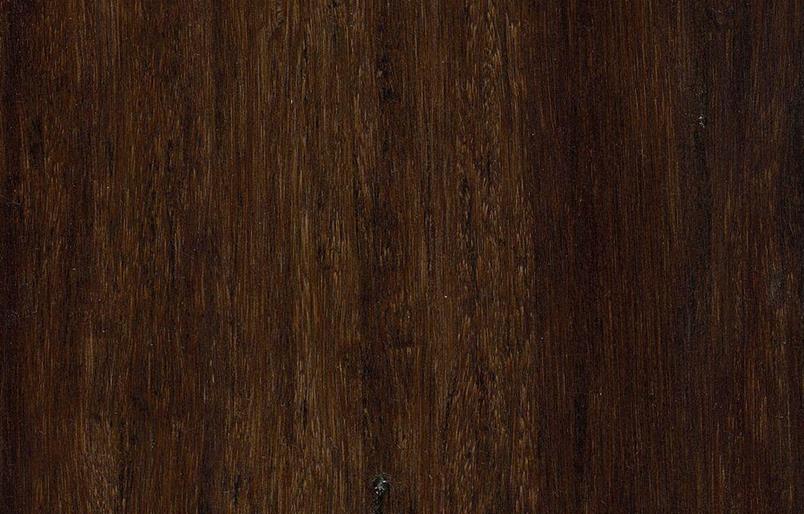 They all come with a beveled edge, may have a smooth, distressed, or hand-scraped finish. All the plank have HDF core, a Janka hardness, or resistance to denting of 3000, and you can float or glue them down since they come with a click-lock installation profile.
Price Range: $3.79 – $4.99
c). LifeProof
Home Depo has LifeProof engineered bamboo flooring in many unique colors and finishes. However, note that the various brands, including Barrington, Hillside, Charlestone, Stargazer, and Mojave Waterproof Engineered Click, are SPC.
Lowe's
Besides Cali Bamboo, another engineered bamboo flooring you will get a Lowe's include the following:
a). Natural Floors
Natural Floors by USFloors has several pre-finished locking engineered bamboo floorings available at Lowe's that may have strand-woven, select, or natural wood grains.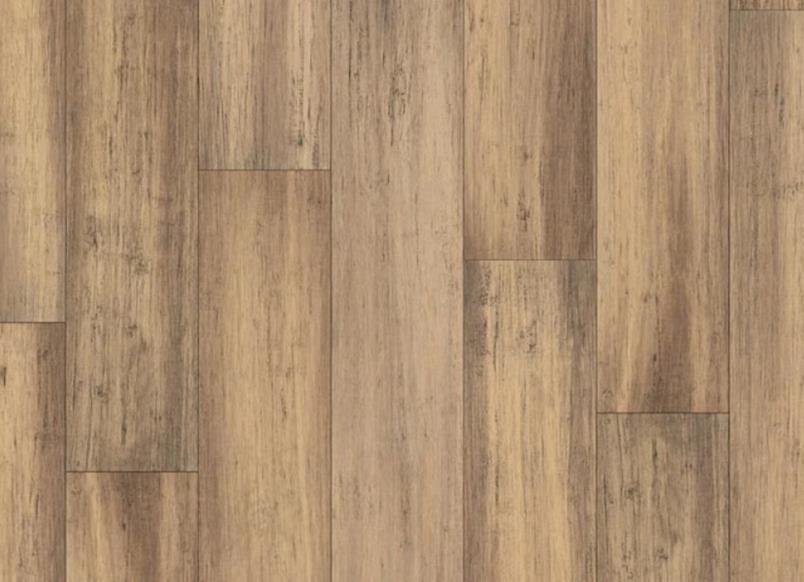 Common ones include Vintage Antique (brown), Spice, Dark Java (609hflwj), Exotic Hardwood Prefinished Golden Bamboo, Exotic Hardwood Prefinished Tigris bamboo.
They all come with a click-lock installation profile and a 50-year warranty. Depending on your choice, these planks could be:
Dark, medium, or light color
Smooth, hand-scraped, or wire-brushed surface or texture
Janka hardness rating of 1401-2500 or 2501+
Price range: $2.50-$2.99
b). Style Selection
Style Selections engineered bamboo flooring is another affordable, excellent quality ultra-low VOC brand available at Lowe's. They include Ivory White, Rusting Brown, Thick Big Brown, Logan Gray, Gray, and Caramel Carbonized Bamboo Smooth/Traditional.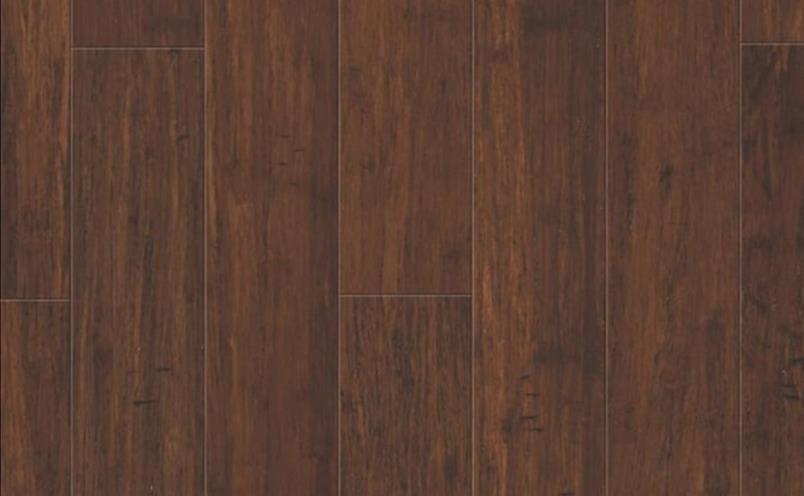 These planks are either strand-woven (Janka hardness rating of 2501+) or horizontal (Janka hardness 1261-1400) with a 30-year residential use warranty.
Their surface may be smooth, wire-brushed, or hand-scraped, and you can install them at or above ground level. Depending on your choice, you may have those with click locking or tongue and groove.
Price range: $2.79 - $2.89
ECOfusion
With ECOfusion, you get LEED Green Building Rating System credits. Their bamboo doesn't have harmful VOCs or urea-formaldehyde, and their indoor air quality surpasses CARB2012 and E1 thresholds.
Depending on the one you choose, it could be for both residential and commercial use or only residential. Additionally, you could glue, nail or float and install the panel you choose, above or below grade.
ECOfusion 10mm 3-PLY HDF strand woven bamboo has Hand-scraped Expresso, Rye, Honey/Wheat, and Leather.
ECOfusion 14mm ColorFusion Engineered Strand-Woven – Black Forest, Midnight Sky, and True Walnut
ECOfusion 14mm Strand-Woven Bamboo Fall Harvest, Carbonized, Natural and Weathered Wood, Wide Plank Bridgeport and Wide Plank Tuscany
Price range: $6.19 – $8.88
Ambient
Another place where you will find excellent quality engineered bamboo flooring panels is Ambient. Their panels are FloorScore® indoor air quality certified and offer 24-hour spill protection, are pet, kids, and kitchen friendly, and all except two are radiant heat safe.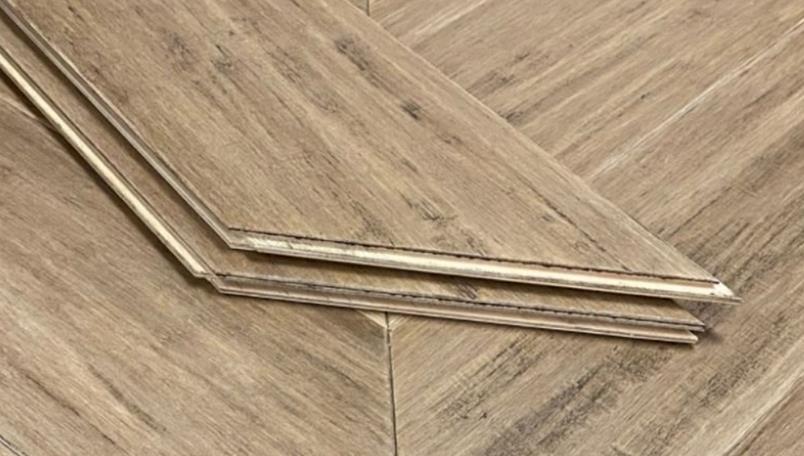 These panels have either Engineered Strand Tongue & Groove or Engineered Strand Click. All have a micro-bevel. Depending on the one you pick, it may have a brushed, cross-brushed, hand-scraped, antiqued, flat/smooth surface.
Going to names, Ambient has Java Hand-scraped, Rustic Mist, Mesa Antiqued, Copenhagen, Toasted Almond Antiqued, and Casablanca XtraWide Click. Others are Rye Barrell Chevron, Natural Click 6ft Lengths, Ashwood Distress Click, and Carbonized Click 6ft.
Price range: $4.63-$6.20
Floor and Décor
Floor & Décor has several engineered strand-woven bamboo floorings that include Eco Forest Maganda Hand Scraped Locking Stranded Engineered Bamboo. Others are Spanish Tiger II, Mocha, Ellis, Towny, among others.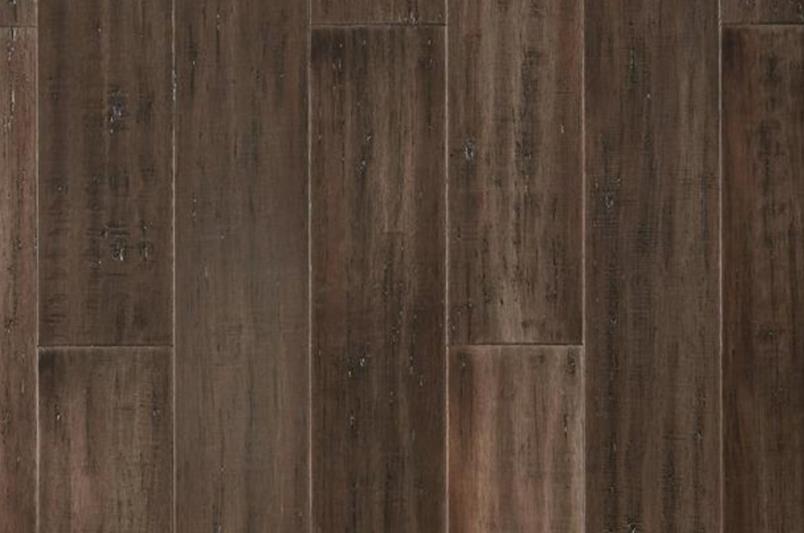 Depending on which one you choose, it could:
Standard or wide plank
Have a 35- or 40-year residential warranty, with some having a 15-year commercial warranty
VOC certified by FloorScore or GreenGuard Gold
Installed, on, above below, or just on and above
Have an HDF or plywood core
Smooth, distressed, hand-scraped, or wire-brushed texture
Click lock (float or glue) or Tongue and Groove (nail, staple, or glue)
Notice: Forget about the Seaward Bluff Strand Wire Brushed Wide Plank Engineered Bamboo flooring as it is no longer available.
Price range: 2.39-3.79
FAQS
Is engineered bamboo flooring waterproof
No. While they can resist moisture better than hardwood, engineered bamboo flooring isn't 100% waterproof.
However, engineered SPC (Stone Plastic Composite) bamboo such as AquaSeal, AquaGuard, Cali's Geowood, or LifeProof are water-resistant, i.e., they resist water better.
Does engineered bamboo flooring scratch easily?
It all depends on the bamboo wear layer used, strand-woven, horizontal or vertical, and the manufacturing process (impacts hardness and durability).
For instance, while horizontal and vertical veneers are vulnerable to denting and scratches than hardwoods, strand-woven bamboo outperforms even the hardest hardwoods.
However, this doesn't mean that strand-woven planks are immune to scratches. It does get them but not with ease, and some can withstand heels, pet, and kid mess.
Is engineered bamboo flooring durable?
Yes. Well-manufactured, strand-woven bamboo flooring is very durable, with some coming with a warranty of as many as 50 years. However, for longevity, ensure you properly care for it.
Remember that their overall quality and hardness depends on the quality of bamboo a manufacturer use and the manufacturing process. It is possible to get low-quality brands that are not so hard.