Yes and No. Whether you can refinish bamboo flooring (sand, stain, and seal) depends on the specific bamboo flooring. While you can refinish some, others, especially the engineered bamboo flooring or any other with a thin bamboo veneer less than 2mm, may not be perfect candidates.
Most manufacturers will tell you if you can refinish their bamboo or not. Therefore, always inquire when buying it as refinish may cause damage.
Why bamboo and why refinish?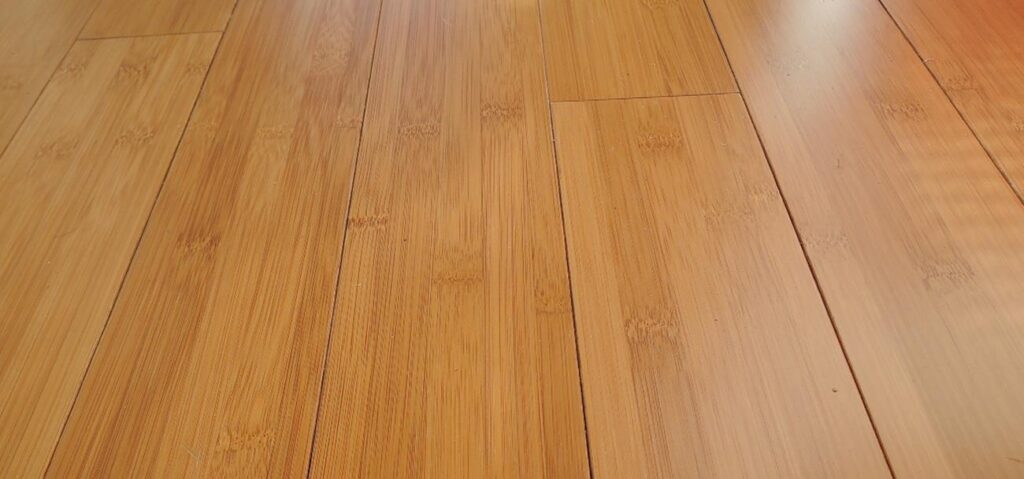 Bamboo is becoming a first-choice flooring material for many homeowners because it is versatile, stylish, eco-friendly, durable, easy to install, and requires little maintenance.
Also, if well sealed, it is resistant to moisture, mildew, mold, or insects (termites), and if you fear that bamboo scratches easily worry not, as some, such as strand-woven bamboo flooring planks, are harder than all hardwood floors, including Ipe. You can even use some bamboo flooring with heels, and it can withstand child mess or pets like your dogs.
Strand-woven bamboo floors being very hard, may not require refinishing as they are not prone to scratches, dents, gouge, etc.
However, we cannot say that bamboo is entirely scratch-resistant. It does get scratches, especially once the protective finish wears out or something sharp scratches it. Having it in places with high traffic, dragging chairs, not using furniture pads (felt pads), or a sharp object may scratch it.
Also, carbonized bamboo, predominantly horizontal and vertical planks, may get scratches relatively quickly. Similarly, vertical bamboo planks are slightly weaker than flat ones.
Therefore, you may want to refinish your bamboo if it has scratches since they trap dust or dirt or remove the stain, making it look dully and unsightly.
Similarly, if you recently changed your room or home décor, you may want a floor that best complements them. In such a case, refinishing your bamboo is a viable option.
Whichever the reason, you don't have to remove your entire floor just because of scratches or wanting to stain it with a different color. Why not just refinish it?
How to refinish bamboo floors - what you need and steps
We are going to give you a step-wise guide to help you refinish your bamboo flooring. This guide is a generalized discussion and doesn't apply to specific bamboo types, i.e., solid strand-woven, horizontal or vertical bamboo flooring, SPC bamboo, parquet, engineered, or carbonized.
WARNING
Before you begin refinishing your floor, we highly recommend talking to the vendor or manufacturer of the bamboo flooring as they may have some to know if it is ok. DON'T REFINISH ANY BAMBOO FLOOR WITH A THICKNESS OF FEWER THAN TWO MILLIMETERS.
Also, some manufacturers may recommend specific sanding grits to use (depending on the THICK WEAR LAYER) and the best finishes to apply.
Finally, if you are not an expert, we strongly recommend hiring an experienced flooring professional to do the job for you. While it may cost you, you will end up with a better-looking floor.
What you need
Plastic sheeting
Blue tape
60 grit, 80 grit, and 100-120 grit sandpapers
Sanding machines and sanding edger
Scraper (optional)
Paintbrush
Stain or bleaching agent
Buffer or polisher
A floor finish
Protective wears – safety shoes, knee pads, eyeglasses, gloves, and respirator, ear protection,
Step 1 - Preparation
Before you begin sanding your floor, remove everything inside the room, cover those you cannot remove with plastic sheeting. Also, cover your window and doorway, electric outlets as well as intake and outlet air vents. You don't want them to be dusty.
Afterward, put on your protective gear (safety shoes, knee pads, gloves, respirator, and ear protection and you are ready to go.
Step 2 - Sanding your bamboo floor
Sanding will help remove any old finish, stain, remove scratches, minor effects of water damage, and so on, and you need to sand until you have a smooth finish (except for deep scratches that may need filling).
If the protective layer isn't destroyed entirely and there aren't severe scratches, you don't need sanding. Instead, buff and refinish the floor (screening or buff and coat). A buffer uses a nylon pad that will only remove superficial scratches.
How to go about it depends on the sander you choose. Don't just pick any and start sanding. As a basic rule, you will always grind along the direction of the bamboo grain and in the direction that your sander moves to, i.e., left to right, unless you have a random orbital sander.
However, we recommend sanding at a slight angle of about 7-15 degrees to bamboo grain for the first sanding with medium sandpaper to minimize splinters.
Whether you are renting a professional floor sander or you own them, here are the primary sanding machines and when to use them:
Drum sander – A drum sander is the most effective and does the work very fast if your floor is horrible. However, it needs some skill set to do the job well. Only use it if you are an expert.
Rotary sander – This sander is also aggressive but slower than the drum. It needs skill sets and is somewhat harder to use. Please leave it to the experts.
Random orbit sander – It is the most recommended for newbies since it has circular motion and back and forth. You can sand in any direction of bamboo grains, and there is will no swirl finishes, grooves, or gouges.
Edge sander – To sand next to a wall line, an edge sander can sand close to wall lines without damaging our wall.
When sanding, being with a medium or 60-grit paper and change it regularly as it wears off. Afterward, use the 80 grit and finally a 100-120.
In between each sanding, you will need to clean or vacuum the floor and check for consistency or presence of any splinters and ensure you have achieved the desired result before changing the grit size.
Remember bamboo, being grass, it may heat up, or its surface burns faster than wood. Additionally, while sanding, concentrate more on areas in terrible condition, including scratches and water damage. However, please don't overdo it as some scratches, indentions, or gouges may need filling.
Finally, for delicate corners where your sander cannot reach, use your sanding edger as it won't damage your wall.
Step 3 - Clean or vacuum your floor
Once you are satisfied with your sanding result, it is time to clean your floor thoroughly. People with sanders with a dust bag may not have much dust on their floor. Nevertheless, thoroughly vacuum clean it to remove any debris.
While vacuuming, ensure you use a vacuum cleaner designed for hardwood floors, one without a beater or with a removable one.
Finally, don't forget to check for any splinters, and if none, let it thoroughly dry.
Step 4 - Filling and hand-scraping
During sanding, you will have gotten rid of the initial finish, some shallow scratches, or dents. However, if your floor has deep gouges, you will need to refill them with a suitable filler.
Which bamboo filler you choose depends on the type of bamboo flooring you have, i.e., there are fillers for strand-woven, vertical or horizontal bamboo flooring. Please consult with your manufacturers as some have preferred fillers to use on their floorings.
When filling, apply your filler putty and scrape off any excess. Allow it to completely dry before you can sand with your smoothest grit for an even surface.
Finally, people with very damaged floors or those who want to get a rustic look that adds detail and character can consider hand-scraping their bamboo flooring. Hand scraping will also help hide any scratches, and compliment the natural bamboo appearance.
Step 5 - Staining
Re-staining may be necessary for stained floors as sanding removes the stains. However, for people using carbonized bamboo that wasn't stained, they may not need to stain the floor again as it will still retain the original color after sanding.
Also, if you need a new look, staining becomes the next step. Even people with carbonized floors can still stain if they desire another color.
When staining, use a synthetic bristle brush with a water-based stain or a natural bristle brush with oil-based stains to apply two coats, allowing the first coat to dry before the second. More coats will make the color darker and more vibrant.
Since they are tough to stain, we don't recommend staining your strand-woven bamboo flooring unless very necessary. Talk to the manufacturer for advice.
step 6: Finishing bamboo flooring
Once the stain you applied on your bamboo floor has thoroughly dried, the final step coating several layers of protective coats.
Ensure you use a suitable protective or sealing product as a poor finish makes floors vulnerable to damage (scratches, dents, or moisture). An excellent protective coat should be scuff, scratch, or wear-resistant and protect the underneath bamboo from humidity, i.e., waterproof. Also, you can go for one that is UV-cured.
Popular sealants used are water-based or oil-based polyurethane. Also, you can go for a penetrating oil sealer, aluminum oxide, moisture-cured urethane, acid-cured finishes, or wax. The choice depends on where you are using it and the looks you are trying to achieve.
Depending on which one, these finishes can be gloss, semi-gloss, satin, matte, or clear. Some sealants serve as stains. If unsure, talk to the manufacturer of your bamboo floor planks for advice on which one to use.
When it comes to the actual finishing, apply the finish using a finish applicator or a rag and let it dry. Once it has dried, you can polish or buff it to remove any particles or granules before applying another coat.
Finally, use a synesthetic applicator for water-based finishes and one with natural fibers for oil-based finishes. A T-bar, brush, trip pad, or roller will work well for water-based finishes, while for oil-based finishes, go for lambswool applicators or rollers.
How much does it cost to refinish bamboo floors?
The cost you will incur depends on what you use, including the stain and finish. Various stains and finishes come at different prices. Also, the overall amount you spend will depend on whether you do it alone or hire an expert.
On average, refinishing bamboo floors will cost you $1 to $2 per square foot if you do it yourself. However, should you be a hire an expert, the cost will go up to $3 or more.