Is bamboo flooring scratch-resistant or does it scratch easily? How easy any flooring scratches, dents or develops scuff marks is an important consideration when deciding the suitability of the various flooring options available. Let us look at whether bamboo planks scratch easily or not.
Why consider bamboo floorings
Bamboo is emerging as a popular flooring material because it is durable, affordable, renewable, and easy to maintain (you can clean it with hardwood care products). Furthermore, bamboo flooring can be refinished, but this depends on plank thickness), and adds value to your property, among other benefits.
We all know that bamboo is susceptible to humidity swings (may warp or crack), and some of the adhesives used may have toxins, among other cons or problems. What about scratches, dents, dings, and grooves? Does a bamboo floor scratch easily or not?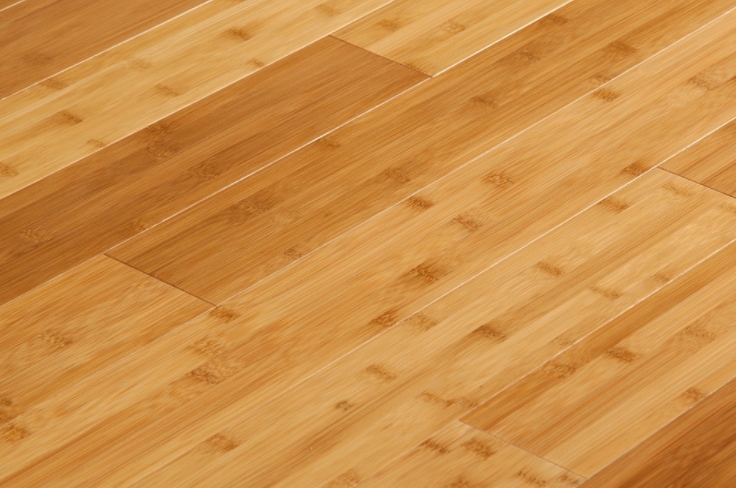 The answer isn't a straight yes or not. However, it all depends on the bamboo quality and finish you are using. For instance, low-quality and cheap bamboo flooring that has a poor finish will easily get scratches, dents, and scuff marks. This category includes those that have been poorly compressed and harvested at the wrong time before they mature fully.
In most instances, what you see as scratches, including white marks, may not necessarily be on bamboo but on the various finishes. A thinner, weak, or inferior finish will make bamboo flooring susceptible to scratches
On the other hand, well-finished bamboo flooring doesn't scratch easily, i.e. it is not entirely immune to scratches but won't get scratches easily. As Cali Bamboo notes, "floors with several layers of an aluminum oxide finish are scratch-resistant."
On average, you will spend about $4-11 per square foot on a good quality (well-finished) bamboo flooring (including installation). Anything much lower than this range may indicate that they have a poor finish.
Therefore, always talk to your vendor, stick to reputable companies, and avoid buying just anything you get in your local hardware. Some vendors are more interested in profits than selling a genuinely superior product.
What is its average hardnes?
We understand you have read in countless places that bamboo flooring scratches easily. However, that shouldn't be the case if you go for a quality brand.
For instance, hardness is an essential factor in measuring durability and the type of bamboo flooring. For instance, bamboo in its natural state, i.e., vertical and horizontal bamboo has a Janka hardness of 1300-1400, making it hard than oak and other hardwoods. This essentially means that natural bamboo flooring will perform slightly better than some hardwoods when it comes to scratches and dents.
However, vertical or horizontal carbonized bamboo flooring has a little lower Janka hardness rating of 100-1100 and may not perform so well.
On the other hand, strand woven bamboo has a Janka hardness that is as high as 4000-6000, beating most in not all hardwoods - it will resist scratching and dents slightly better than hardwood floorings.
Therefore, strand-woven bamboo is an excellent choice for people who have pets like dogs and cats or in areas with high traffic. Pet claws are unlikely to cause permanent scratches even if you have a large dog weighing about 100 pounds.
Besides considering the Janka hardness, it is also good to look at the warranty years given because they have a bearing on the quality.
What causes scratch on bamboo floorigs
One can ignore the causes of scratches and blame a particular flooring type. However, it is also good to consider the reasons.
Many things can cause scratches and dings to your bamboo or other flooring types. Common causes include the following:
Grit in shoe threads, stilettos, high heels, cleats, and spikey shoes
Loose sand, grit, or dirt in the house
Cat and dog claws
Furniture
Kids' toys with rough edges or sharp ends
Objects being dropped on floors
How do you prevent scratches?
Prevention revolves around managing the various causes. For instance, to prevent scratches, ensure your furniture has felt pads, remove shoes, vacuum or clean any dirt or loose sand (using a vacuum cleaner for hardwood floors, not carpets).
Also, consider area rugs, have entry mats at your doors, and ensure the area outside your house is clean, among many other strategies.
Can i repair or fix scratches?
If your bamboo floor happens to have scratches already, all is not lost. You can still repair, fix, or get rid of some scratches, especially micro-scratches or small ones.
You can even refinish bamboo floors. However, how often you can refinish it depends on its thickness as thinner needs a delicate refinish and can only be done once.
Some, you cannot refinish at all especially the SPC bamboo and some engineered planks. Also, some manufacturers don't allow refinishing.
Will my pets cause scratches on my bamboo flooring?
Bamboo's resistance to scratches and the fact that it is easy to clean makes it one of the popular flooring for people with pets. It effectively competes with other options like engineered wood, luxury vinyl, cork, stone, and tile flooring.
Of course, solid hardwoods, carpets (unless pet friendly), and laminate (unless waterproof) are not good for people with cats or dogs as they get easily scratched and damaged. For instance, your pets may scratch or chew the carpet, and solid wood or laminate may warp in case of spillage.
Besides bamboo, other good wood flooring options are hickory, ash, walnut, maple, and oak, which are often suitable for people with pets. We know that IPE is the hardest wood, but it is rare.
However, avoid softwoods like spruce, pine, or fir as they will get scratched quickly.
Finally, suppose your pets aggressively scratch the floor or other items like furniture, especially the cat. In that case, you should look for another preventive measure that may include buying a scratching post or having nail cats.