Since its inception in the early 1990s, bamboo flooring, especially strand-woven, is increasingly becoming every homeowner's flooring choice because it is eco-friendly, durable, affordable, and increases property value.
Bamboo flooring is also luxurious and comes in various attractive wood-like finishes and textures. Additionally, it resists moisture and water damage (molding, staining, warping, cupping, deforming, or swelling quickly) better than wood, among other benefits.
Let us tell you what strand-woven bamboo flooring is, its pros, problems, installation, natural vs. carbonized, solid, engineered, and parquet. We will also review some of the best brands to buy, like Home Depot's Decorators Collection, Cali, Ambient, Home Legend, Teragren, Lumber Liquidators, etc.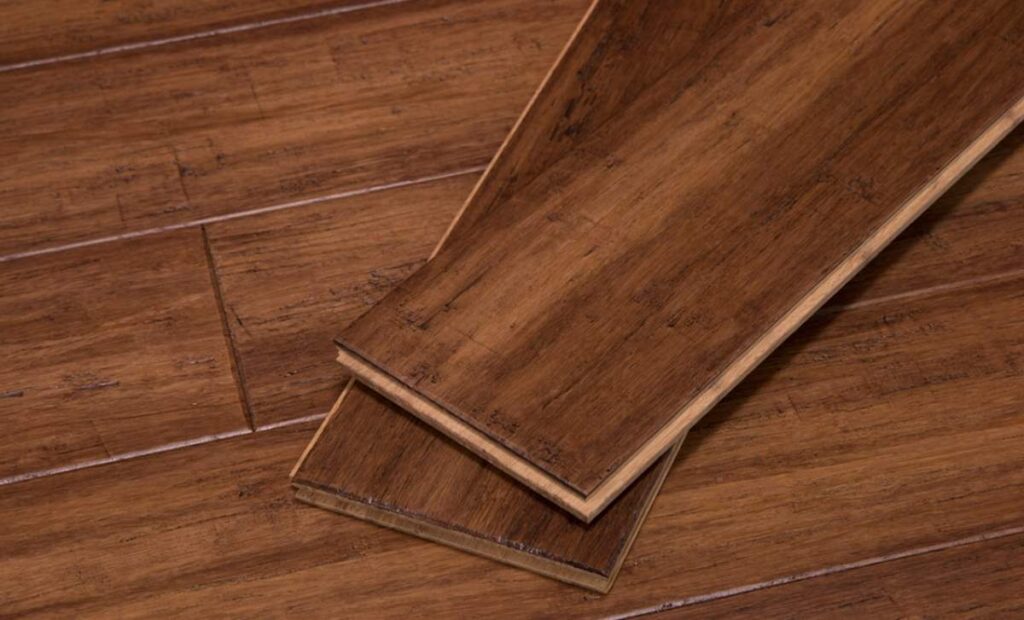 Meaning
Strand-woven bamboo flooring refers to superdense bamboo planks made by weaving, adhesive-soaked bamboo fiber or strands into blocks under intense pressure, before milling them into planks. For clarity, we will briefly examine how bamboo flooring is made and distinguish strand-woven, horizontal, and vertical bamboo planks.
Once delivered to factories, manufacturers slice bamboo culms (stems) into strips, peel the green skin off, and sand nodes to have even strips. They will then boil them boric acid, dry, and (carbonize if necessary).
Afterward, they will glue the strips together vertically by their edge or horizontally (flat) to form vertical and horizontal bamboo flooring. The following steps will be milling and finishing.
However, to make strand-woven bamboo, manufacturers will further shred the strips to bamboo strands or fibers before boiling them in boric acid and drying them. They will then glue and compress the fibers, after layering them lengthwise, but in various orientations, into bamboo blocks (under intense heat and pressure), either naturally or after carbonization.
These stranded blocks are cut into planks and finished. This step will involve creating installation profiles, edge styles, sanding, distress, leaving them smooth, and applying several protective coats.
Popular distressing techniques include hand-scraping, wire-brushing, aging (antiqued to have a stain and knife effect), claw marks, saw marks, streaks, French bleeds, and so on, while edge styles include pillowed edge, square edge, micro-bevel, or bevel.
Finally, installation profiles can either be tongue and groove (T&G) or click-lock depending if you have solid or engineered planks.
Pros
Some of the pros or benefits of strand-woven boards over horizontal or vertical bamboo planks include the following:
a). Hardness
The strand woven bamboo flooring hardness exceeds even the hardest hardwoods like Brazilian walnut, about twice as hard as oak, or horizontal and vertical planks.
Depending on the manufacturing process, strand-woven bamboo flooring may have a Janka hardness ranging from 4000-6000 (some may have a slightly lower (Janka hardness since it depends on the manufacturing process).
This hardness is only comparable to strand woven eucalyptus flooring. The horizontal and vertical planks have a much lower Janka hardness of about 1300-1400.
The harder the board or plank is, the better it will resist scratches, dings, and dents, and the easier it is to maintain.
b). Better water resistance
Like other organic materials, bamboo isn't waterproof. However, when compared to wood, it shows a better resistance to water and molds. Strand-woven bamboo, being superdense, resists moisture and molds even much better.
c). Durable and easier to maintain
Compared to vertical or horizontal planks, strand-woven bamboo will last longer before it wears (it is more robust and resist water better). Therefore, you will not spend much effort or money refinishing it.
However, since these bamboo planks are not 100% immune to scratches, provide the necessary care and ensure you follow what the manufacturer recommends.
d). Looks wood-like but better
These planks look much less like natural bamboo, making them a perfect replacement for wood. They will still give the expensive, natural, luxurious, and vibrant, rich hardwood patterns while costing lesser. You can still get stone grey and rustic looks.
Also, it is eco-friendlier than wood since bamboo takes about 5-7 years to mature, while some hardwoods take several decades.
e). Wide application
Being harder (resist scratches, dings, and dents better), durable, and with better water resistance abilities, strand-woven bamboo is suitable in various rooms in your residential places, including your bathroom, kitchen, hallways, and other utility rooms.
Additionally, you can use it in residential places with high traffic, heels, pets (their claws won't dent it easily, including those of big dogs), kids, or even in light commercial areas (restaurants, etc.). Did you know that you can use it even with underfloor heating systems?
However, we don't recommend it for the basement unless you have a waterproof underlayment or settle for strand-woven engineered bamboo boards.
f). Reduces material wastage
Any wastages during milling of horizontal or vertical boards or even strand-woven ones are recyclable, i.e., you can shred these remains and use them to make strand-woven boards.
Problems
Yes, they have many pros. However, there are bamboo strand woven floor problems that you need to know too.
a). Take longer to acclimate
Horizontal or vertical planks that acclimate within a few days, usually up to four days. However, some strand-woven bamboo floorings may take up to a month to acclimate.
The high density and glue-infused fibers make it hard for acclimation to occur fast enough since they don't allow moisture in or out easily. Therefore, they need more time to achieve equilibrium moisture content (ECM), which must occur before installation.
b): Nailing isn't easy
If you opt for a nail-down installation (for those with a T&G installation profile), you will need an at least 18-gauge cleat nailer to drive nails through these high-density boards. Unfortunately, you might have trouble getting these cleat nailers.
c.) Loses natural bamboo look
Since the bamboo strips are shredded to strands, the resulting planks will not have the characteristic bamboo look. Instead, they will look much more like wood.
d). Not easy to stain if you try refinishing
You can refinish any bamboo floors. However, a few people have complaints that the high density of strand-woven planks makes staining a challenge, i.e., it doesn't readily take up the stain and change its color as you may want. Also, sanding isn't easy, and you will need one with advanced dust filtration.
On trying to refinish these planks, we didn't find any of the above as serious issues. However, being hard, sanding isn't effortless.
Note - Cupping, crackling, rippling, wrinkling, or molding of strand-woven bamboo planks is associated with poor manufacture, especially when the blocks don't dry well.
Natural vs. carbonized strand-woven bamboo flooring
You can opt for carbonized bamboo or natural strand-woven bamboo flooring (blonde or straw-like color).
Carbonization happens right before bonding or weaving. And the process involves controlled steam heating under pressure to caramelize the natural sugar in bamboo. It results in a wide range of darker, richer shades (light yellow, honey, light brown, dark brown, coffee colors, etc.).
Fortunately, even without carbonization, you can still achieve various wood-like appeal such as that teak, ash, maple, cherry, walnut, tigerwood, oak, and so on looks using stains or printing them.
Carbonization creates uniform coloration throughout the plank (that won't lighten), makes them more aesthetically appealing, increases property value, and so on. However, the planks are slightly weaker than planks by about 10% and cost slightly more.
However, this small change doesn't waken strand-woven boards as they are much stronger than hardest hardwoods.
Finally, by combining natural and carbonized bamboo, you will end up with what is known as "tiger bamboo flooring," characterized by dark and light strips or the tiger-stripe effect.
Solid strand-woven bamboo flooring vs. engineered
Solid strand-woven bamboo planks have bamboo on their entire thickness. In contrast, engineered ones have a strand-woven bamboo veneer (wear layer) bonded onto plywood, fiberboard (hardwood), or an SPC (Stone Plastic/Polymer Composite).
They resemble each other, are both durable, and hard to distinguish once installed. i.e., these two look the same. Also, both are hard-wearing, and you can have them in various rooms.
Each has pros and cons, which we will review to help you decide what best suits your needs.
a). Dimensional stability
If you want flooring that is more dimensionally stable, engineered are the best bet. They will resist expansion and contraction better due to humidity and temperature changes because they are bonded to SPC, fiberboard, or cross-laminated plywood core.
However, dimensional stability doesn't mean harder but the response to temperature and moisture changes. Some cheap brands may not be very hard.
b). Installation
Most engineered planks (not all) come with a click-lock system that is very easy to install. You only need to float them. Also, they are easier to repair, cut, join, drill, and so on.
On the other hand, the solid, stranded boards come with a T&G that you should glue or nail down. However, you can also float them if you are willing to glue their seams, but it is cumbersome. Also, cutting, drilling, joining, or repairing them isn't easy.
Additionally, engineered blocks have more application compared to solid boards since they are dimensionally stable. You can install them and any level, including below-grade level (basements), kitchen, utility rooms, in places with underfloor heating, and so on, since they won't shrink quickly.
However, if you install them in the bathrooms, do it on a private one with a bathtub and ensure you don't dry any water that spills. Also, we would recommend you install the SPC planks like LifeProof, AquaGuard, AquaSeal, or Cali's GeoWood.
c). Eco-friendliness
If you settled on bamboo because it is eco-friendly, engineered strand-woven bamboo flooring isn't as eco-friendly as its solid counterpart since it only has a small bamboo part. The rest is wood which takes longer to grow, making it not so eco-friendly.
d). Plank sizes
Unlike solid planks that are usually narrow, engineered strand-woven boards or planks are broader.
d). Refinishing
If you need a floor, you can refinish severally, go for solid strand woven bamboo flooring as they have a thicker wear layer. Otherwise, engineered planks have a thinner wear layer limiting the times you can refinish it.
Also, some manufacturers don't recommend refinishing. However, since both the solid and engineered planks are durable and don't get scratched easily, you may not need frequent refinishing.
e). VOCs
The manufacture engineered planks utilize more resins or adhesive, some of which may be toxic, meaning they will emit slightly more VOCs than solid planks,
f). Cost
Since they need more energy, making them is long and complex, engineered blocks will end up being more expensive than solid ones.
Parquet
Strand-woven parquet bamboo is nothing other than solid or engineered strand-woven bamboo made into small blocks, which, when laid, create angular, geometric, or patterns of triangles, squares, lozenges, basket-weave, brick bond, or herringbone.
They are visually appealing and will bring mid-century appeal, are compatible with underfloor heating, you can opt for natural, carbonized, or stained ones.
They are not hard to install. However, o create a great pattern or look, it needs an expert and just a DIYer. Also, they are not easy to find, not everyone likes them, and since they are small and jointed, they may be vulnerable to moisture.
Installation
Strand woven bamboo flooring installation techniques will depend on their installation profile. Typically, the solid, stranded bamboo comes with a T&G profile that requires gluing or nailing down. You also float them if you glue them between their joints.
On the other hand, engineered strand bamboo flooring comes with a click-lock system (not all), and you float them. However, some do have a tongue and groove.
To install them, You will need a very even subfloor prepared according to what the manufacturer recommends, have the suitable wood glue or nailer (for T&G), and a few other tools. Also, ensure you let your planks acclimate for the recommended time.
Pro Tip: if you haven't bought your planks, always go for T&G and glue or nail them down if you live in places that experience more humidity drops. The click lock system is vulnerable to changes in humidity. They will shrink, leaving gaps that make them susceptible to moisture if the humidity drops so much)
However, this may not be an issue if you have HVCA (heating, ventilation, and air conditioning) systems). Also, you can use humidifiers or dehumidifiers.
Prices
Strand woven bamboo flooring prices range from $3-$6, with professional installation requiring an extra $2-$5. However, some brands like Teragren and Cali Bamboo sell at higher prices, i.e., up to $9. Similarly, you will get brands selling at a much lower price.
However, as already noted, strand-woven planks are expensive than their horizontal or vertical counterparts.
Finally, warranties, manufacturing process, and quality may affect strand woven board cost. Check their hardness, guarantees, where you can install them to help decide on the best to buy.
Best brands reviews
We understand you may want to know the best strand woven bamboo flooring. We are going to review several premium quality brands and give you their price range.
1. Cali
Cali sells only premium quality strand woven bamboo flooring made by their proprietary Fossilized® manufacturing process backed by a 50-year residential warranty. Cali also has vinyl, eucalyptus, cork, engineered, and wood flooring.
Their SPC, engineered, and solid-stranded bamboo planks emit ultra-low in VOC (FloorScore certified) and several coats of scratch resistance.
Also, these planks intended for residential and commercial are Prop 65 compliant and CARB 93120 & EPA TSCA Title VI Compliant for Formaldehyde, and depending on your choice, the planks could be:
15.9mm, 11mm, 6.3mm, 14mm thick planks
Have a wide click, standard click, or a wide T&G installation profile.
A smooth surface, distressed or hand-scraped surface
Pet-friendly with the stranded solid bamboo being heel friendly.
Smooth, distressed, hand-scraped, French bleeds, claw marks, or aged surface
Micro-bevel or pillowed edge
Colors: Bourbon Barrel, Java, Mocha, Amber, Iron, Broadwalk, Bordeaux, Savanna, Natural, Vintage Port, Copperstone, and Jasperstone.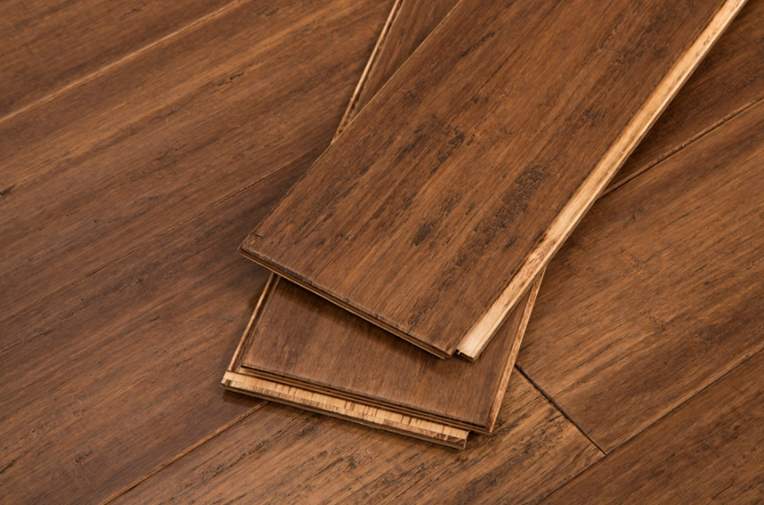 Price range: $3.79 - $7.51/ Sq. Ft. (Lowe's)
2. Teragren
Teragren has both horizontal (PureForm Traditional) and strand-woven XCORA bamboo planks. Among the stranded, you can go for engineered ultra-wide planks (Essence Collection), Wide (Neotera Collection), or Teragren synergy bamboo flooring, which are narrow, solid strand planks.
They all come with a tongue and groove, 160% harder than oak, a FloorScore air quality certification, limited lifetime structural, and 25-year finish residential warranty, while commercial warranties are 10 and 5 years, respectively.
Depending on your choice, their surface may be smooth, wire-brushed, hand-scrapped, and the edge may be micro bevel or hand-crafted micro bevel.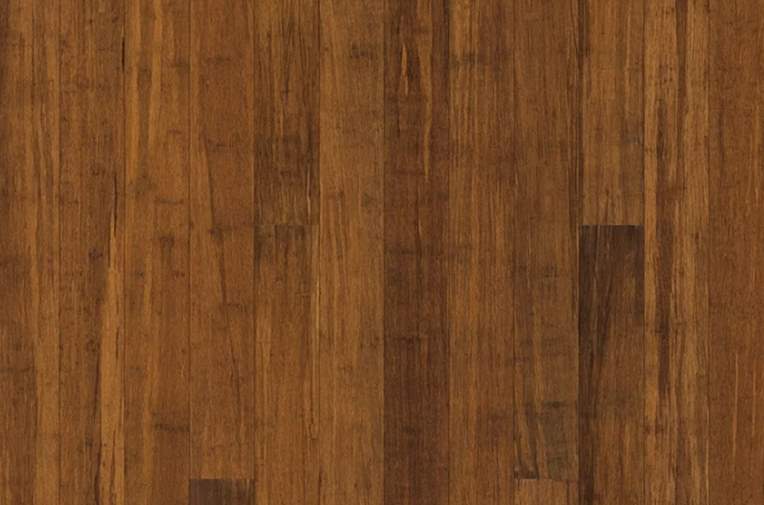 Price range: $6.99-$8.27
3. Ambient
Another place to find premium quality strand woven bamboo flooring is Ambient. You will find solid and engineered (including SPC) planks, natural, carbonized, or tiger bamboo flooring (tiger strand) in many unique colors, from honey to tiger to java to Ashwood.
All planks have the coveted FloorScore indoor air quality certification, a micro-bevel edge, 24-hour spill protection, and they are pet, kitchen, and kids friendly. Also, they have a lifetime warranty, with some having a below-grade one too.
Depending on what you choose, their surface could be smooth, antiqued, smooth, or hand-scraped, have either T&G or click installation profile and be radiant heat safe. Additionally, the planks may be standard or wide.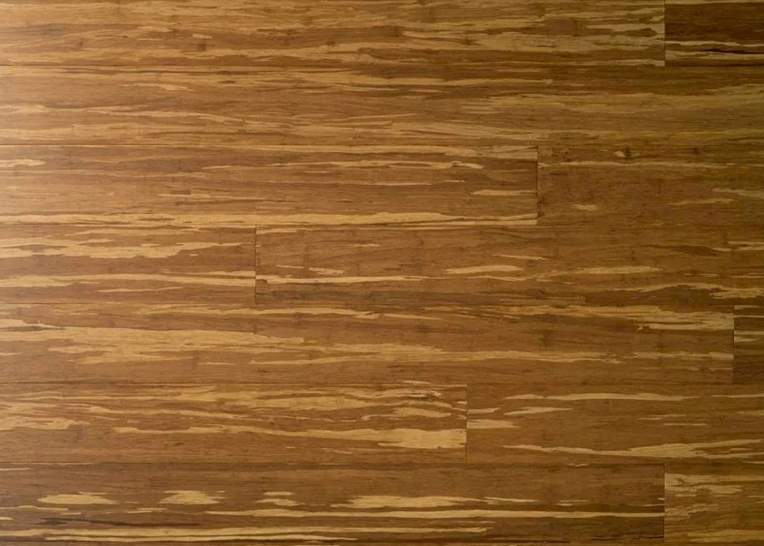 Price range: $4.63-$6.46
4. Lumber Liquidators
Lumber Liquidators (LL Flooring) have ReNature and AquaSeal stranded bamboo flooring planks intended for residential use, above grade, on grade, below grade level. You will get 35 or 50 years residential and 5 or 10 years light commercial warranties.
The planks are carbonized or natural, solid or engineered, and they have bevel edges either on two or all sides.
Depending on your choice, they may have a click or tongue and groove installation profile and natural wood grain, antiqued or distressed.
Kindly note that Lumber Liquidators Morning Star Strand Bamboo and Seaward Bluff Strand Wire Brushed Wide Plank Engineered Bamboo Floorings are no longer available.
Price range: $2.49-$3.89
5. Floor and Décor
Floor and Décor's AquaGuard or Eco Forest Stranded Bamboo floorings are an excellent choice of affordable bamboo planks. You will get planks certified for air quality by either GreenGuard Gold or FloorScore.
Depending on what you choose, they could be solid or engineered, natural or carbonized, for residential only, or residential and light commercial. Also, these planks could have beveled or micro-bevel edges (on four sides).
Finally, their warranties greatly vary from 40 years residential to a lifetime to 15 years light commercial. Don't worry about colors or finish. There are smooth, wire-brushed, distressed, hand-scraped finishes in various colors.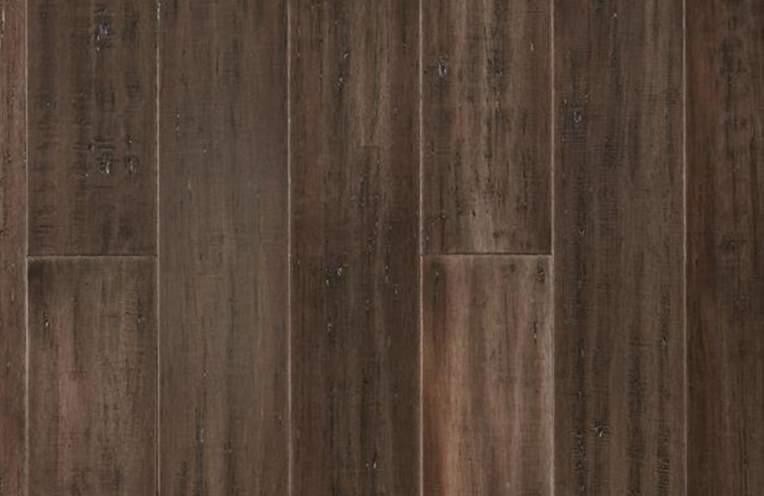 Price range: $2.16-$3.89
6. Home Depot
Do you need Home Depot's strand-woven bamboo? You can go for LifeProof or Home Decorators Collection. They will include Home Decorators Collection Hand Scraped Strand woven wellington, Earl Grey, Honey Tigerstripe, Tacoma, Sepia, Sahara, Dark Mahogany (AM1319E), Herringbone, and so on. Others are strand-woven harvest (AM1313E), Java, and Sunset
The planks are either solid or engineered, have a smooth, wire-brushed, hand-scraped or distressed finish, and a beveled (including a beveled hand-scraped )or micro-beveled edge.
Depending on your choice, you will get planks for residential use only or residential and commercial use and may be intended for on and above or all installation levels. However, they all come with a limited lifetime residential manufacturer's warranty only.
Finally, they come with either FloorScore GREENGUARD indoor air quality certification and have a Janka hardness of either 3000 or 4000.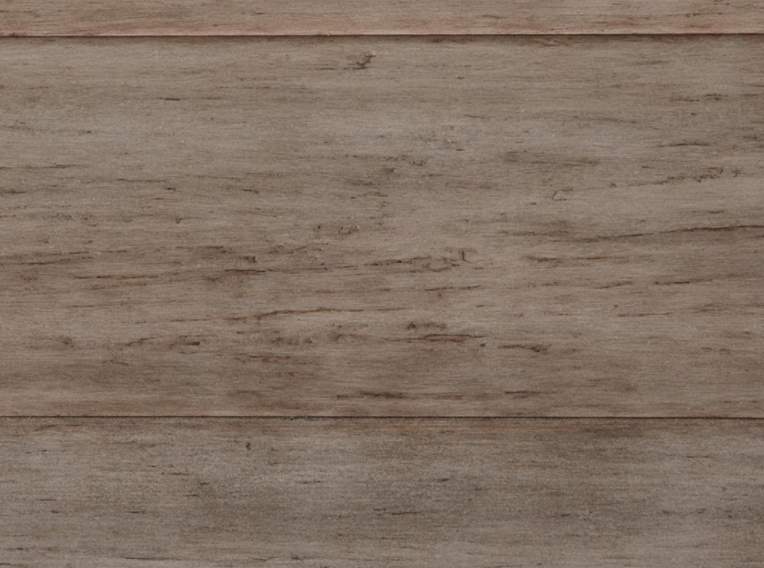 Price range: $1.29-3.99