Bamboo parquet flooring blocks are specially made small bamboo blocks laid to create regular, repeating geometric mosaic or angular shapes or patterns of squares, lozenges, or triangles. Common bamboo parquet block shapes or patterns include chevron, basket weave, brick bond, or herringbone (most famous).
They create visually appealing floors that send a bold and dramatic statement, and when compared to ordinary bamboo planks, they are shorter.
Additionally, these bamboo parquet blocks look somewhat similar to wood parquet, which was popular in the 1960s but fell out of favor with the invention of other cheaper alternatives such as luxury vinyl and laminate.
Finally, the term parquet borrows its origin from the 'parquetry'. This old French term means small compartment. It was to describe the 16th-century wooden floors created by arranging small wood pieces to form geometric shapes, especially among the wealthy aristocrats.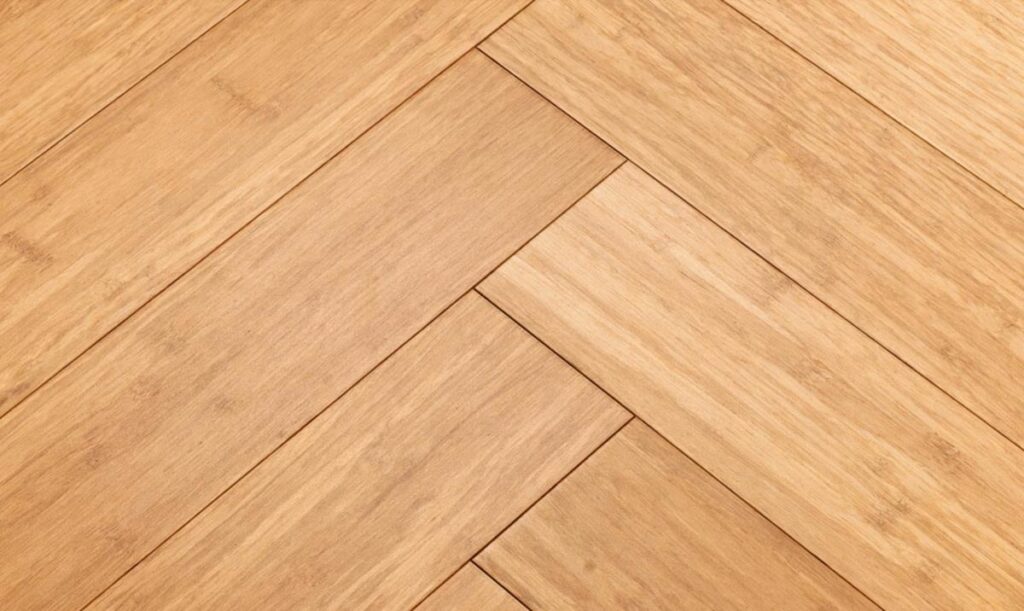 Manufacture of bamboo parquet blocks
Like any other bamboo floor plank, parquet block undergoes a similar manufacturing process. The only difference is on the cutting, where they are cut into interlocking smaller blocks before they are milled, sanded, stained (optional), and finished.
These blocks are often pre-finished, can be made from natural or carbonized bamboo (steamed under high pressure to allow sugars present in the strips to caramelize, giving them darker, richer colors that will look stunning), engineered, SPC, strand-woven, horizontal, or vertical and typically come with a tongue and groove (T&G) fitting profile.
However, in most instances, you will mainly find strand-woven bamboo parquet blocks as they are stronger than the hardest flooring hardwoods. They are durable, and will not wear or get scratched quickly, especially if they have good water, scratch, scuff-resistant anti-slip finish.
Why are strand-woven blocks harder? The answer is simple, unlike the horizontal or vertical planks where bamboo strips are compressed flat or vertically. In strand-woven, the strips are shredded to fiber strands that are afterward woven using adhesives.
Pros
They create an alluring and elegant midcentury modern style and very bold look that everyone will admire. Don't you want something that looks awesome?
Parquet block installation is a breeze as you don't need nails. Just glue them to stable and flat subfloors.
These flooring blocks are factory pre-finished. Therefore, you don't have to refinish them after installation.
Another pro is that you can refinish these bamboo floors. However, it is not as straightforward as you would imagine.
They are compatible with underfloor heating and are usable in most floor types, except those that often contact water.
You can get both carbonized and natural ones, and some are stained in various colors to complement your interior décor.
Cons or downside
Refinishing bamboo parquet floors is challenging. It needs the hands of an expert because unlike the other bamboo flooring because its grains run in a different direction yet sanding should be done in the direction of the grains to prevent the formation of cross-grain markings.
These blocks are not readily available.
Not everyone likes parquet blocks. Some people don't consider them modern.
For the most alluring looks, you need professional experience to lay them beautifully.
Being small, they have many jointed areas, making them not a perfect choice for moist or humid places such as your bathroom or kitchen.
Installation tips
Yes, you need an expert to install them as it may not be easy to create a perfect-looking pattern on your own.
Furthermore, before buying them, you deserve to know that these blocks are glued to the subfloor. For them to be flat, the subfloor must be very even and stable and even.
Also, since they are susceptible to moisture or water, avoid installing them on slab foundations or in the basement. Use them in these areas if you have a waterproof intermediate subfloor such as DRIcore.
Care
Like any other bamboo floor, they need care that includes sweeping, dry mopping with a microfiber mop, or vacuuming (use a vacuum without a beater). Also, you can routinely clean them using hardwood cleaning products, just as you do with others.
Don't use harsh chemicals, or abrasive cleaners, and you should consider having a mat on areas which high traffic to reduce the need to refinish them, something we noted isn't straightforward.
Remember, while well-finished, strand-woven bamboo doesn't get scratches quickly, it may get them with time. i.e., they are not immune.
Brands to buy
You mainly pre-finished as the unfinished bamboo parquet blocks aren't so common because finishing them on-site isn't easy.
And as already hinted, it is not easy to find bamboo parquet flooring as most of the leading vendors don't sell them, partly because they are not so popular. However, if you need them, some brands to buy include the following:
Islander
Islander has one engineered bamboo block, i.e., 7-ply engineered hardwood with 2 mm strand bamboo wear layer, the Monticello 9/16 inches Thick x 15.75 inches Wide x 15.75 inches Long Engineered Parquet Hardwood Flooring. In the US, you will find them at Home Depot or Wayfair.com.
Bamboo Flooring Company (UK)
This UK registered trade name is owned by Kitchener Flooring LTD which sells certified bamboo flooring products.
They have four strand-woven bamboo parquet blocks, i.e., Solid Stone Grey, Solid Carbonized, solid chestnut, and natural solid 90mm Parquet Block BONA Coated Bamboo Flooring with Matt Bona Naturale Anti-Slip lacquer, inc UV protection, and two of them have a distressed surface.
Bamboo parquet price/cost
The average bamboo parquet price or cost ranges from $4 to $12 per square foot, and expect to incur a cost of $2.5 to $6 or more per square foot as labor charges. However, these prices may vary from one place to another.
For instance, Islander sells their parquet at $10.28 per square foot, while Bamboo Flooring Company (UK) has a price of £37.99m² which is equivalent to $4.98 per square foot.