Hand scraped bamboo floorings will add a lovely unique detail, character, and a rustic look to your rooms, a reason why everyone, including designers, DIYers, and homeowners, love them.
Discover what hand scraped bamboo floorings are, how they are made, benefits, downside, and best brands to buy. We will also have something small on care to demystify some common myths.
What is hand scraped bamboo flooring?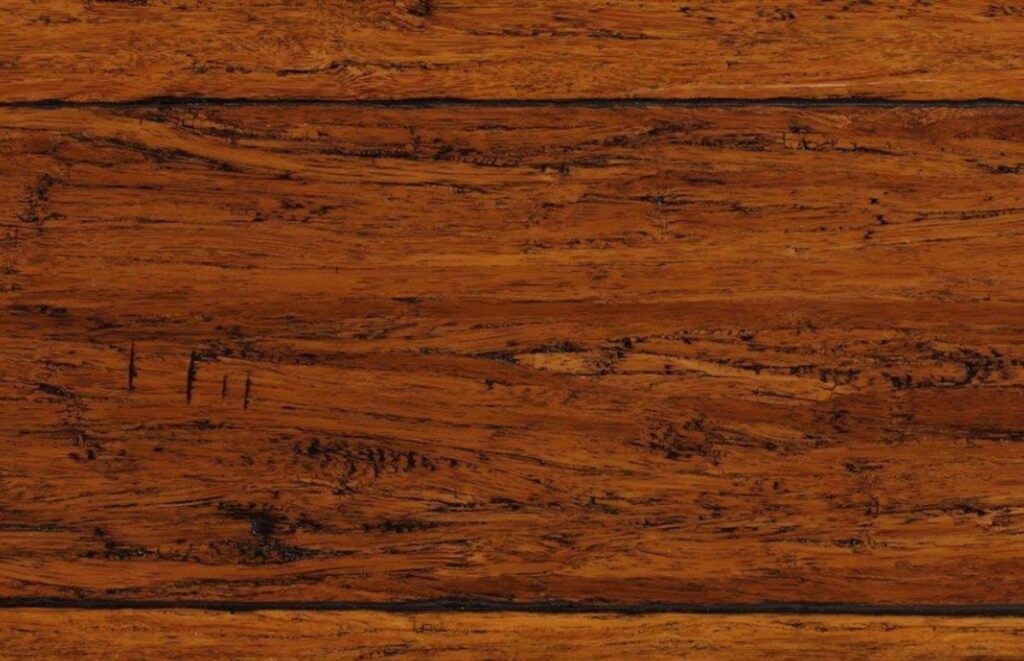 Hand scraped bamboo flooring is a type of distressed bamboo flooring where the bamboo planks' surface is deliberately scratched or scraped before adding a protective finish or lacquer, creating an exceptional charming rustic or antique reclaimed appeal.
Unlike smooth planks, the planks will have a subtle, textured surface with depth, perfect for traditional and modern designs. Usually, the intensity of texturing varies from one plank to another to help create a unique appeal.
Besides hand scraping, other common bamboo and wood distressing include streaks, saw marks, pillowed edge, French bleeds, claw marks, and aged distress wood flooring. These could come in bevel, micro-bevel, or square edge styles.
Note that the scraping doesn't influence the various fitting profiles or installations such as click lock (Uniclic), tongue and groove (T&G), or whether you float, glue, or nail the planks. Instead, the plank types influence how you install them if you want to create a unique pattern.
Finally, this distressing method has little impact on plank hardness. Instead, other factors such as harvesting time, processing, bamboo type, finish, and so on have influence. For instance, strand-woven bamboo is more robust than solid vertical or horizontal planks considering their Janka ratings.
How are they are made?
Hand-scraped bamboo flooring is made like any other bamboo flooring type, i.e., the planks could be solid (strand woven, vertical or horizontal), engineered, or bamboo SPC (stone plastic composite or stone polymer composite) flooring. Also, you do it on bamboo parquet flooring.
However, before adding layers of protective or anti-scratch finishes, the plank's surface is brushed, or scraped. This process creates natural-like textures, irregular markings, and imperfections, i.e., knicks, grooves, dents, splits, wormholes, and other markings that would naturally occur on bamboo.
Although the name suggests that this distressing method happens using hand (something that would create unique texture and richness), and some manufacturers have artisans to do so, this is not always the case. Nowadays, most are machine scraped.
When compared to hand-scraped, machine-made scraped planks are cheaper. Also, most companies try as much as possible to ensure each plank is unique (varying intensities such as light, medium, or heavy and appearance). Unfortunately, as you would expect, the planks end up having a repeated pattern, which makes them devoid of a natural look and appeal.
However, you can still hand-scrape your planks at home before applying the protective lacquer if you want a more reclaimed look. Also, you can do this to an already installed floor.
However, before doing so, ensure the specific bamboo flooring you buy can be refinished. Some aren't, and doing so will cause damage.
Pros
Some of the pros of hand scraped bamboo flooring include the following:
Adds unique touch full of richness and traditional or vintage appeal or character to your space, i.e., it produces more elegant, contemporary rooms.
Compliments the alluring natural appearance of bamboo, i.e., the process makes planks look so natural and blends with any imperfections.
Creates unique markings when compared to other methods of distressing, especially if done by artists.
They help camouflage or disguise wear and tear, i.e., you can't quickly see a distinction between where the floor was deliberately textured and torn or worn.
May hide some natural dents, dings, or scratches, i.e., you won't know if these markings existed or were added during the distressing process.
You don't need additional care. Also, it doesn't impact plank hardness and doesn't influence fitting profiles.
Downside
You cannot re-sand or refinish the floor as this would damage the unique markings created during the process. If you sand it, you have to scrape again.
Tend to be costly since some manufacturers depend on the personal touch of various artisans for a unique appeal. However, machine-scraped floorings may not add much to the cost.
Installation may be challenging as you need to arrange the various planks to create the most appealing rustic look.
Crevices created tend to collect dirt, making cleaning a little more challenging.
Price or cost
The average price or cost of hand scraped bamboo flooring is $4 to $11, which is the same range that even those that are not distressed. This costs labor costs ($2-$5), and if you get an expert to hand-scrape yours, expect labor costs to go slightly higher.
Best hand scraped bamboo flooring to buy
We hope the various hand-scraped planks are appealing, and you would like to try them. If that is the case, we have some of them are good brands to buy. However, before purchasing any brands, always check if they are pet-friendly and permit high-heels (if that is a requirement), and read reviews.
1. Cali Bamboo
Launched in 2004, Cali Bamboo is one place you should consider when looking for the best bamboo flooring, including hand-scraped. Besides bamboo, they also have eucalyptus, engineered planks, vinyl, wood flooring, composite decking, accessories, and other products.
Cali has 13 hand-scraped bamboo flooring products that boast a Janka Hardness test of 5000+ and come with a 50-year residential warranty. Each plank is rich in color and texture. All their bamboo is sustainably sourced from Anji County in Zhejiang Province, Southeast China.
You can go for the Vintage Port, Treehouse, Jasperstone, Savanna, Distressed Mocha, Bourbon Barrel, Bordeaux, Broadwalk Antique, Java, and Antique iron. These planks may be engineered, Geowood (SPC), and solid strand-woven bamboo.
Finally, kindly check before buying and ensure the specific one you buy fits your need since some are pet-friendly or high-heel safe. Also, the planks come with different fitting profiles, i.e., wide-click, standard click, and tongue and groove.
2. Home Depot hand scraped bamboo - Home Decorators Collection
Home Depot's Home Decorators Collection is one place to get affordable yet superior quality products, including furniture, flooring, lighting, outdoor, paint, window treatment, storage, bath, home décor, and many more.
Home Decorators Collection is one place where you can get a wide variety of affordable, hand scraped strand woven bamboo flooring, engineered or horizontal planks, including wire-brushed ones.
Some of the popular ones include Home Decorators Collection hand scraped strand woven earl grey and hand-scraped Strand Woven Warm Grey. Others are hand-scraped Strand Woven Harvest, Light Taupe, Brown, Wellington, charcoal, and Terra cotta, among many others.
Besides Home Decorations Collection, Home Depot sells other brands including Zamma Hand Scraped Strand Woven Bamboo Dark Mahogany.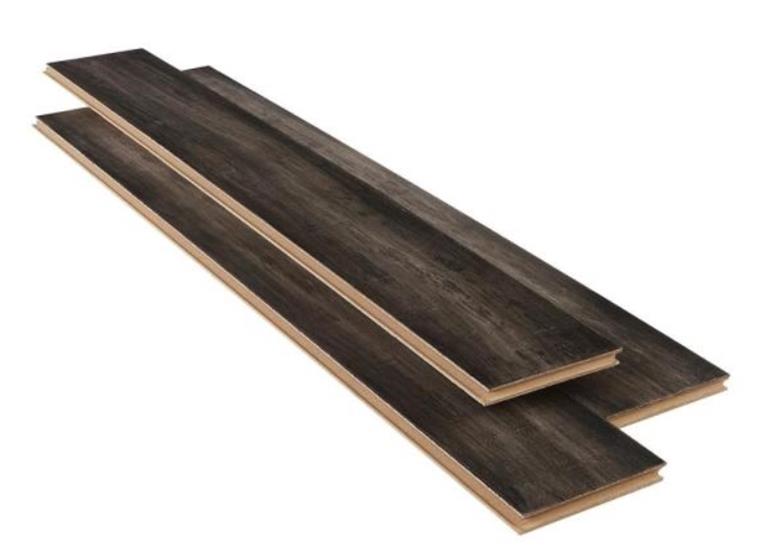 Finally, besides colors, the plank comes in varying sizes, fitting profiles (click-lock or T&G), and different properties.
3. Floor and Décor
Floor & Décor is a leading retailer of tile, wood, bamboo, stone, related accessories, and tool founded in 2000. They have various colored planks, ranging from dark to light ones that may be stranded solid, solid, or engineered stranded.
Some of these planks include Dark Java, Lanark, Urban Gray, Ellis, Edinburgh, Pewter, Jocelyn, Tawny, Mercer Locking, Palazzo, and Madero. Others are Black Beech II Locking, Maldives, Modish Gray, Durban, and Shallan, and Eco Forest Maganda Hand Scraped Locking Stranded Engineered Bamboo.
4. Home Legends
Another reputed brand that sells hand scraped bamboo flooring is Home Legend, LLC, established in 2004. They have three facilities in the US, i.e., Adairsville, GA (head office and East Coast warehouse), Fontana CA, and CA, and Kennesaw, GA (sales, sales, and research and development facility).
Besides bamboo, Home Legend also has hardwood, laminate, and luxury vinyl flooring products. You will love Home Legend Strand Woven Mojave HL667, natural, spice, harvest, and Sapelli, all available at Home Depot.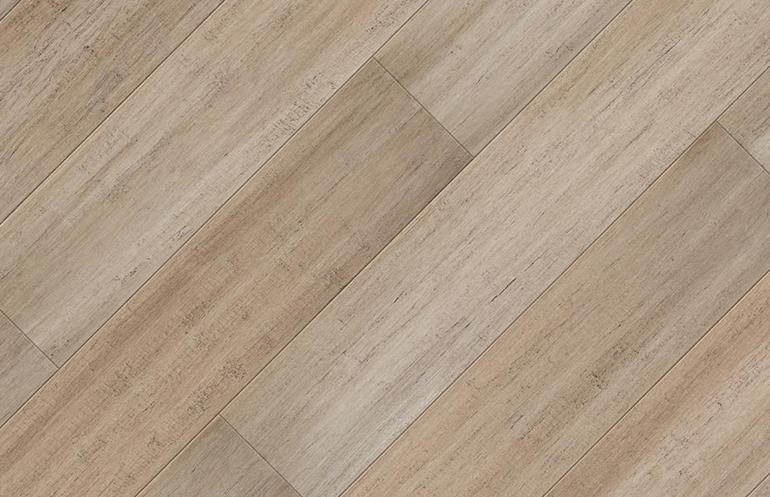 Unfortunately, if you liked it, you deserve to know that the Home Legend Hand Scraped Cadence was discontinued.
5. Ambient
Ambient Bamboo Products Inc., located at Ambient 8230 Preston Ct Ste C Jessup, MD 20794, was founded in 2005. It specializes in eco-friendly, affordable, and durable strand-woven bamboo planks.
They also have eucalyptus, SPC luxury vinyl, bamboo plywood, installation supplies, bamboo molding & trims, and Magnesium Oxide Boards.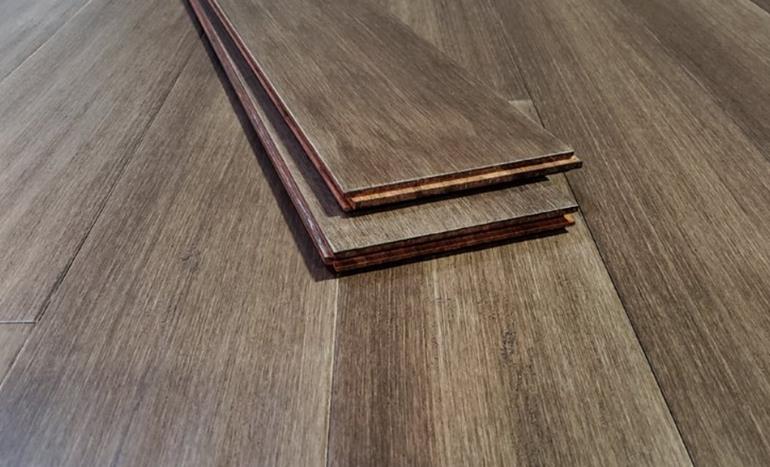 You could go for the Walcott, Tahoe, or Coffee hand-scraped solid strands bamboo with tongue and groove or Java XtraWide engineered planks with click lock that come in various edge styles.
Cleaning and care
We have noted that the indents tend to collect more dirt as opposed to smooth floors. However, this doesn't mean they need extra cleaning or care routine. Just care for them like you do to smooth any hardwood floorings.
If you need a kit, we recommend the Bona Hardwood Floor Ultimate Care Kit that comes with a 4-piece durable mop handle, two Bona microfiber dust, cleaning pads, and Bona hardwood flower clean and refill cleaner. However, still, check what the manufacturer recommends. Some have specific cleaning products unique to their brands.
Cleaning will involve sweeping with a hardwood-friendly microfiber mop Alternately, you can use a soft-bristled broom to remove any debris or dirt and using any good hardwood floor cleaner if you don't have a kit.
Secondly, mix your wood cleaner with warm water, dip your mop inside the solution, wring all the water away and mop your floor.
Alternatively, to remove dirt, invest in a good vacuum without a beater bar or one with a removable beater bar.
Besides cleaning, as part of care, invest in good rubber caps or felt pads to avoid scratches from furniture and other appliances.
Since moving furniture contributes to damage to your floors (creates dents, scratches, and so on), buy a furniture-moving coaster.
This care routine is just the tip of the iceberg, see bamboo floor cleaning and care for more details.