From this AquaGuard bamboo flooring review, you will learn more about these planks, their features, pros, cons, installation, pricing, and much more.
Are the various AquaGuard Water-Resistant Stranded Engineered Bamboo a good choice, or should you avoid them at all costs?
About Floor & Décor
Incepted in 2000, Floor & Décor is one of the top hard surface flooring specialty retailers with an expansive wood, stone, tile, bamboo, laminate, vinyl inventory. They also sell various decorative and installation materials.
The company has a corporate head office (headquarter) at 2500 Windy Ridge Pkwy SE Atlanta, GA 30339.
Since Floor & Décor sources its various and sources products directly from top manufacturers or quarries, expect best prices that competitors cannot match.
AquaGuard stranded bamboo flooring review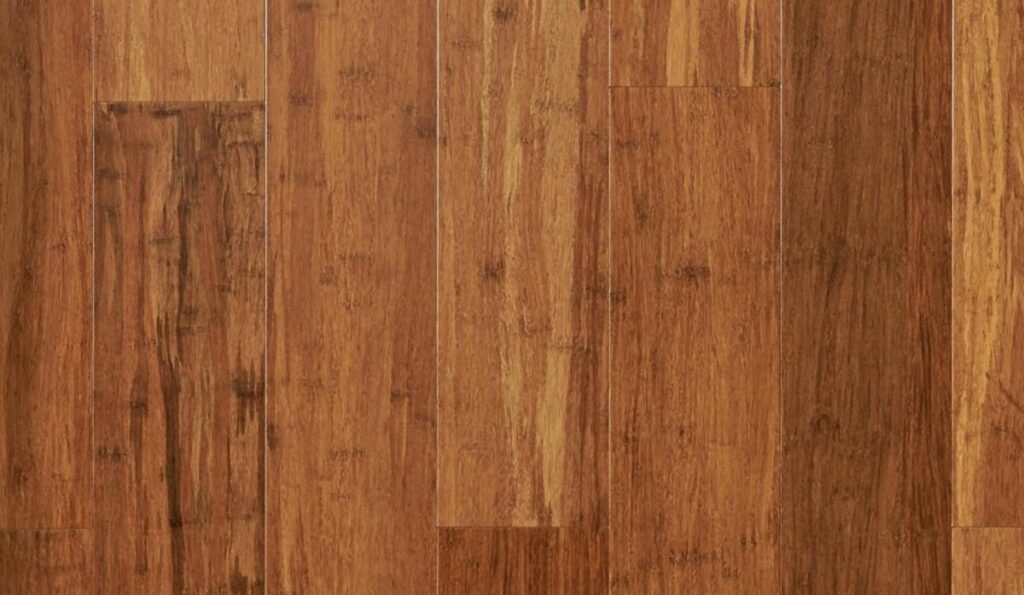 Floor & Décor has two main prefinished bamboo flooring product categories, the AquaGuard and Eco Forest. We will be focusing on AquaGuard. Otherwise, see Eco Forest bamboo flooring review.
Floor and Decor AquaGuard bamboo flooring is an innovative, water-resistant engineered bamboo plank with a strand-woven bamboo veneer mounted on a high-density SPC (Stone Plastic/Polymer Composite) core.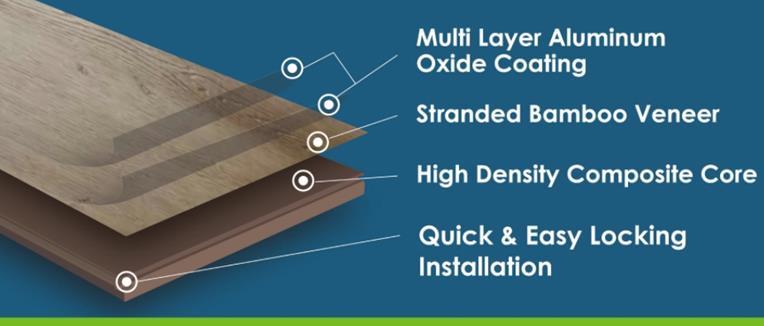 Details or specs
Intended use: Residential and light commercial
Dimensions: All planks are36.22″ long x 5-⅛″ wide x 7mm thick except AquaGuard Dutton Wire-Brushed Water-Resistant Bamboo plank, which measures 18-75″ long (varies), is x 7-½″ wide x 9.3 mm.
Finish: Aluminum oxide
Surface finish: It may be hand-scraped, wire-brushed, distressed, or smooth
Veneer thickness: 1.50mm
Janka hardness rating: 5 (2501+)
Indoor air quality certification: GreenGuard Gold
Installation levels - On/ Above/ Below
Warranty: lifetime residential and 15-year light commercial
| Name | Color/shade | Prices/sq. ft |
| --- | --- | --- |
| Carbonized Smooth Locking | Brown/medium | $2.99 |
| Pewter Hand Scraped | Gray/dark | $2.99 |
| Lanark Hand Scraped | Brown/medium | $2.99 |
| Dolium Hand Scraped | Brown/dark | $2.99 |
| Sable Hand Scraped | Brown/dark | $2.99 |
| Dolium Hand Scraped Wire Brushed | Brown/dark | $2.99 |
| Colinisa Gray Hand Scraped | Medium/gray | $2.99 |
| Salween Hand Scraped | Rust (orange)/medium | $2.99 |
| Colinisa Gray Hand Scraped Wire Brushed | Medium/gray | $2.99 |
| Pewter Hand Scraped | Gray/dark | $2.99 |
| Avitus Hand Scraped Wire Brushed | Brown/medium | $2.99 |
| Dutton Wire-Brushed | Brown/dark | $2.99 |
| Filmore Distressed | Brown/medium | $3.49 |
| Harington Distressed | Brown/high variation | $3.49 |
| Hyde Distressed | Gray/medium | $3.49 |
| Lombard Distressed | Gray/medium | $3.49 |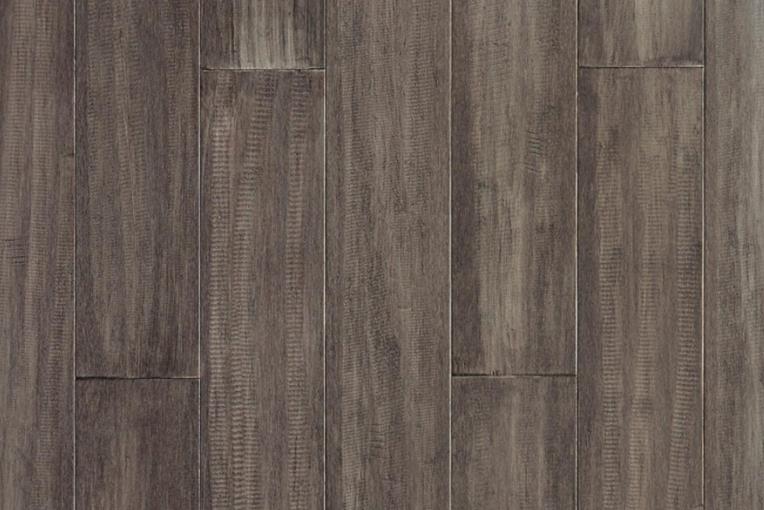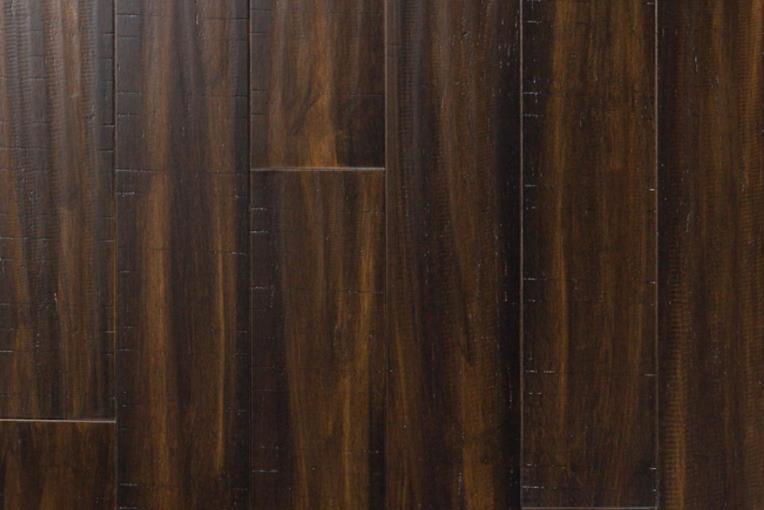 Moldings
Besides the planks, they also have various moldings, i.e., the bamboo T-mold, flash reducer, quarter round, stair nose, flush stair nose, and overlapping reducer.
Price/cost
Most AquaGuard bamboo flooring planks cost $2.99 per Sq. Ft with a few retailing at $3.49 per square foot, making them one of the most affordable SPC bamboo flooring solutions. However, this price doesn't include installation cost, which will be $2-$5 per square foot.
Compared to similar products, i.e., SPC bamboo planks, AquaGuard's price is comparable to LifeProof SPC bamboo, which sells at $2.99-$3.79/Sq. Ft., but are slightly cheaper than LL flooring's AquaSeal, whose price is between $3.69-$3.89.
However, they are much cheaper than Cali Bamboo GeoWood, retailing at $4.99Sq. Ft. Only Home Legend has more affordable planks retailing at $2.49Sq. Ft
However, as you buy any flooring, including this one, you need to consider other essential factors such as durability, warranties, certification (indoor air quality), usability, and so on.
Floor & Décor financing solution
Qualifying customers who purchase Floor & Décor floorings for more than $2500 using Floor & Decor Credit Card qualify for a Zero Interest financing if paid in full within 12 months. The rates are 7.99% APR for 48 months, and for periods over 48 months, the APR is higher.
This financing is subject to credit approval, and this company requires will have minimum monthly payments.
Pros and cons
Bamboo flooring is eco-friendly, versatile, durable (strand-woven), and will add value to your property. Besides the above, some of the AquaGuard bamboo flooring pros include the following:
Pet-friendly, kids-friendly, and ideal for use in areas with heavy traffic. Also, they are ideal for various rooms including mudrooms, entryways, basements, kitchen, and so on.
Affordable – costs less
It resists water for up to 30 hours. However, these bamboo floors are not waterproof and don't be misled by terms such as waterproof engineered click bamboo flooring.
The planks are durable and come with lifetime residential and 15-year light commercial usage warranties.
The planks are safe for indoor use, i.e., they have a GreenGuard Gold indoor air quality certification.
You may be eligible for their financing
Some of the cons of AquaGuard bamboo flooring include the following:
Installation
AquaGuard bamboo flooring comes with a click-lock installation profile intended for float installation only. Don't glue or nail them down.
Secondly, you can install various subfloors (concrete, wood, etc.), including any sound existing solid subfloors, including cork. Just ensure they are even, and don't forget to use correct expansion spaces.
Here is a summary of AquaGuard Water-Resistant Engineered Stranded Bamboo planks installation details:
| Feature | Requirement |
| --- | --- |
| Ideal conditions | 15°C to 25°C (60°F to 80°F) with a relative humidity of 40-55% during acclimation, installation, and your floor's lifespan. Maintaining conditions outside these ranges may cause expansion, contraction, something that will invalidate your warranty. |
| Installation | Float only |
| Installation level and options | You can install all on all grade levels, i.e., below/on/above grade. However, depending on the plank you pick, there are those intended for floors only or both floors and walls. |
| Acclimation | They don't need acclimation, i.e., you can install them within 24 hours. However, if your planks were exposed to extreme temperatures, i.e., 10°C-50°F (40°C - 105°F) or over, acclimate for 12 hours. When acclimating, open their boxes. |
| Moisture barrier | The waterproof backing that these planks have shouldn't substitute the need for a moisture barrier. |
| Underlayment | We recommend using an underlayment to act as a cushion, absorb sound, help insulate and reduce wear. |
Finally, don't forget to buy the various moldings and use them appropriately. For instance, floors exceeding 12.9m. (40 ft) wide or 18.28m (60 ft) long require transitional molding.
Cleaning, care, and maintenance
Regularly sweep your floor using a microfiber dust mop to get rid of any debris, dirt, grit, and so on as they act like sandpaper and promote wear and scratches. You can also use a vacuum cleaner without a better.
When cleaning your AquaGuard bamboo floors, dampen your microfiber mop using hardwood floor cleaners and wipe it. Don't wet-mop or steam clean them. Additionally, don't use abrasive cleaners, wax, or bleach.
Besides cleaning, here are additional ways to protect your AquaGuard floors:
Yes, the floor has up to 30 hours of protection against water. However, we strongly recommend that you immediately dry any spillages or puddles, including cat or dog urine.
Use blinds and curtains to prevent exposure to direct sunlight as prolonged UV exposure may cause color variation.
Use mats at entrances to collect any dirt, grit, or water
Regularly trip your pets' nails
Periodically rearrange your furniture and area rugs to promote even wearing, including in places exposed to UV light.
Never slide or drag heavy appliances or objects over these floors.
Use furniture felt and protectors beneath your furniture