If you need to know the pros, cons, installation, care, and the various LifeProof Waterproof Engineered Bamboo Flooring planks, this LifeProof Bamboo flooring review has that and a lot more.
About LifeProof
LifeProof bamboo flooring planks are durable, beautiful, and long-lasting engineered SPC waterproof bamboo flooring available in many attractive colors. They are a perfect choice for anyone who needs timeless, luxurious, waterproof, and scratch-resistant floors, be it your living room, baths, kitchen, office, and so on.
As you already may be knowing, LifeProof, one of the exclusive Home Depot brands, also sells superior quality vinyl, wood, carpet, tiles, and laminate flooring.
LifeProof bamboo flooring products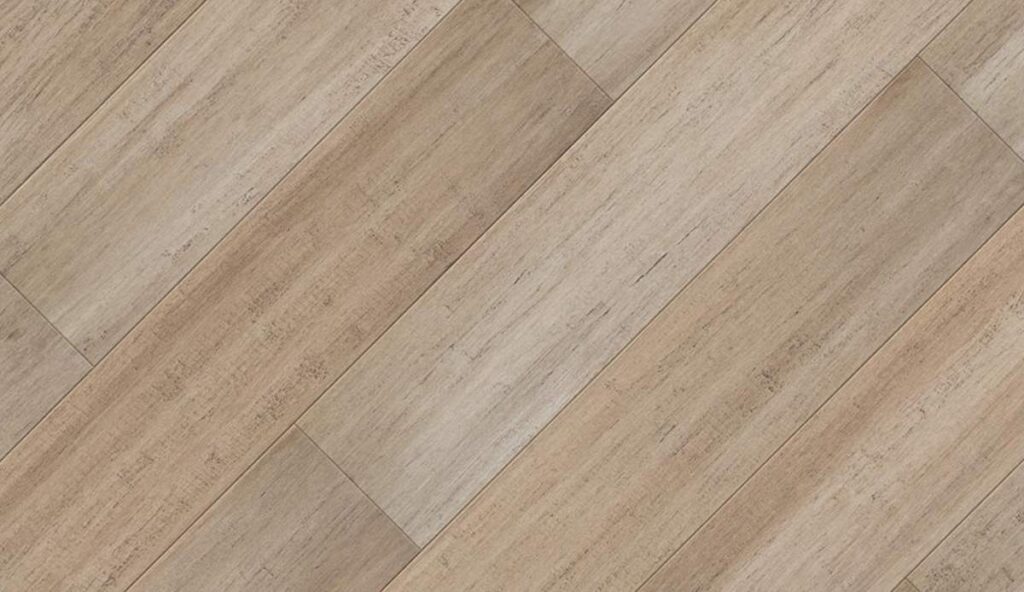 Before we tell you the pros and cons of Home Depot's LifeProof Bamboo flooring, let us look at the products. All LifeProof planks:
Have a 0.28-inch thickness
Are kids and pet-friendly
Have an SPC core
Offer water protection (waterproof)
Have a click-lock
Don't require acclimation
Have an attached underlayment (1 mm sound absorption IXPE)
You can install them above/below/on grade and are ok for the kitchen, bathroom, or basement
Have seven protective coating layers that include two aluminum oxide layers, making them scratch-resistant.
Coordinates well with ¼ in. thick hardwood flooring.
Have a Janka hardness/denting rating of 3000. However, while noted as 3000, we don't think Waverly horizontal toast, being not strand-woven, does have a Janka hardness of 3000 as indicated.
However, depending on your choice, their intended use, dimensions, indoor air quality certification, type, and price may vary.
1. Certification
Lifeproof Alonsa, Gallaway, Gilroy, Juniper Hills, Laona, Poway, Twilight, Sedalia, Stargazer Waterproof engineered click bamboo flooring don't have any indoor air quality certification.
However, Berkeley and Florence have a FloorScore indoor air quality certification, while Bay Point, Barrington, Charlestone, and Waverly have GreenGuard.
2. Dimensions
Alonsa, Gallaway, Gilroy, Hillside, Juniper Hills, Laona, Poway, Sedalia, Stargazer, Twilight, Berkeley, and Florence are 7 mm thickness x 5.12 inches width x 36.22 inches length. Therefore, one case of these planks will cover 15.45 sq. ft.
Bay Point, Barrington, and Charlestone measure 7 mm thickness x 5.2 in width x 36.22 in length, and a box or case cover 13.07 sq. ft.
Waverly horizontal toast planks measure 7 mm thickness x 5 inches width x 38.58 inches length with one case covers 13.40 sq. ft.
3. Strand-woven and horizontal toast
All LifeProof planks have a strand-woven bamboo veneer bonded onto the SPC except for Waverly with a horizontal bamboo veneer.
4. Colors and surface texture
Depending on your pick, the planks belong to the gray, spice, brown color family, with some being medium brown, dark brown, and toast.
They all have a hand-scraped surface except Waverly horizontal toast, which has a smooth surface.
5. LifeProof Moldings
You will get all the necessary moldings from LifeProof, including T-molding, hard-surface reducer, wall-base, stair nose, carpet reducer, and quarter round
6. intended use
You can use all planks except LifeProof Bay Point, Waverly, Barrington, and Charlestone in residential and commercial locations. The named ones are for residential use only.
Pros and cons
LifeProof bamboo flooring planks are versatile and luxurious SPC bamboo flooring that everyone loves. Some of their pros or what we liked about them include:
a). Beautiful
LifeProof bamboo flooring planks are stunning, thanks to their many colors. They look like natural wood, and you will not miss finding a color that complements almost any home décor, whether your bedroom, kitchen, living room, or any other room, including your office.
From Gallaway to Sedalia to Mojave to Hillside to Berkeley to LifeProof bay point bamboo flooring, you are going to fall in love with these luxurious and charming engineered bamboo flooring.
b). Versatile
Unlike solid bamboo, you can install these engineered planks at all grade levels (below, on, or above grade levels) thanks to the SPC (stone polymer composite) and the fact that they are water-resistant. Also, they are pet and children-friendly.
Therefore, you can install them on your basements, kitchen, bathroom, and other utility rooms. Additionally, there are those suited for residential and commercial use, meaning you can have them in light commercial spaces.
However, if used in areas with water, ensure no appliance leakages, and your basement isn't damp, or water doesn't end up there. Similarly, follow given care and maintenance routines to prevent scratches, dents, or damages.
c). Easy to install
Since they have a click-lock installation profile, you only float them. You don't have to struggle with nailing or gluing down. If you are a DIYer, you can install them.
However, you must follow all the installation instructions and ensure you install them on the suitable subfloor. The subfloor must be flat and even.
There are complaints about these bamboo planks not locking well, mainly because they are thin (0.28 inches thick). Take your time and figure out how to do it correctly or let an expert handle the job.
Finally, since they are a little dusty if you cut them, we recommend having your protective wear, including safety goggles and face masks. Also, use suitable saws while cutting them.
d). Waterproof or water-resistant
LifeProof regards their bamboo flooring planks as waterproof, a reason why you can use them even in your bathroom and kitchen, i.e., they can prevent water damage under regular home usage, including your dog urine for up to 24 hours.
However, like any other organic flooring, including hardwood and cork, they are not 100% waterproof. Therefore, ensure you dry any liquid spillage immediately and never let it sit for more than 24 hours.
e). Affordable
People looking for an affordable flooring solution that looks like wood will find these SPC bamboo planks an excellent choice. These planks sell between $2.99-$3.79 per square foot. Isn't this a great deal?
f). Have an underlayment
These planks come with an attached underlayment (EVA padding) that makes them stable. It also reduces noise, supports the click-locking system, and ensures your floor is very sturdy.
Therefore, you don't need another underlayment (it is optional). However, you should still have a moisture barrier/retarder.
Cons
Before you smile all your way to Home Depot to buy LifeProof flooring or order them online, here are some cons you need to know.
a). You cannot refinish it
You cannot refinish this bamboo flooring type. Therefore, should it get damaged or severely scratched, you have to replace it. Fortunately for milder scratches or dents, you can quickly repair them.
b). Not scratch-resistant
These LifeProof engineered bamboo flooring planks are marketed as scratch-resistant. However, they do get scratches, an even with their seven layers of protective coating, two of which are aluminum oxide and the 3000 Janka hardness and denting rating.
Scratching and denting are the most reported complaints, followed by difficulty in installation, with Waverly (which has a horizontal bamboo veneer) being the most affected. Therefore, if you have kids and pets, you need to think twice.
However, should you follow all the recommended clean, care, and maintenance routines, they will not get scratches quickly.
c). Chipping along edges
Some planks chip along edges. However, this isn't a commonly reported issue and could result from installation and care issues.
d). UV exposure makes them fade
Continuous exposure to UV lights makes these planks fade. Therefore, always have blinds or use a rug to cover any places exposed to UV light. Additionally, keep rearranging your room for even coloration.
e). Most don't have indoor air quality certification
All except Florence and LifeProof Berkeley bamboo flooring (FloorScore) or Barrington, Charlestone, Waverly, and LifeProof bay point bamboo flooring (GreenGuard) don't have an indoor air quality certification.
Price or cost
LifeProof waterproof bamboo flooring price range is $2.99-$3.79/Sq. Ft. depending on the one you choose. These costs don't include professional installation cost that is about $2-$5/ Sq. Ft.
All LifeProof bamboo planks go for $3.69 /sq. ft. except for Hillside and Berkeley that go for $3.69 /sq. Ft and Charlestone, whose price is $2.99 per square foot.
Compared to other SPC products such as:
Cali Bamboo GeoWood bamboo $4.99/sq. ft. (Lowes)
SmartCore Naturals 3.79/sq. ft. (Lowe's)
Lumber Liquidators AquaSeal 3.19-$3.69/Sq. ft
Floor and Décor's AquaGuard 2.99-3.49/Sq. ft
Hydri-HDPC that goes or for $4.38 per square foot
You can see that LifeProof price or cost are very competitive. These SPC bamboo floorings are worth every penny you spend on them.
Installation and repair
LifeProof bamboo flooring installation is by floating since they have a click-locking system, and you can install it below, on, or above grade levels. However, DO NOT use LifeProof bamboo flooring with a radiant heated subfloor.
Also, note that These planks don't require acclimation. However, ensure the subfloor (plywood or oriental strand board, particle board or fiberboard, concrete or wood) meet required conditions.
If installed on another floor, acceptable ones are terrazzo, ceramic tiles, solid hardwood, linoleum, or any other moisture sealing floors. However, you cannot install it on moisture-absorbing floors, edge-glued linoleum, carpet, or needle punch felt.
While installing, if your wall spans more than 40 feet in length, use transition molding. Also, use a T-molding on passageways or doorways that are 5 ft or less.
Finally, to repair superficial scratches, a mild touch-up stain pen will help. Slight will require stains, fillers, and colored putty. Severe cases will require replacement
Cleaning, care, and maintenance
We recommend using Bona Refill Hardwood Floor Cleaner as it doesn't leave any residue and will quickly remove any spots and stains.
LifeProof bamboo flooring isn't entirely waterproof. However, it can resist water better during everyday residential use and activities. However, if left for a long time, puddles may cause white marks.
When cleaning it, sweep, dust-mop, or use a vacuum without a power rotary brush head or beater bar. If you have to remove any spots, use a damp cloth (wrung thoroughly). Clean along plank direction and change your fabric or clean it if it gets dirty.
When cleaning, for slight soiling, use a cloth dampened with distilled water. On the other hand, dampen your cleaning cloth with rubbing alcohol (isopropyl alcohol) to two parts of distilled water to remove mild soiling.
Increase the amount of rubbing alcohol for more challenging spots, and for tough ones, go for cleaner or mild detergent intended for a rigid core. Ensure you thoroughly rinse your wiping cloth and soak any residual water on the floor.
Don't use chlorinated solvents, alkaline, wax, varnish coatings, scouring powder, steel wool, and dry any liquid spillage (water, soft drinks, beer, juice, etc.) immediately. Also, don't wet-mop or steam-clean your floor.
Besides cleaning, always protect your floors from scratches, dents, and damages by
Use a dolly and placing plywood or protective sheet if you want to roll heavy furniture.
Have furniture pads, protective mats on rolling chairs, clean casters, and ensure your office chairs have soft, non-rubber wheels.
Avoid excessive sun exposure, periodically rearrange your furniture and rugs for an even appearance.
Don't use shoes with cleats, spikes, or very pointy heels
Have doormats to trap dirt, soil, grit, etc., from outside.
Keep ideal humidity of 35% to 55%,
Warranty
LifeProof bamboo flooring comes with a lifetime limited Residential wear, waterproof (general cleaning or water spills removed 24 hours), and structural integrity.
You will also get a 1-year limited manufacturing defect warranty while light commercial waterproof, structural integrity and wear are available in sales, marketing, and warranty schedule documentation.
For warranty validity, follow the care, installation, and maintenance provided as the warranty doesn't cover abuse, dents from sharp objects, environmental conditions, mildew, appliance leaks, natural disasters, etc.
Verdict
LifeProof bamboo flooring planks are an excellent pick for people looking for an affordable flooring solution that resists water and suitable for all installation levels. You can install them in virtually any room, including your baths, kitchen, and basements.
However, to avoid scratches, dents, dings, or water damage, ensure you follow all the installation, cleaning, and care necessary.