Solid bamboo flooring planks have either bonded bamboo strips or woven bamboo strands on their entire thickness, typically ½ to ⅝ inch thick. They are the exact opposite of engineered bamboo floorings made by gluing a bamboo veneer onto plywood, fiberboard, or SPC (Stone Plastic/Polymer Composite).
These bamboo flooring may be horizontal, vertical, or strand-woven. Also, they can be natural, stained, bleached, carbonized, or carbonized and stained.
You can go for prefinished or unfinished bamboo planks. The latter requires a special order and will give you a chance to finish them on-site. Therefore, you can custom stains, distress, place edges, etcetera, and are likely to achieve the evenest and uniform floors.
Additionally, most solid planks come with a tongue and groove (T&G) installation profile. However, a few do have a click-lock system.
Finally, while often known as bamboo solid wood flooring, it is good to understand that bamboo is grass and not wood. However, due to striking similarities, some people often categorize them in their hardwood section.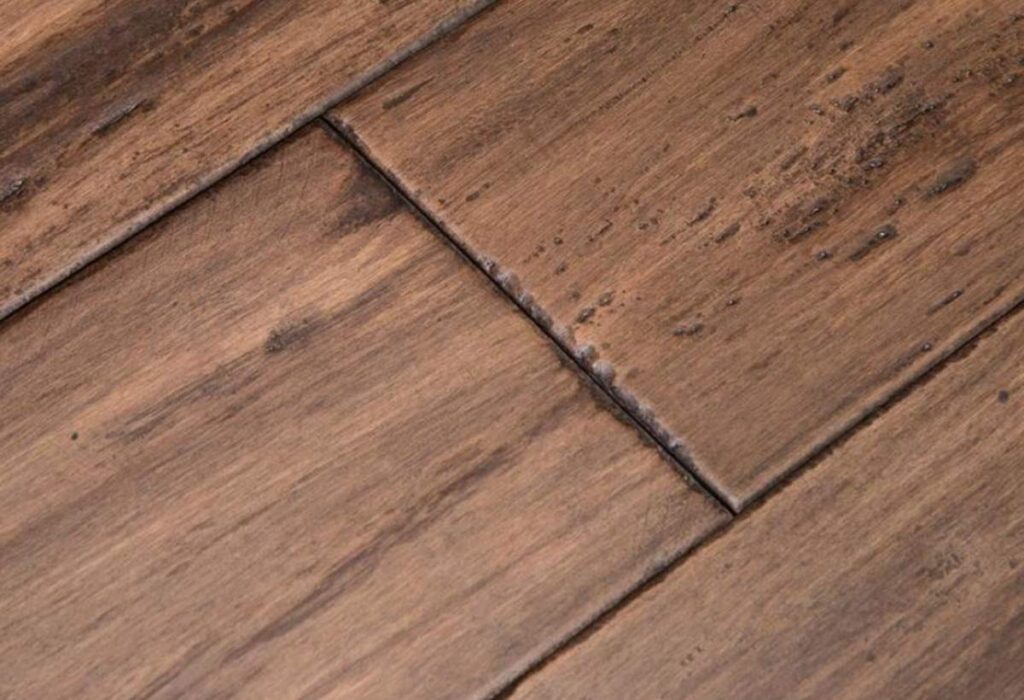 Horizontal vs. vertical
Solid horizontal and vertical bamboo flooring are both made using bamboo strips. However, their main difference is how the manufacturer lays the strips.
To make solid horizontal bamboo flooring (flat grain or natural grain), the manufacturer will lay the bamboo strips flat or horizontally and bond them together on top of each other. Therefore, their knuckles or nodes are more evident, and they have a wide grain pattern making them resemble natural bamboo
On the other hand, in vertical planks (vertical grain), manufacturers lay strips vertically or on their edge and bond them together by side-pressing them. They will have subtle knuckles and less visible grains. Also, they have a patterned surface.
You can refinish both solid vertical bamboo flooring or horizontal one, and their prices are similar. Also, both have a comparable hardness between oak and maple (Janka hardness of 1300-1400 for natural) (with Nation Floor Covering Association (NFCA) noting that horizontal planks are 15% harder). However, carbonized are 10% less hard (1180)
Finally, your choice depends on if you prefer the natural bamboo look (horizontal) or minimalistic, more uniform appearance ideal for larger areas (vertical).
Solid strand-woven bamboo flooring
Unlike horizontal and vertical planks, manufacturers use bamboo fibers or strands to make solid strand-woven bamboo flooring, i.e., the strips are shredded to strands, dried, and soaked in tough resins.
They will then lay these fibers lengthwise but in varying orientations and press them together under heat and pressure to form superdense blocks. Afterward, manufacturers will cut and mill the blocks into planks or boards.
Compared to horizontal and vertical planks, strand-woven planks are about three times denser and harder with a Janka hardness as high as 4000-6000, meaning they are durable and less likely dents, ding, or scratch. However, they are also more expensive.
Did you know that strand-woven bamboo is harder than hardest hardwoods like Brazilian Walnut or Patagonian Rosewood and resists water and moisture better than horizontal or vertical planks? Now you know.
Finally, while the solid strand bamboo boards or planks resemble wood, they take longer to acclimate, are not easy to refinish or nail, don't have the classic bamboo look, and have higher VOCs (more adhesives or resins used).
Natural, stained, and solid caramel carbonized bamboo
As already hinted, solid bamboo can be natural, stained, bleached, or caramelized, irrespective of if they are horizontal, vertical, or stranded.
a). Natural
Solid natural bamboo flooring has a blonde, light-blonde, or straw-like appearance. It isn't stained, bleached, or carbonized, making it resemble dried natural bamboo color (without skin).
These planks have the classic bamboo look, are cheaper, harder, and resist moisture better than carbonized planks.
However, it is not easy to match them with modern home décor. Some people don't see the color as appealing, and being lighter, they will need more floor cleaning.
b). Carbonized
During manufacture, the manufacturer may carbonize or caramelize bamboo strips or strands. It happens just before weaving strands or binding strips into blocks or planks, respectively.
Carbonization involves controlled heating of these strands or strips in a pressurized stream chamber to caramelize their natural sugars, resulting in various darker, richer colors (depending on duration).
The various colors achieved, like light yellow, light amber, coffee, chocolate, brown, dark brown, etc., look appealing. Also, the planks will have the same coloration throughout their thickness (won't lighten even if sanded), will increase property value, and will not reveal dirt like natural planks
However, carbonized bamboo planks are expensive than natural, weaker, and more susceptible to humidity if not correctly finished.
c). Stained
Besides carbonization, another way to achieve various colors that mimic almost every type of hardwood without altering bamboo grains is staining. You can stain carbonized, natural or bleached planks.
Bamboo flooring staining occurs much more like wood staining, where you color the surface of your plank before applying the final protective finishing coats.
Besides more appealing colors, staining doesn't alter hardness and will create darker shades you can easily match with modern décor.
However, since it occurs on the surface, the planks may lighten, and it is not easy to achieve a uniform look on strand-woven planks since the adhesives used don't allow stains to adhere appropriately.
d). Bleached
Sometimes, when manufacturers want lighter-colored bamboo planks. Therefore, they may bleach these planks using a potent oxidizing age such as hydrogen peroxide to get white natural bamboo planks.
Bleached bamboo flooring planks aren't readily available. However, you will find it. For instance, Armony Floor (Italy) has Bleached Strand Woven Bamboo Flooring.
Like staining, this happens on the surface, i.e., it is a surface treatment and not the entire planks. Therefore, if you refinish bleached planks, the bleached layer will come off during sanding.
Finally, avoid excessive bleaching as it can soften the surface, or the residual bleaching agent may react with your finish, making it peel off.
Surface and edge styles
Solid bamboo planks have smooth or distressed surfaces (from hand-scraped to wire-brushed to claw-marks to saw-marks to antiqued or aged). Also, they have various edge styles like beveled, micro-bevel, or square edges.
Solid bamboo flooring pros and cons – solid vs. engineered
Since solid planks are the direct opposite of engineered, we will look at the pros and cons while comparing them to engineered boards, a kind of solid bamboo flooring vs. engineered boards comparison.
Both engineered, and solid planks are versatile, and you can use them in various rooms, including your kitchen, living room, bedroom, and utility rooms. However, there are pros and cons, which are as follows:
Pros
a). Eco-friendly
Unlike hardwood, bamboo grows fast and doesn't need replanting, making them eco-friendly. Therefore, since solid planks have only bamboo without wood, they are more eco-friendly than their engineered counterparts, mostly wood with only a thin bamboo veneer.
b). You can refinish more times
Since they have bamboo on their entire thickness, you can refinish these floors more times than engineered. Usually, we refinish bamboo floors (sand, stain, seal) to fix discoloration (from dog urine or water), get rid of a damaged surface (scratches, dents, or dings), stain them to another color, and so on.
c). Cheaper
Prices do vary from one manufacturer to another. However, compared to engineered boards, solid planks are cheaper. We attribute the lesser price to a more straightforward manufacturing process that is also less energy-intensive and the higher cost of hardwoods.
d). Lesser VOCs
Their manufacturing process utilizes lesser VOCs (resins, adhesives, or poisonous chemicals), meaning they will emit lesser of these compounds in your home.
e). Rock-solid
Since they are nailed or glued to the floor, they are much stable and rock-solid without any underfoot flexes.
Cons
a). Not as dimensionally stable
Since they have a plywood or fiberboard core, engineered planks are more dimensionally stable than their solid counterparts. Therefore, they will work well in places with moisture or humidity fluctuation as they are less likely to shrink or expand.
b). Not ideal for below grade level
They are not ideal for below-grade (basement) or wet areas since they quickly swell. If installed in these areas, let professionals do the job.
c). Harder to install, repair or replace
Since most come with T&G, they are harder to install. Even for those with a click-lock profile, they require gluing down. Similarly, repair, cutting, routing, joining, and replacing are more complicated.
Therefore, they are not ideal for DIYers unless very experienced compared to engineered blocks with a click-lock that you can float.
d). Narrower planks
If you prefer wider planks, your best is engineered blocks. Most solid have narrow or standard plank sizes.
From the above discussion of solid bamboo flooring vs. engineered bamboo that highlights the various pros and cons, it shouldn't be challenging to decide which ones best meet your needs.
How to install solid bamboo flooring
Typically, these solid planks come with a tongue and groove (T&G) installation profile that requires either nailing down with a cleat nailer or gluing to the subfloor. Whether to nail or glue depends on the type of subfloor you have.
However, some solid planks come with a click-lock that you can glue down or float. Kindly consider what the manufacturer recommends, i.e., don't float them unless the manufacturer allows this way of installation.
If you have solid strand bamboo flooring planks and you intend to nail them, ensure you get at least an 18-gauge cleat nailer since these planks are very hard.
When installing solid bamboo flooring, ensure they acclimate, and you prepare the subfloor as per your manufacturer's recommendation.
We will not go into details since it is much more or less what you do when installing most hardwood flooring.
Price or costs
Solid bamboo flooring prices range from $2-$7 per square foot. However, solid horizontal and vertical planks are cheaper than stranded. This price is exclusive of professional installation labor, around $2-$5 unless you want to install yourself.
Unless you are a pro, we wouldn't recommend doing it yourself, where you will incur glue or nail costs only. Let professionals handle the work if you want a durable floor.
Reviews – solid horizontal and strand-woven
It is time to help you find some of the premium or best solid horizontal, vertical, or stranded bamboo planks. Remember, these are real bamboo flooring and not engineered.
From natural to carbonized strand smooth solid bamboo flooring to horizontal to hand-scraped to wire-brushed to distressed and so on, you can't miss planks you will like.
1. Cali Bamboo
Cali has ten solid, strand (fossilized) bamboo flooring planks, i.e., Boardwalk, Mocha, Bordeaux, Bourbon Barrel, Natural, Vintage Port, Treehouse, and Java Antique ideal for residential and commercial use.
These planks have a Janka hardness rating of 3393-5407, are pet-friendly, heel-safe, have a 50-year warranty, and a FloorScore indoor air quality certification. Also, they are Prop 65 Compliant and CARB 93120 & EPA TSCA Title VI Compliant for Formaldehyde.
Depending on the exact one you choose, the planks may have:
A wide-click, wide T&G, T&G, or standard click installation profile with some having both T&G and click-lock.
French bleeds, claw marks, a smooth, depressed (lightly, deeply, or heavily), aged, hand-scraped (heavy or light), or a combination of several of these surface finishes.
Micro-bevel or pillowed edge styles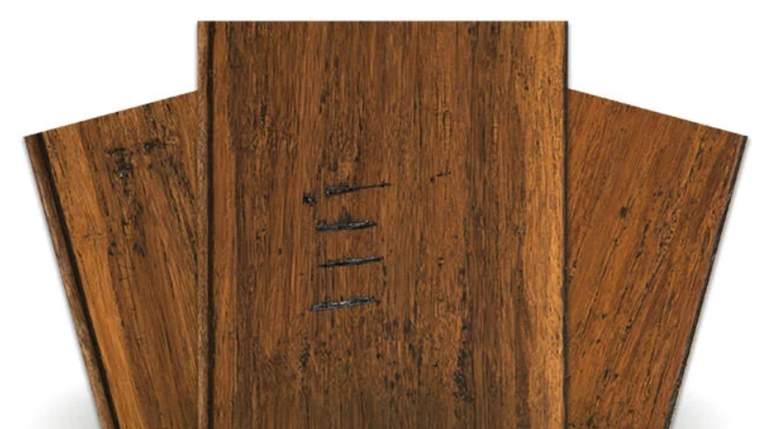 Price range: $3.79- $7.51/ Sq. Ft (Lowe's)
2. Ambient BP
Ambient BP has many solid bamboo floorings, all with a Tongue & Groove (for on or above glue or nail down installation), 24-hour spill protection, and a lifetime warranty. Also, they are radiant heat safe, pet-friendly, kitchen and kid-friendly
Depending on your choice, the plank can be smooth, distressed, brushed, hand-scraped, or hewn carved and may belong to beige, blonde, brown, gray, medium brown, and red color groups
Finally, you will get natural, carbonized, stained, or tiger bamboo floorings and all the planks have a matte finish. You cannot miss one that you will like.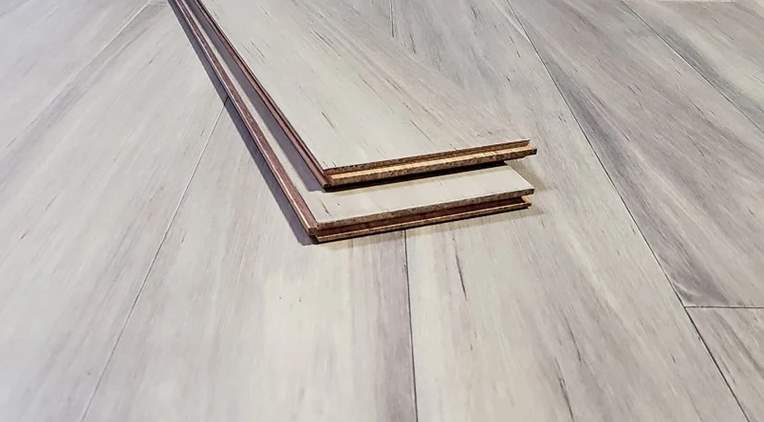 Price range: $4.62 - $6.10
3. Teragren
Teragren has four solid PureForm Traditional Floors that are 40% harder than oak and two Xcora Synergy Collection solid Strand bamboo flooring, 160% harder than red oak.
Both PureForm Traditional and Synergy Collection have a FloorScore indoor air quality certification, a T&G installation profile, and a smooth surface. Also, they both have a lifetime and 25 years structural and finish warranty while the commercial is 10 years and 5 years, respectively.
Being harder, buy Xcora Synergy Collection if you have busy, high traffic residential and commercial use while PureForm for home or commercial locations with lesser traffic.
Finally, the Xcora Synergy collection has a micro-bevel edge, while PureForm has a handcrafted micro bevel.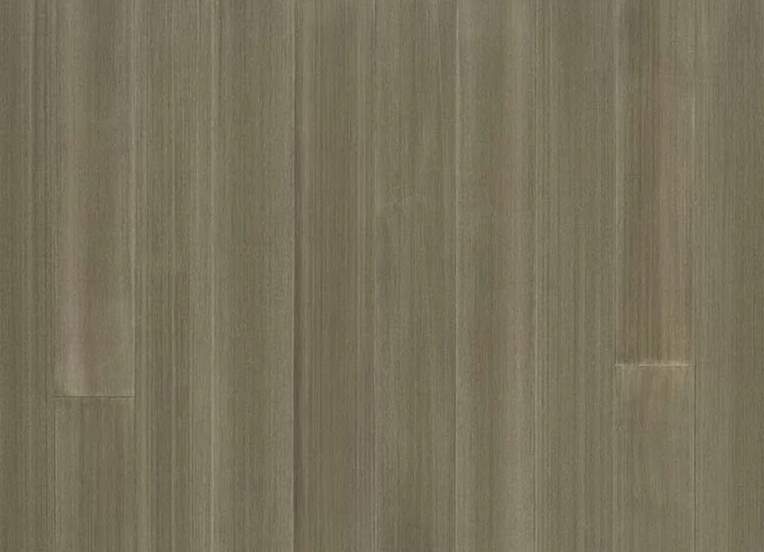 Price Range: $6.46-$7.86/Sq. Ft
4. Home Depot
If you need Home Depot's solid bamboo flooring, you will find some from Home Decorators Collection since LifeProof has only engineered SPC planks.
From Horizontal Toast Solid Bamboo Flooring to Horizontal Hand Scraped Sepia to strand-woven Harvest to Tacoma to Distressed Dark Honey to Early and many more, you can't miss what will suit your needs.
These planks have either FloorScore or GreenGuard indoor air quality, a beveled or micro-bevel edge, and a T&G (glue-down) or click-lock (glue) installation profile.
Depending on what you settle for, the surface could be smooth, hand-scraped, distressed, or wire-brushed, and they could be for below/on/above or all grade installation.
The solid horizontal planks (Janka rating 1180 or 1400) come with a 30-year residential warranty, while strand-woven (Janka rating 3000 or 4000) have a lifetime residential warranty.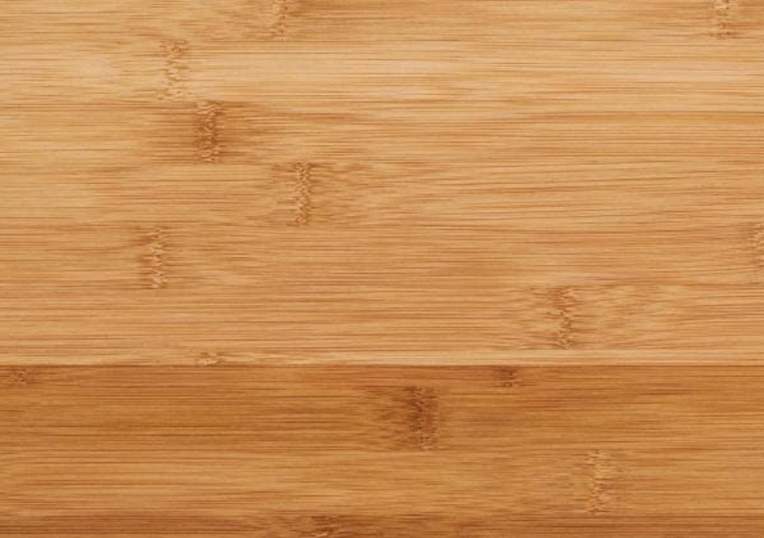 Price range: $1.49-$2.89/sq. ft
5. Floor and Décor - Eco Forest
Floor & Décor has many affordable Eco Forest Solid bamboo flooring planks available in diverse light, medium, dark, or high variation coloration. They all have a 4-sided micro bevel and an aluminum oxide finish.
These planks are primarily for residential use, with a few for commercial. Most of the planks have a GreenGuard Gold indoor air quality certification, with a few having the coveted FloorScore certification. Did you know there are those for both floor and wall?
Depending on your choice, these planks can:
Have a smooth, wire-brushed, hand-scraped, or distressed texture
25-, 35- or 40-year residential warranty with a few having a 5- or 7-year limited commercial warranty.
On/above or below/on/above installation levels. You have an option of floating, float/glue, or float/glue/nail.
Janka rating of 1450 (horizontal) or 2900 (stranded).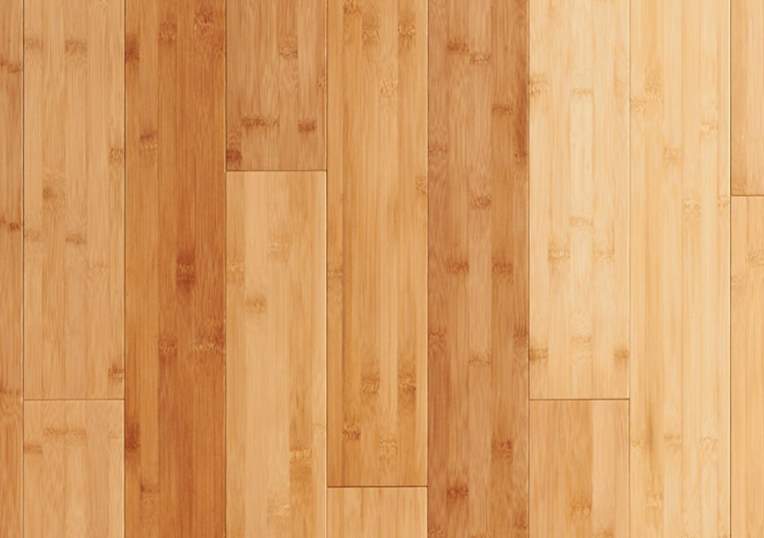 Price range: $1.99-$4.29/Sq. Ft.
6. Lumber Liquidators - ReNature
LL Flooring (Lumber Liquidators) has only two solid distressed strand-woven bamboo planks, ReNature Portland and Bismark.
They all come with a T&G installation profile which you can nail or nail with glue assist on or above grade, bevel edge, a Janka rating of 2789, and a FloorScore indoor air quality certification.
Finally, you get a lifetime residential and 15-year light commercial warranty, and depending on your pick, the surface texture may be natural wood grain or a subtle texture.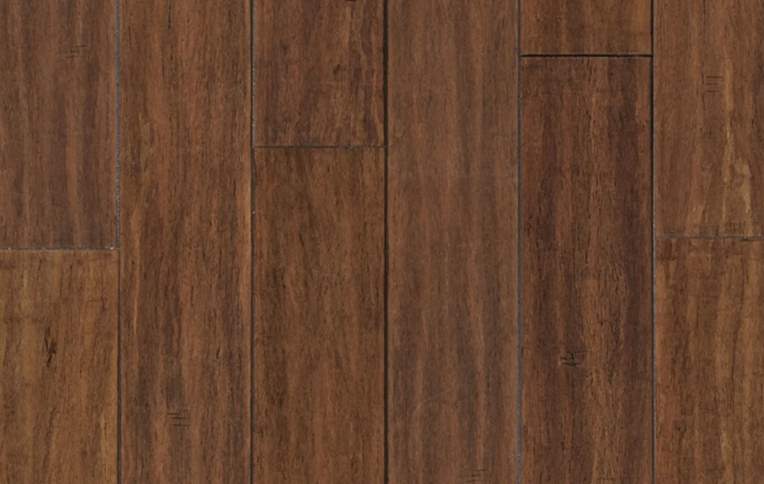 Price range: $3.49-3.79/ Sq. Ft