Stained bamboo flooring refers to bamboo planks colored using various stains (colorants) to alter their carbonized or natural (blonde or straw-like) appearance.
Usually, these stains help create more aesthetically appealing colors while preserving the bamboo grains or surface appearance.
Therefore, staining is a great way to make bamboo (which is a grass) mimic the various wood finishes and appearance, be it oak (red or white), birch, maple, walnut, cherry, ash, beech, etc.
Manufacturers can stain any bamboo plank, i.e., natural or carbonized, horizontal, vertical, strand-woven solid, or an engineered plank. It is not limited to certain types of planks.
Also, you can opt for a dark stained bamboo flooring or light. Sometimes, manufacturers have to bleach planks to make them even lighter.
Usually, staining happens just before applying or sealing or protective coats, i.e., it happens after milling, sanding, distressing (hand-scraping, wire-brushing, aging, steaking, claw, or saw marking, etcetera).
Finally, if you can refinish your bamboo floors, you can also stain them. We already looked at staining bamboo floors that also covered steps to follow to go about the whole activity and a lot more.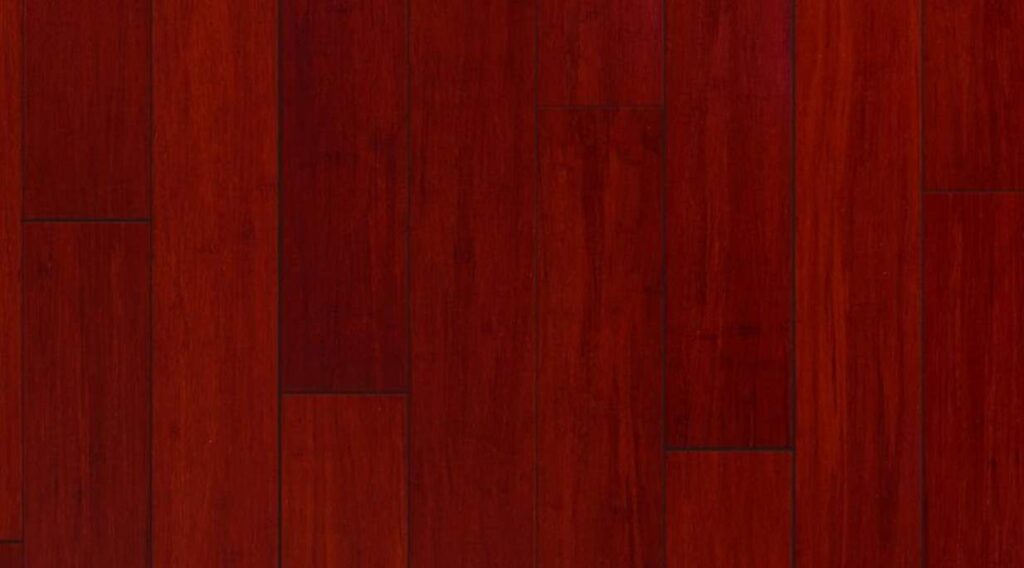 Pros
What makes staining an attractive option to people who are refinishing their floors or even manufacturers?
a). Creates more appealing looks
Bamboo flooring is gaining popularity due to the various advantages over wood, i.e., it affordable, eco-friendly, water-resistant, harder, for the case of strand-woven, and so on.
However, the straw-like, light blonde, or blonde color of natural bamboo may not appeal to everyone. Even with carbonization, yes, it creates darker and richer colors; it is not easy to achieve every look.
Fortunately, you can achieve more appealing looks and accurate colors with staining, including the various wood looks that attract most people to wood floorings.
b). It doesn't alter the hardness
Unlike carbonization, if done to natural bamboo planks, staining will not alter their hardness.
There are few controversies on carbonization and reduction in strength. However, studies have shown that carbonization may reduce about 10% of natural bamboo's hardness.
The loss in strength happens as caramelization or carbonization (done by steam-heating strips or strands under pressure) disrupts their normal structure.
c). Easier to match with décor
The many colors achieved through staining bamboo make it easy to match your floor home décor, be it your kitchen, living room, bedroom, or other rooms.
Cons
Some of the downside of staining as opposed to carbonization or having natural bamboo includes the following:
a). Not easy to get a uniform look
It is not easy to achieve a very uniform look with staining, and some, such as strand-woven, are very hard to color or re-stain. The resins used while making stranded bamboo combined with the high-density planks formed make coloring quite challenging.
If you are not an experienced DIYer, you can always get a professional's help as they know how to achieve a more even look.
Finally, horizontal and vertical planks are straightforward to color than strand-woven.
b). May lightens up
Since manufacturers apply stains on the surface of your bamboo and the plank doesn't achieve the same coloration throughout its thickness, there are chances of it lightening up. Such a case may need refinishing, yet there are planks, especially strand-woven engineered with a thin wear layer, which you cannot refinish.
However, this shouldn't discourage you since with good manufacture (impacts on quality), finishing, and care, planks may retain their color for a very long time.
Where to buy it?
Almost every manufacturer, from Cali to Teragren to Ambient to Home Decorators collections to Lumber Liquidators to Décor and Décor, just but to name have stained bamboo flooring.
Very few manufacturers sell only carbonized and natural. Just decide on the color you want and see which manufacturer has it.
DIY
If you decide to stain your floor or opt for unfinished bamboo planks for onsite finishing or refinish your bamboo floor, the process is much more similar to staining your hardwood floor.
However, you need to get the right sander and know how to do it since sanding is challenging especially stranded planks.
If you don't know whether to use a bamboo floor water stain, gel, or oil-based brands, let us have an overview of each of these types.
a). Oil-based stains
These types create an even, more durable peel-resistant finish and penetrate deeper. However, they take longer to dry, and some have obnoxious chemicals. We recommend it because bamboo is more water-resistant than wood.
b). Water-based stains
They dry quickly, can prevent mildew or mold, and are environment-friendly. However, they have poor penetration and will take much time to apply them, making them suitable for smaller projects.
c). Gels
If you consider gel-stained bamboo floors, you deserve to know that gels will hide better, require lesser surface preparation, and don't drip. However, gels dry slowly, you cannot spray them, and they can be very messy and blotchy.
e). Lacquers
Lacquers create a high gloss finish, dry quickly, and work as a finish coat over a stain. However, they are prone to bubbles, and some users have complaints of discoloration over time.
f). Vanishes
Like lacquers, you apply them over an already stained floor and resemble the oil-based. They give a natural look with high gloss and a hard-dry surface. However, they may yellow with time or form bubbles