Bamboo flooring is eco-friendly, affordable, durable, moisture-resistant, requires little maintenance, and can have the same hardwood texture and finish. What about re-staining it? Can you stain bamboo floors?
The quick answer is yes. You can stain bamboo floors, i.e., both prefinished (if you can refinish them) and unfinished bamboo planks. For prefinished planks, ensure the manufacturer allows sanding or refinishing. Otherwise refinishing may invalidate the manufacturer's warranty.
However, you cannot stain some bamboo floors with prefinished planks if not designed to be refinished, especially some strand-woven planks. Remember you must have to sand them to remove the old finish and any unsightly stains.
A general rule is not to refinish any plank with less than a 2mm wear layer, especially those engineered planks with a thin wear layer. However, don't forget to consider the manufacturer's recommendation.
We will be focusing on staining only and tell you everything you need to know or what to expect.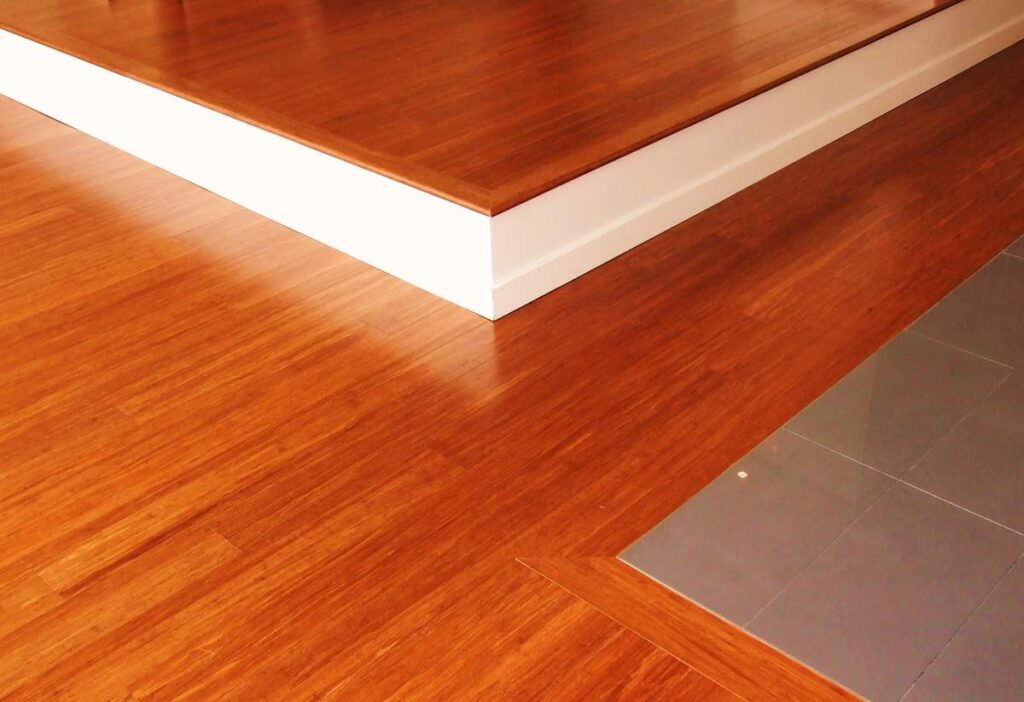 Why?
People stain their wood or bamboo floors for several reasons that include the following:
a). Change look
The first reason is the desire to change the look of your floor. Some don't like the classic blonde natural bamboo look, i.e., not everyone wants the natural horizontal bamboo planks with very visible knuckles and wide grains.
Additionally, darker colors tend to hide dirt (require less cleaning) and minor scratches better and complement most modern home décor. It is not easy to get a décor that complements such a natural bamboo floor.
b). Get rid of darker stains (dog urine or water damage)
Whether you want to remove darker water-damage discolorationsfrom bamboo flooring or dog urine, staining may help. It will help hide or conceal them, including those dark rings, spilled paints that don't come off.
c). Part of refinishing floors
As part of refinishing their floors that were dull, full of scuff-marks, dings, dents, or scratches, i.e., after sanding, you may want to restore the original color since sanding will remove it.
However, unstained carbonized bamboo retain their color even after you sand it and you may not have to apply another one again unless it is your desire.
What to put in mind?
For whatever reasons you want to stain your floor, it is good to understand that you may not successfully salvage some cases, especially severe moisture-related staining, but you can improve the appearance.
Secondly, note that horizontal and vertical planks are more straightforward to stain than stranded planks, i.e., they may not be easy to achieve a very uniform color. The lots of adhesives in stranded planks make it hard for these coloring products to adhere well.
Thirdly, some cases require replacing the planks or opting for other means to conceal the floor, such as carpets. Bear this in mind if you are buying a new property.
Finally, thoroughly assess your floor condition or let a professional do the assessment and give you the right advice. Don't just begin the job blindly. Very dark rings may require darker stains.
Staining bamboo floor
We will assume you have done sanding. We had a lengthy discussion on sanding while looking at how to refinish your bamboo floors. Here are the steps you need to follow:
1. Clean the floor
After sanding, even if you used a sander with a dust bag, you need to clean the floor thoroughly. We recommend vacuuming as sweeping with a broom won't get rid of all the resultant dust.
Your vacuum cleaner shouldn't have a beater. Alternatively, you can also dry mop using a microfiber mop and ensure there no debris left behind. Also, check for any splinters and remove any.
2. Filling and distressing floor surface (optional)
You may want a distressed floor surface, i.e., wire brush, hand-scrape, antique, or age if you are a pro. These surface finishes will help create a unique rustic appeal, hide any deep scratches and reduce the appearance of future blemishes.
After distressing, you will have to clean your floor again. Otherwise, if you prefer a smooth floor, ignore this step and go to stain application.
If you have deep dents, use the suitable bamboo filler (for horizontal, strand-woven, or vertical bamboo planks). Apply the filler putty to the dented or scratched area and scrape off any excess.
Let it dry, lightly sand to get a smooth and even finish, and thoroughly clean the floor again.
3. Apply your stain
You can stain natural, carbonized, or previously stained planks (the color comes off during sanding) using any good-quality wood stain.
However, unlike wood, bamboo is more water-resistant, with strand-woven bamboo offering the best water resistance. Therefore, you may not have much success if you go for a water-based stain. Instead, settle for an oil-based one.
Similarly, pickling and semi-transparent stains won't give you excellent results either as they don't adhere to bamboo, especially low-quality brands well.
Before you begin staining, get a brush with soft bristles and use natural bristles for oil-based and synthetic bristled brushes for water-based stains.
First, test your wood stain to a small area, let it dry and see how it appears. If you like the look, you can apply it to the rest of the floor and do it towards the door. Ensure there are no misses, as this could create an uneven look.
Let it dry for about two hours or as recommended by the manufacture before applying a second coat. More coats will create darker and vibrant looks.
If you are staining a strand-woven bamboo floor, the task may seem a little more complicated since the stains don't adhere to its surface well. Nevertheless, it is possible.
Finally, if you intend to stain a small area, ensure it looks like the rest of the floor, or you can sand and stain the whole floor for a more even look.
4. Add protective coats (seal it)
If you are happy with the results, the next step is applying protective coats to seal and prevent scratches. You want a floor that is scratch, scuff, dent, ding, or wear-resistant. However, you have to let the stain thoroughly dry.
Start by picking the right product to seal and protect your floor. Don't forget to decide on the finish you need, i.e., do you want your floors to have a glossy, semi-gloss, matte, or clear finish?
Typically, most people use oil-based or water-based polyurethane. You can also use aluminum oxide, acid cured finishes, a penetrating oil seal, and so on.
However, look at what the manufacturer recommends and follow the given instructions as they may affect the validity of your warranty.
You can use a finish applicator or a rag to apply your preferred finish/sealer creating a uniform layer. Remember to use natural bristle with oil-based and synthetic with water-based finishes.
Let it dry for about two hours, or as recommended by the manufacturer, polish or buff your floor to remove any granules or particles. Afterward, you can apply a second coat and let the floor dry before using the room.
Costs or price
Costs could range from $1 to $2 per square foot if you do it yourself. This cost may include renting a sander buying stains and finishes. However, if you enlist a professional, expect to spend between $3 to $5 per sq. ft.
Conclusion
We have given you reasons you may want to stain your bamboo floors, what to put in mind, and the steps to follow while doing so.
Except for sanding, which may be a little more challenging if you don't get a suitable sanding machine, the rest of the steps are more or less the same as staining wood floors.
We recommend using a random orbit sander and an edge sander when sanding, beginning with the 60-grit sandpaper, before using an 80, and finally a 100-120 grit.
Only use a drum or rotary sander if you are an expert as they are a little more challenging to use, and you may not quickly achieve a uniform and even floor.