Natural bamboo floorings refer to the straw-like, blonde, or light blonde colored bamboo planks made using natural bamboo that has not been stained, bleached, or carbonized.
They can be vertical, horizontal, strand-woven, solid, or engineered planks (with a bamboo veneer bonded to a fiberboard, plywood, or SPC).
Finally, like any other plank, depending on which one, these natural planks may come with a click-lock or tongue and groove (T&G) installation profile and have various distressing or edge styles.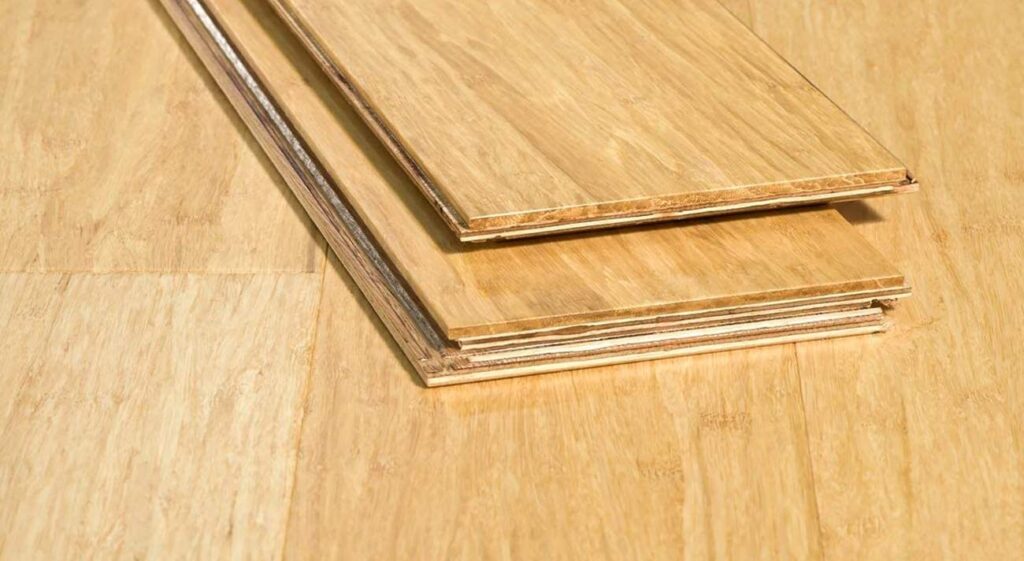 Manufacture
To make everything crystal clear, we need to look at how bamboo flooring is made. We will get a chance to elaborate to you on what vertical, horizontal, or strand-woven planks are and talk a little about distressing and edges.
Manufacturers receive bamboo culms which they cut into strips. They then peel the green skin and sand nodes to have even strips and either boiled that way in boric acid or shredded further to bamboo strands or fibers before the boiling.
The resultant strips or fiber are dried and used to make natural bamboo planks. However, if manufacturers want darker and richer colors, they will carbonize or caramelize them before using these strips or strands to make carbonized bamboo planks. In our case, carbonization isn't necessary.
a). Horizontal vs. vertical vs. strand-woven
Natural bamboo may be vertical, horizontal, or strand-woven. Manufacturers will bond bamboo strips horizontally (flat) or vertically (on edge) for horizontal and vertical planks. Resultant planks are not so hard, i.e., they lie between oak and maple in hardness.
On the other hand, to make natural strand woven bamboo flooring, they soak the fibers or strands in adhesives and weave them together. These planks are harder than any hardwood, with a Janka hardness as high as 4000-6000.
Strand-woven bamboo flooring will resist scratches, dents, and dings much better, with some heel and pet-friendly. You can also use some of them in your various including kitchen, and other utility rooms.
b). Solid vs. engineered
You will find vertical, horizontal, and strand-woven engineered or solid bamboo floorings. The former has either wood (fiberboard or plywood) or SPF core, while the latter has bamboo on their entire thickness
Engineered bamboo planks are more dimensionally stable, may work for all installation levels. Also, you will quickly repair or install, and they withstand moisture better than solid planks.
On the other hand, you can refinish solid planks more times, and they cost less. Also, they have lower VOC emissions and are more eco-friendly than engineered planks.
If you want something for your bathroom, kitchen, basement, laundry, and other utility rooms, the best bet will be engineered planks or boards.
c). Milling, distressing, and finishing
The next step is milling to create an installation profile, sanding, apply edge styles (beveled, micro-beveled, etc.), and applying finishing coats.
However, for people who need distressed natural bamboo floorings, the next step will be distressing that will involve things such as hand-scraping, wire-brushing, aging, saw marks, claw marks, streaks, and so on.
The distressing may be light or heavy, and it is done before the several coats to seal and protect bamboo.
Some of these steps, such as distressing, edge styles, are optional as it depends on what buyers want. Some buyers may wish to unfinished bamboo planks, meaning only milling and sanding will occur.
Note that while you can stain bamboo to get various colors, natural planks aren't stained.
Pros
We will pitch our pros against carbonized, bleached, and stained since they are unnatural ones. However, they share some pros with natural stained bamboo flooring.
Some pros include the following:
a). Classic bamboo look
If you the classic natural bamboo color, you will undoubtedly love these planks, especially if you go for horizontal bamboo planks characterized by visible nodes and broader grains.
While strand-woven or vertical planks may not have the classic appearance, their color resembles bamboo.
b). Cheaper
Natural bamboo flooring is cheaper than carbonized or stained. The price changes come from a lengthy process that involves carbonization or the cost of staining.
Another thing that makes it cheaper is that people prefer vibrant, darker colors and not natural.
a). Harder than carbonized
Hardness applies not only natural but also natural stained planks. These two are at least 10% harder than carbonized planks. Carbonization disrupts the typical bamboo structure, making them weaker.
For instance, while natural horizontal bamboo planks may have a Janka hardness of 1300-1400, carbonized have the figure at about 1180. This slight difference is the same case with strand-woven.
Therefore, natural (stained and unstained) planks will resist scratches, dents, dings, scuffs much better than carbonized ones, all other factors held constant.
b). Resist moisture
Besides being harder, these planks will resist moisture better. Yes, bamboo flooring isn't waterproof, but natural (stained or unstained) planks outperform carbonized when it comes to resistance to water.
This observation is consistent with what Floor Covering International says, i.e., "humidity often warps carbonized bamboo, so it's generally not a good fit for bathrooms and kitchens."
Cons
Some of the reasons why some people don't prefer natural bamboo planks or boards include the following.
a). Not aesthetically appealing
The natural blonde color and bamboo grain look don't appeal to everyone. Some people don't find it great looking when compared to wood, carbonized, or stained planks.
c). Harder to match with décor
Its blonde color makes it very hard to find home décor that will complement it. Most modern décor or your living room, kitchen, or any other room blends well with darker colored floors.
c). More cleaning
If you opt for these blonde-looking planks, you will notice dirt more quickly, and they will need more cleaning. Also, any scratches, dents, or dings will be easier to see.
Installation
There is nothing special about their installation. You can float or glue planks if they have a click-lock system, while for T&G, glue or nail down. Also, you can glue between joints if you want to float T&G planks.
Whether to install them on and above grade or all-grades depends on individual planks—usually, engineered work for all levels and solid for on or above grade only. However, don't forget to follow the manufacturer's recommendation.
Cost or price
The price of natural bamboo flooring ranges from $3-$8/sq ft., depending on the price, construction, and other factors. In addition to this cost, you will incur about $2-$5 per square foot as installation costs.
Best brands to buy
As you hunt for the best natural bamboo flooring, you need a non-toxic one without harmful compounds such as urea-formaldehyde and certified for quality indoor air. Also, consider warranty, Janka hardness, use grade or level, price, quality, among other factors.
Here is a review of some of the best prefinished natural bamboo planks to consider buying:
1. Cali's Natural Fossilized
Cali is a household name when it comes to premium quality flooring, among them bamboo. You have an option of picking any of the two Cali Bamboo natural fossilized (strand-woven planks), one natural engineered and the other one a natural solid bamboo flooring. Cali no longer has their distressed natural planks.
These two emit ultra-low VOCs and are certified by FloorScore for indoor air quality. They come with a 50-year warranty, are pet friendly, have a smooth surface and microlevel edge.
The engineered planks are wide and come with a click-lock installation, and have a Janka rating of 4200+, while the solid one is heel-friendly, has a Janka hardness of 5000, and comes with a wide T&G profile.
Finally, both the two natural strand bamboo floorings are Prop 65 compliant and CARB 93120 & EPA TSCA Title VI Compliant for Formaldehyde.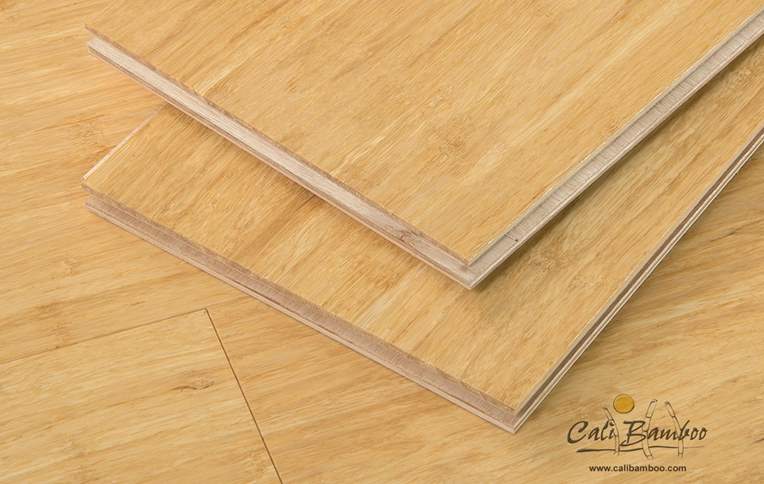 Price range: $4.99 $6.24/ Sq. Ft (Lowes)
2. Ambient
Ambient is known for its superior quality flooring solutions, FSC-certified bamboo being one of them. They have three natural strand-woven bamboo flooring, two solid (wide and standard T&G), and one engineered plank.
All their natural planks are pet, kid, and kitchen friendly, come with a lifetime structural warranty, have a 24 hours spill protection, and are radiant-safe. Also, they have a smooth surface, micro-bevel edge, a Janka hardness of 5000+, and boast of a FloorScore indoor air quality certification.
The solid planks come with a T&G installation profile (nail or glue down) and are ideal for on and above grade installation, while the engineered has click-lock (float or glue down) and a below grade-warranty (you can install them at all levels).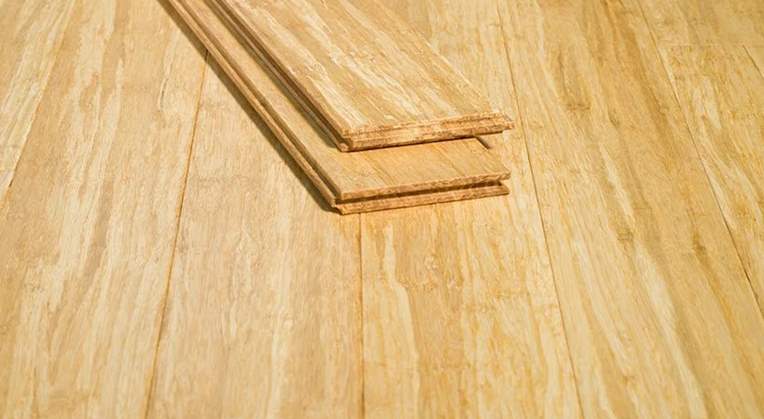 Price range: $5.14-$5.39 per sq ft
3. EcoFusion – stranded solid and engineered
EcoFusion is one of the most reputed companies to consider if you need strand-woven natural bamboo flooring planks. Did you know that they grow, harvest, and mill their own Moso bamboo at optimal maturity ages 5-6 years?
That is not all; they are FSC certified, use no urea-formaldehyde or harmful VOCs, i.e., they use their proprietary NAUF resins.
EcoFusion has two natural solid bamboo planks (½" solid lock for residential use and a 12mm T&G for residential and commercial use) and one engineered (14mm lock for residential and commercial use).
These planks have a micro bevel edge and come with lifetime residential and 25-year commercial structural warranty and commercial and a 35-year residential and 5-year commercial warranty against wear. The commercial warranty doesn't cover /2" solid lock).
Finally, the solid strands come with a 4172 Janka hardness rating, while the value for engineered planks is 3271.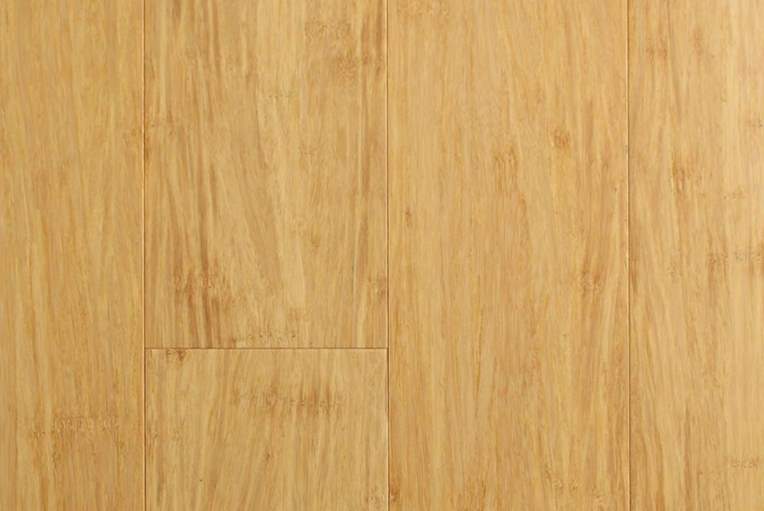 Price range: $5.99-7.20/sq. Ft.
4. Lumber Liquidators
Lumber Liquidators or LL Flooring has only one Strand Natural Wide Plank Engineered Click Bamboo Flooring intended for residential use. This blonde bamboo flooring has a Janka hardness of 4356, a two-sided bevel, and a GreenguardGold indoor air quality certification
The plank has a click installation profile; you can install it on all grades (above, on, or below), and it has a 35-year and 5-year residential and light commercial warranty.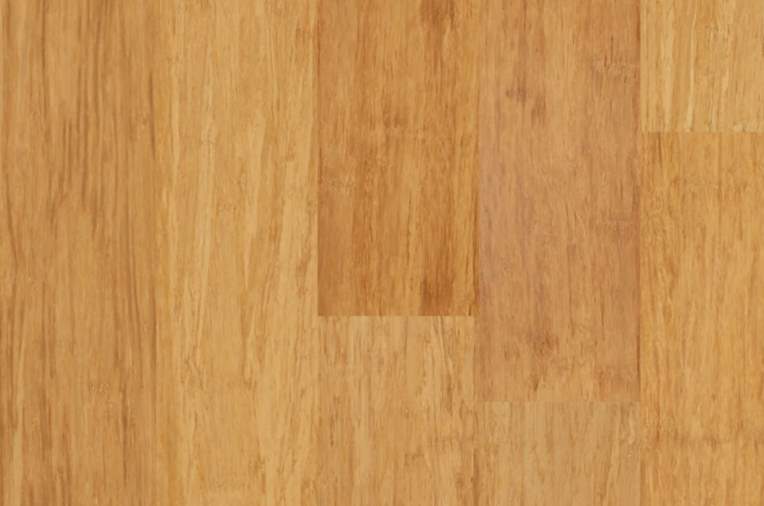 Price: $2.98 / Sq. Ft.
5. Hawa
HAWA Bamboo & Wood Products (Established in 1993 in Chenzhou, China ) is another place to get various natural bamboo planks, including strand-woven, engineered (vertical and horizontal), solid (vertical and horizontal) planks. They have a warehouse in Sayreville, New Jersey, USA, and are a member of NWFA and WFCA
All these planks have a smooth surface, micro-bevel edge, and a limited 25-year residential and three-year commercial use warranty.
The vertical and horizontal planks (solid and engineered) have a Janka hardness of 1380, while strand-woven planks have a Janka hardness rating of 3000.
Finally, all except engineered planks (which have a lock system) have a tongue and groove installation profile.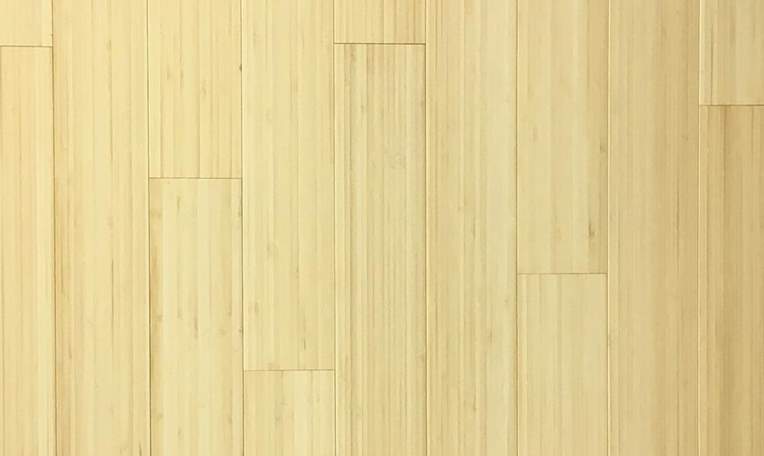 Price range: $3.09-$4.29/sq. ft.
6. FloorUS
FloorUS, a Chinese company, has strand-woven, engineered, horizontal, and vertical natural bamboo flooring planks.
All these planks are a Beveled Edge on all four sides and a polyurethane aluminum oxide finish. You can install them on all levels, and they all have lifetime structural and 25-year finish warranties.
Depending on your pick, you could have a click-lock (engineered) or tongue and groove (strand-woven or solid). However, the manufacture doesn't talk about indoor air quality certification.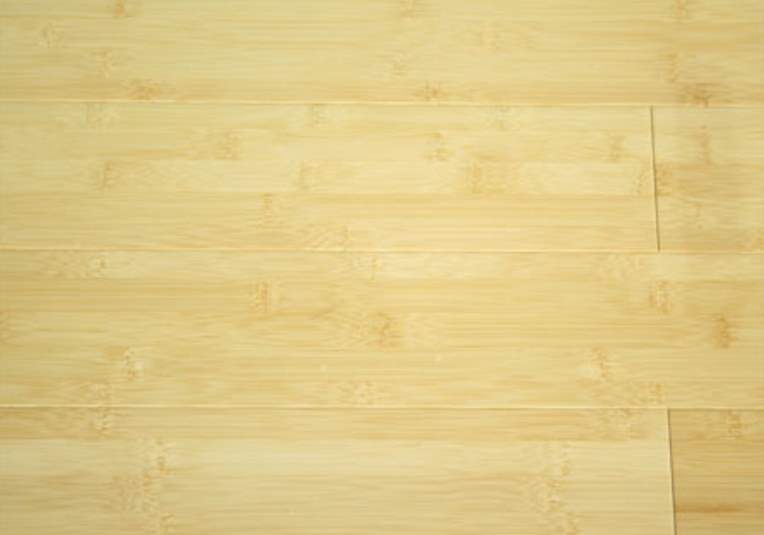 Price range: $2.19-$3.29 per square feet
Tigerstripe or tiger bamboo flooring
Tiger bamboo flooring is nothing other than bamboo planks made by alternating carbonized (darker) and natural bamboo (lighter) strips, creating a tiger-stripes-like effect.
Therefore, these plans are neither natural nor carbonized, and you will find them at Ambient, Home Depot's Home Decorators Collection, Home Legend, Yanchi, among other manufacturers.