This Eco Forest bamboo flooring review will look at the various bamboo flooring products they have: solid and strand-woven (solid and engineering bamboo planks). We got you covered, whether it is the Eco Forest Maganda, Mocha locking solid-stranded bamboo or Premium Carbonized Solid Bamboo.
We will further tell you more about Eco Forest's pros, cons, installation, acclimation required, cleaning, care, formaldehyde information, and much more.
About Eco Forest
Eco Forest bamboo flooring is an exclusive brand by Floor & Décor (Flooranddecor.com website), which also has AquaGuard bamboo flooring. As you would expect, they are not available on Home Depot, Amazon, Lowe's, and other significant home improvement or hardware stores.
Besides bamboo, Floor & Décor also has stone, tile, wood, laminate and vinyl flooring, installation materials, and decorative.
Eco Forest Bamboo flooring products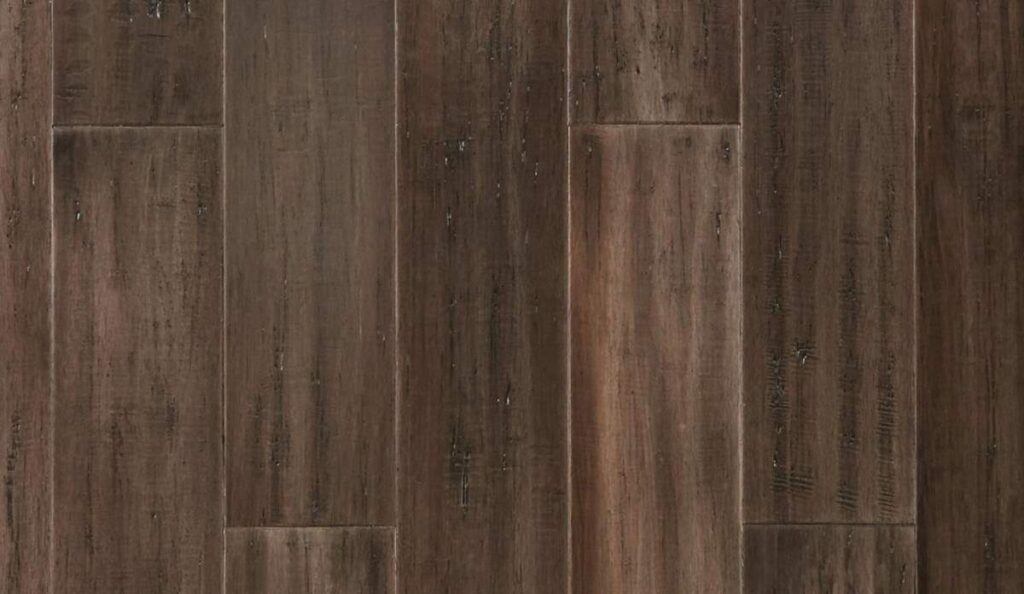 Eco Forest has over 70 bamboo planks - solid, solid stranded, or engineered strand-woven. They are available in different colors, shades, dimensions, surface textures, and edge styles.
Additionally, all Eco Forest bamboo flooring planks come with an aluminum oxide finish except for Salvador and Santiago Distressed Locking Solid Stranded Bamboo with UV-cured oil finis. Another exception is Cherry II Smooth Engineered Stranded Bamboo that has UV lacquer.
1. Solid bamboo – Dark Java and Premium Carbonized Solid Bamboo
There are two solid bamboo flooring, i.e., Dark Java Hand-scraped (brown) and Premium Carbonized Solid Bamboo with a smooth surface texture and a natural color.
These two are ideal for on/above grade level installation on your floors and walls, but you need underlayment to install them on the floor. Also, you can install them over cork floors, and they need at least 24 hours of acclimation
These two planks have GreenGuard Gold indoor air quality certification, and you will receive a 35-year residential warranty.
Finally, a Janka hardness rating of 3 is not the best choice if you want something that will resist denting and scratches well. Instead, go for the solid stranded and engineered planks.
2. Eco Forest Solid Stranded Bamboo
Eco Forest solid stranded bamboo comes with either a tongue and groove (T&G) or a locking installation profile. The T&G requires nail, staple, or glue installation while the locking for float or glue.
They all have a Janka hardness of level 5(2501+), which will not dent easily, and a 4-sided micro-bevel.
Depending on which plank you choose, the specific bamboo plank may:
install on/above or on/above/below
intended for floor alone or floor and wall usage
Have a GreenGuard Gold or Floor score indoor air quality certification
Require at least 48 hours, 24 hours, or no acclimation
installable on cork or not
Require an underlayment or just a vapor barrier (a few)
Have a smooth, distressed, wire-brushed or hand-scraped
Come with limited 40-year or 25-year residential warranties, with some having 25-year residential and 5-year commercial or 40-year residential and 7-year commercial warranties.
Their shade may be dark, medium, light, or show high variation and have either a matte or low gloss level.
Be brown, gray, rust/orange, black, white, or natural
Typical examples of solid, stranded bamboo with a T&G include Eco Forest Burnt Mocca II, Edinburgh Hand Scraped, Java Tiger II, Bonsika Herringbone Distressed, Urban Gray Hand Scraped, Garupa Herringbone Solid stranded bamboo.
On the other hand, some solid-stranded planks with a click-lock installation profile include Modish Gray Hand-scraped, Mohave Hand-scraped, Mallorca Wire Brushed, Mocha Locking Solid stranded bamboo, among many others.
3. Eco Forest Engineered Stranded Bamboo
Like solid, stranded planks, Eco Forest has many engineered stranded bamboo planks with a Janka hardness rating of 5. In addition, all the planks come with a 35-year residential warranty except for Dayton Wire-Brushed Locking, which also has a 15-year commercial warranty.
Depending on what you settle for, the planks may:
come with a 2mm or 2.5mm veneer
Have plywood or HDF core
Be installed on/above or below/on/above grade
Install them on floor only or floor and wall
installable on cork or not
Require a vapor barrier or underlayment
Have low, medium, high gloss, or matte
Come with a hand-scraped, smooth, wire-brushed, or distressed surface texture
Require 24 hours, 48 hours, or no acclimation
Come in various colors, including brown, gray, black, red, or multi-colored
Light, medium, dark, or high variation shades.
4-sided bevel or micro-bevel style
While all the planks have the same widths and lengths, Dolpino Antique Locking Stranded Engineered Bamboo has multi-width.
Others are Cherry II Smooth, Mapputo Hand Scraped, Tunis Gray, and Maganda Hand Scraped Locking Stranded Engineered Bamboo. Maganda also has a wide plank version.
4. Moldings
Besides bamboo planks, Floor & Décor also has Quarter round, T-mold, overlapping reducer, flush reducer, flush reducer, and Eco Forest bamboo flooring flush stair nose (standard and large).
Each of these moldings comes in various available in various colors. Pick those that best complement your bamboo flooring plank color.
Pros
Affordable – Compared to most other brands such as Teragren, Cali Bamboo, or Ambient BP, Eco Forest has some of the cheapest bamboo planks that will rival Home Depot's Home Decorators Collection, Home Legend, and LifeProof, and a few other brands.
Great looking – They are available in many adorable luxurious colors, textures, and gloss levels. You won't miss something that will complement your home décor.
Durable – If you are willing to offer great care, they will last for a very long time. These plans have a 35 or 40-year residential warranty backing.
Variety – Eco Forest has almost any kind of plank you want, from parquet blocks that create herringbone patterns to solid-stranded and engineered planks. These planks have different widths and lengths.
Quality indoor air – Backed with a GreenGuard Gold or FloorScore indoor air quality certification, these planks are safe and emit allowable VOC levels, among other benefits.
Cons
Dents and scratches easily – Don't carry away with the higher Janka hardness rating; these planks get scratches and scuff marks.
Emit formaldehyde - Although certified by either FloorScore or GreenGuard Gold for indoor air quality, they are not formaldehyde-free.
Cannot be refinished- You cannot refinish these bamboo flooring, i.e., it will invalidate their warranty.
Prices/cost
Eco Forest bamboo flooring price range is $1.99-4.29/sq. ft. The price is exclusive to professional installation that cost $2 to $5 per square foot.
Their most affordable plank is Dark Java Hand Scraped Solid Bamboo. On the other hand, Kaladian Hand Scraped Solid Stranded Bamboo is the most expensive and the only one with a price over $ per square foot.
Formaldehyde
Eco Forest bamboo does indeed emit formaldehyde, and it is even indicated on their installation guides. However, this shouldn't worry you since all their planks have either a GreenGuard Gold or FloorScore indoor air quality certification, i.e., they have been tested and found to be safe for indoor use.
However, ensure proper ventilation, and keep temperatures at recommended levels to reduce the accumulation of formaldehyde and other contaminants fumes.
Acclimation
Eco Forest bamboo flooring acclimationduration varies from one plank to another. Some planks don't require acclimation, while others require at least 24 hours or 48 hours of acclimation. Kindly check to confirm the necessary time.
During acclimation, place the planks in the rooms where you will install them and maintain 35% - 55% relative humidity and a temperature of 15°C - 26°C. (59°F-79°F)
Warranty
All engineered Eco Forest bamboo flooring has a limited 35-year residential warranty, while solid-strand comes with a limited 40-year limited residential warranty.
Kindly familiarize yourself with what the warranty offers (terms) and exclusions. For instance, ECO FOREST™ doesn't warranty wear or damages related to installation, abuse, incorrect care, maintenance, negligence, the act of God, etcetera.
Radiant heat system
Eco Forest bamboo flooring planks are compliant with radiant heat systems, but the temperature shouldn't exceed 80°F or 30°C, and relative humidity kept at 35% and 55%.
Please turn it on for seven days before installation, keep it a 65°F 36 hours before installation, and gradually bring it to the normal temperature over 5-7days after installation.
How to install eco forest bamboo flooring - installation instructions
If you are looking for solid, stranded engineered, or Eco Forest stranded bamboo flooring installation instructions, we got you covered.
However, before installation, ensure exterior finishing (including grading, downspouts, gutters to divert water away from your walls) and complete interior wet trades.
Secondly, your subfloors, i.e., wood (¾" oriented strand OSB boards and ⅝″ Plywood) or concrete (cured for 45 days), should be even, flat, and must meet the required moisture content.
Thirdly, maintain relative humidity at 35% - 55% and temperature at 15°C - 26°C. (59°F-79°F) for seven days before installation. Your HVAC system, humidifier, air conditioner, or dehumidifier should help you maintain these conditions. Keep these conditions during installation and for the rest of your floor's lifespan.
Furthermore, let your Eco Forest Bamboo flooring at 35% - 55% relative humidity and temperature 59°F-79°F in the rooms you will install for the required time. Usually, 24-48 hours, depending on which planks you purchased.
NEVER install any plank with physical defects, as it would render your warranty null and void. Instead, put them aside and return them to your vendor. Defect tolerance should be within the industry standards of no more than exceed 5%.
Finally, since it may interfere with expansion or contraction, don't install these bamboo planks beath any floor anchored fixtures or furniture.
a). Lock system
Strictly float Eco Forest bamboo flooring planks with a click-lock installation profile. However, you glue them if you use urethane or latex adhesive with a moisture barricade component. Otherwise, you will invalidate your warranty.
Also, have transition molding at every 6.7 meters (22 feet), door entrance, where the floor meets a fixed item or the floor type changes.
Ensure you keep the correct expansion gaps, including around nuts and pipes, and have a 6-8mil polyethylene sheeting for concrete floors before placing your underlayment or flooring.
Finally, install a -3mm thick underlayment with a combined vapor barrier for all your floated floors. It will minimize sound and prevent dampening.
b). Groove and tongue (T&G)
Glue, nail, or staple Eco Forest bamboo flooring with Tongue and Groove installation profile.
If you opt for the glue-down method, use urethane/latex adhesives only. Go for glues with crack isolation membrane, moisture barricade, and sound isolation for best installation results.
Also, acclimate your adhesives for at least 36 hours or as manufacturers recommend and follow the manufacturer's installation instructions.
On the other hand, for nailing or stapling, use a 16 gage cleats 1 ½" to 2" pneumatic nailer, 15 ½ gage staples 1 ½" to 2" pneumatic stapler, 18-20 gage cleat nails ½" long cleat nailer, or 15 gage staples ½" Wide & 1 ½" long cleat stapler.
Follow recommended nailing or stapling distances, and have at least a 15lb felt paper (don't overlap seams) and underlayment for floated floors.
Cleaning
Regularly sweep, dust-mop, or vacuum (use a vacuum without a beater) to get rid of dust, grit, or dirt. Use a broom or a micro-fiber dust mop.
If you need to clean them, dampen a clean cloth or microfiber mop with a good hardwood cleaning product and use it to wipe your floor.
In case of hard stains such as oils, food residue, grease, crayons, and so on, dampen a clean cloth with mineral spirit and wipe the area. Ensure you thoroughly remove any residue.
Once the spot is gone, moisten another clean piece of cloth using water to remove any residual mineral spirit.
DO NOT steam clean, wet mop, or use soap, oil detergents, or liquid cleaning for hard floors. Also, avoid abrasive cleaners, including steel wool, harsh chemicals like chlorinated or ammonia (alkaline) cleaners.
Excessive exposure to moisture may result in joint separation, delamination, warping, or swelling of your bamboo floors.
Finally, don't polish or buff your Eco Forest bamboo floors, as they will end up with hot spots that will make your warranty invalid.
Care and maintenance
Besides cleaning Eco Forest bamboo floors correctly, proper care and maintenance will elongate their lifespan and ensure they remain vibrant and great-looking. It would be best if you also protected them.
Some of the routine care and maintenance practices include the following:
Keep your pet's (cats and dogs) nails short.
All furniture that rests on floors should have felt pads and have the right caster on heavy furniture, while heavy items or appliances pianos may need floor protectors. Don't use rubber casters.
Have entrance door mats to collect dirt, grit, sand, or water.
Immediately dry any liquid spills using a moist cloth since while it resists water better than wood, bamboo floors are not waterproof.
Avoid rugs with plastic or foam-backed rug liners or rugs since they may damage your floors as you move them. Instead, go for a rug with backings approved for aluminum oxide or urethane finished floors.
Periodically rearrange your furniture and area rugs to allow uniform wear (change traffic routes) and even coloration since UV may darken or lighten floors. Also, have blinds, if possible, to reduce the UV effect.
Our verdict
Eco Forest bamboo flooring planks are an excellent buy. They look lovely, will last longer, and give you value for money.
However, you must be ready to care for and maintain them well. Also, note that you cannot sand and refinish these planks if they get scratches or dents.