We will tell you which is the best pot for Monstera and guide you on picking the correct pot size. But size you may not be familiar with the various planters or containers available, we will start by looking at them and giving you their pros and cons.
Afterward, we will tell you which will be best for your depending on your watering habits, where you will keep it, among other factors. What you will learn applies to Monstera deliciosa, adansonii, siltepecana, and other species.
What to look at in best pot for Monstera
If you are shopping for the best pot for Monstera, there are many things you need to consider. But above all, it must be functional and the correct size.
Here is what to look for when buying a pot for your Monstera plant.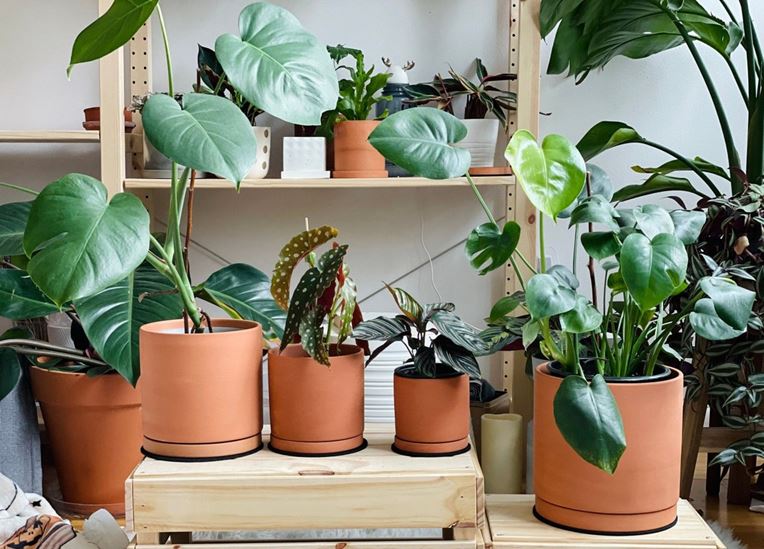 1. Drainage
If you are looking for a pot for your Monstera, be it a Monstera deliciosa, adansonii, or any other species, it must have enough drainage holes. These plants love moist soil, not soggy.
A planter without a drainage hole will increase the risk of overwatering since the excess water will remain at the bottom of the pot. In no time, you will see lower leaves turning yellow, your plant wilting, a moldy potting mix, and even root rot which can potentially kill your plant.
If the pot you choose doesn't have holes, you must be ready to drill some. There is no other way when it comes to drainage holes.
2. Pick the right Monstera pot size
The second critical consideration is picking the correct Monstera pot size. People who want to repot their Monstera need to choose a pot that is 2-3 inches wider in diameter.
If transplanting seedlings or newly propagated Monstera, begin with a 6-inch pot. You can bundle a few plants together if you want a bushy plant.
On the other hand, people whose Monstera has reached an optimum size can let it be a little pot bound to help slow growth. But don't ensure it doesn't affect their health.
Why small pots are bad
A small pot will make your plant rootbound, meaning it cannot get enough nutrients or water from the soil. So, it will grow slowly, be leggy, wilt/droop, have yellow leaves, brown tips and edges on leaves, drop leaves, etc. A sure sign your plant is rootbound is roots growing from drainage holes.
Why too large pots are bad
With the hope of not repotting your Monstera for a long time, some people fall into the temptation of buying an oversized Monstera pot. Never do this. It will cause an overwatering problem because the plant will take a long to use all the water in the large planter.
Is there a perfect size?
No, there is no perfect Monstera pot size. It all depends on your plant size. Pick one 2-3 inches larger than the current one.
3. Material
As you will realize shortly, plant containers are made using varying materials. Each has advantages, disadvantages, and suitability. We will look talk more afterward.
4. Your style
Planters and pots are available in many designs, shapes, colors, or materials. You need to pick one that compliments your style and décor. Here, what matters is personal choice and taste.
5. Where you will use it
Some are suited for indoor use, others outdoor. In deciding the Monstera pot to buy, consider this. As we look at the various types, all will be clear.
6. Weight
Weight is a critical consideration tied with the material. Heavy pots are hard to move around and not a good choice if you love rearranging your plants.
7. Your watering habits
Pots may be porous or not. Porous ones allow water and air to pass through their wall while non-porous will not.
People who tend to overwater their plants need porous one, and those who underwater non-porous.
Pot types to you can use on Monstera
Terracotta, glazed ceramic, and nursery-like plastic pots are the most popular. But there are many others. Let us now look at them and give you their pros and cons.
1. Terracotta pots and Monstera
Terracotta pots are a fantastic choice for your Monstera. They are fire-kilned, unglazed clay pots made using a particular soil type and often appear rusty red. You can use them on indoor or outdoor Monstera plants.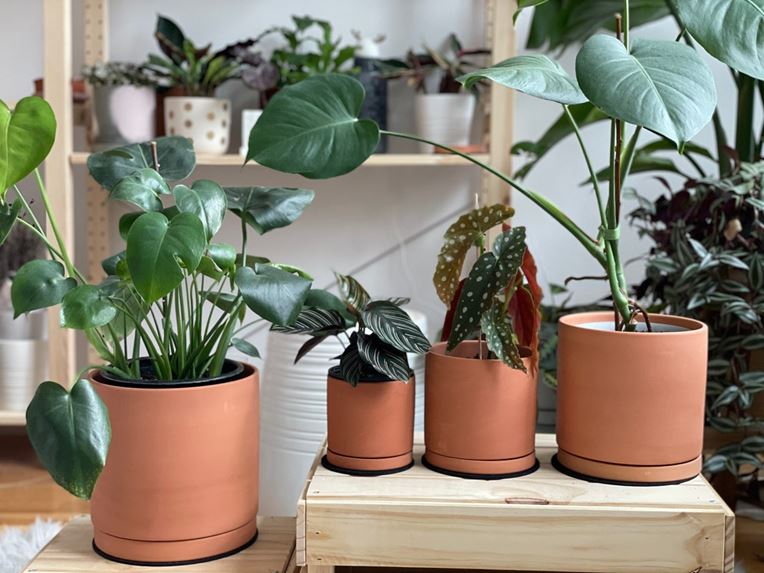 Pros
It is porous, meaning it will allow moisture and air to pass through its wall. Roots near the walls can benefit. Also, the soil dries fast as moisture wicks out, reducing overwatering problems.
A terracotta pot has a thick wall to help insulate your plant from quick temperature changes such as a hot day outdoors or frost. Otherwise, they would harm your plant.
It's heavy, meaning it will remain upright even when the wind blows.
You can tell the moisture level by looking at its wall. Where there is moisture has a different coloration.
Affordable
Fully recyclable
Cons
It will quickly if it falls or something knocks them. Also, frost may break it.
Forms white crusty on the outside as dissolved minerals percolate to the outer surface. Some people find these whitish crusts unsightly.
Increases watering frequency
May grow molds on the outer side.
They take a long time to disinfect.
Bottom line
Terracotta pots are perfect for people who tend to overwater their plants as they will wick some moisture out, meaning the soil will dry fast. Also, you will have a chance to see moisture level by looking at its coloration or feeling it.
If you intend to use it outdoors, it will work well to buffer roots against sudden temperature changes, especially heat in summer.
It is an all-time favorite choice as it can avoid overwatering your Monstera and root rot instances. For the whitish stuff, scrape it, and if it grows mold, use hydrogen peroxide.
2. Glazed ceramic pots
Glazed containers are clay pots lined with glaze, making them non-porous. So, they will retain moisture, just as plastic would.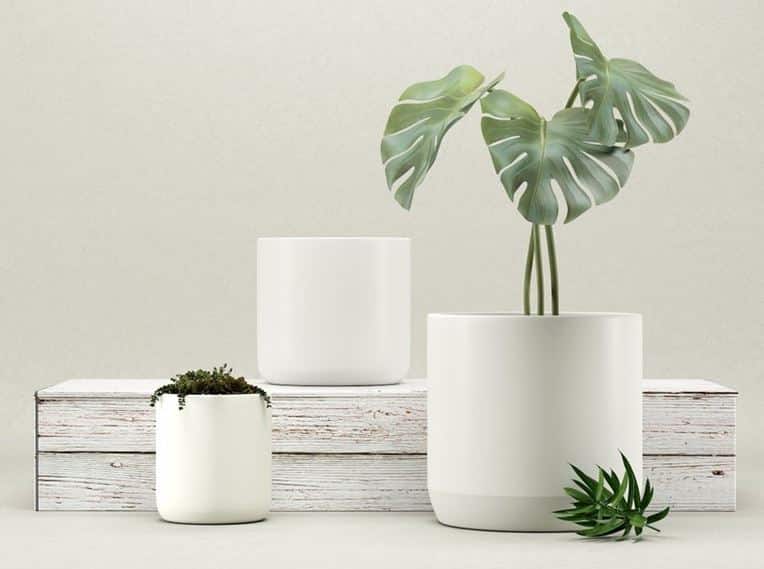 Pros
They come in many unique designs and colors, from plain colors to decorative finishes. You won't miss one to compliment your indoor or outdoor décor.
Glazed planters are heavier, meaning they will not tip easily.
They insulate plants from sudden temperature changes, just like clay.
Since they don't wick water, they are an excellent choice for people fond of underwatering their Monstera.
Cons
They don't allow air to pass through their walls to benefit these plants.
Since they don't wick water out, they are not an excellent choice for people who have an overwatering problem.
These ceramic pots are fragile, i.e., they will break if you drop them down.
Bottom line
If you pick a glazed ceramic pot, ensure it has holes. If not, drill some. It will work well indoors and outdoors and look fantastic if you care for aesthetics. You will find elegant ones that can complement any indoor or outdoor décor.
People who underwater their plants may find it an excellent choice. But don't forget to water your Monstera correctly. Also, if you have a plastic container, it can work as a cachepot, but you must drill holes.
3. Plastic pots for Monstera
Plastic pots are among the most popular plant containers. Manufacturers use inert synthetic polymers, i.e., those safe for plants. So, they will not harm your Monstera in any way.
You will find lovely, high-end plastic pots, very cheap and affordable ones. Most are translucent, but some are transparent.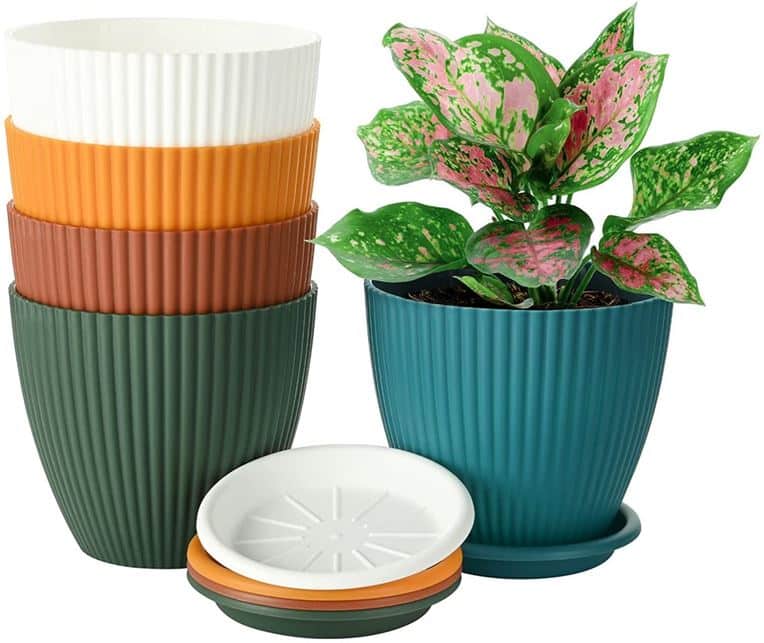 Last but not least, always go for brands intended for houseplants as some may leach chemicals that will harm your plant.
Pros
They come in various colors, making them easier to complement with your interior or exterior décor.
Lightweight and very flexible
They resist breakages even when you drop them down.
Least expensive choice
Some are recyclable
Cons
Plastic pots will not wick water out, making them suitable for moisture-loving plants. But for Monsteras, they may cause root rot.
They are thin and offer very little insulation against heat or cold. Those that are black may heat on hot summer days, affect your plant's roots.
Low-quality brands undergo UV degradation that will make them fade and become brittle. Go for ones with UV light inhibitors.
Cheap ones are less appealing.
Bottom line
They are perfect for people who tend to underwater their plants since they are not porous. Also, they are cheap, but high quality can cost more. We recommend plastic containers if you are willing to get a cachepot. Otherwise, they don't look so great.
4. Metal planters
Metal planters made using mainly aluminum or steel and given various finishes, including galvanized, are another excellent planter for your Monstera. They will come in multiple shapes, sizes, colors, and designs.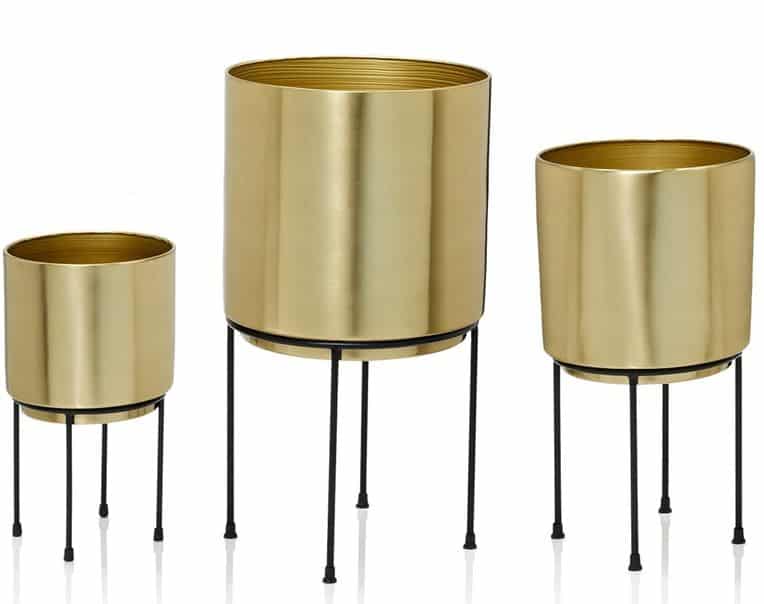 They are a great choice if you are looking for a cache container that will add aesthetics.
Pros
They will add a unique charm to your garden or home that many people will not expect. You will love their rustic appeal or even a worn patina.
Yes, they may rust or corrode, but most metal plants are durable and will not break easily.
Easy to repurpose. You can use some old metal containers as planters with some modifications.
Cons
The salts in some fertilizer finishes may damage some metal finishes
Metallic planters can get very hot or cold, especially if outdoors.
These planters may present health risks to your plant, especially those containing lead. Also, galvanized ones may leach zinc to the soil, which is harmful to your plant. Symptoms include stunted growth, leaves curling, leaf tip death, and chlorosis.
Non-porous
Some are heavy
Bottom line
They are durable and will give rustic appeal. You can use it indoors or outdoors, and it will work well. But ensure these planters are safe for your plants. Old ones may contain lead. Also, avoid galvanized.
5. Concrete planters
Another choice of Monstera planter is buying concrete. They are some of the most attractive container choices, and you will find them in many lovely colors and shapes.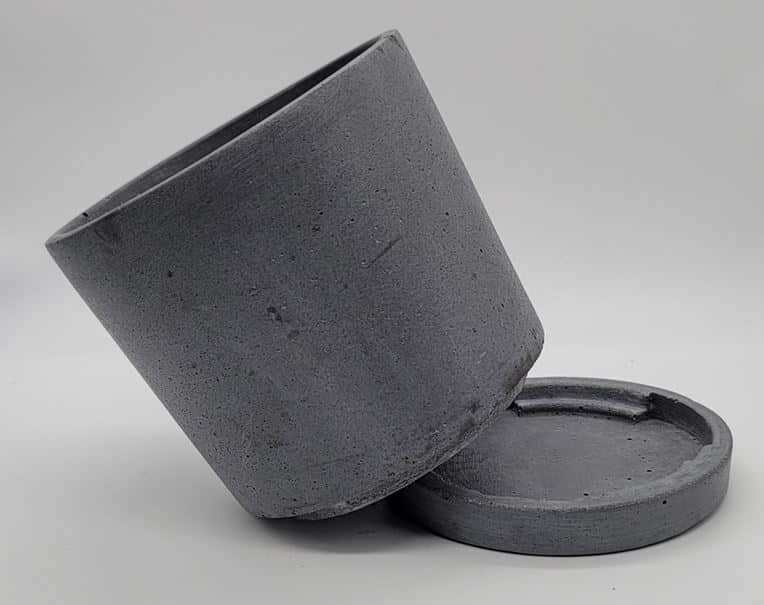 Pros
They are durable and sturdy. Concrete planters will withstand wind or rain and last for decades.
Like ceramic pots, they offer insulation, meaning they will buffer your plant's roots from cold or hot conditions.
Heavy, stable, and can hold every very large Monstera without tipping over.
May retain their color you mix these colors to the concrete before pouring it into a mold.
Like terracotta pots, they are porous. So, they will allow some water and air to pass through their wall.
Cons
They are heavy, making them hard to move from one place to another if you love rearranging your Monstera from time to time. Also, if you use them on story building, consider their weight due to their weight.
Concrete planters may get stains as mineral salts move from the soil to their outer surface.
May end up with moss growth
The high content of lime in concrete may create a soil pH that may not favor your Monstera.
Bottom line
Concrete planters are heavy. So, you need to buy one if you don't intend to move your plants. We highly recommend these planters for use outdoors, especially if you have a big Monstera plant. People who overwater their plants will find them a perfect choice.
6. Fiberglass
Fiberglass is another lightweight choice of synthetic planters and pots. They are essentially similar to plastic/polymer resin but have a glass fiber reinforcement.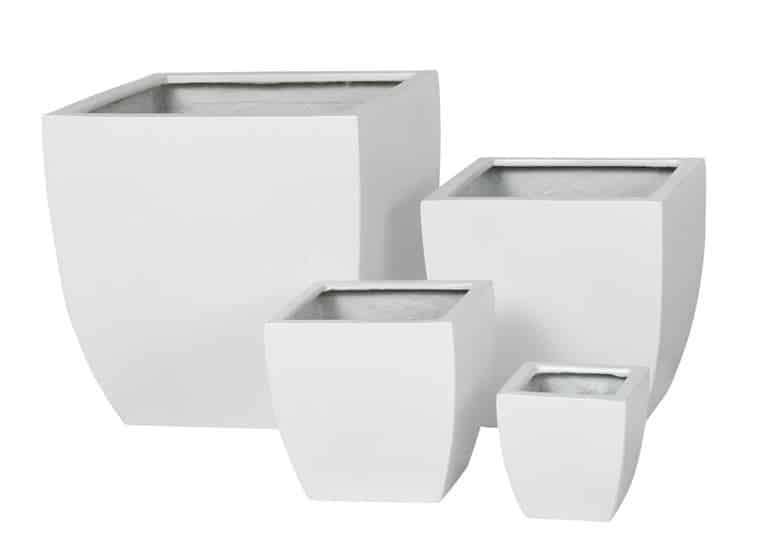 Pros
Compared to concrete or ceramic plants, they are light in weight.
Durable and weather resistant. These planters can withstand all seasons, i.e., summer to spring. And they don't crack, rust or splinter easily.
UV resistant, meaning you can use them inside your home or outdoors in your patio, deck, terrace, or garden without worrying they will fade.
Available in many attractive designs and elegant colors.
Cons
They are expensive, some going for prices higher than high-end ceramic pots.
These planters may fray or wear over time, making them rugged if you use harsh chemicals, abrasive material, or stiff brushes.
Bottom line
Fiberglass pots are perfect for people who need durable planters that are not heavy. They don't break easily and can withstand even harsh conditions.
Since they are not porous, people who underwater their Monstera will find them an excellent pick.
7. Self-watering pots
These are not a type but pots with a water reservoir and a wicking mechanism. You will fill the reservoir, and it will slowly be wicked to the potting mix.
They are an excellent choice for people who struggle with watering their plants or have a hectic schedule. They will resolve overwatering or underwatering.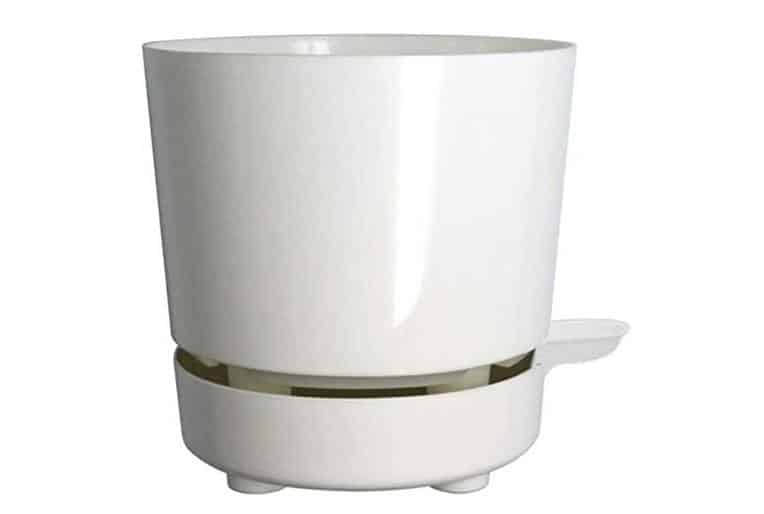 Winner: Terracotta
The best pot for Monstera is Terracotta, followed by ceramic, then plastic. Carefully weigh the pros and cons and see if the one you pick suits your needs. If watering is a problem, go for a self-watering pot.
Frequently asked questions
Do Monsteras like a small pot?
No. Monsteras don't like a small pot but can still grow well because, as epiphytes, they don't grow a giant root ball. Putting your Monstera in a small pot may make the rootbound.
Can I grow several Monsteras in a single pot?
Yes. If you want a bushy growth, you can put 3-4 plants in the same pot. They will grow perfectly well.