Baby Monstera plant or seedling is one of the Monstera growth stages during which a newly germinated plant growth will depend on at least some resources from the seed. It lasts for several months after the seeds germinate. The other stages are the juvenile and adult. Both baby and juvenile plants are considered young Monstera.
Learn more about baby Monstera plants or seedling stages, including how seedlings look like or appear and growing habits. We will also talk about baby Monstera plant care and growth requirements.
Last but not least, what we will talk about on care will apply to any species, be it a baby Monstera deliciosa, adansonii, siltepecana, or any species or even subspecies.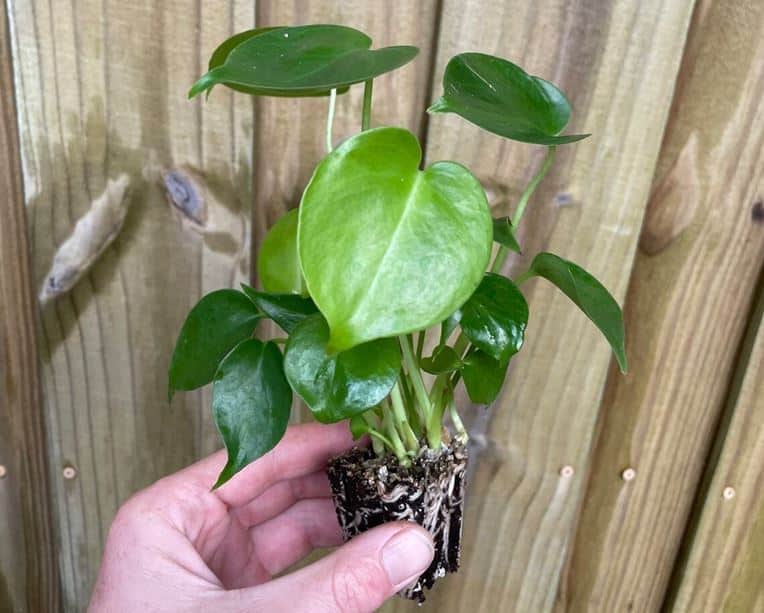 Seed dispersion and germination
Once they reach the adult stage, Monstera species will bloom. In their natural habitat, they don't have a specific blooming season. But in the temperature regions, they are likely to flower during the growing season, especially summer.
Monstera flowers are borne on a spadix and have a surrounding spathe. The flowers will then bear fruits that have seeds. Some species like Monstera deliciosa (split-leaf philodendron, Mexican breadfruit, Swiss cheese plant, or ceriman) has edible fruits.
Only eat fully ripe Monstera deliciosa fruits. Unripe fruits and other parts (leaves, stems, flowers, roots, etc.) are toxic to humans, cats, dogs, and other pets. Why? They have insoluble calcium oxalate. Eating them will cause severe oral irritation, burning sensation, swelling, and redness. Other signs are drooling, swallowing difficulty, reduced appetite, and so on.
Monstera seeds may fall on the ground, or birds may disperse them. They will germinate after about two weeks if they find a conducive environment.
You can also grow Monstera from seeds at home if you are lucky to get them. But most people prefer to propagate Monsteras by stem cuttings. Seeds take longer, and they are not readily available.
Baby Monstera plant or seedling growing habits and appearance
Monsteras are hemiepiphytes, meaning they grow both as terrestrial plants, i.e., on the ground, or as epiphytes on rainforest lower or middle rainforest tree trunks, i.e., beneath their canopies.
Monstera grows as a terrestrial creeper at the seedling stage, i.e., they creep on the ground. Those on slopes will grow uphill, a tropism behavior believed to help them locate tree trunks. Why? Because there are slopes from tree trunks due to the accumulation of leaves and litter.
Some species like Monstera tenuis and Monstera dubia show negative phototropism, i.e., they grow towards darkness. Again, this behavior is considered an adaption to help them locate tree trunks. A dark area represents a tree trunk.
At this stage, the plants grow short-lived roots and on the nodes. The roots are about 3/64 inches (1mm) and hardly go beyond 7.8 inches (20cm) long.
Still, the seedlings may either be distinctive from the juvenile stage or not so unique on growing habits and appearance. Let us look at each of these two phenomena.
1. Distinctive seedling stage – baby Monstera with stolons
Monstera species in the Marcgraviopsis, such as the Monstera acuminata, M. spruceana, and M. dubia and Echinospadix (M. tuberculate) sections, seeds germinate to green thin, leafless stolons or runners. But since they grow beneath litter where they don't get enough light, they may appear white.
These stolons are thin, about 3/64 of an inch (1mm) in diameter, and they can elongate for up to 6.6 feet (2 meters) without an increase in this diameter. Also, they have long internodes (1.5-4 inches) and grow cataphylls (modified leaf-like bract) on nodes.
You will find the seedling still attached to its plump seeds, and most will depend on it until they are about 3.2 to 6.6 feet (1-2 meters) long.
The stolons can photosynthesize but are unlikely if they don't get light. So, the seedling will depend on the seed for energy. This is the reason why Monstera with stolon-like seedlings has larger seeds. Oversized means less dispersion. Also, the plant will produce fewer.
Lastly, stolon-like seedlings won't grow leaves until they find a place to climb.
2. non-distinctive seedling
The second category of baby Monstera plants has what we will call non-distinctive seedlings, i.e., they somewhat resemble juvenile plants. They include members of the Tornelia section that has Monstera deliciosa and Monstera section, whose species include:
When they germinate, the first two leaves will be cataphylls. Afterward, you will see entire baby Monstera leaves that slowly become larger, and their stems thicken until they reach the juvenile stage.
The appearance of baby Monstera leaves will vary in color, shape, size, and texture, depending on the species you have. Some have heart-shaped, others are oblong, oval, etc.
In the wild, you will find them without their seed coat. Even under cultivation, the seedlings will quickly wither and become empty when the plant seedling is 1-3 inches.
Unlike those that grow leafless stones, they don't need them since sprouting leaves can help photosynthesize. Also, their seeds are more petite.
Baby Monstera plant care and growth requirements
If you decide to grow Monstera from seeds, you must properly care for them. The care and growth requirements are not any different from Monsteras. But it would help if you avoided extremes since they are still fragile.
Here are the baby Monstera care needs:
1. Temperature and humidity
Provide a warm, humid area just as it is in their native tropical habitat. Ideal temperatures are 70 to 85 degrees Fahrenheit (21-29°C). But they can still grow well in slightly lower temperatures, i.e., 65°F (18°C) or more. Below these, they will grow slowly.
Avoid areas with cold drafts, including near AC vents or near heat emitting appliances, including your heating system vents. Also, avoid drastic temperature changes.
For humidity, keep it at 60% or above. Get a greenhouse cabinet or a humidifier like AquaOasis™ Cool Mist Humidifier if your home has low humidity. Also, you can mist these plants several times a week to help raise humidity or move them to areas with high humidity.
Low humidity will cause leaf scorch (crispy brown tips and edges), discoloration (leaves may turn brown or yellow), leaves curling, drooping, among other things. Also, they will affect your baby Monstera growth rate.
Lastly, check humidity and temperature, Use Govee Hygrometer Thermometer H5075. It features a Smart App Alert to notify you when temperatures or humidity go below the levels you set.
2. Light
Provide seedlings with bright, indirect light. Medium or lower light is still ok. But they will grow slower. And if too little, leaves will be smaller, paler, or yellow, and your plant will be leggy. If prolonged, leaves may drop.
Light is vital for photosynthesis and chlorophyll formation. However, don't get into the temptation of allowing direct sunlight. Why? It will cause sunburn. Leaves will look bleached or washed out, scorched, and may turn yellow. Also, they may curl, and your baby Monstera will droop or wilt.
3. Soil
Soil is one thing you don't want to go wrong. Why? It may contribute to root rot. So, give the seedling well-drained, airy soil high in organic matter. An aroid mix (see Etsy.com) will do the job.
Alternatively, you can make yours at home. Mix peat moss and perlite. Then add some worm casting and bark chips.
4. Watering
We recommend keeping the soil moist but not soggy when the seedlings germinate. They need moisture since they are yet to grow an elaborate root system. Don't wait until the top few inches are dry like you do for established plants.
Use a spray bottle to water your plant as soon as you see the topsoil drying signs. But don't overdo it because overwatering will cause Monstera root rot.
Early signs you have overwatered this Monstera include leaves turning yellow, having brown or black splotches, wilting, and so on. Also, the potting mix may become moldy, and you may see pests that love moist areas.
On the other hand, never let the potting mix completely dry. It will slow growth, make your plant droop, and see the leaves curling. Other signs are leaves falling off, leaf scorch, withering, or
5. Fertilizer
Don't fertilize your baby Monstera yet. Wait until the seedlings are at least 3 to 4 inches tall or after four months. Why? Most potting soils have added fertilizer. Also, the plants haven't grown enough roots to utilize fertilizer.
When you eventually start feeding these plants, use an all-purpose, liquid houseplant fertilizer.
A brand such as Miracle-Gro Indoor Plant Food (Liquid) is great. Apply it once a month and start with half recommended strength in spring and summer only.
6. Support
Seeds of the Monstera that grow stolon-like are rare. But if you have them, you will need to give your seedling a place to climb. Otherwise, they may continue running on the ground. Remember, they will only grow leaves when they start climbing.
Transplanting baby Monstera
When can you transplant your baby plants into their growing pots? There is no general guideline. But we recommend you wait until they have 3 to 5 true leaves, not cataphylls. If you want a bushy plant, grow a few seedlings together in one pot.