Monstera subpinnata is a rare tropical climbing plant with adorable deeply split, palm or finger-like large green leaves with pinnae that narrow towards the base.
It is native to Bolivia, Ecuador, Colombia, and Peru and makes a perfect houseplant that will give your home a tropical vibe or accent while purifying the air.
Botanically, Monstera subpinnata is a member of the Arum family, Araceae, colloquially known as aroids. The genus Monstera has 45 accepted species and its name Monstera is a Latin meaning monstrous, or abnormal, referring to the leaves' holes, or fenestrations.
Last but not least, this aroid is mislabeled as Philodendron subpinnata. Kindly note that it is not a Philodendron.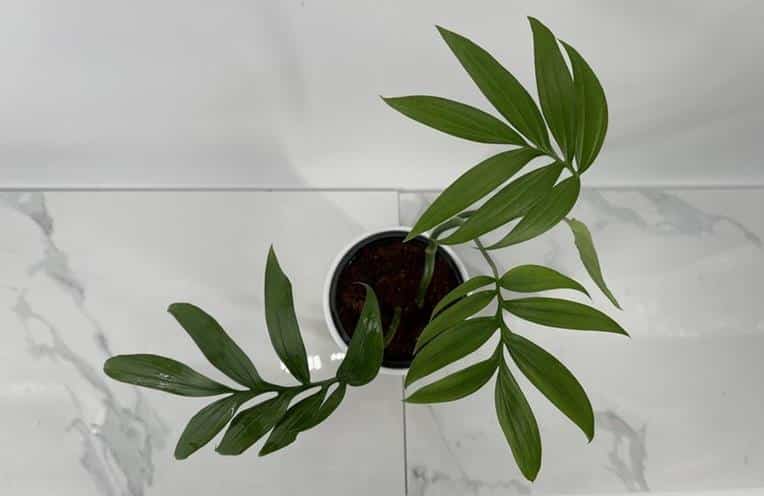 Quick Overview
| | |
| --- | --- |
| Scientific name | Monstera subpinnata, synonyms are Monstera latiloba, Monstera uleana, or Tornelia subpinnata |
| Family | Arum family, Araceae (aroids) |
| Common names | Philodendron subpinnata, subpinnata Monstera |
| Native habitat | Bolivia, Colombia, Ecuador, and Peru |
| Type | A flowering, tropical, evergreen, perennial hemiepiphytes |
| Size | Up to 33 feet in their natural habitat and about 4-6 feet as a houseplant |
| Leaves | Finger-like or pinnate, large green leaves measuring 10 to 15 inches long and 7 to 11 inches wide. |
| Stems | Green, 0.6 to 1-inch vines with short nodes |
| Flowers | Inflorescence pale yellow to yellow flowers borne on a spadix with a spathe |
| Blooming time | All year, once it matures |
| Light requirement | Medium to bright, indirect light |
| USDA hardiness zone | 10b to 12 |
| Temperature | 65°F to 85°F, not frost hardy |
| Humidity | Average to above average, i.e., 50% or more but can tolerate household humidity with occasional misting |
| Growth rate | Medium |
| Soil | Well-drained, chunky soil or potting mix rich in organic matter |
| Watering | Medium, allowing the top 2 to 3 inches or 50% to 75% of soil to feel dry |
| Propagation | Stem cutting |
| Toxicity | Toxic to humans and pets |
| Care level | Low or easy |
Identification – appearance, and description
Before we look at care needs, pests, disease, and safety, let us begin by helping you know how to identify this plant. We will look at growing habits, size, and the appearance of leaves, stems, flowers, and fruits.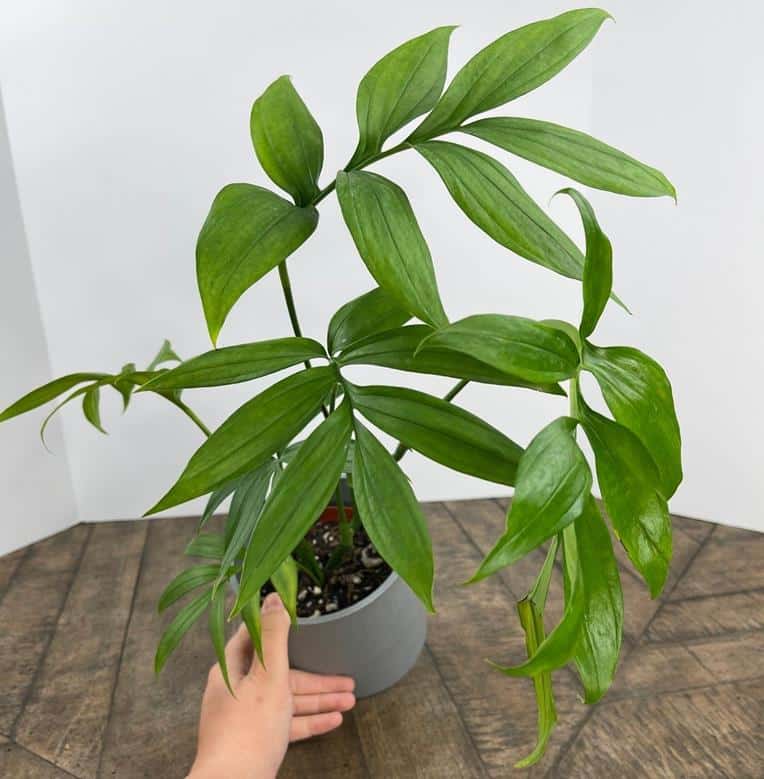 1. Growing habits
Monstera subpinnata is a tropical, climbing hemiepiphyte that grows in the warm and humid jungles in Bolivia, Peru, Ecuador, and Colombia. A hemiepiphyte is a plant that has part of the life cycle as an epiphyte (grows on other trees) and as a terrestrial plant (grows on the ground).
This perennial, evergreen flowering plant occurs at 0 to 4921 feet (0 to 1500 meters) altitudes. And while in the jungle, you will find this charming aroid climbing on trees sheltered by their canopies. To climb, it uses its aerial roots to hold onto tree trunks. But when it doesn't get vertical support, it will tend to spread on the surface.
Last but not least, like other Monstera species, Monstera subpinnata has a moderate growth rate. And factors such as temperature, humidity, having a climbing place, and the soil influences the growth rate.
2. Size
While in its natural habitat, M. subpinnata grows up to 33 feet (10 meters) long. But at home, they will grow as high as 3 to 6 feet tall.
3. Leaves
Monstera subpinnata has adorable, finger-like, or deeply split or pinnate large green leaves. They measure about 10 to 15 inches long and 7 to 11 inches wide and have 10 to 15 inches long petiole.
Each leaf has about 3 to 12 pinnae on either side (lateral) and the terminal pinnae are about the same size as the lateral ones.
Lastly, the pinnae are slightly narrower towards the base (midrib), something that differentiates them from a Monstera dissecta.
4. Stems
It has narrow green stems, usually 0.6 to 1 inch (1.5 to 2.5cm) in diameter with 1.2 to 3.1 inches (3 to 8cm) internode length. These viny stems tend to become slender as it climbs. Also, the vines have aerial roots to hook on to what they are climbing. If spreading on the ground, the roots will grow into the soil.
5. Flowers and fruits
These Monstera species flower once the plant matures. As ornamental, it is unlikely to flower unless grown outdoors.
Like many plants in the Araceae family, Monstera subpinnata has pale yellow to yellow tiny inflorescence flowers borne on a spadix surrounded by a Whitish, cream, or yellowish pink spathe.
The spadix has a terete stalk (peduncle) about the size of the spadix or shorter and it's the only species with an equal or shorter peduncle besides Monstera siltepecana.
After anthesis, the spadix will the bear clustered, seed containing berry-like fruits. These fruits are greenish and turn yellowish or orange at maturity.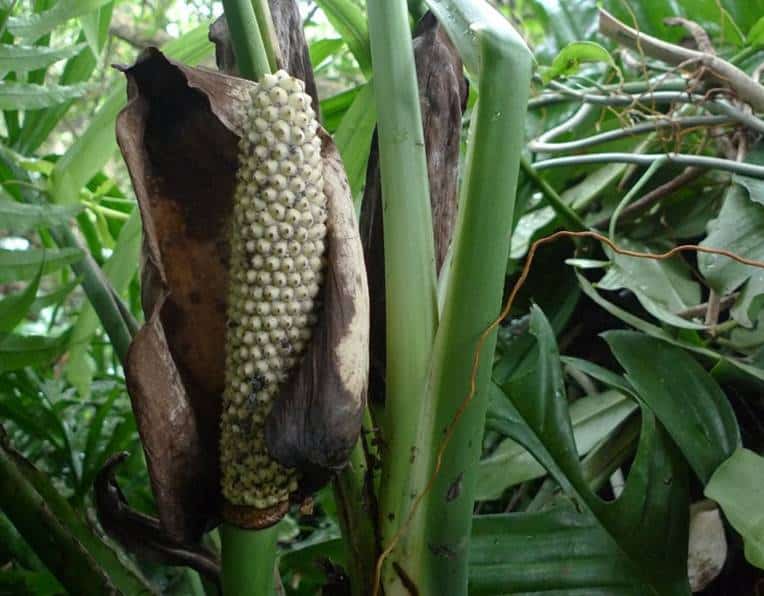 Never eat these fruits. They are toxic or poisonous. Only Monstera deliciosa fruits are edible once they fully ripen.
Where to grow this plant
Monstera subpinnata make excellent houseplants. You can grow them in pots, hanging baskets. But as climbers, these plants will be happiest if you give them vertical support such as a trellis, moss pole, totem, etc.
People with low humidity or who want to control conditions better should opt for a greenhouse cabinet or terrarium. But it must be big. Why? because unless pruned, this aroid can grow large.
Last but not least, if outdoor conditions are favorable, grow this Monstera outside in your arbor, greenhouses, or garden. Here, you can let it trail trees or any vertical support or spread as ground cover.
Monstera subpinnata care and growth requirement
This aroid is easy to care for or low maintenance. You need to ensure a warm and humid environment, well-drained moist soil plus a few other things.
Here are Monstera subpinnata care needs:
1. USDA hardiness zone
Most vendors note that the Monstera subpinnata USDA hardiness zone is 9 to 11 but note that the correct zone should be 10b to 12 (Garden.org putting the value at zone 12 or above but 10b is ok).
Like other Monsteras, this plant isn't frost hardy. Also, freezing temperatures will damage or even kill it. So, only grow it outdoors if you live in these zones.
If you grow them in your patio, the patio zone is 4a-11. It, therefore, means that you can let this aroid enjoy summer outdoors and when colder months come, move them indoors. But don't put it in direct sunlight.
2. Temperature
The ideal temperature for your M. subpinnata is 65 to 85 degrees Fahrenheit (18 to 29°C). It wouldn't mind a range of 55 to 85 degrees Fahrenheit (12.8-29°C). But temperatures above 95 degrees Fahrenheit (35 °C) are detrimental.
On the other hand, these plants stop growing at temperatures below 50 degrees Fahrenheit (10°C). So, if you grow your M. subpinnata plants outdoors, kindly move them indoors when winter temperatures fall below 50 degrees Fahrenheit (10°C).
Lastly, avoid sudden temperature changes or placing these plants in areas with cold drafts, or near cooling or heating system vents.
3. Humidity
All Monsteras like humidity and subpinnata are no exception. We recommend you give this tropical jungle plant an average to above-average humidity, i.e., 50% or more. Nonetheless, it can still grow in lower humidity, including typical household levels but should mist it or find other ways to raise humidity.
Very low humidity will make leaves have brown tips or edges, curl, turn yellow, droop among other symptoms. To raise the humidity, mist your plant a couple of times a week.
Also, you can use a pebble tray and some people opt to have these plants in their bathroom, terrarium, or greenhouse cabinet for easy control humidity easily.
However, the best way to maintain ideal humidity is buying a good humidifier like AquaOasis™ Cool Mist Humidifier (amazon's best seller). It is affordable, quiet and runs for a whole day.
4. Light
Monstera subpinnata requires medium to bright indirect light for at least 12 hours a day. Nonetheless, it can still tolerate medium to lower light. But it will grow slowly, have smaller leaves, be leggy, and may not have the best coloration. Yellowing is also possible.
So, If you live in a poorly lit house, buy grow lights. These plants don't mind artificial light. See more on Monstera light needs.
On the other hand, direct sunlight isn't good either as it will cause sunburn and bleached or washed-out-looking leaves. So, if grown outdoors, ensure a shade or have shade cloth or a greenhouse.
Lastly, indoors, strategically place your plants to avoid direct sunlight but ensure it gets bright indirect light. Also, rotate your plant if you want a balanced growth as it tends to grow more towards a light source.
5. Soil or potting mix
Monstera subpinnata needs a chunky or airy well-drained potting mix or soils rich in organic matter. A slightly acid to neutral potting (pH6.1 to 7.3) will work well.
As hemiepiphytes, they do spend their time as epiphytes, growing on other trees. As a result, they are not so fussy with the soil or potting mix you give them.
You can grow them in well-drained loamy soils (add perlite, bark chips, and peat moss) or buy aroid potting mix. Also, you can mix some sphagnum moss or coco coir, potting mix, and add some perlite, pumice, or vermiculite to promote aeration and drainage.
Perlite will boost drainage and sphagnum moss, or coco coir will ensure the soil is rich in organic matter and will lower the pH. Read more on the best Monstera soil mix.
However if you prefer buying Etsy.com has good aroid mixes. Also, Miracle-Gro Indoor Potting Mix is an excellent pick. It will feed these plants for up to six months.
6. Watering
Monstera subpinnata has a medium water requirement allowing the soil to slightly dry in-between waterings. They love moist soil, not very wet or soggy soil (as it causes root rot) or too dry.
We recommend watering your Monstera subpinnata when the top 2 to 3 inches or 50-75% of the soil feels dry.
There are many ways to know if it is time to water your plant. Some test water when the soil feels dry up to the first knuckle of their finger, and others test pot weight. We prefer using a soil moisture meter like XLUX. It is accurate and affordable.
On watering frequency, it will be after a few days to once a week during growing months (spring and summer) and in fall or winter bi-weekly. But this frequency will depend on temperature, humidity, sunlight, and other factors. So you need to test the potting mix.
Lastly, when watering, you need to slowly and evenly soak water until excess comes from drainage holes. Discard any that collects on the saucer after 15 minutes.
a. Overwatered Monstera subpinnata
Overwatering is a common problem when it comes to Monstera and many other houseplants. It may cause root rot, which, if not dealt with early, the decay will kill your plant.
The most common sign beside the always wet or soggy soil is the yellowing of leaves. Also, your plant will drop leaves, and the stem will feel mushy.
That is not all. You may notice brown spots with a yellow halo border, wilting or drooping that don't improve with watering, molds on the potting surface, etc.
b. Underwatered
When thirsty or underwatered, these plant's leave will start curling upwards. Other signs are dry brown leaf margins and tips, dry soil, slow growth, leaf drop, and wilting.
If you struggle with watering your plants, we have a guide on how often to water your Monstera that will help. It will also discuss overwatering and underwatering. 
7. Fertilizer
Monstera subpinnata require medium feeding and the fertilizer should be balanced.
We recommend an all-purpose, balanced liquid houseplant fertilizer and feed them once a month during spring and summer (growing season) at half a strength. Don't fertilize these aroids during non-growing seasons (fall and winter).
Some people feed their plants bi-weekly. It is still ok if the manufacturer allows it. But please don't overdo it. Otherwise, expect stunted growth, burnt leaf margin, wilting, or even death due to overfeeding.
On specific brands to use, we use Miracle-Gro Indoor Plant Food (Liquid). It has a balanced formulation (NPK 1-1-1) and will find your plant instantly. Also, Joyful Dirt, Bonide, and Espoma are good. We have tried them too.
For people who prefer slow-release formulas, Osmocote Smart-Release Osmocote Smart-Release gives excellent results. You only feed once in four months. Just follow instructions.
If we haven't mentioned your brand, see more on the great fertilizers for Monsteras.
Lastly, if you opt for slow-release formula, start feeding in early spring. It will last for about six months or as the manufacturer says.
8. Pruning and grooming
Pruning this Monstera will entail mainly removing the diseased, damaged, or old leaves as they don't support the plant yet depend on it. Use sterilized gardening scissors. Doing so will ensure a healthier plant with more space for growth and can reach more light.
Also, if necessary, you can cut some stems to help control growth, i.e., encourage growth and shape your plant. Do this during spring or summer and use a disinfected pruning shear or knife. You don't want to spread some diseases amongst your houseplants.
Lastly, besides pruning, clean or wipe your plant's leaves to get rid of any accumulated dust. It may attract pests and make your plant unsightly. Use a damp cloth or give it a shower.
9. Potting and repotting
Since they have a medium growth rate, repot your Monstera subpinnata after about one to two years or when pot or rootbound. These tropical aroids are hemiepiphytes with a relatively small root system and don't need much repotting unless they are actively growing.
To tell if they are pot-bound, check for any roots growing from drainage holes. Alternatively, slide the plant out to see if the roots are curly at the bottom with no room for growth.
Lastly, spring is the best repotting time. Also, when repotting, go for a pot that is 2 to 3 inches larger in diameter and deep enough. Access depths by looking at the root size.
Propagation
Monstera subpinnata propagation is by stem cutting. You can propagate them in potting media (gives quicker results) or water. Other less popular ways are air layering and the use of seeds. Seeds are rare to find.
The best propagating time is spring, as your cuttings will have ample time to grow. Let us see how to repot your Monstera in soil. Water propagation is similar. So, we will only mention a few things on it.
a. What you need
A sterilised pruning knife or scissors
Potting mix or soil. Even sphagnum moss alone will work
Pot
Rooting hormone like HydroDynamics Clonex Rooting Gel is perfect.
Sealable transparent plastic bag
b. how to propagate Monstera subpinnata
If using sphagnum moss alone, soak it in water for 15-20 minutes and wring it thoroughly. Then place it in your potting mix. For other media, place them in the pot and water them until water flows from drainage holes. Discard any that collects on the saucer.
Select and cut a healthy stem or offshoot branch with a few leaves and at least two nodes. A 4 to 6 inches stem will work well. Please note that you cannot propagate this plant without a node.
Remove any lower leaves, leaving only the upper one or two.
Dip your plant in a rooting hormone. While not a mandatory step, doing so will help fasten rooting and minimize rot.
Poke a hole in your potting mix with your finger or stick and plant your cutting. Ensure it covers a few nodes. Then lightly tamp the soil to ensure it holds the stem cutting upright.
Mist and cover it with a sealable plastic bag, leaving a small area open to allow your plant to breathe. You can also perforate the bag.
Place the cutting in a place with bright, indirect light. For faster growth, maintain a 70 to 75 degrees Fahrenheit (21-24 °C ). However, the average household temperatures are ok.
Routinely, remove the plastic bag for a few hours to let your plant breathe. Also, mist the soil if it begins to dry.
This plant will begin growing roots and growing new foliage after a few weeks and by the 4 to 6 weeks it may be ready for transplanting. The exact time will vary depending on the conditions. Once it has properly rooted, you can transplant it to its growing pot.
If you prefer water propagation, you need to dip your cutting in a jar with water after step 4 above and be changing the water when the level drops or after 3-4 days. Don't deep leaves in the water.
Toxic to pets and humans
Monstera subpinnata is toxic to humans and pets, including your dogs, cats, rabbits, horses, and so on. Why? Because these plants have insoluble calcium oxalate. When chewed, these needle-like insoluble crystals will embed on the oral cavity membrane.
Symptoms to expect include:
A severe oral cavity irritation and burning sensation that extends to the throat, and rarely gastric
Red and swollen lips, tongue, or mouth
Drooling
Swallowing difficulties or refusal to eat
Breathing difficulties – very rarely
Also, these aroids can cause skin irritation (contact dermatitis). Fortunately, such cases are often mild.
Finally, while the toxicity isn't very severe, always keep these beautiful tropical plants out of the reach of your pets and kids.
Pests
If you properly care for this aroid, it is unlikely to end up with any pests. But sometimes, it may end up with some.
Pests likely to attack your Monstera include sap-sucking bugs like spider mites, mealybugs, scale insects, whiteflies, and thrips. They may appear as bumps or dots that move or are stationary. Some are winged and leap if disturbed.
Signs to expect include yellowing leaves and spots (yellow, white, or brown). More signs are honeydew, perforations, webbing, and a black or white powdery substance. But the exact ones will depend on the bug present.
Remedies are pest-specific, i.e., they depend on the exact bugs you have but some treatments like neem oil, insecticidal soaps, and horticultural oil sprays cut across. Also, you can even hose the plant to knock the pests off or use rubbing alcohol to wipe leaves.
Lastly, if the soil is soggy, you may also have fungus gnats whose larvae feed on your plant's leaves. Signs include sudden wilting and yellow leaves. Pour diluted hydrogen peroxide (4 parts of water to 1 of hydrogen peroxide) into the soil.
Diseases and common problems
When grown indoors, this aroid isn't susceptible to many diseases except for root rot. Nonetheless, they can occur. Here is a brief look at common diseases and conditions that this aroid may have:
1. Bacterial leaf spot
These Monsteras are vulnerable to bacterial leaf spots. This bacterial infection will cause yellow bordered dark brown or black spots. Also, there will be sticky ooze, and the sites may turn reddish-brown.
To manage this condition, isolate infected plants, increase air circulation (reduces humidity), and discard infected plants. Also, low temperatures. Please note that bacteriocides may not help much.
2. Anthracnose
Anthracnose is a fungal disease caused by Colletotrichum species that affects Monsteras. The most common symptom to expect is the leaf edges to begin to turn yellow then dark brown or black. Afterward, the infection spreads inward and may kill the whole leaf. Also, stems may have large lesions.
To manage this infection, stop misting your plant, isolate it, and don't wound leaves. Also, try Bonide (BND883) - Fungal Disease Control or Broad-Spectrum Landscape & Garden Fungicide.
Finally, you can try sprays of copper soap, tebuconazole, or myclobutanil to manage this problem.
3. Root rot
Root rot will result in wilting, drooping, yellowing leaves, stunted growth, mushy stem bases, and brown or black roots. Severe cases will not have a remedy and for minor cases, consider repotting.
You can manage root rot by going for well-drained media and don't overwater your plants. Additionally, pots must have drainage holes and you should avoid contaminated potting mixes.
3. Yellowing of leaves
Yellowing of leaves in Monstera subpinnata is a sign of overwatering. However, it may be due to underwatering, low light, deficiency of nutrients, pests, and diseases. Check other symptoms to help accurately detect the cause.
Finally, note that some cause of yellowing of leaves is usual, i.e., the older leaves turn yellow before browning and wilting.
4. Curling leaves
The most frequent cause of curling leaves in your Monstera is moisture stress, especially underwatering. Nonetheless, overwatering, pests, diseases, low humidity, and much heat, among other things, may be responsible.
Dropping leaves
If your M. subpinnata has dropping leaves, it may be underwatering (plant is thirsty), too hot or cold conditions, pests, overwatering, root rot, and so on.
Frequently asked questions
Is Monstera subpinnata rare?
Yes. Monstera subpinnata is a rare tropical plant. You are unlikely to find it in your local nurseries or popular stores, including online ones. Also, none of the big box stores have it.
What is the Monstera subpinnata price?
Monstera subpinnata price ranges from$40 to $150, making it a fairly expensive houseplant. Nevertheless, some vendors are willing to sell much lower, and others are selling these plants at as much as $200.
Where do I get Monstera subpinnata on sale?
If you need this Monstera on sale, start with your local specialty plant stores and nurseries. Then try Etsy.com (which has many vendors), eBay, Instagram, or Facebook houseplant groups.
Additional places are kensphilodendrons.com, Peaceloveandhappiness.club, Briansbotanicals.net, plantproper.com, ecuagenera.com, plantshopchicago.com, heplantstoreonline.com, etc.
Finally, In the UK, try Houseplantsinthecity.co.uk or eBay.co.uk, while those in Canada will get this rare plant at Trplants.co or Planthaventoronto.com.