How fast do Monstera grow? If this is the question you have, the answer is simple. They have a moderate growth rate. But conditions such as temperature, humidity, water, nutrients, and light will affect the growth rate.
Learn more on Monstera's growth rate and how to make these plants grow faster. We will also give you some things that may cause slow growth.
What you will learn will affect your Monstera growth rate, whether you have a Monstera deliciosa, adansonii, or other species. These factors affect most plant growth.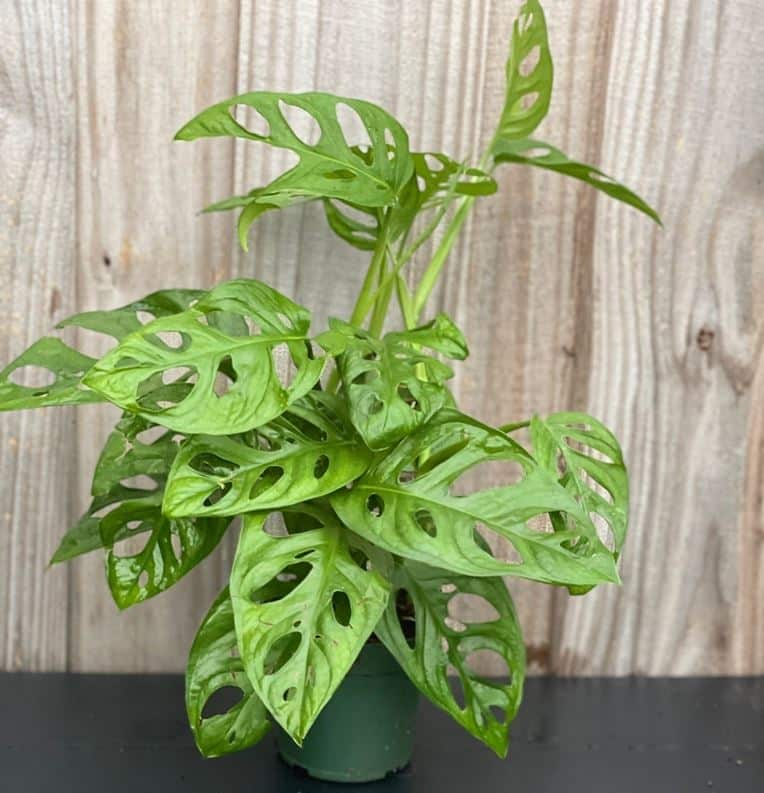 How fast do Monstera grow – The net growth rate
Monstera has a moderate growth rate, i.e., the average Monstera new growth is about 1-2 feet (12 to 24 inches) a year. You should expect a new leaf to grow after every 4-6 weeks during the growing season in temperate regions. In the tropics, Monstera will grow much faster. Why? Because there are no dormant seasons (winter, and fall).
The actual rate at which yours will grow depends on various factors like growing conditions and care needs. For instance, Madison Notes that "the small M. obliqua showed an annual stem elongation of 2-5 m., representing 30-70 new leaves," in their natural tropical American regions.
On the other hand, the slowest grower, Monstera lechleriana, shows a stem elongation of 4.7 to 7.8 inches (12-20 cm) per annum.
That said, it is good to note that a plant is said to grow slowly if its vertical or length increase is less than 12 inches in a year. Plants that grow for between 13 to 24 inches a year have a moderate growth rate, and for those that grow by more than 25 inches a year, the growth rate is fast.
The exact growth rate may also vary from one species to another. Also, how aggressively they grow differs. For instance, M. adansonii and M. deliciosa are also aggressive growers.
Last but not least, variegated Monstera will grow slightly slower than non-variegated, especially those with white variegations. Why? Because they have less chlorophyll.
How to make Monstera grow faster?
You know how fast Monstera grows. But as you know, the rate will depend on growth conditions, care, and a few other factors. Here is how to make your Monstera grow fast.
1. Provide bright, indirect light
If you want your Monstera to grow fast, provide bright, indirect light for about 12 hours a day. The ideal intensity is 10,000 to 20, 000 lux (1,000 to 2,000 footcandles).
 If you are using artificial lights, plants' light range for photosynthesis is in the 400–700 nm wavelength range. Abrand like Relassy 15000Lux Sunlike Full Spectrum Grow Lamp will work well. See more on Monstera light needs – how much and what kind.
Light will help in the manufacture of simple sugars via photosynthesis. The plant will then convert the simple sugars to other structures. Also, it helps in chlorophyll formation.
Without light enough light, your Monstera will not only grow slowly but also become leggy and have smaller, paler or yellow leaves. Also, leaves will fall off, starting with older ones, and soil will take longer to dry.
On the other hand, too much light is also detrimental. It will bleach leaves (they will look washed out or paler), cause leaf scorch (crispy brow tips, edges, and at times patches), and leaves turn yellow. Also, your Monstera may droop or wilt, curl, etc.
2. Proper watering
Proper Monstera watering is another factor that can contribute to fast growth. These plants need moist soil, not too dry or soggy. Water helps in the following ways:
It is a crucial photosynthesis component, i.e., plants make food by combining carbon dioxide with water with the help of light energy.
Acts as solvent where carbohydrates and minerals dissolve and move.
Through transpiration, plants can keep cool and create a force that pulls water and minerals from the roots.
Keeps turgor pressure that ensures cells remain turgid
Acts as a medium for many biochemical reactions
Too little water will cause stunted growth, and your monstera leaves will curl inward, wilt or droop, turn yellow and be smaller. Other signs are leaf scorch, dry and pulled, soil, etc.
On the other hand, too much water will make yellow leaves starting with lower ones, slow growth, wilting (doesn't improve with watering), brown or black splotches, moldy potting mix, and leaf edema. Also, overwatering may cause Monstera root rot, which may kill your plant if not treated.
To properly water your Monstera, wait until the soil is dry up to the first knuckle of your finger. Alternatively, use a soil moisture meter. I use XLUX Soil Moisture Meter and water when the reading is three or less. It is accurate, responds fast and doesn't require battery.
3. Humidity
Monstera requires average to above average humidity, i.e., 50% or more, and it impacts how fast your Monstera grows. How? You may ask.
Humidity helps keep stomata open. So, your plant can absorb carbon dioxide necessary for food manufacture. Also, open stomata help promote transpiration, which cools plants and creates a pull of water and minerals from roots.
When the humidity drops, plants lose water fast, preventing carbon dioxide absorption and transpiration.
Signs of low humidity include leaf scorch, wilting or drooping, leaves turning yellow or brown, slow growth, and leaves falling.
If your humidity is too low, consider a humidifier like LEVOIT Humidifiers Top Fill, 6 Liter, Cool Mist. It is quiet and covers a large area. Also, it can run for up to 60 hours without a refill, and you can use it with Google or Alexa voice assistants. 
Other ways to raise humidity are misting, having a pebble tray or grouping your plants. Also, you can move it to a more humid room.
4. Temperature
The ideal temperature range for Monstera is 65 to 85 degrees Fahrenheit (18 to 29°c). But they will grow fastest at 75 to 85°F (21-29°C).
Optimum temperature or warmth will increase chemical reactions. Therefore, respiration, transpiration, photosynthesis, and other physiological processes increase, and your plant will grow faster.
As temperatures drop, your Monstera growth rate declines, and at 50°F (10°C), your plant stops growing. Freezing temperatures and frost will kill your plant.
On the other hand, very high temperatures will cause heat stress. It will start affecting the plant's growth negatively. Leaves will begin drooping and wilting, turn color (brown or yellow), drop, and your plant will grow slowly. Other signs are leaf scald or burn, curling and drooping, etc.
To prevent heat stress, take plants under a shade during hot summers (if outdoor), don't place them close to windows (they can get so hot), avoid placing them near a radiator, room heating system appliances, etc.
Last but not least, avoid sudden dips or spikes in temperature or cold drafts. They will stress your Monstera affecting its net growth.
5. Nutrients
Plants need about 17 nutrients to grow. They can get carbon from carbon dioxide and hydrogen from water. The rest you must provide. And these nutrients are either macronutrients (required in large quantities) or micronutrients (needed in trace amounts).
The necessary macronutrients are nitrogen, phosphorus, potassium, magnesium, calcium, and sulfur. Micronutrients are iron, boron, zinc, copper, manganese, manganese, molybdenum, and chlorine.
These nutrients have various roles, including part of plant structures, working as enzyme activators, regulating water, help in chlorophyll synthesis. The list of functions is long.
Without these nutrients, your plant won't stay healthy or growing fast. Also, it will be vulnerable to pests, diseases. Some deficiencies include chlorosis, stunted growth, leaves cupping, smaller leaves, root tip death, and bud growth inhibition.
To prevent nutrient deficiencies, always ensure your soil is high in organic matter. Also, feed your plants at least once a month with all-purpose liquid houseplant fertilizer during spring and summer. Please don't feed them in the non-growing seasons.
There are many good brands. Our favorite is Miracle-Gro Indoor Plant Food (Liquid). It works fast. 
Other facts that may affect Monstera growth rate
Besides the above factors, some growing conditions or factors may affect the growth rate. They do so by hindering nutrient or water absorption.
Rootbound: When they overgrow their pots, your plant won't get enough water or nutrients. So, you expect them to grow slowly. Also, leaves may turn yellow, look scorched, fall, curl, wilt, and the plant leggy. If rootbound, you need to repot your Monstera.
Monstera diseases: Disease including fungal and bacterial leaf spots, rusts, blights, root rot, etc., will damage plant tissue. This will affect photosynthesis, normal plant physiology, and other processes that contribute to growth, resulting in stunted growth and other symptoms.
Pests: Sap sucking pests like scale insects, thrips, spider mites, whiteflies, or mealybugs will drink plant juices. These bugs deprive them of the needed water and nutrients for growth. Also, they will damage plant cells and tissues.
Overfeeding: Yes. Plants need fertilizers. But if you overdo them, they will cause root burn, increase soil salt, and alter pH. All these may affect nutrient and water absorption. Consequently, your plant will grow slowly.
Potting mix: Provide a slightly acidic to neutral, well-draining, airy, and organic matter potting mix. Heavy and compacted soils may cause overwatering, and the wrong pH may affect the availability of some nutrients like iron.
Does staking help increase the growth rate?
Not really. Staking or supporting your Monstera with a cedar, bamboo, burlap-wrapped, or moss pole will encourage these plants to grow larger, split, and fenestrated leaves. Why? Because to attain maturity, Monstera needs a place to climb, just as they do in the wild.
We encourage you to provide a stake. But it isn't a must. You can grow this aroid on hanging baskets or let it drape to tables, cabinet tops, bookshelf, and so on.
When will my Monstera leaves split or fenestrate?
Your Monstera leaves will split or fenestrate when they start growing mature leaves. But some may start having a few holes or splits while still in the juvenile stage. Be a little patient.
How soon depends on the species you have. Some like M. deliciosa start having holes and splits early. Others may take longer.
That is not all. Not all species split. Some will have only holes like M. adansonii, obliqua, siltepecana, acuminata, etc. Others like Monstera Peru don't get fenestrations.
To encourage splitting and fenestration, give your plant a place to climb and provide optimum growing conditions (humidity, temperature, light). Also, water and fertilize them correctly. Environmental stress may affect splitting or fenestration.
What are the Monstera growth stages?
In the wild, Monstera has three growth stages. The seedling stage, juvenile, young, or baby stage, and the adult or Mature stage. The appearance of these plants in each of these stages varies greatly.
How big to Monstera get?
A full-grown Monstera may range from 6.5 to 98 feet (2-30m) in size in the wild. Smaller varieties like M. adansonii, obliqua, or acacoyaguensis don't get as long as M. acuminata, dubia, and so on. Inside your house, most Monstera will be 3 to 8 feet. But some like M. deliciosa may grow up to 15 feet given space and span 8 feet.