Repotting Monstera is easy, and these plants need repotting every 1-2 years or when rootbound. But you need to know how and when to repot your Monstera.
We will explain its necessity, when, and how to repot a Monstera like a pro. We have everything you need to know, from the pot to use to potting mix to care to transplant shock. You will even get ways to tell your plant needs repotting.
Remember, if repotting is not done correctly, your Monstera may droop, curl, have yellow leaves, or even die. But a little plant shock is ok.
Last but not least, what you will learn will apply to any of the Monstera species, be it you are repotting Monstera deliciosa or Monstera adansonii. Even your siltepecana, obliqua, etc.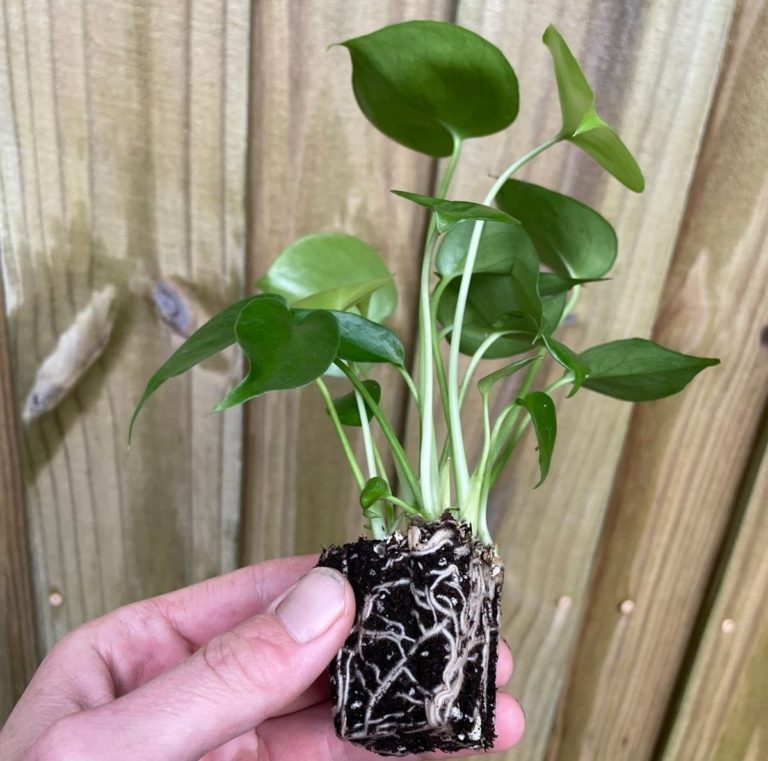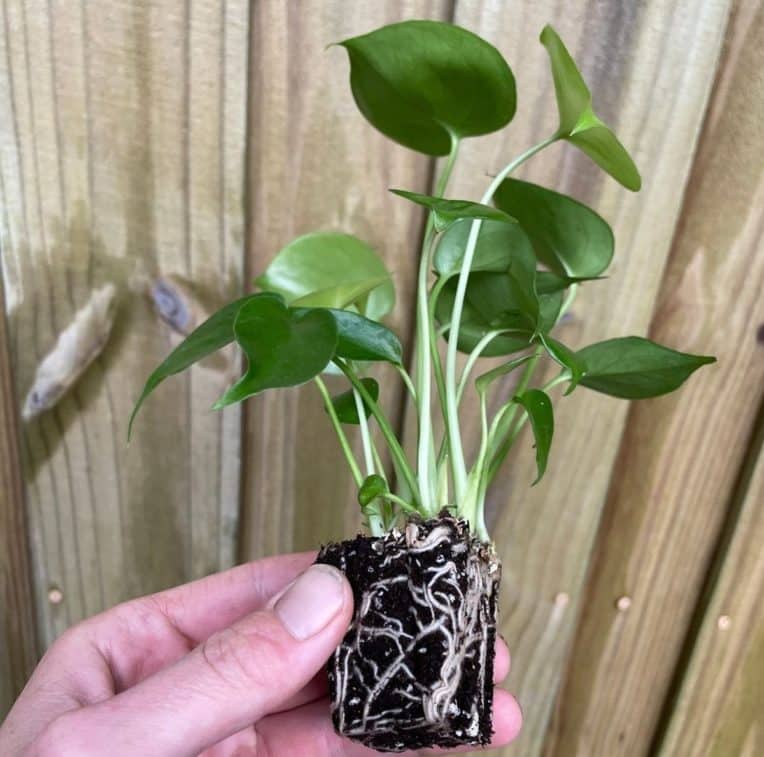 Why do you need to repot your Monstera?
You should repot your Monstera after 1 to 2 years or when rootbound. Why? Here are the reasons:
Replenishes nutrients, primarily organic matter, which get depleted with time.
It gives roots more space for growth
It prevents your plant from being rootbound or, at times compacted
Changing the potting mix may help prevent or combat root rot.
When to repot Monstera?
The best time to repot Monstera is spring "so that actively growing roots will have enough time to grow into newly added potting mix," advises the Penn State University Extension.
We prefer early spring, just as the plant starts to put new growth after the winter/fall dormancy. But summer is still ok.
We don't recommend repotting any houseplants in winter because, at this time, they are growing slowly. Also, it will take longer for the plants to recover from the transplant shock.
Last but not least, if you must, you can still repot your plant at any time of the year. Issues such as root rot, your pot breaking or being damaged, etc., may not wait till early spring or even late fall.
How often should you repot your Monstera?
Monsteras have a medium growth rate, i.e., they can add about 1-2 feet of new growth per year. Also, as hemiepiphyte (growing in terrestrial in juvenile and on other plants-epiphytes in mature form,) doesn't
So, you should repot your Monstera after every 1-2 years or when rootbound. But if you have a younger and vigorously growing plant, you can repot them yearly.
On the other hand, you can repot them every 2 to 3 years unless it is rootbound. But replace a few inches of the topsoil yearly.
How to tell if Monstera needs repotting?
Besides the routine 1-2 years, your Monstera needs repotting when it becomes rootbound. When rootbound, it means your plant has overgrown the pot with no new soil to grow for more growth. Also, it cannot get enough water or nutrients.
Here is how to know that your plant is rootbound and needs repotting.
Roots growing from drainage holes: Roots growing from drainage holes and sometimes upward on the potting mix is the first sign you will likely notice if your plant is rootbound.
Signs of an underwatered Monstera: Your monstera leaves will turn yellow, droop or wilt, curl inward, and some leaves may start falling off or dropping. Also, you may notice crispy brown tips and edges or leaf scorch.
Slow or stunted growth: Even after fertilizing, watering, providing bright, indirect light, and ensuring other optimum growing conditions, including humidity, your plant still doesn't seem to add much new growth. Also, it may look leggy and have smaller leaves.
Roots spiraling and tangling: You will see a compacted, dense root ball if you slide the plant from its pot. The roots will be winding around the pot side and look tangled.
Deformed or cracked pots: Plastic pots may look deformed as roots push on the wall if you don't fix the issue in time. At times, ceramic pots may break.
How to repot Monstera
Before you begin repotting Monstera, you need to decide if you will stake the plant or not. Some people don't mind their plant cascading or growing in hanging pots.
Let us start with what you need and then follow the steps. We will tackle care after repotting afterward.
What you need
Repotting Monstera doesn't need a lot of things. The things you require are a new and slightly larger pot and potting mix. You will also need a watering can, shears, and stake.
Let us look at each of the things you need in a little more detail.
1. New pot
Get a pot 2 to 3 inches larger than the current one. It also has to be deep enough and have enough drainage holes. Avoid an oversized planter as it may result in overwatering and root rot.
The terracotta pot is the best if you struggle with overwatering your Monstera. Etsy.com has the most charming collection at affordable prices. But you are free to pick any, including clay, resin, plastic, concrete, and so on.
If you are using clay or ceramic, soak it overnight. And for those reusing old pots, sterilize them with 10% bleaching solution and thoroughly rinse them.
2. Potting mix
Monstera needs chunky, well-drained soil rich in organic matter. You can buy an aroid mix or make yours at home.
At home, you can use 30% Miracle-Gro Indoor Potting Mix, 30% perlite like Hoffman Canadian Sphagnum Peat Moss, and 20% perlite size #3 like Mother Earth Perlite. The remaining 20% is a mix of Worm Castings and bark chips, especially pine bark. You can also add some charcoal.
Well composted pine bark does help prevent some kinds of Monstera root rot.
Last but not least, the exact ratios don't matter. Just ensure it is high in organic matter, drains well, and is airy. These plants are not fussy when it comes to soil.
3. Stake: Moss pole, trellis, etc.
If you will stake and train your Monstera, you need a moss pole, trellis, bamboo, or cedar pole.
A moss or coco coir pole is the best choice as it will allow aerial roots to anchor easily, and if you mist it, your plant will get extra nourishment. If your plant is long go for this extendible 69 inch moss pole.
But if you have a huge plant, especially Monstera deliciosa (they get gigantic), you need a much stronger pole such as bamboo or cedar.
4. Gardening shears
It is optional but may come in handy if you have some brown or black roots (root rot). You may need to cut them off. To sterilize your shears, use 70 to 90% rubbing alcohol.
These are the main things you need. But of course, you will need a watering can and some water.
Steps to follow
With everything in place, it is time to look at how to repot a Monstera. It is not a difficult task. If your plant is enormous, you will need a helping hand.
Before transplanting, we recommend watering your plant a day or several hours earlier. It will help loosen the soil.
Step 01: Fill new pot ⅓ way
Start by filling your new pot ⅓ way with your fresh potting mix. You can go a little higher or lower. It depends on your pot depth, but it shouldn't be too deep.
Step 02: Unmount or keep from pole or stake
You need to remove the stake or support. To remove it, cut any strings, twines, twisty ties, or whatever you use to mount or train your Monstera.
If you used a burlap or moss pole, and the aerial roots are deeply embedded, you may have to remove the sphagnum moss or burlap before you can unmount it. Essentially, this will damage the pole.
Some people prefer repotting Monstera with moss pole intact. It is also ok. But you will hold the stake and plant it as you slide it out. Again, you will do the same when replating it.
Step 03: Slide plant from the old pot
Hold your plant at the base, gently wiggle or giggle to loosen the root ball before sliding it out. Don't use a lot of force.
If it doesn't come out, turn it upside down and place the pot on the edge of a table while supporting it with one hand. Then give it a hard tap against the table edge. It will slide out easily. People with plastic pots can squeeze the pot sizes or tap them to loosen the root ball.
Step 04: Get rid of the old potting mix it
Once the plant slides out, gently work or detangle the roots with your fingers to help loosen the ball. Get rid of as much of the old soil as possible while minimizing root damage.
Step 05: Cut any brown, black, or mushy roots
Once loosened and removed most of the old potting mix, examine the roots and cut any brown or black mushy ones. They are a sign of root rot. If none, skip this step. Healthy roots should be whitish or tan and smell like potting mix.
Step 06: Install your stake and replant your Monstera
If you are using a stake, install it at the center of the new pot. Then replant your Monstera.
Step 07: Add more soil and press
Add more soil to the level before (original soil line). But make sure you leave about 1 or 2 inches at the top of the pot for watering and additional growth. Then gently press or tamp the topsoil to make it firm. But don't use too much force, as it may compact your potting mix.
Once compacted, it will affect free air circulation and water movement. Both these two will encourage root rot.
Step 08: Water your plant thoroughly
Immediately after repotting your Monstera, you need to water it thoroughly. To do so, slowly and evenly saturate the soil until excess water comes from the drainage holes. Wait for 15 minutes and discard any water that collects on your cachepot or saucer.
You can use rainwater, distilled water, or tap water so long as it is high in chlorine, fluoride, or salts. Also, you can leave tap water in an open container overnight to dissipate some of the chlorine.
Dealing with transplant shock caring for repotted Monstera
Issues such as your Monstera drooping after repotting or even the leaves curling inward, turning yellow or brown, looking scorched, falling off, etc., may occur. These are just nothing other than transplant shock.
Your repotted plant is yet to adjust, and you are likely to see more of these signs if you damage roots during the process.
Here is how you can minimize the shock:
Minimize root damage: Reduce root damage as much as possible and keep as much of the root as possible. Be gentle, don't use much force.
Don't let them dry: Don't let the roots dry during the process. Instead, wrap them with a plastic bag if the repotting takes longer.
Keep soil moist: Water after transplant and keep the soil moist for the first few weeks until your plant begins recovering. Don't let the soil dry in-between waterings yet.
Don't apply any fertilizers: Your plant needs to adjust before using fertilizers. Please, don't feed them until they recover. You can start feeding as usual after week 4.
Remove dead or damaged leaves: Cut any damaged leaves that have turned yellow or brown with sterilized pruning shears. They no longer benefit your plant but may still depend on it. If brown tips or edges, just around them, not the whole leaf.
Provide optimal conditions: Keep humidity at 60% or more, provide bright, direct light (see more on Monstera light needs), and keep the temperature at 65 to 85 degrees Fahrenheit (18 to 29°C). Avoid sudden temperature drops or spikes, cold drafts, or near heat emitting appliances. Also, direct sunlight will cause sunburn.
Don't prune your plant yet: The whole repotting process causes stress. So, wait for some time before pruning your plant unless you are removing diseased or damaged parts.
Monstera dying after repotting
As heartbreaking as it may be, your Monstera may die after repotting. Reasons include how you repotted your plant or the potting mix you are using (contaminated).
Other possible causes include stem damage (may affect the flow of water and nutrients), overlooking root rot, or improper care such as not maintaining optimum conditions.
That is not all. Overwatering may also kill your plant. Yes, you must keep the soil moist, but it shouldn't be soggy.
If you can pinpoint the reason early enough, you can still rectify it and save your plant. But we cannot guarantee it. It all depends on the cause.