When it comes to Monstera aerial roots, there are mixed opinions on what to do with them. This post will help you understand Monstera rooting systems (basal and aerial) and their functions.
Afterward, we will tell you what to do with Monstera aerial roots. Here we'll let you know whether to cut or trim them, put them in water or soil.
Understanding rooting system
Flowering plants fall into either monocotyledon (monocot) or dicotyledon (dicot). Monocots have only one cotyledon or embryonic leaf, while dicots have two.
Monstera is a monocot. And like others, it has a fibrous ground root system, not a tap kind. Also, this plant has adventitious roots.
Adventitious roots grow from nodes, stems, internodes, leaves, or other plant body parts and not from the basal or radical. Aerial roots are just one type.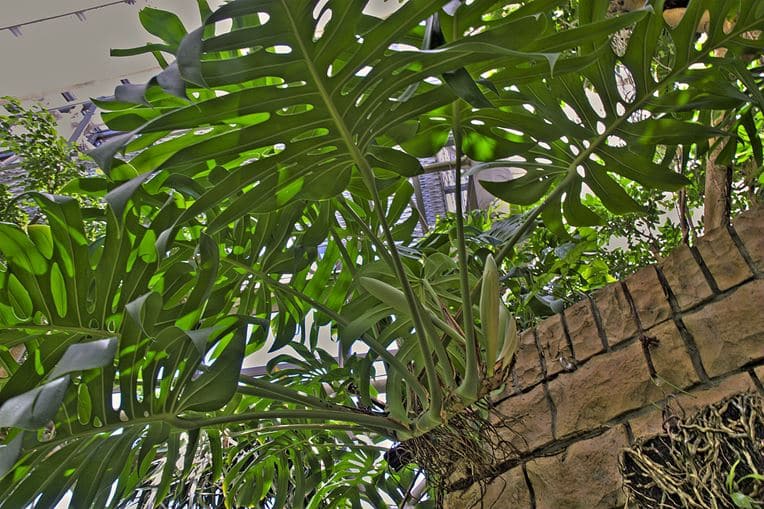 Growth and function
In the wild, after germination, Monstera will have a short-lived and limited radical root system that will grow up to several inches and the adventitious ones.
At this seedling or baby stage, adventitious roots will only grow on nodes and maybe 3/64 inches thick and will hardly go beyond 8 inches in length. Their primary role is anchoring to the ground and absorbing water and other nutrients.
When the plant gets a place to climb, the adventitious roots show dimorphism (have different forms), i.e., the feeder or anchor. This dimorphism happens when stems are at least 9/32 to 25/64 inches (7 to 10mm) thick and one meter from the ground surface. Here are their functions:
1. Feeder roots
They arise only from the node on the opposite side of the leaf and are positively geotropic, i.e., they point downwards towards the ground). They may hang on the air or grow into a substrate if any is available.
Feeder roots don't branch until they reach the ground. Sometimes, they can get gro as long as 65 to 98 feet (20 to 30 meters) before going to the surface. Upon reaching the ground and penetrating the soil, they will copiously branch.
They are often known as aerial-subterranean roots when they grow into the ground. And the branches they grow are lateral roots.
Feeder roots' primary role is transporting water and nutrient from the soil, and they are the main water-conducting organ, not the stems?
Why? Because as Monstera grows into the mature stage, they become epiphyte, i.e., break the stem that links them to the ground. So, the feeder roots will be what conducts water.
Last but not least, in the wild, the feeder roots may absorb water and nutrients.
2. Anchor roots
The second type is the anchor roots. From their name, you can guess their role. They grow mainly from the internode (space between two nodes) and nodes.
Unlike the feeder, they are not positively geotropic. But instead, they will grow into the substrate and in any direction. They will grow irregularly on the surface of the substrate, following bark fissures or where they can easily penetrate.
Anchor roots are much smaller, typically be 0.8 to 20 inches (2-50 cm), with most 4 to 8 inches long. To help adhere to the surface, they have root hairs with a suctorial end.
One unique observation about the aerial anchor root is that their growth depends on contact with a surface. Otherwise, they will be lesser. For instance, if your plant reaches the top of a moss pole, the roots will be smaller and shorter, hardly going beyond 0.4 inches in length.
What do Monstera aerial roots look like?
As we have seen above, there are two types, the feeder and anchoring roots. The latter will only grow longer if you give your plant a climbing surface or where to attach. Otherwise, they will be inconspicuous and thinner.
Most people don't notice them. But if you stake your plant on moss or burlap-wrapped pole, you are likely to see them anchored to the stake you have.
On the other hand, the aerial feeder roots start as a greenish or dark small knob on the Monstera stem node. They are on the opposite side where the leaf grows and hangs downward. They become long, brownish, and cable-like with time, and some might find them unsightly.
What to do? Can you cut Monstera aerial roots?
You know the roles that Monstera aerial roots do. Now we are left with this million-dollar question. Should you cut or not cut these aerial roots, or what do you do?
I don't cut Monstera aerial roots because they are not unsightly. They make the plant look much more like it does in the wild. But when they are very long and growing all over, this is what I do:
I redirect Monstera aerial roots in soil: This way, they will help absorb nutrients and water, just as they do in the wild. But it is not necessary since your plant's stem is still intact.
Tie them to the stem: With the help of twist ties or gardening tape, you can tie the aerial roots to the stem or moss pole. It helps make them less unruly, especially if they are very long. If your plant is bushy, you can easily rearrange the leaves to hide them.
Let them grow: Since they don't bother me much, I often leave them alone to help bring that naturalistic tropical rainforest appeal. Just ensure you have enough space.
Not everyone will agree with my methods. If you are one of them, you can cut Monstera aerial roots. They will not cause any harm to your plant. But we recommend cutting about 30% at one go to avoid stressing your plant. You can pick the long, very unruly ones leaving the short ones.
When cutting these adventitious roots, use sharp, sterilized pruning shears. 70 to 90% rubbing alcohol is perfect for disinfecting your gardening tools. You don't want to transmit diseases to your plants.
Monstera aerial root rot
The ground Monstera root rot is prevalent, especially if you overwater your plants. These aroids need the soil to slightly dry in-between watering.
Contamination (sanitation issues), poor air circulation, high humidity, and constantly wetting may cause rot. They will turn to look mushy and turn brownish or black. You may also see some signs of lesions, and so on.
What should you do? Begin by cutting them off using sterilized pruning shears. Next, sprinkle some fungicides to help prevent recurrence and treat any.
That is not all. Don't handle roots or your plant before washing hands, and improve air circulation. Also, don't wet them in the evening as they are unlikely to dry. Wetting leaves may also contribute to fungal and bacterial leaf spots instances.
Can I redirect Monstera aerial roots in water?
No. We wouldn't recommend redirecting Monstera aerial roots in water because it may discourage ground roots from growing much, i.e., having shallow ones since they can get enough water.
That is not all. You will likely overwater your Monstera plant since it gets extra water elsewhere. Why? Your potting mix will take longer to dry, and your plant may end up overwatered.
Frequently asked questions
Can I propagate Monstera with aerial roots?
No. You cannot propagate Monstera with aerial roots. Why? Because you need a node (a knobby area where leaves grow) since they are the only ones capable of producing a new shoot from the axial bud. Learn more on ways to propagate Monstera.
Why doesn't my Monstera have aerial roots?
Your Monstera is probably young. Most of the conspicuous aerial roots grow with time, especially as the plant grows to maturity. Juvenile or young Monstera will have few and shorter ones.
Do aerial roots grow back?
No. Once you cut one, it will not regrow. But another one may sprout from the same node. So, expect new ones to grow after some time. Cut them late summer or early winter when your plant isn't growing much to minimize regrowing.
Why is My Monstera growing too many aerial roots?
It is ok for these plants to grow aerial roots. But if they are too many, it may indicate some stress, especially water and nutrients. They are doing so to help reach for more. Also, pruning may stimulate more to grow.