Monstera has three growth stages, i.e., the seedling or baby, juvenile or young, and adult or mature stages or phases. In some species, these stages are distinctive, while in others, there is no clearcut difference, especially between seedling and juvenile.
We will be looking at the three Monstera growth stages and talk about growth habits for each of them. At the end of it, you will know the appearance and more.
Monstera growth behavior
Before we look at individual growth stages, it is good to let you know that Monstera grows as hemiepiphytes. Hemiepiphytes grow both as terrestrial (on the ground) and epiphytes (on other trees but not as parasites).
It is worthwhile mentioning that these plants are native to the Central American rainforests, i.e., tropical America, surrounding islands, and south and north America. And they grow beneath the tall rainforest trees either on the ground or as epiphytes.
Let us not shift our focus to the various growth stages.

Seedling or baby Monstera growth stage
The baby Monstera stage is the duration when newly germinated seedlings still depend on the seed for at least some resources. At this stage, they grow as terrestrial creepers.
Some seedlings will grow uphill if on the slope as it increases the chances of getting a tree trunk. A hill represents the accumulation of litter from a nearby tree.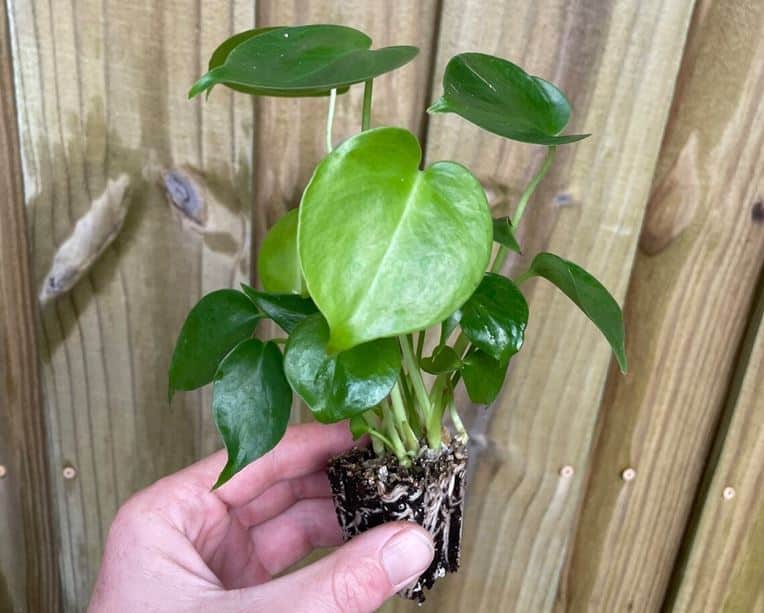 Some species like Monstera dubia and M. tenuis show negative phototropism, i.e., they grow towards darkness. They increase the chances of getting a tree trunk as a dark place represents a tree trunk shadow.
During the seedling stage, Monstera will grow roots on their nodes. These short-lived roots will be thin, about 3/64 inches, and will not be longer than 8 inches.
Here are the two main categories of the seedling stage:
1. Stolon growing seedlings
Monstera species belonging to the sections Marcgraviopsis sect, i.e., M. acuminata, M. dubia, and M. spruceana and Echinospadix, i.e.., (M. tuberculate grow as thin(3/64 inches) green stolons or runners without leaves. Instead, they grow cataphylls on nodes.
The stolons can elongate up to 3.2 to 6.6 feet while still depending on other pumper seeds. Also, they have longer internodes (1.5-4 inches) and can photosynthesize. But in most instances, they don't since they grow beneath litter where they don't get light, making them look pale or white.
2. non-distinctive baby Monstera
Seedlings of species in the section Monstera and Tornelia don't grow stolons. Instead, they gradually increase grow. But the first two leaves are cataphylls.
Their seeds are smaller wither fast. They produce successive larger leaves and stems as they grow into the juvenile stage.
Members of section Monstera are
On the other hand, Tornelia has M. deliciosa, the most popular species. Did you know that M. deliciosa has edible fruits? But only eat them when they are fully ripe.
Juvenile Monstera growth stage
The juvenile Monstera stage occurs just after the seedling and will last until the plant reaches maturity, i.e., it begins to flower.
At this stage, Monstera grows both as a terrestrial creeper or climber, and as it approaches maturity, leaves may fenestrate, split, or both.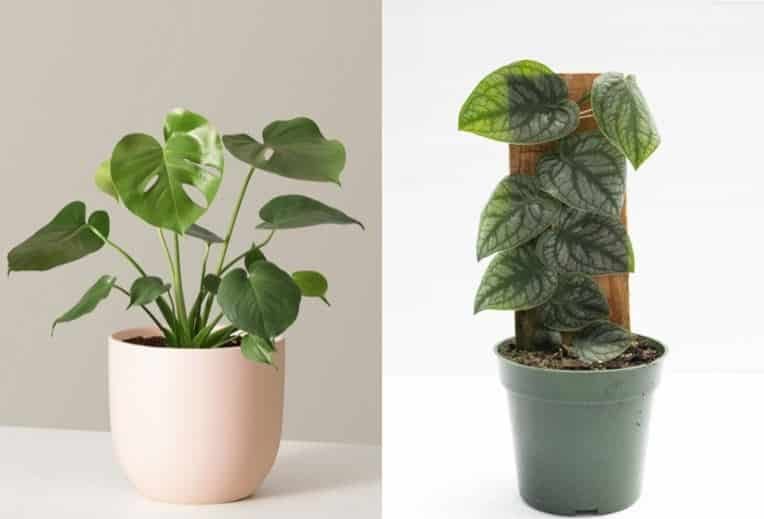 Again, here, we will have two categories. Those with stolon-like seedlings (Section Marcgraviopsis and Echinospadix) will shingle, i.e., their leaves have short petiole and or lie flat the climbing surface, covering their stems. Also, their leaves overlap, making them appear like roofing shingles.
On the other hand, Tornelia and Monstera's section doesn't have a distinctive seedling and juvenile stage. Instead, their stem diameter and leaf size gradually increase as they grow to adulthood. They have thicker stems, and their nodes will have aerial roots.
Adult or Mature Monstera growth stage
The adult stage is when Monstera starts producing mature leaves and flowering. Depending on the species, it can take anything from 1½ to 8 years.
These aroids grow lower and middle tree trunk epiphytes at the mature stage. But some, such as M. deliciosa, will mature as terrestrial plants. Some may rarely mature while climbing on a rock cliff.
As juvenile plants start climbing and mature, they lose the link to the ground, i.e., the connect stem may rot or break.
This breaking of stem transforms them into epiphytes. But they may send roots, as long as 98 meters, to reach the ground.
Mature Monstera has large leaves except for the M. Peru. Also, the leaves may fenestrate (get holes or windows), split (pinnatifid), or remain entire. Some will both have holes and pinnae.
Here is what to expect from the various species:
Species with fenestrated leaves without splits: M. adansonii, acuminata, adansonii, siltepecana, acacoyaguensis, lechleriana, and obliqua.
Monstera species with split and fenestrated leaves: M. deliciosa, dubia, epipremnoides, and pinnatipartita.
Species with splits only: M. subpinnata, dissecta, and spruceana
No fenestration or splits: M. standleyana
Same juvenile and adult leaves: M. Peru or karstenianum leaves don't change much. They may increase in size a little bit.
Care tips
There aren't many care differences between seedling, juvenile and mature stages. They both require a warm, humid area with bright indirect light. But at the seedling stage, the soil must remain moist.
Here is a summary of the care needs:
| | |
| --- | --- |
| USDA hardiness zone | 10b to 12 |
| Temperature | 65 to 85 degrees Fahrenheit (18-29°C). Avoid heat stress, cold drafts, or sudden temperature changes. |
| Humidity | 50% or more. Please give them a higher humidity, at least 60% or more, for seedlings. If yours is too low, buy a humidifier, |
| Light | Bright, indirect light. No direct sunlight. Also, too little light will slow growth. |
| Soil | They need a chunky, well-drained soil or potting mix with an ideal 5.5 to 7.5. An aroid mix will work. See Etsy.com |
| Watering | Water when the top few inches feel dry but for seedlings, make the potting mix remains moist. |
| Feeding | Start feeding when seedlings are 3-4 inches tall and provide monthly with an all-purpose, balanced, liquid houseplant fertilizer. |
| Pruning | Remove any dead, diseased, or damaged leaves with a sterilized pruning knife. You can cut back some branches to control growth and shape when they are long enough in spring or summer. |
| Repotting | Younger Monstera will require repotting yearly. When these aroids reach the size you need, you can repot them once after 2 to 3 years or when rootbound. |
| Support | Give your juvenile and mature plants a place to climb – bamboo, cedar, or moss pole like Totem Monkey Moss Pole |