Mint Monstera is a rare variegated Monstera plant whose leaves have a mint green variegation and are not white like Monstera albo or yellowish like aurea.
Learn more on mint variegated Monstera plants, how they occur, stability, where to buy, and a lot more.
Why variegated Monstera?
A variegated Monstera has green leaves with other color variegation, primarily white, yellow, and at times mint green. These markings may appear as speckles, streaks, splashes, blotches, marbling, or sectors, including half-moon Monstera.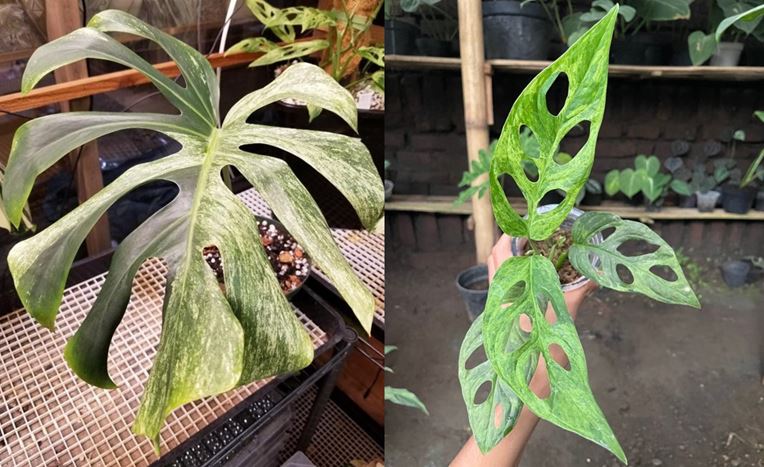 Variegation plants may be due to gene patterns (genetic, pigment, or natural) or Transposon or jumping genes that pass from to offspring through sexual reproduction.
Other ways are chimeral, reflective or blister, viral or pathogenic like in the cause of Monstera mosaic disease), or even artificial(chemical).
The one responsible for variegated Monstera is chimeral, and it occurs to mutation of cells in the meristems. Meristems are sites for active cell division and growth, i.e., has undifferentiated cells capable of dividing and differentiating.
Chimeral variegation
Chimeral variegation occurs due to is an unstable, unpredictable, and random mutation of meristematic cells. It makes these cells unable to produce chlorophyll (the green pigment).
The meristem tissue has three layers: the L1 forms the epidermis, L2 forms a layer beneath the epidermis (sub-epidermis), and L3 forms inner layers.
L1 and L2 have a single cell layer, and cells here divide sideways or anticlinal while those in the L3 divide randomly and are several layers.
There are three types of chimera variegations. The first one is a periclinal chimera that is stable and forms mainly variegated margins and involves mutation of cells on an entire meristem layer such as L1 or L2.
The second one is the mericlinal that affects only a section of the meristem layer. In most instances, it forms a streak and is transitional, i.e., your Monstera may revert to green or end up with preclinical chimera.
The last one is a sectorial chimera which causes Monstera variegation. It involves mutated cells on a section of all the three meristem layers. This variegation is unstable, i.e., may revert, turn all white, and so on.
Mint Monstera variegation
The mint variegation may occur if the meristem cells in the L2 layer fail to produce chlorophyll (become white) on the affected area. But those on the epidermis remain normal.
The mint color is due to seeing the white layer through a green epidermis. Remember, mint is just a light, vibrant shade of green achieved by adding some white to green. Also, note that the epidermis doesn't have a lot of chloroplasts and, consequently, chlorophyll.
Another possible explanation could be a cell mutation that affects chlorophyll and other pigments usually present in leaves, such as anthocyanins or carotenoids (xanthophyll and carotene). They can result in a mint color.
Best Mint Monstera to buy
Mint variegated Monstera plants are rare compared to variegated forms such as albo. Here are those you should consider buying.
1. Monstera adansonii mint
Monstera adansonii is a popular houseplant, thanks to the deep green glossy leaves with holes or fenestrations. Besides the green plant, you can get an albo variegata, aurea, and mint.
The Monstera adansonii mint variegata has green leaves with mint variegation. It sells for $150 to $400 for the unrooted and rooted stem cutting at Etsy.com. A larger established plant will be more expensive.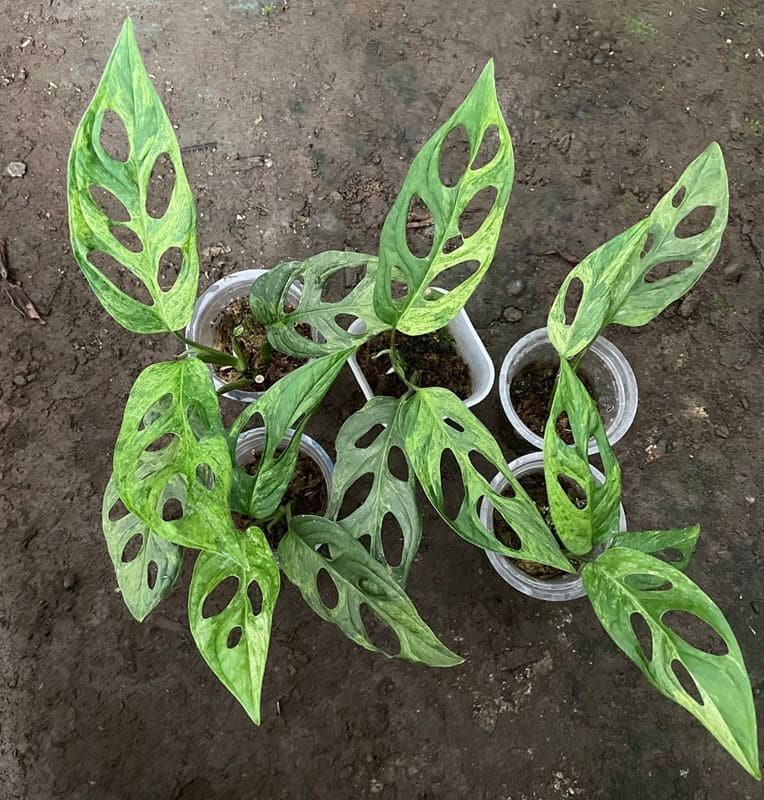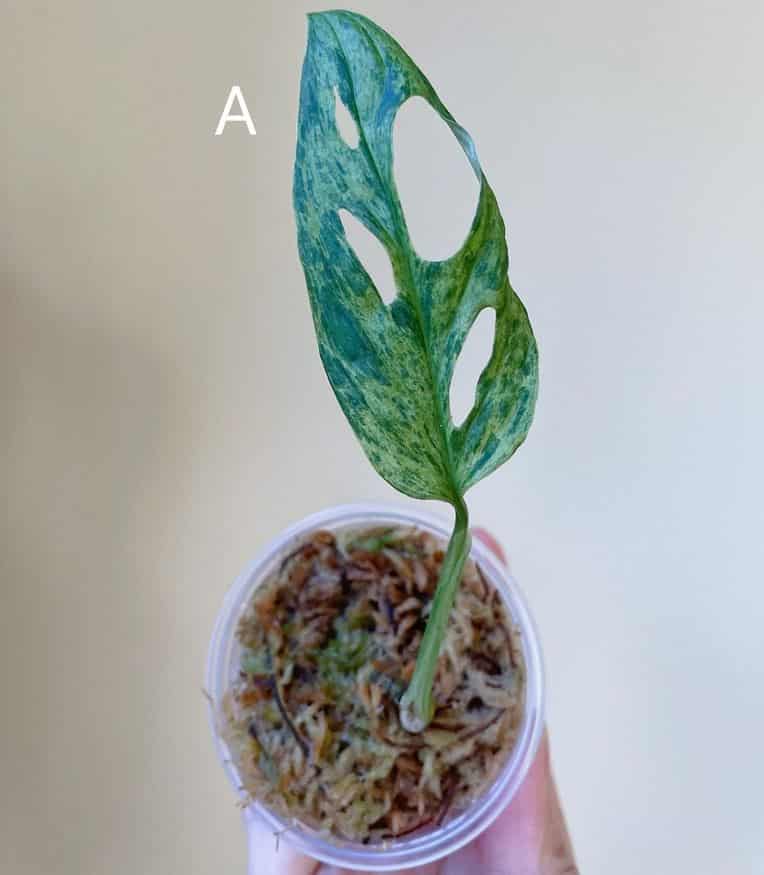 2. Monstera deliciosa mint
Monstera deliciosa, the Swiss cheese plant or split-leaf philodendron, is the most popular Monstera houseplant species. It has lovely deep green heart-shaped leaves with splits and holes. But you can also get variegated forms, especially the Thai Constellation and Monstera albo borsigiana.
Besides the two popular variegated forms, mint Monstera deliciosa is another one you could pick. It has charming light vibrant green variegation on its deep green leaves. There is the sport green (green on green) variegated plant.
M. deliciosa mint is a rare gem. It costs between $3500 and $16000 per rooted or established plant.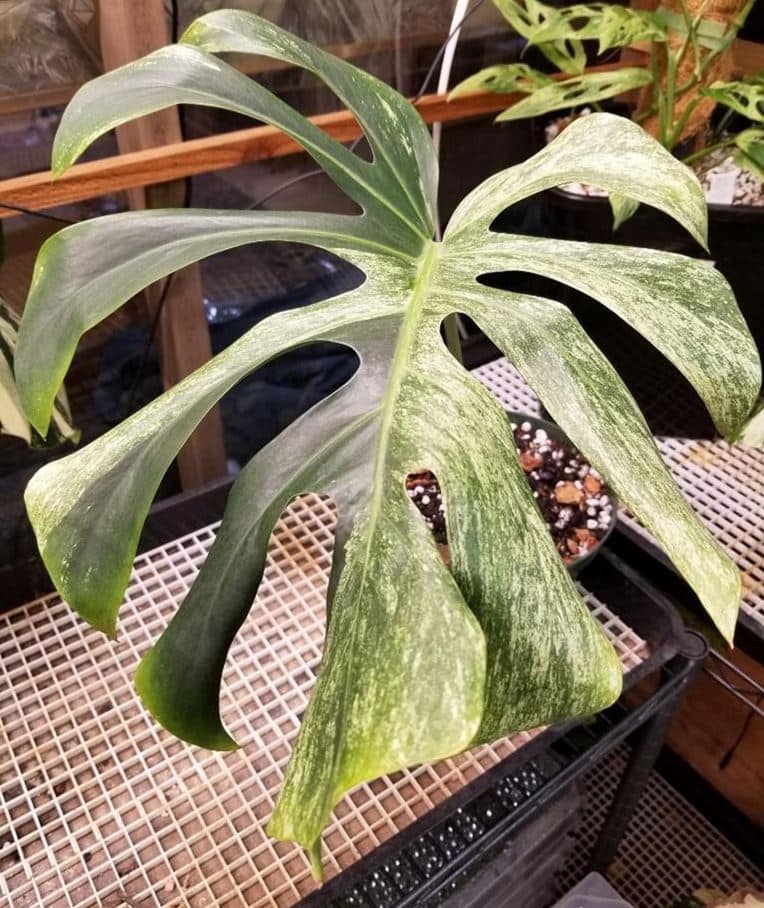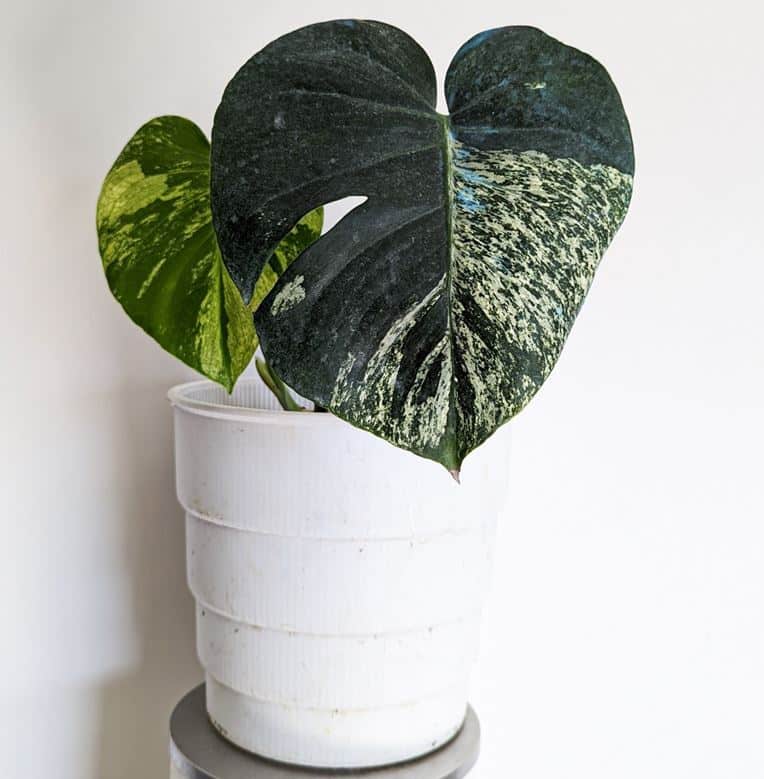 Finding mint Monstera on sale
If you need a Mint Monstera, we recommend trying Ety.com and eBay. You will not fail to get a vendor in your region, i.e., the USA, Canada, the UK, Australia, etc. Or you may find those willing to ship.
The second place to look for these plants is social media, especially Facebook plant groups or Instagram. You can also try craigslist.
The last option is to google "mint monstera for sale." You may get a few recommendations from the search engine of any sellers near you.
Warning: As a rare plant, ensure you see the actual plant. If a node, it must have a variegated leaf. Also, deal with vendors you trust, as some people may trick you.
Will mint variegated Monstera revert?
Since the cell mutation responsible for the mint Monstera variegation is unstable. Your plant can revert to green or turn entirely mint (rare).
Are you scared by that reality? Fear not. You can still prevent reverting by trimming any branches or stems that start producing leaves that are not variegated.
Cut just after the last node with a leaf with the mint markings. The new shoot that will grow is likely to have variegated leaves.
Why do they revert?
The reasons for reverting include a survival tactic. For instance, your plant may turn green to photosynthesize more. Remember, any plant will die if it doesn't synthesize.
Another possible reason is if another mutation occurs. Remember, mutations happen all the time.
Lastly, it may be due to environmental conditions. It wants to adapt better to prevailing conditions.
How do I care for my Mint variegated plant
Care for your Monstera mint variegata just as other Monstera species. But ensure they get bright indirect light. Variegated plants need more light since some leaf sections cannot photosynthesize.
We also recommend ensuring they get adequate humidity, correct temperature, and avoid direct sunlight. The variegated areas tend to suffer faster in case of wrong growing conditions.
Water this plant as you water your other Monstera. Don't overwater as it will cause root rot and don't forget to repot after 1-2 years or if rootbound. Also, prune when necessary and feed with balanced houseplant fertilizer.
Lastly, always check for and manage any disease or pests. These two are not so common but can occur.