Monstera albo refers to the white variegated Monstera form of some species, i.e., Monstera albo borsigiana, Monstera standleyana albo variegata, adansonii, etc., with cream to whitish variegations.
Get insight into these Monstera albo plants, including how they look like, what causes the variegation, care, where to buy, and a lot more. We will also tell you where to buy these variegated Monstera plants, prices and guide you on choosing the right one.
Plant leaf color
Plants have green leaves, with a few having other leaf colors like yellow, red, whitish, or orange due to other pigments present. Carotenoids, anthocyanin, and chlorophyll are responsible for the formation of the various colors that leaves have.
The green coloration is due to a pigment known as chlorophyll. Its role is to trap light energy used in photosynthesis (food making process by leaves).
When a plant fails to produce chlorophyll, its leaves will be white. Such a plant is said to show albinism. Since it cannot make its food, you don't expect it to live beyond the seedling stage.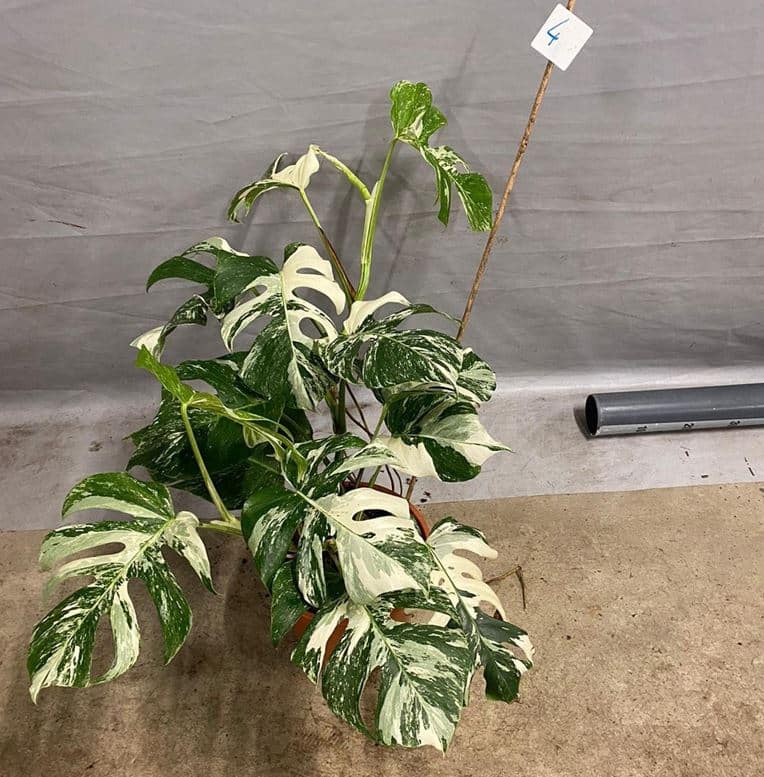 Albo variegata or white variegated Monstera
Albo variegata refers to plants with cream to white variegation. The word albo means 'white' and comes from albino, which means 'little white one' in Portuguese. Ino is a diminutive suffix meaning little.
It is not just Monstera species with albo variegata plants. You will also find the Epipremnum Pinnatum Albo Variegata, Syngonium podophyllum albo Variegata, Iris pallida Albo Variegata, etc. What they both share in common are the white/off-white variegations.
The white variegation occurs due to a rare cell mutation that makes some leaf or even stem parts (white or cream) fail to produce chlorophyll. So, such plants end up with partial albinism, meaning albino Monstera isn't precisely the same as albo variegata.
The mutation responsible for albo variegata Monstera is chimeral, and to be a specific sectorial chimera. Such a mutation is unstable, unpredictable and can revert or make some leaves entirely white.
Popular Monstera albo plants
If you are looking for an albo Monstera plant, here are the popular ones to consider.
1. Monstera albo borsigiana
Monstera albo borsigiana (officially Monstera deliciosa var. borsigiana albo variegata) is a lovely plant with split and fenestrated heart-shaped green leaves with cream to white marbling, streaks, or blocks. Some plants may have half-moon white variegation.
From the name, you can guess that borsigiana is a variety of M. deliciosa, also known as split-leaf philodendron, Swiss cheese plant, or ceriman. Since M. deliciosa fruits are edible, some call it Mexican breadfruit or fruit salad plant. But ensure they are fully ripe before eating them.
Critical differences between var. borsigiana and Monstera deliciosa are that borsigiana is a move vine-like plant with thinner stems, smaller leaves, and fewer fenestrations or splits. Also, its geniculum is smooth, grows faster, and is slightly cheaper.
On the other hand, M. deliciosa will have larger, more fenestrated, or split leaves (1.5 times larger), its geniculum is crispate, sprawls over a larger area, has thicker stems. Also, it grows slower and costs slightly more.
Monstera albo borsigiana occurs due to a rare cell mutation (1 in about 100,000 plants) that is spontaneous and unpredictable. Some plants may revert to green or even go entirely white, and each leaf is different.
Monstera deliciosa Thai constellation is the other plant that closely resembles M. borsigiana albo variegated, but its cream to white variegation may have a yellowish tinge. Also, they appear more as splashes or speckles scattered on the leaf. But it does have blocks and sectors but is fewer.
Unlike albo borsigiana, the Thai constellation was created in Thailand via culture tissue, making it more stable. Also, it is slightly affordable.
The price of an albo borsigiana range from $300 to $1400 or more depending on the plant size and where you bought it. A full-grown Monstera albo borsigiana may cost you well over $1400, while a stem cutting will cost you $300 or less.
Last but not least, it is good to mention the fact that M. deliciosa also has an aurea and mint variegated plants.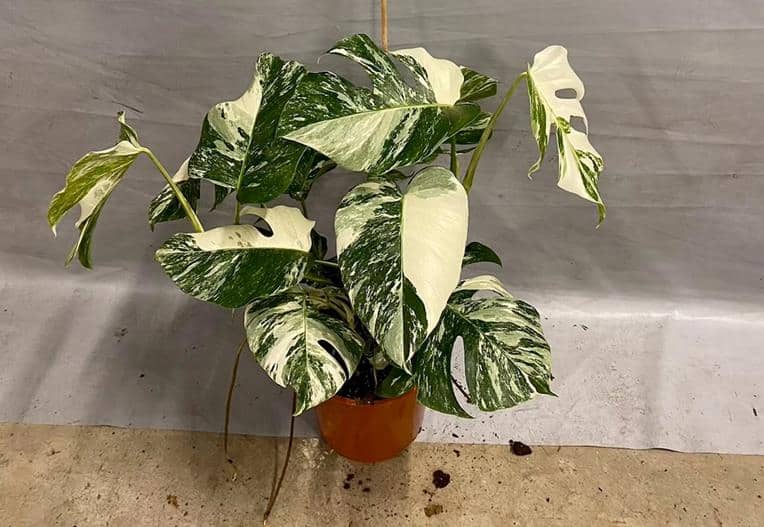 2. Monstera standleyana albo variegata
Monstera standleyana albo variegata features lovely oval to elliptical deep green leaves with white/cream speckles, splashes, sectors, or bands, including half-moon.
It is also due to a rare mutation. So the variegation is random and unstable. But most plants will have only white splashes or streaks and a few leaves with half-moon blocks. A few leaves may entirely be white.
Like the non-variegated form, this plant's mature leaves will only be more significant. It rarely has holes and doesn't split.
The average price of Monstera standleyana albo variegata is $25 to $100, making it one of the most affordable variegated plants in this genus. How much you pay depends on where you buy the plant, its size, and other market forces.
Besides the albo variegata, the M. standleyana aurea or the yellow variegation is equally charming.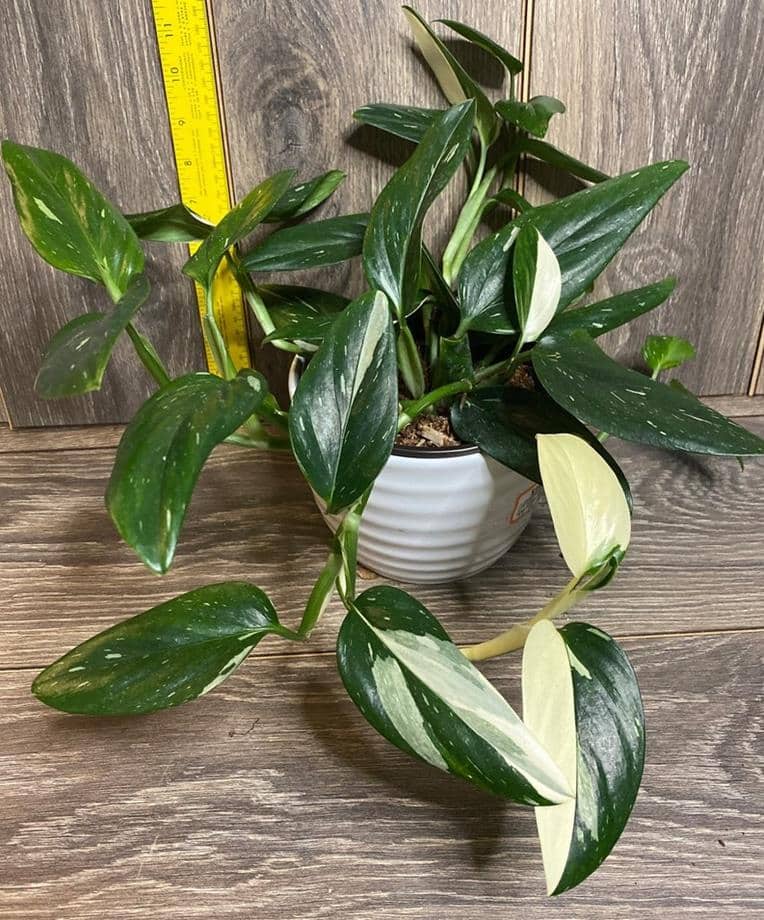 3. Albo variegated Monstera adansonii
The lovely glossy green leaves with cream to white variegation make a Monstera adansonii albo variegata a much-sought plant. Like other adansonii plants, it will have holes (fenestrations), but the margin remains entire.
This albo variegata has many forms, common ones being the M. adansonii archipelago, half-moon leaf, Albo Japanese Tricolor. Besides the white color, you will also get the wide and narrow forms.
How much does it cost? If you need Albo variegata Monstera adansonii, you should be ready to spend between $250 to $2500.
Last but not least, there are other variegated Monstera adansonii forms like the mint, which is equally very rare.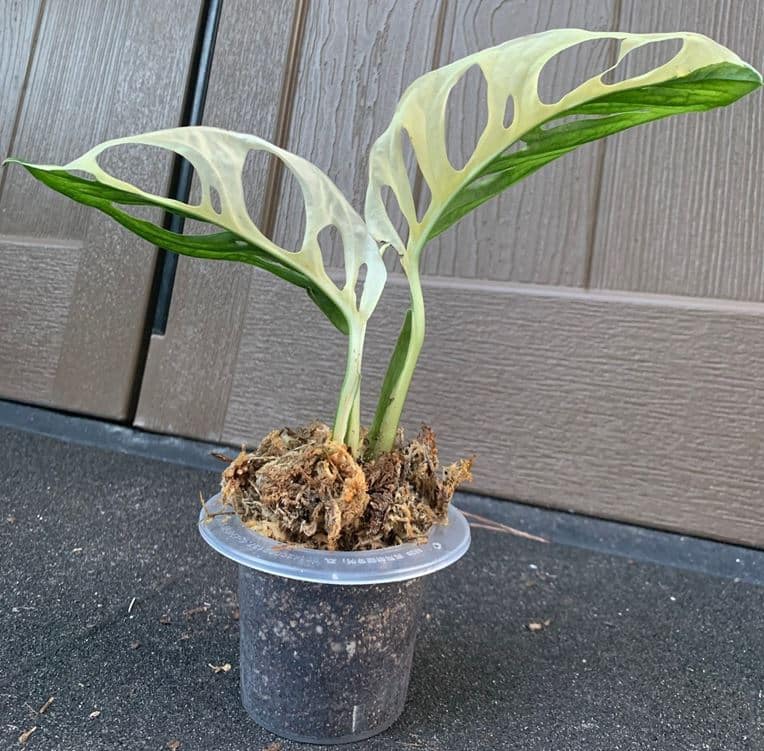 4. Monstera adansonii var. laniata albo
M. adansonii has several varieties. One of them is var. laniata. Someone on Etsy.com is selling Monstera adansonii var. laniata albo. We couldn't verify if it's a var. laniata or not since it's just one person.
It goes for about $1500 with the selling willing to ship it worldwide.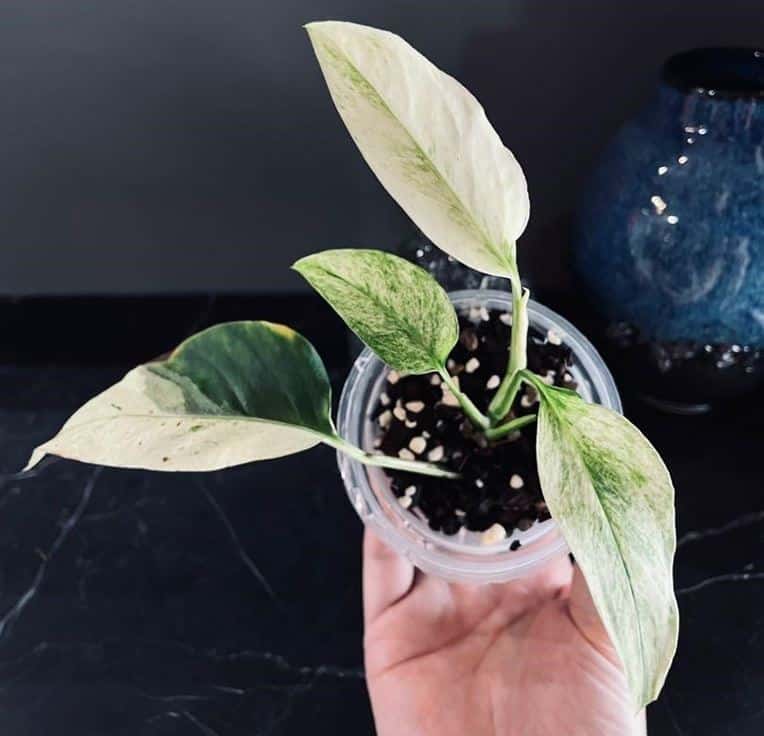 5. Monstera Lechleriana albo variegata
This Monstera lechleriana variegated white form or albo is another scarce variegated Monstera plant with lovely oval to lance-shaped glossy green leaves with cream to white variegation.
The leaves have holes or fenestrations and somewhat resemble those of M. adansonii. But lechleriana forms a tight head or cluster of 10-15 leaves at the top of the stem.
If you need this variegated M. lechleriana, it goes for about $500-$1500, and very few people have it.
Image: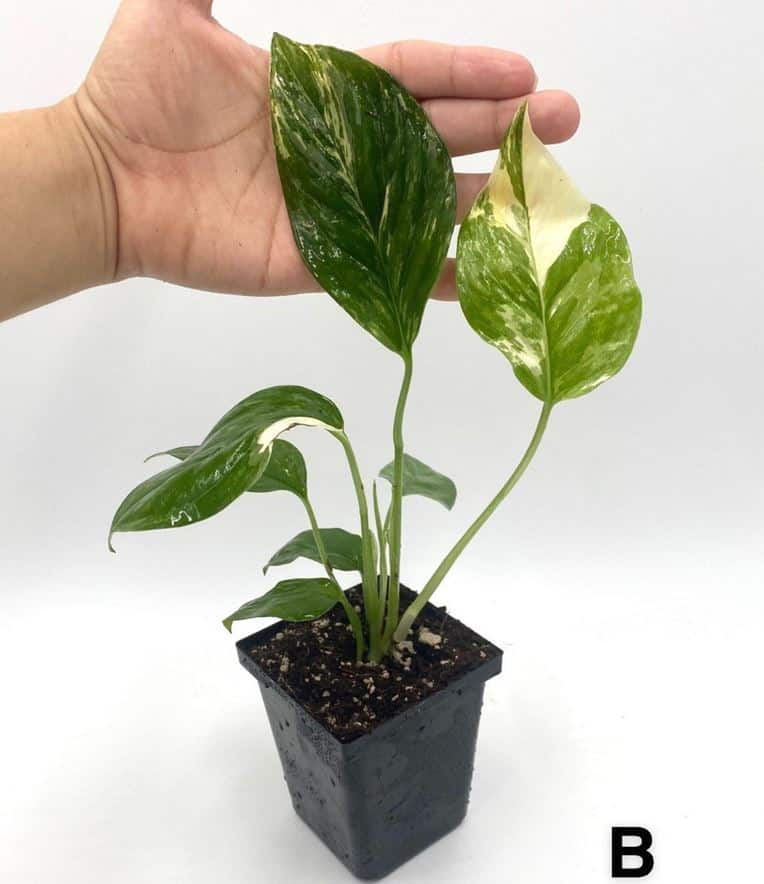 Where to get Monstera albo?
If you are looking for Monstera albo on sale, the best place to start with is Etsy.com and eBay. Here you will find vendors near you, be it in the US, the UK, Canada, Australia, Germany, or anywhere you are. Just ensure your vendor ships to your location.
Besides Etsy.com or eBay, the next place to check is Instagram and Facebook groups. Here you will find a few rare plant collectors. Just ensure you deal with a trustworthy person.
The other way to get vendors near you is using a search engine. For instance, you can Google "Monstera albo for sale" to see vendors around you. If you want a specific one, you can specify it, such as Monstera deliciosa albo variegata for sale.
Picking a Monstera albo cutting or plant
As you hunt for vendors for a variegated Monstera, ensure you see the actual plant or stem cutting, not the mother plant.
We recommend picking a Monstera albo cutting with a variegated leaf on the node where a new shoot will grow. Why? Because a variegated mother plant can have a stem node that doesn't have the variegated trait.
That is not all. Avoid entirely white plants. Such may die since they need to photosynthesize to survive.
Will albo Monstera seeds give a variegated plant?
No. Seeds from a Monstera albo will not produce offspring with variegated leaves. Why? Because the mutations responsible for variegation don't pass, such traits pass to offspring via sexual reproduction, i.e., seeds. It is the same reason why such plants form varying plants.
It is not natural variegation that will form a similar pattern on every leaf because it is in the whole plant's DNA.
Monstera albo care
Caring for your Monstera albo plant isn't so difficult. Apart from a thing like light, the rest is similar to any other species in this genus.
Here are the care and growth requirements:
1. USDA hardiness zone 10-12
The USDA hardiness zone of these albo Monstera plants is 10b to 12. They are not cold, hardy and frost will damage or even kill them. Only people in these zones can successfully grow them outdoor if they meet other growth requirements.
2. Humidity
While they can grow in average humidity of at least 50%, we recommend keeping the humidity a little higher, 60% or more. Why? Because the white variegated parts tend to have brown spots and edges under low humidity than the greener parts. Also, your plant will grow a little faster.
If your home has low humidity, mist your plants, use a pebble tray, move them to humid rooms, among other roles. You can also buy a humidifier like AquaOasis™ Cool Mist Humidifier, Amazon's best seller. It is quiet, affordable, and runs for a day without a refill.
We've something on do Monstera like humidity. It will help you ensure you maintain appropriate levels.
3. Temperature
These plants will grow optimally in a temperature range of 65 to 85 degrees Fahrenheit (18-29°C). Below 50°F (10°C), they stop growing.
Avoid sudden temperature changes, areas with cold drafts, or placing them near heat emitting sources or even air conditioner vents. It will stress these plants. In hot summers, place these plants under a shade.
4. Light
Chlorophyll, the green pigment, traps light energy used in photosynthesis (food-making). But white areas don't have chlorophyll. So, this variegated needs more light to produce enough food to support the whole plant.
Provide Monstera albo with bright, indirect light for about 12 hours. Lower light will slow growth and make your plants leggy. Also, new growth may have smaller, paler or yellow leaves.
Buy a grow light like Relassy 15000Lux Sunlike Full Spectrum Grow Lamp. It is FCC, ROHS, PSE and CE certified and provides illuminance comparable to bright, indirect light. Also, it will last for up to 50,000 hours and has a gooseneck stand. 
But avoid direct sun as it will cause sunburn. See more on Monstera light needs. It covers intensity, duration, which windows to place your plant, and more.
5. Soil
The best soil for Monstera albo should be well-drained, airy, high in organic matter, and slightly acidic to neutral, pH 5.5 to 7.5. These plants are not so fussy. They can grow even in a soilless mix.
You can make your mix or buy some of the best Monstera soil mixes in the market. A mixture of perlite, sphagnum moss, and organic matter like compost will work. Also, you can add some bark chips and worm castings.
5. Watering
Watering is one area you must not go wrong. These plants are sensitive to overwatering, and it can cause root rot. But it doesn't mean you underwater them.
Water your Monstera albo plants when the top few inches of the soil dry, i.e., up to the first knuckle of your finger. It may be after a few days to a week in spring and summer and biweekly in winter and fall.
The exact frequency depends on the prevailing conditions (light, humidity, or temperature) and other factors like your pot type, plant size, etc. So, never follow a watering schedule.
I don't prefer test the soil with my finger. Instead I use my XLUX Soil Moisture Meter and water when the reading is three or less.
Last but not least, when watering your Monstera, saturate the soil until excess water flows from drainage holes. Wait for 15 minutes and pour any water that collects on the saucer.
6. Fertilizer
Boost growth and health by regularly feeding these plants. Like other Monsteras, the albo variegata are medium feeders.
Feed your plant once a month using an all-purpose, balanced, liquid fertilizer like Miracle-Gro Indoor Plant Food (Liquid) in summer and spring only. Is fertilizing a challenge? Learn more about the best fertilizer for Monstera and how and when to feed.
8. Pruning and grooming
To prune your Monstera, regularly cut dead, dying, or diseased leaves. Also, you can cut back a few branches (not more than 25%) to control growth and shape.
Lastly, don't forget to dust or clean your Monstera leaves. Dust and dirt may affect photosynthesis and make your plant unsightly.
9. Repotting
Since they are slow growers, we recommend repotting your Monstera albo after 2 to 3 years or when rootbound. Use a pot 2-3 inches wider in diameter and do it preferably in early spring when the plant is starting to put new growth. But summer is still ok.
10. Support or staking
Your Monstera needs a stake like a moss pole, trellis, etc., since it is a natural climber. It will grow faster and have larger leaves. But it isn't a must. You can let your plant grow sideways or cascade.
Propagating Monstera albo
You can propagate Monstera albo by stem cutting either in water or soil or opt for air layering. If it has several suckers, you can also divide the plant.
It is impossible to propagate this plant by nodeless stems or aerial roots. Also, Monstera albo seeds won't give rise to a variegated plant.
The best time to propagate your plant is spring or summer when the plant is actively growing.
Issues and problems
While growing this plant, you may have a few issues, including leaf discoloration, curling, pests, or even diseases. Let us have a quick overview.
1. Pests
Indoor Monstera borsigiana albo, adansonii, or standleyana variegata are not prone to pests. But they may end up with thrips, mealybugs, scale, whiteflies, or spider mites.
Signs include the presence of the bugs (bumps or dots that may move or not), and spots (white, brown, black, or yellow). In heavy infestation, leaves may be distorted, curl, droop, or turn yellow.
You may also see honeydew, sooty mold, webbing, silvery stippling, etc. The exact signs depend on the bug present.
You can quickly treat pests using insecticidal soaps, horticultural oil spray, or neem oil. Isolate any infested plants and check new plants for these bugs.
2. Diseases
Albo Monstera isn't prone to diseases except for root rot if you keep proper sanitation. But it may have fungal and bacterial leaf spot diseases.
Monstera root rot: Overwatering is the main contributing factor. It weakens roots and favors soilborne pathogens that cause the decay. Signs include yellow leaves, lesions on stems or leaves, moldy potting mix, stunted growth, leaves falling off, etc. To fix it, repot your plant after cutting the decayed roots, use hydrogen peroxide and avoid overwatering.
Fungal and bacterial leaf spot diseases: Leaf spot diseases will cause brown, dark brown, or black lesions that may have a yellow halo or not. If water-soaked, it is likely bacterial. If not, you may have a fungal infection. For bacterial disease, discard the plant. If fungal, use fungicides.
3. Leaf discoloration and curling
The leading cause of Monstera albo leaf discoloration and curling is growing conditions and care (watering, light, humidity, feeding, rootbound, repotting), diseases, pests, etc.