What people call albino Monstera is Monstera albo variegata. It is not a fully albino plant but a partially albino characterized by off-white, cream to white variegation.
Learn more about this partially albino Monstera, including their price, care, and common issues they may have.
About plant albinism
Plant leaves are green, except for plants with orange, yellow, red, and whitish patterns. What we see as whitish is often not pure white but bluish-green.
The leaf colors are due to the pigments present in leaves, with the green pigment due to chlorophyll. Chlorophyll helps trap light energy used in photosynthesis (food making). Without it, plants cannot make food.
Due to rare genetic mutations, some plants may not produce chlorophyll. Such are known as albino. Fully albino plants will have white leaves and cannot photosynthesis. So, most will die after the seedling stage.
The term albino loosely translates to "little white one" in Portuguese. Did you know the word 'albo' means white, and ino is just a diminutive suffix that means little? Now you do.
On the other hand, some plants show partial albinism characterized by some sections being unable to produce chlorophyll. Such plants are what we call variegated, a good example being Monstera deliciosa var. borsigiana albo variegata.
Last but not least, plants that don't produce enough chlorophyll will have yellowish leaves. It can be due to bad light, lack of nutrients, etc. This color change isn't albinism but chlorosis.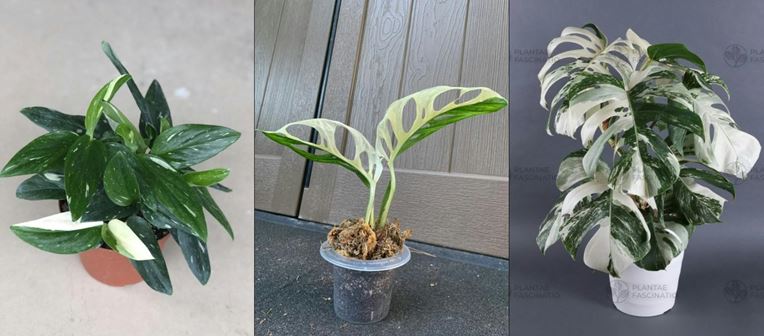 Are there Albino Monstera?
No. There are not fully albino Monstera plants because they will not survive beyond their seedling or baby stage. Once these plants deplete resources contained in the seed, they will wither and die.
Most people mislabel Albo variegata as albino Monstera, which has albinism partially. This variegation occurs due to a rare genetic mutation. Also, such plants can revert to green or go white. The latter will kill the plant.
Popular Monstera Albo variegata 'albino'
Here is albino Monstera or the albo variegata and their average prices:
1. Monstera deliciosa var. borsigiana albo variegata – Swiss cheese albino
The lovely heart-shaped, glossy, deep green leaves with splits and holes (fenestrations) make M. deliciosa a very popular houseplant in North America. It has several varieties, including M. deliciosa var. borsigiana, var. sierrana, var. Brazil, and Tauerii.
Also, it there are variegated Monstera deliciosa species like the Thai constellation, var. borsigiana albo variegata, Aurea. Of interest is this partical albino Monstera, var. borsigiana Albo variegata.
Borsigiana albo variegata grows more like a vining plant (not stout or brawling), characteristic of var. borsigiana, and has off-white to white marbling, streaks, or block including half-moon.
How much does it cost? The average price of Monstera borsigiana Albo variegata is $300 to $1400, making it a rare and expensive plant. The exact cost will depend on where you bought it, plant size, and other market factors.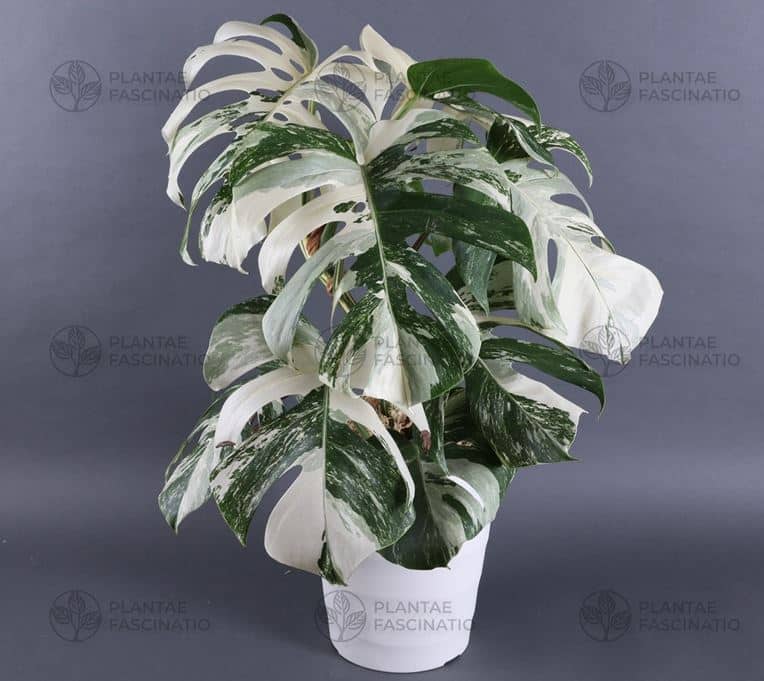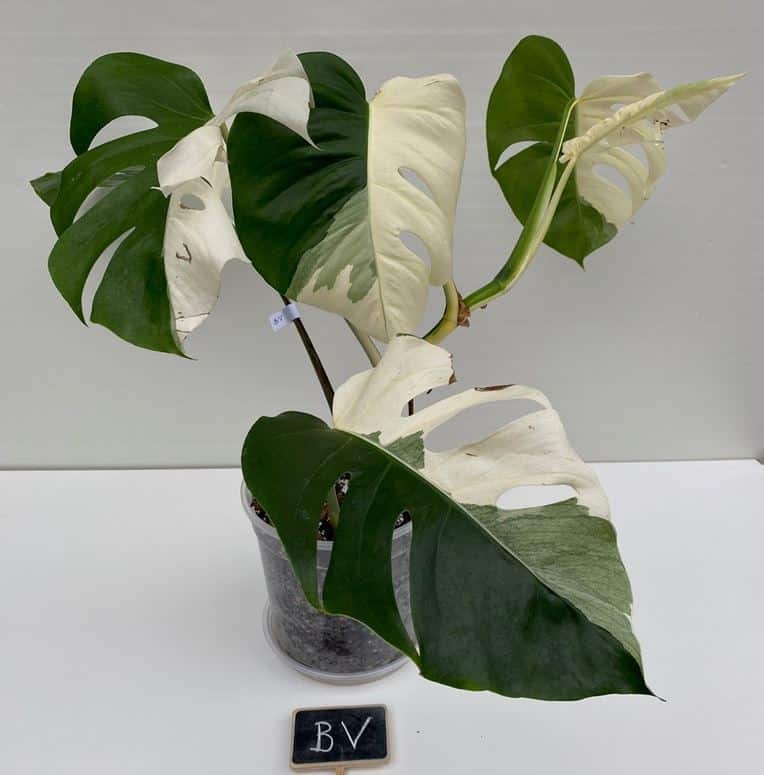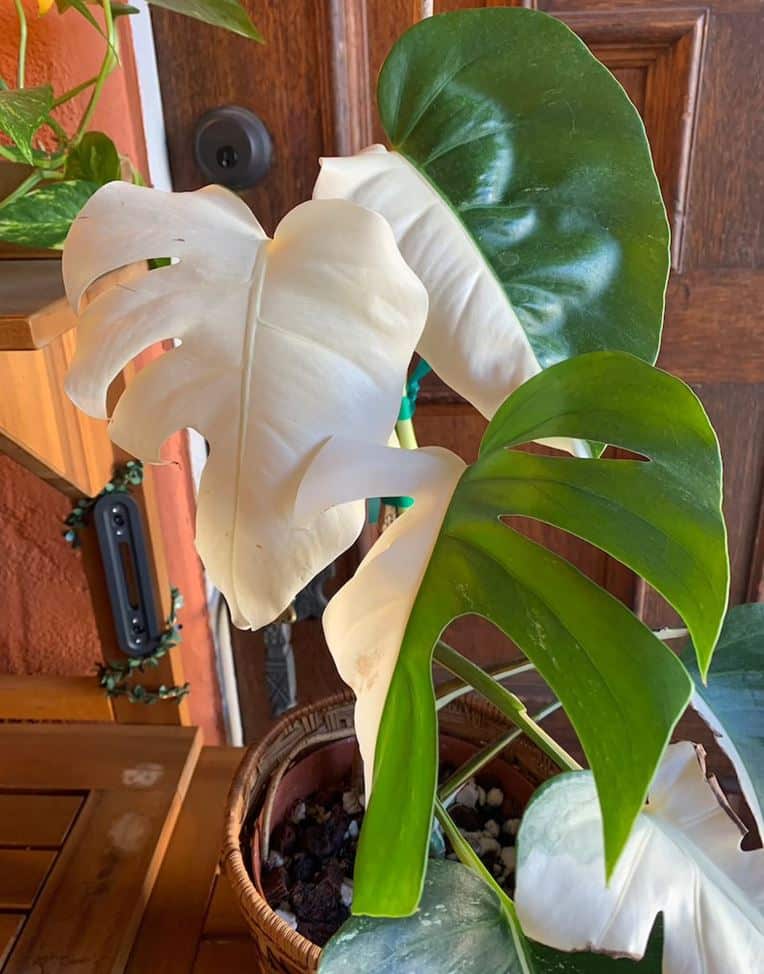 2. Monstera adansonii albo variegata
Monstera adansonii (Swiss cheese plant or Monkey mask) is the second most popular Monstera houseplant, treasured for its glossy green leaves with holes.
This species has several varieties. Popular ones are var. laniata (M. friedrichsthalii), var adansonii, var. klotzschiana, and subsp. blanchetii. Also, you will find the M. adansonii narrow and wide form.
Besides the varieties, there are variegated Monstera adansonii, one of them being M. adansonii albo variegata with green leaves with cream to whitish variegations, i.e., band or half-moon with some plant having some entirely white leaves.
Monstera adansonii albo variegata goes by various names on sale, including M. adansonii Archipelago, Albo Japanese Tricolor, or M. adansonii variegated Half Moon leaf. The common feature they share, white variegation.
Besides the Monstera adansonii variegata, you will also find aurea and mint variegata
The average price of Monstera adansonii albo variegata is $250 to $3000 or more. A stem node with a leaf will cost you about $250, while rooted to establish a plant will go for $700 to $3000.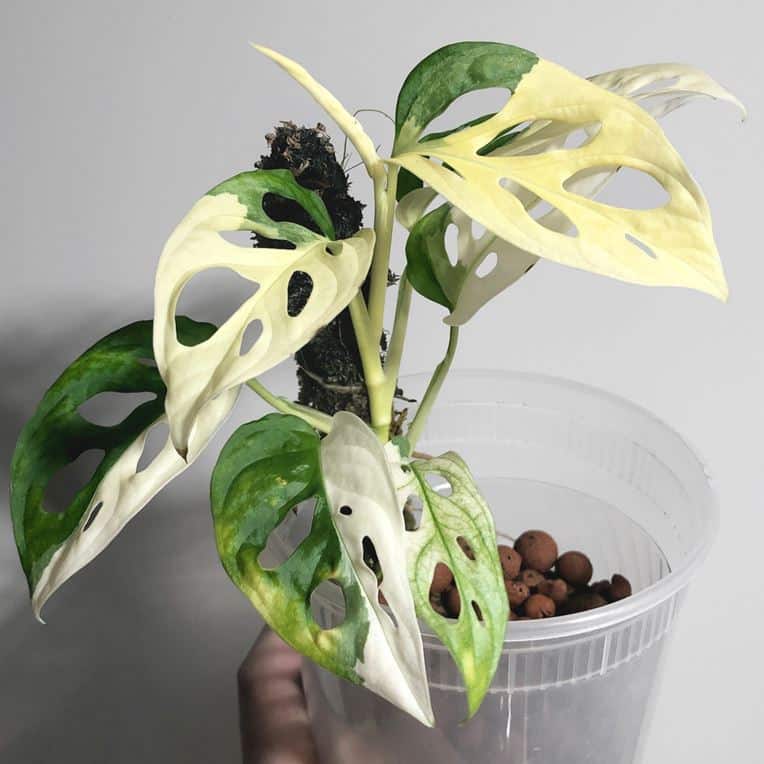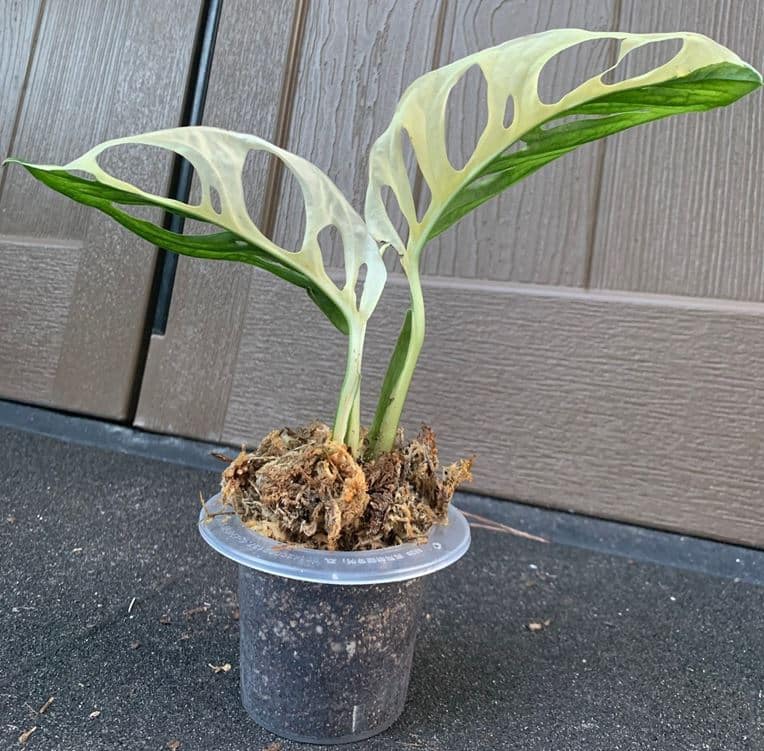 3. Monstera standleyana albo variegata
Monstera standleyana albo variegata or the white variegated version has white to cream splashes, speckles, and bands on the green leaves. Some have half-moon variegation (i.e., have the leaf is white). The other variegated M. standleyana is the aurea or yellow variegated
It has the same oval to elliptical leaves that will become very large when the plat matures. But as you know, M. standleyana rarely has fenestration, and it doesn't split.
The average price for the standleyana albo variegata is $25-$100, depending on the size of the plant and where you buy it.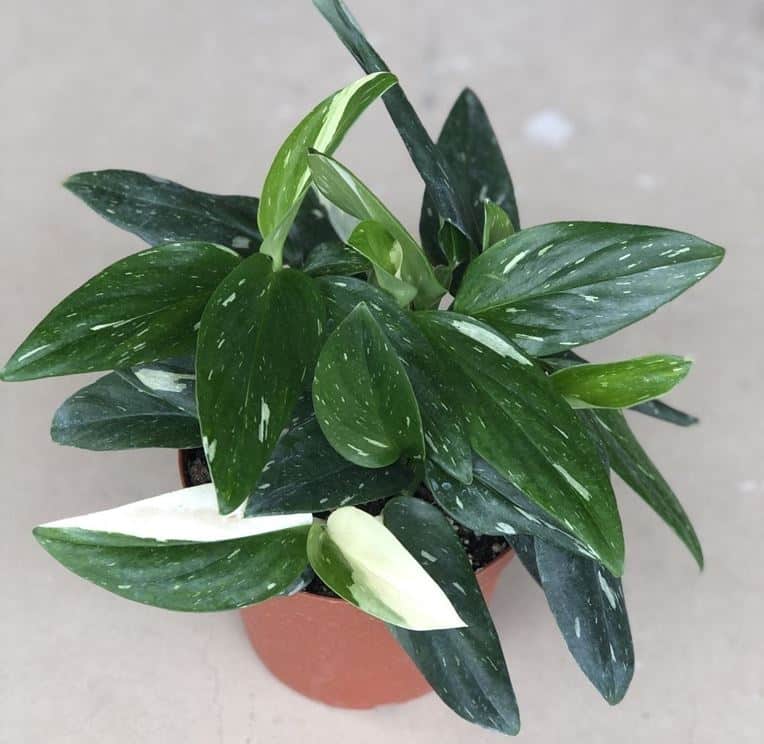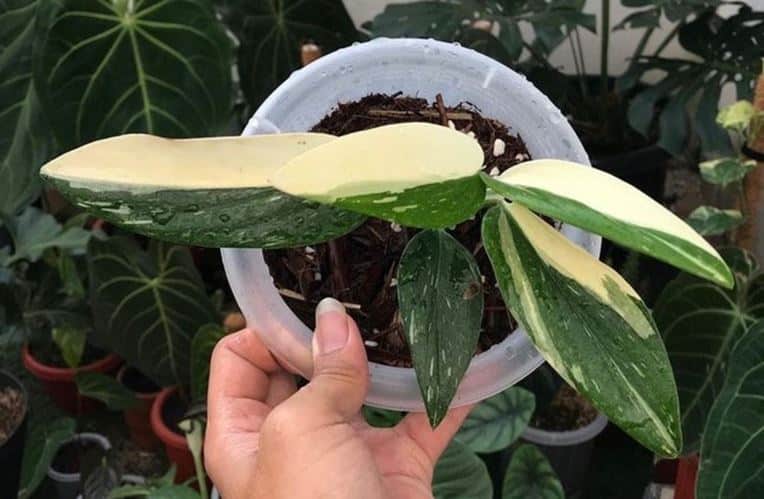 Are albino Monstera stable?
Since they occur due to a random genetic mutation, there are chances that these Albo variegata may revert to green or turn entirely white. If it turns white, it will eventually die.
We recommend trimming branches that entirely turn white or revert just after the last variegated leaf. Why? Because it will help you create a balanced variegated plant.
How do I propagate Monstera albo?
The genetic mutation responsible for partial albinism doesn't pass from parents to offspring via seeds. The only way to propagate these partial albino Monstera plants is by stem cutting.
And when selecting a stem cutting to use in propagation, pick one with a variegated leaf. See propagation for steps for both water and soil propagation.
Why is albo Monstera expensive
Albino Monsteras are expensive because they occur due to a rare genetic mutation. So, they are not readily available. You will only find them with rare plant collectors.
The other reason is that these plants grow slowly. Therefore, it will take longer to propagate many plants. Mass production isn't easy, and some plants even revert.
Where to buy Monstera albo
If you are looking for albo variegata on sale, check those available at Etsy.com and eBay. Here you will get many vendors, including those in your region if you are not in the USA. So, people in Canada, Australia, the UK, or other places can get this white variegated houseplant.
The second place to get these rare plants is Facebook plant groups and Instagram. If you still don't get a vendor near you, try googling "Albino Monstera on sale" or "Albo Monstera on sale." We bet you will get many recommendations near you.
Warning: Ensure you go to trustworthy vendors and see the actual plant you will receive, be it a stem cutting or a rooted plant.
Care and growth needs
Caring for albino Monstera is much or less how you care for any other Monstera plant, except for the fact that you need to provide bright, indirect light. These plants cannot grow in low to medium light.
USDA hardiness zone: 10b to 12
Humidity: Average to above average, 50% or more. If you have low humidity, misty your plants, buy a humidifier, move them to more humid rooms or use a pebble tray.
Temperature: 65 to 85 degrees Fahrenheit (18-29°C). Avoid cold drafts, sudden temperature changes, or near heat sources.
Light needs: Bright, indirect light. Avoid direct sun as it will cause sunburn. On the other hand, these plants will hardly grow in low light.
Best soil: Use the usual Monstera soil mix. It should be chunky, well-drained, high in organic matter, and slightly acidic to neutral pH 5.5-7.5.
Watering: Water these plants when the soil's top 2-3 inches feel dry. Always test the potting mix. Don't use watering schedules. Why? Because plant water requirement changes with time, conditions, and other factors.
Feeding: Like Albo variegata, plants are medium feeders. Feed them once a month in spring and summer using an all-purpose, balanced, liquid houseplant fertilizer. See some of the best fertilizers for Monstera.
Pruning: Cut any dead, diseased, or damaged leaves with sterilized gardening shears. You can cut a few branches to control shape and size in spring and summer. Don't forget to clean the leaves.
Repotting: Repot these plants after 1-2 years, unless rootbound. Do this preferably in early spring. Use a pot 2-3 inches wider in diameter.
Support: Buy a moss pole or trellis for this aroid as they are climbers in nature. But it is not a must.
Issues and problems
If you opt to have a Monstera albo variegata, it's good to know the white part of the leaf is more vulnerable than the green.
Pests aren't a big problem if grown indoor. But your plant may end up with thrips, scale, spider mites, mealybugs, or whiteflies.
The commonly noted diseases are fungal and bacterial leaf spots and root rot. Overwatering is the main reason for root rot.